Cooking surface: 2/5 Poor (4/5 Good once seasoned, it is less sticky and very much like seasoned cast iron)
Conductive layer: 2/5 Poor
External surface: 2/5 Poor (4/5 Good if seasoned on the outside as well as the inside of the pan, to make it more rust-resistant)
Example: Lodge
Health safety: 4/5 Good (assuming no ill effects from seasoning)
—–
DESCRIPTION AND COMPOSITION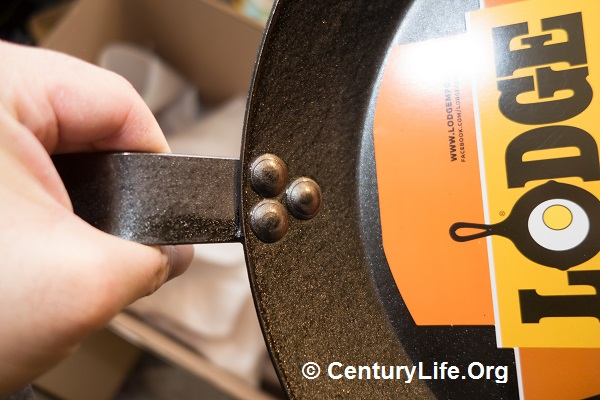 Carbon steel is a durable, tough metal that can take on seasoning, similar to cast iron. The definition of "carbon steel" can vary depending on the manufacturer, but in general the steel is a non-stainless steel, around 99% pure iron and thus very similar to cast iron. Carbon steel is naturally magnetic and thus works on induction.
What's the difference between carbon steel and cast iron in terms of cookware, then? Simple: you can't make cast iron too thin or else it will warp (become un-flat) or fracture when exposed to high heat. Plus pouring molten iron into casts necessitates a certain minimum thickness. So if you want a thin cast iron pan, what you do instead is to use carbon steel, which is less brittle and can be worked into sheets and punched out and formed into thinner pans. These pans are more durable than cast iron of equivalent thickness. (Note that thin carbon steel in the 2 mm range can still warp when exposed to large temperature changes quickly, such as putting a hot pan under cold water.) Carbon steel may also be easier to season and de-season than cast iron, depending on the brand and how polished the carbon steel is.
Please note that you may encounter thin, lightweight, enamel-coated carbon steel pots and pans from time to time at places like Wal-Mart. These pieces of cookware do not heat evenly on the bottom because they are so thin. And when the enamel inevitably chips off, the underlying carbon steel rusts just like cast iron does. Nevertheless, these pieces are cheap and induction-compatible and can do a decent job in the oven (where heat is far more even than on the stovetop) or of boiling water or other such tasks where something like water spreads the heat around the pot to make it more even.
Also note that thin carbon steel is a wildly popular choice for woks. This is because thin carbon steel heat unevenly, and this is accentuated by the wok's bowl-like shape. The center-bottom of the wok gets much hotter than the rest of the pot, so you can stir-fry part of the food, move it over to the side, and stir-fry another part of the food. Continually tossing food does the same thing by rotating portions of the meal through the hot central bottom area of the wok. Cast iron woks also exist, but they are usually not as thin and strong and thus are heavier and less well-suited for the stir-fry tossing motion. A few manufacturers have made aluminum or other such woks, but the more even heating of aluminum partially defeats the purpose of stir-frying in the first place.
Use and care of carbon steel is virtually identical to that of cast iron. Given a choice between the two, I'd rather have the cast iron because both are such bad heat conductors that you need all the thickness you can get, and cast iron is usually made thicker.