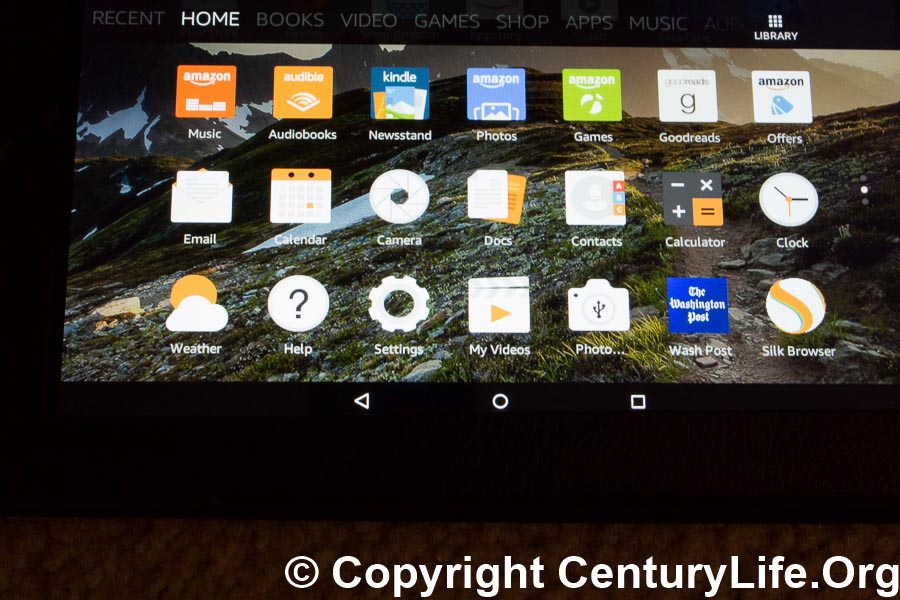 BACKGROUND
Amazon is a company that needs no introduction. In 2015, Amazon launched the Amazon Kindle Fire 7 (2015)
, a 7-inch tablet at an amazingly low price of $50.
THE GOOD
The price/performance ratio can't be beat. If the choice is this cheap tablet vs. having no tablet at all, then this tablet wins by default. Similar Android tablets made by no-name Chinese manufacturers who offer basically zero support will cost twice as much. Brand-name Android tablets with similar specs cost triple or more.
The screen resolution is 1024×600 in an "HD" aspect ratio to mostly eliminate black bars when watching 1080p or 720p HD video. Amazing for the price point is that it's an IPS panel, meaning that you get good color reproduction at any angle, unlike cheaper screens that change colors or fade if you don't look at them straight-on.

After using the tablet at normal viewing distances for months, I have not found the resolution to be a real issue. This is a "good enough" display for 20/20 vision, and additional resolution would be nice but would only marginally improve the screen. People who say otherwise apparently have 20/15 or better vision or hold the tablet too close to the face.
A side benefit from having fewer pixels to push around is that the tablet is more responsive and delivers a higher framerate than if it had, say, Full HD (1080p) resolution or higher. And battery life improves as a result.
On a Southwest Airlines flight which provided free WiFi and books, Ann said her phone (a Samsung Galaxy S5) would not display the ebook without cutting off a line of text, but the Amazon Kindle Fire 7 displayed the ebook perfectly.

For reference, the tablet measures 191 x 115 x 10.6 mm (7.5 x 4.5 x0.4 inches) and weighs 313 grams (11 ounces). That's not super light, but it's definitely not heavy either. It feels solid and durable even without the addition of a case.
This seven-inch tablet is about as big as I'd want a tablet screen to be, because I hate typing in portrait mode (i.e., with the long edge of the tablet perpendicular to the ground). As it is, I can type with my thumbs on the on-screen keyboard without any slowdowns, but if it were an inch or two longer, I'd have to slow down when in landscape mode. Although if it got significantly bigger, I might use it in portrait mode more often and regain the ability to type at full speed.
Many tablets–even more-expensive tablets–do not let you expand memory. But this tablet lets you insert microSD cards of up to 128GB capacity. (The internal 8GB of memory is about half taken up with the operating system and other unmovable system files, so having an extra 128GB really helps.) And contrary to what some Amazon reviewers have claimed, you can indeed store media files like photos, videos, music, and books on the external SD card.
This is a very popular device, so you will find lots of accessories to choose from, like tablet cases.
The tablet comes with Bluetooth 4.0 LE to complement its 802.11 a/b/g Wifi, so you can use things like Bluetooth headsets with it.
Good battery life. The tablet can last 2-3 days if you only use it for a few hours each night, though it's non-linear % so it feels like it takes forever go to from 100% down to 90%, but the last 10% goes by more quickly.
The home screen has tabs for often-used apps, books, video, games, shop (Amazon), app store, and music. Swipe right to go through each tab. Swipe left for recently-used apps. There is also a shortcut icon to look at all apps currently installed. Naturally all Amazon cloud apps like music, video, Kindle ebooks, etc. are well-integrated and have their own apps easily accessible.
Amazon Underground comes pre-installed and gives you full versions of thousands of games, as if you paid for everything. This is in lieu of paying microtransactions to get powerups or to get rid of in-app advertising.
There is a built-in tablet ability ("Blue Shade") to stop emitting most blue light. It turns your screen into an orange color. This is because exposure to light at night–especially blue light–interferes with melatonin production and thus makes it harder to sleep. Note that Blue Shade is only a partial solution, which is why I recommend getting orange-tinted glasses that block blue light from ANY source, not just the tablet.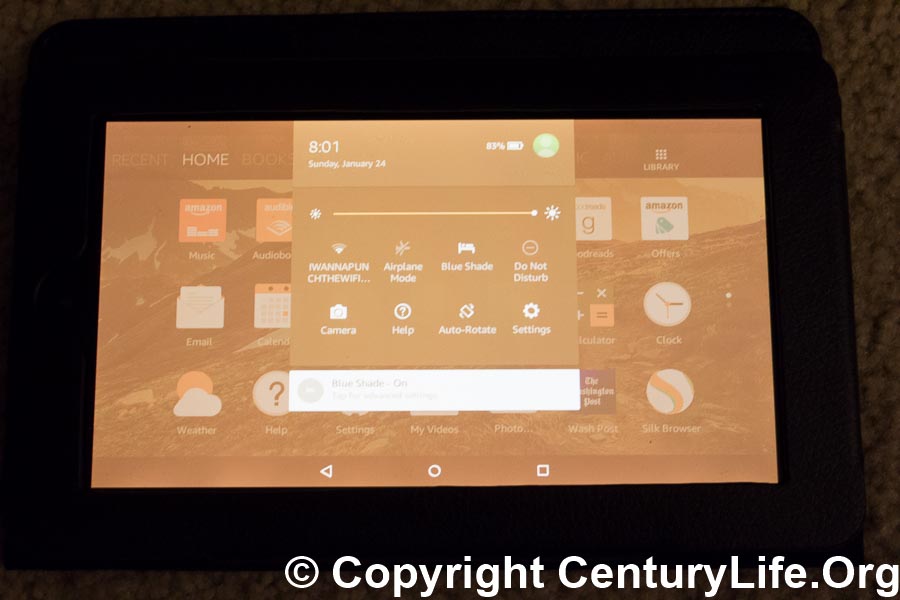 THE BAD
The speakers are small and tinny, but they're adequate for light use. I recommend headphones if you want better audio.
There is no built-in kickstand, so if you want that feature, buy a case with a kickstand or kickstand-substitute.
The relatively slow CPU can't play the most demanding, hardcore mobile games at good framerates (think Deus Ex), though it's fine for less-intense games.
Ann doesn't like how ads are shown on the unlock screen, but I don't mind them. Plus the unlock screen is good in that you just input your PIN and it unlocks; you don't have to input your PIN and then press another button on top of that.
Single band 802.11 a/b/g WiFi. Well, for $50 I guess it was too much to expect the faster 802.11 n or ac support, and in truth, 802.11 g can accept data faster than many household internet connections can feed it, anyway. Plus many people have not upgraded their routers to 802.11 n/ac yet.
There is a Kids mode which gives parental controls. With Parental Controls, you can can restrict shopping, the web browser, and archived items. You also disable the ability to de-register the device and reset the tablet to factory defaults (which would be a way to thwart the parental controls). Don't scoff at the Parental Controls, especially the ability to restrict shopping, because without such restrictions, you might wake up one morning with a Badonkadonk Land Tank at your doorstep.
Amazon uses a fork of Android OS that lacks some of the apps that you can find only on the official Android OS, such as Google Maps, Gmail app, etc. This is not a big deal. Without having to root your phone, you can install the Google Play store on the device and gain access to the usual Android apps. Follow these directions if you want to do that, but be mindful that it may void your warranty.
A Kids Edition is available, which gives you a bumper-to-bumper 2 year warranty and tough case. It also comes with a year's subscription to Amazon FreeTime Unlimited, which contains more than 10,000 apps/movies/games and other kid-oriented media.
THE UGLY
The cameras are atrocious. Front camera of VGA (640×480) resolution? 2 megapixel rear camera resolution? And both cameras having tiny image sensors, leading to tons of noise and washed-out colors? Ugh. It's good enough for Skype, quick videos, and quick snapshots of things like your grocery shopping list, but that's about it.
No built-in compass or light sensor to automatically adjust the brightness. You have to do that manually.
Some genius at Amazon limited the number of characters in the WiFi password field to about 60. Otherwise it's a non-issue. For extra privacy, tell your router to broadcast your SSID, then connect with the password, and you can then turn SSID broadcasting back off, because the tablet will remember the existence of your hidden WiFi network name after you set it up one time.
There are no physical buttons, only three icons at the bottom of the screen (which are always at the bottom no matter which way you hold the tablet): back triangle, circle to take you to the home screen, and a square which shows a carousel of apps that are currently open. I like having physical buttons but Ann didn't mind the virtual ones.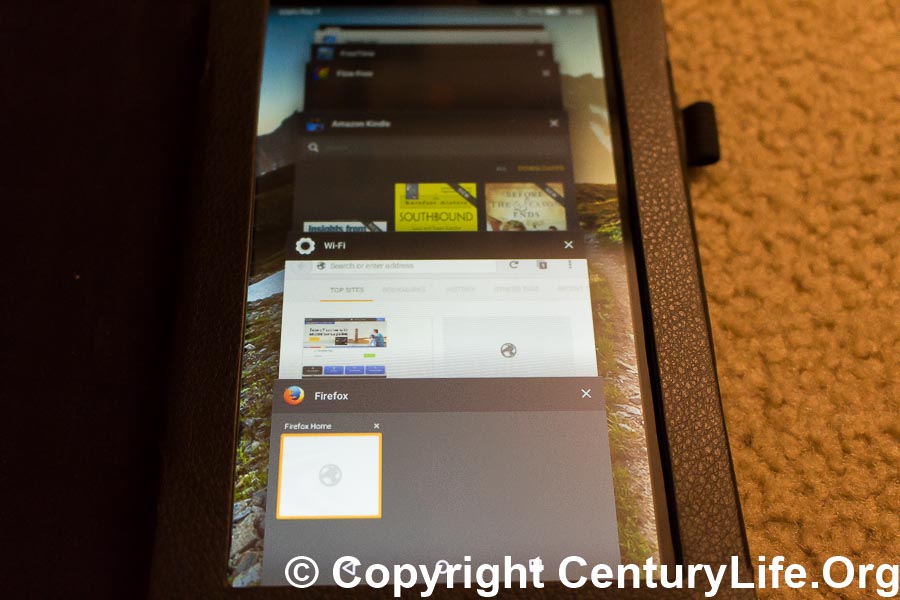 CONCLUSION
Think of this tablet as a high-end smartphone from 2011, except with a vastly larger screen (about 2.6 times larger than my Thunderbolt, and closer to FOUR times bigger than an iPhone 4's screen). If you think about it, a high-end smartphone from 2011 is usable even in 2016. It won't be able to run the latest high-end games but it can do pretty much everything else like surfing the web and watching Youtube videos and such.
Example: My old HTC Thunderbolt (launched in 2011) had a single-core 1GHz Snapdragon CPU and a 4.3 inch (800×480) display, with only 768MB of RAM. It did have somewhat better cameras (1.3MP/8MP front/rear with presumably larger image sensors), but it also had limitations like supporting only up to 32GB of microSD memory.
The quad-core 1.3GHz MediaTek processor inside the Kindle Fire 7 (2015) provides a smoother experience than the HTC Thunderbolt, despite powering more pixels (1024×600), and can accept up to 128GB in external microSD memory (a lot of more-expensive tablets in 2016 can't do that, or can't accept external memory at all!).
So there you have it: the Amazon Kindle Fire 7 (2015) is basically an old smartphone with a screen 2.5 to 4 times bigger, plus the ability to accept huge amounts of external memory. And for $50, it can be used in situations where you wouldn't want to wear out or jeopardize your current smartphone. It can take the place of many other gadgets, as long as you are okay with the size of the tablet: clocks, calculators, video and music players, players, newspapers, etc. You can also use it to display recipes while cooking, as a digital photo frame, or set it up as a makeshift security camera, among many other applications.