There are many half-truths when it comes to cookware heat retention. Here are a couple of myths that need busting:
Myth: Cast iron cookware holds more heat than aluminum. So if you want food to stay hot, use an enameled cast iron pot.
Fact: It depends on the mass of the cookware and what you're cooking…
Cast iron is cheap, brittle, and conducts heat poorly, so many manufacturers make their cast iron 4 mm thick. The thickness helps guard against breakage and to spread heat better (think of it as building more lanes of the heat highway). And since cast iron is dense, such thick cast iron vessels weight a lot.
In contrast, aluminum is more expensive than iron, not brittle, and conducts heat well. Consequently, manufacturers use a lot less aluminum most of the time. Cheap aluminum nonstick pans with less than 2 mm of aluminum thickness aren't rare. These thin aluminum pans weigh much less than cast iron in part because they are so much thinner, even though aluminum is only ~33% less dense than cast iron.
Given the facts above, it's no wonder that some people think aluminum doesn't hold heat well–they're accustomed to thin aluminum. But pound for pound, aluminum holds about twice as much heat as cast iron or stainless steel. So a 6 mm thick aluminum pot should hold about as much heat as a 4 mm thick cast iron pot of the same size. As a rule of thumb, a 1 millimeter thick layer of cast iron or stainless steel holds about as much heat as a 1.5 millimeter thick layer of aluminum.1
If you're cooking watery food, then the water in your food is probably doing most of the heat retention–not your cookware. Pound for pound, water holds about ten times as much heat as cast iron or stainless, and about five times as much as aluminum. Therefore if you are cooking something like soup, the soup itself is what's really holding heat. For example, if you pour 5 quarts of water into a 6.25-quart cast iron pot, the water holds ten times as much heat as the cast iron.2
Myth: Cast iron retain heats longer than cookware that relies on aluminum to spread heat, whether it's aluminum nonstick pans or pans like All-Clad which utilize a stainless-aluminum-stainless sandwich material.
Fact: For watery foods, there isn't much difference between enameled cast iron, disc-base aluminum, or clad (stainless-aluminum-stainless sandwich such as All-Clad Stainless) in terms of heat retention. As discussed above, water holds ten times more heat than cast iron and five times more than aluminum. That's not to say that there aren't any differences, but the differences are minor for residential kitchen purposes.
I did a series of experiments, and the two most relevant ones were as follows:
1. I poured four quarts of water into a 5.1-quart Demeyere Conic Sauteuse (28 cm top diameter that tapers to a smaller base) and did the same for a Black Staub 6.25 Quart Round Cocotte aka French or Dutch Oven (28 cm top diameter that tapers to a somewhat smaller base). I put the heavy, close-fitting covers that came with each vessel onto each pot and then boiled them. From experience I knew the Demeyere would reach boiling temperature faster, so in order to minimize any boiling-related evaporation, I gave it 40% power on a Vollrath Mirage Pro 59500P 1800 watt portable induction cooker while the Staub got 50% on an identical portable induction cooker. That way the two pots would reach boiling point at a similar point in time. I didn't want to heat them at any higher heat as a precaution against damaging the relatively fragile enameled cast iron.
After each pot reached a rolling boil, I turned off the power, took the lids off, and monitored each pot's temperature via a Fieldpiece ST4 Dual Temperature Meter
. I took the temperature at the center of mass (in the middle of the water) in both pots. The results: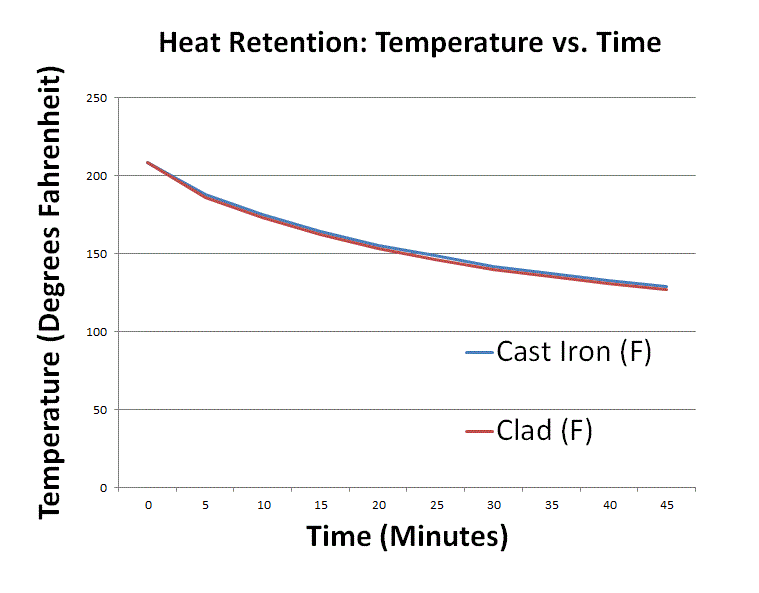 The cast iron quickly took a two-degree lead and kept it for the rest of the way.
This experiment wasn't perfect:
The Staub had slightly larger surface area to radiate heat away, but I had to use these two pots as they were the most similar ones I had in size that both had a 28 cm top diameter. That top diameter really matters for evaporation; it's 36% more surface area than a 24 cm diameter.
It's possible that a different color of exterior enamel would have mildly affected temperatures as well. Black is pretty notorious for radiating more heat than, say, white-colored enamel.
But I don't think things like enamel color or a slightly better match in pot shape would have mattered much. First of all, black and white enamel both have high thermal emissivity. Second, the temperature difference was negligible, so even if the gap would have been another degree wider (3 degrees F vs 2 degrees F), it wouldn't really matter. (By the way, there was very little evaporation due to the close-fitting, heavy lids. In other experiments I've done with lighter lids, there wasn't much difference either. The vast majority of evaporation takes place after the lids are lifted.)
2. In another experiment, I put 2.5 liters (2.64 quarts) of water in a Zwilling J.A. Henckels Sensation 5.5-qt. Round Dutch Oven aka Casserole
(stainless-aluminum-stainless clad; reviewed here) pot and did the same with a 6-quart department store pot which had thin stainless steel sidewalls and a thick, aluminum disc base, capped off with a bottom layer of magnetic stainless steel. (The 6-quart pot had a capacity guide so I just filled it to 5 liters and dumped half of the water into the other pot.) Both pots were very similarly shaped and had top diameters of 24 cm. I put identical Zwilling Sensation 24 cm lids on both, cranked up the induction cookers to maximum power, and then turned off the induction cookers after each pot reached a rolling boil. Then I took the lids off both pots and monitored their respective temperatures. The results: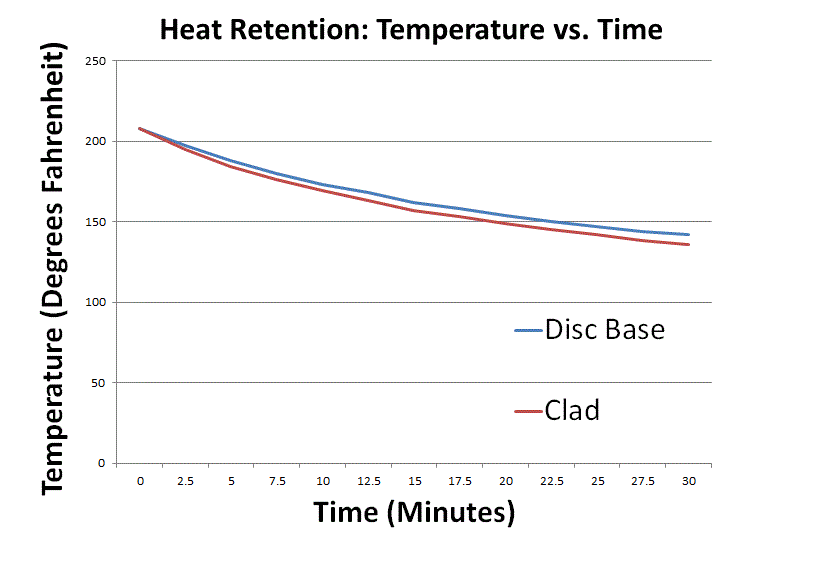 As you can see, both pots started off at 208 degrees Fahrenheit (like with the previous experiment, it took me a moment to turn off the heat, open the lids, and insert temperature probes into both pots). Within 2.5 minutes, a two-degree gap opened up, growing to four degrees within five minutes, and growing to six degrees within 27.5 minutes. The disc base pot did a slightly better job of retaining heat than the clad pot, but the temperature gap would have been smaller had I used 4 quarts instead of 2.64 quarts. I don't mind using 2.64 quarts for this run because it better simulates a not-as-watery stew, where the pot's heat capacity is a larger fraction of the total heat capacity of the pot + food.
The takeaways from these experiments:
If you are cooking watery foods, the water's heat capacity matters far more than the material of the pot, so feel free to use whatever you want–enameled cast iron, disc-base pots, cladded, pots, whatever; it doesn't matter because they will all retain heat very similarly. A cast iron pot will take longer to heat up than a similar-sized clad or disc-base pot, but otherwise, the difference isn't enough to worry about.
If you aren't cooking watery foods, then you will see greater discrepancies in terms of heat retention. A rule of thumb is that you need 1.5 mm of aluminum thickness to match the heat capacity of 1 mm of cast iron or stainless steel thickness. For reference, a lot of cast iron is in the 4+ mm range, such as Lodge cast iron, and All-Clad Stainless retains about the same amount of heat as 2mm of cast iron.
FOOTNOTES