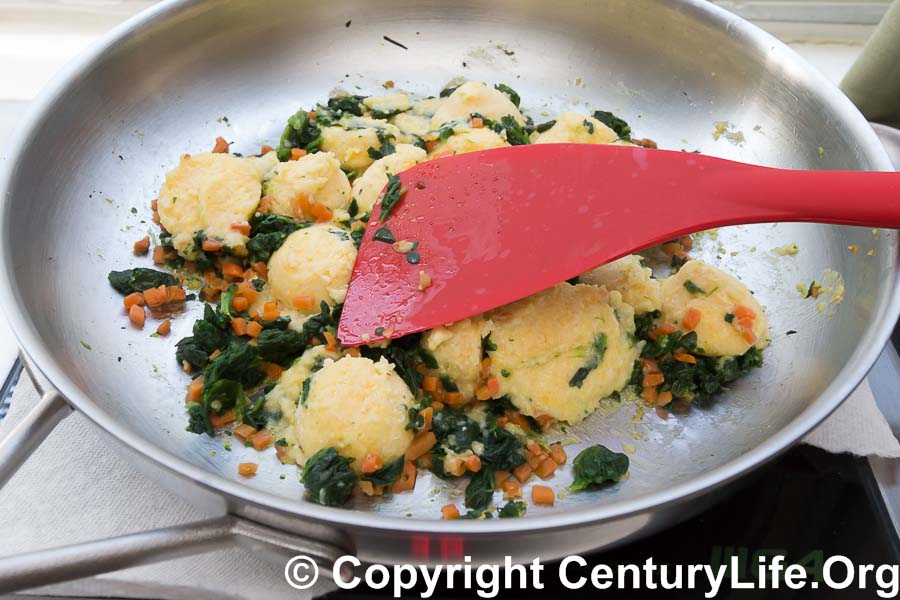 THE COMPANY
You might have heard of the Henckels, the German knife manufacturer, and you might be familiar with the Zwilling (German for "twin") logo used on their higher-end knives.
J.A. Henckels has a long history dating back to 1731, when Peter Henckels adopted the Zwilling logo with the Cutlers' Guild of Solingen, Germany. His son Johann renamed the company J.A. Henckels and expanded the customer base over time. In 1970 the company was acquired by the Werhahn Group of Germany. Werhahn KG is a family firm that owns interests in building materials, finance and real estate, beauty products, and, of course, kitchenware. Werhahn's Henckels kitchenware unit, by now known as Zwilling J.A. Henckels, went on a buying spree in the 2000s and purchased Demeyere in 2008.
Demeyere (pronounced Deh-MAI-reh) was an offbeat Belgian company founded in 1908 as a family business. Demeyere was a relatively small company, with 60 employees and ~$20 million in revenue in 2007. All of their higher-end products are made in Belgium, with only a few lower-end products made in Indonesia. Apparently the family gave up trying to compete with larger rivals, or Zwilling's offer was too good to refuse, or both. So in 2008, the Demeyere family celebrated its 100th year of independence as a boutique Belgian cookware manufacturer by… selling the company to a huge German conglomerate. …Um, yay?
In Demeyere's defense, the deal was logical: Zwilling had worldwide distribution networks. You'd be hard pressed to find a mainstream kitchenware retailer that did not carry Henckels knives; they're everywhere. So why not leverage that distribution network by selling Demeyere-produced cookware?
Demeyere has long advocated for a split system in their cookware lines. They used thick steel-cladded-aluminum sidewalls on skillet and sauteuses and woks, but everything else (saute pans, sauce pans, stock pots, etc.) got thick disc bases and thin stainless steel sidewalls with no aluminum inside.
Demeyere's insistence on disc-bottom pots and saute pans was a problem in the USA market, where All-Clad had spent decades and millions of dollars convincing Americans that fully-cladded-thick-sidewall cookware is better than disc-based cookware. There is some truth to that–cladded sidewalls prevent temperature discontinuities. It is extremely common that disc-base cookware have a huge temperature dropoff near the base (if cooking on electric) or else a huge temperature increase (if on gas, since the hot gas heats up the thin steel sidewalls much hotter than the base, which has a layer of aluminum to absorb and spread out the heat.) But cladding is not always necessary, such as for a pot that you intend to use only for boiling water or other thin fluids only.
In any case, Zwilling may have decided that it would rather not fight All-Clad's marketing. So it wasn't long after Demeyere's acquisition that Zwilling joined the legions of companies attempting to clone All-Clad–with a twist.
All-Clad's patent on its original Stainless line expired in the 2000s, so most All-Clad competitors simply import Chinese knockoffs of All-Clad. The market is saturated with All-Clad Stainless clones of varying quality–many Chinese factories use thinner sheets of metal to save money, but those products heat less evenly and don't do as good of a job maintaining heat when you throw in lots of cold food. For obvious reasons, Chinese factory owners have a temptation to cut corners by skimping quality control or on materials (without advanced testing equipment, it's hard to tell what the exact chemical composition of an alloy is, so there is a temptation to use more iron and less chromium or nickel, both of which are far more expensive than iron). Many American and European cookware "manufacturers" merely import products. They have no supervisory staff overseas, and some don't even test products beyond the initial batch–it's expensive to do your own ongoing quality tests such as making sure each piece is properly polished, made out of the alloy you specified, free of chemical contaminants such as heavy metals and radioactive particles, flat and not warped, etc.
Zwilling apparently decided that if it was going to enter the fray, it was going to do so not with the intention of matching All-Clad Stainless performance and features at a lower price, but rather to offer better-than-All-Clad-Stainless quality at a slightly higher price.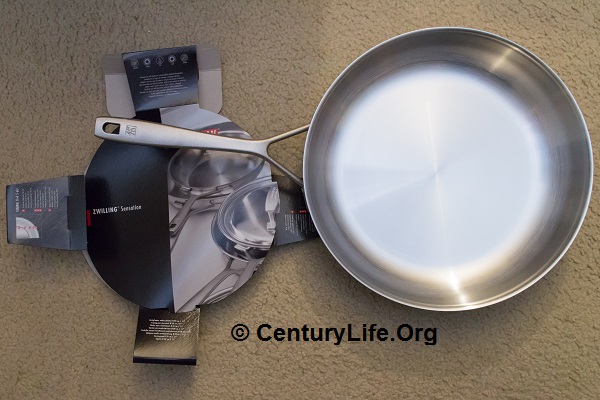 The result was Demeyere Industry5, exclusive to the retailer Sur La Table for a few years before being re-issued as the Zwilling Sensation product line
in 2013, which was in turn given slightly different handles and renamed Demeyere 5 plus
in late 2015. There is no difference between any of these product lines except that the handles are slightly different (Industry5 has rough, squarish handles; Sensation has rough, rounder handles; and 5 Plus has smooth, rounder handles). All of the handles are basically the same in terms of functionality. They are all comfortable and stay cool.
I have most of the Demeyere 5-Plus/Industry5/Zwilling Sensation product line, but for sake of comparison to other product lines, we'll focus on the 11-inch frying pan.
– 3 mm thick clad design (stainless steel inside/outside with a thick aluminum alloy interior) for even heating and decently large heat reservoir so it won't drop in temperature too much if you throw in a steak or large fish fillet, for example. Compare this to the ~2.6 mm thickness of All-Clad Stainless. Out of that ~2.6 mm, All-Clad Stainless has a ~1.7 mm thick aluminum layer to distribute heat, Zwilling Sensation has a ~2.1 mm thick aluminum layer, or about 25% more aluminum for better heat retention and better heat spreading.
– Rolled lips help for drip-free pouring.
– Shot-blasted cast stainless steel handles (Sensation and Industry5 only; Demeyere 5-Plus has smooth handles like the kind you see on most high-end stainless cookware).1 with a large "V" shaped spread where it spreads out and connects to the pan. The "V" ensures that hot gases can go up and over the edges of the pan without being obstructed by the handle. This means that the handles collect less heat and are comfortable and stay cool on the stovetop, yet can go into the oven at 500 degrees F without a problem. The handles should not slip out of your hand even if you are grabbing it through an oven mitt, because a) they are decently wide, b) are shaped like a round-cornered rectangle (cross-section) so it won't rotate that easily in your hand, and c) the shot-blasting gives the handle a slightly rough texture. Unlike All-Clad handles, these handles are "filled in," with no metal gouged out, so the handles won't dig into your palms. Zwilling also praises their handles as immune to scratching, in the sense that any scratches won't be easily visible due to the shot-blasting. I'm skeptical this is an actual problem, since my Demeyere Proline skillets with non-shot blasted handles have never gotten scratched.
– "Silvinox" electrochemical surface treatment. Basically they immerse 18/10 stainless steel into chemical wash that decreases the ratio of iron and impurities to chromium/nickel, resulting in 18+/10+ stainless steel, which is shinier, harder, and more corrosion-resistant than untreated 18/10 steel. Silvinox is slightly less sticky than untreated 18/10 stainless, and it's safe for your health since all it does is remove iron and impurities. Even if it wears off, what's underneath is simply regular 18/10 stainless steel–the same stuff All-Clad uses.
– Rivetless handle design won't trap food particles.
– 5-ply design. Pay no attention to this; it's built just like All-Clad Stainless with three visible layers of stainless-aluminum-stainless. The overly enthusiastic marketing people at Zwilling are trying to claim that the microscopic bonding layers between the visible layers count.
– Lifetime warranty. The Sensation line goes head-to-head with All-Clad's lifetime warranty so think of this as "price matching" a competitor, only in this case it's "warranty matching."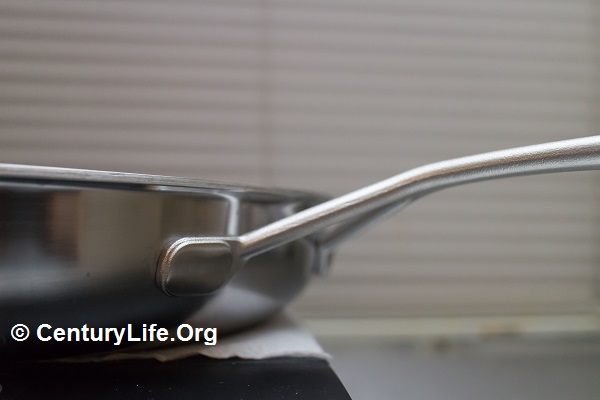 RATINGS
Zwilling Demeyere 5-Plus/Industry5/Sensation 11-inch Skillet Overall Rating: 4.5/5 Excellent. For an explanation of ratings methodology, click here.
Cleanup: 4/5 Very Good. Stainless steel (inox) is not Teflon and should not be compared to Teflon (which wears off) or ceramic (which loses its nonstick ability over time and heat), but Demeyere pans help minimize stickiness in several ways:
– You can pre-heat the pan with some oil to ensure that foods only encounter lubricated hot steel, which is a lot less sticky than bare, not-so-hot steel. Pre-heat the pan to at least 300 degrees F, then add oil, THEN add food. Do not put oil into a cold pan and heat them up together; it doesn't work as well.
– The sheer thermal mass of such thick pans helps ensure that temperatures don't drop too much when you throw in, say, a cold steak. Pans which are too thin will drop in temperature like a rock, necessitating an awkward time period when you wait for temperatures to come back up (e.g., steaming rather than frying a steak). The pan has noticeably better heat retention that thinner products like All-Clad Stainless and its knockoffs. It's still not as good as even thicker pans like the more-expensive Proline (which can handle epically large cuts of meat and fish), but it's still excellent for vegetables and reasonably large cuts of meat and fish.
– You can deglaze (wash off stuck-on brown bits to create a pan gravy or sauce) with water, wine or some other liquid; just pour a little bit of the liquid in while the pan is hot. The liquid will bubble off some stuck-on bits to make a delicious sauce, and as a side effect, it makes the pan easier to clean, too.
– Zwilling's proprietary "Silvinox" treatment apparently means dipping the pans into an electrochemical bath to boost chromium and nickel concentrations on the surface, by stripping out iron and impurities. Zwilling insists that this means their Silvinox-treated steel is harder and more corrosion-resistant that normal stainless steel. It also means less sticking. For instance, it's one of the least sticky stainless steel pans I've ever performed my scrambled eggs tests on. If you're careful about temperature and use enough oil, you can avoid almost all egg sticking. Even if you burn some egg on, a short soak and sponge scrub should be enough to wipe away all but the most burned-on egg residue. Same with rice and other food.
– No rivets means no place for food grime to build up.
– Technically this pan is dishwasher-compatible, but like most clad pans, Sensation pans have exposed aluminum at the rims. I recommend hand-washing. If you encounter a particularly sticky residue, use a little Bar Keepers Friend powder; just swish it around and let the acid do most of the work, instead of scrubbing. If you do throw them into the dishwasher, make sure you use a mild one like Seventh Generation Dishwasher Detergent Powder
. If you prefer pre-measured detergent pellets, there are also Seventh Generation Dishwasher Detergent Packs
.
Durability: 5/5 Excellent. These pans are built thick and tough. The welds are good and you get a lifetime warranty with one of the biggest companies in the industry, so it's a pretty safe bet.
Even heating: 4/5 Very Good. Zwilling Sensation is nearly as good as All-Clad Copper Core for even heating on my Vollrath Mirage Pro 59500P induction cooker and on gas. Even heat distribution is important to avoid over/under cooking food at the center or edges. Sometimes you can't simply stir, because you are busy tending to other dishes or because you are cooking something like fish, which will naturally "stick" for several minutes before naturally releasing on its own. It's a pleasure to be able to cook fish without worrying if one part is getting hotter than another. It's great to be able to pan-fry dumplings without having the center dumplings burning while the off-center ones are just starting to brown. The margin of error is larger with Zwilling Sensation than it is with All-Clad Stainless and other thinner knockoffs. Furthermore, the thicker Zwilling does a better job of maintaining temperatures even when you throw in a lot of food, and this means more browning (Maillard reactions), less steaming, and thus more flavor.
Handling and ease of use: 4/5 Very Good. The handles are comfortable and not slippery, with enough flatness to them that you won't accidentally rotate them during transport. They are made from solid cast stainless steel, so they stay cool no matter how long you cook on the stovetop. They don't have ridges that dig into your hands like, say, All-Clad handles.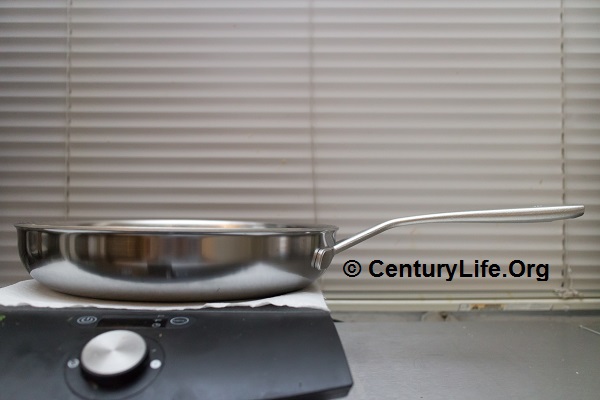 These frying pans are shaped like frying pans, with large bottom cooking surfaces. Other companies sometimes shape their frying pans more like woks, which saves them on metal costs, but costs you bottom cooking surface area. The 11-inch pan's flat cooking surface is about 8.5 inches in diameter. (The flat cooking surface is about 5.5″ for the 8″ pan, 7″ for the 9.5″ pan, and 10″ for the 12″ pan.)
The rolled lips make pouring easy; fluid doesn't try to cling to the outer surface of the pan when you pour.
Although the 11-inch pan does not have a helper handle, at 1530 grams empty (3.37 pounds), and 28 cm diameter, it is light and small enough that some might feel like it doesn't feel like it needs one. It certainly handles better than a 30 cm pan of the same weight would, due to the lower torque, comfortable handle, and how you can fit a little less food into it. So I won't deduct a point. The Zwilling Sensation 9.5″ pan weighs 1320 grams empty, or 2.91 pounds. (For reference, an All-Clad Stainless 12-inch skillet weighs 1265 grams, or 2.79 pounds. Yes, the 9.5″ Sensation weighs more than the 12″ All-Clad, due to the thicker aluminum in the Sensation.)
Value: 4/5 Very Good. If you figure that these pans sell for similar prices to All-Clad Stainless
but are better in every way (even heating, surface finish, handle comfort, ease of cleaning), they are a great deal.
But I am not giving them a 5/5 because for not that much more money you can get Demeyere Proline (for skillets only), and for much less money you can get Cuisinart MultiClad Pro
(I review it here) which is basically All-Clad Stainless with better lids and more comfortable handles (but still less comfortable than the handles on Zwilling Sensation). The All-Clad and MCP aren't as good as the Zwilling, but they aren't fatally flawed, either; you can work around their flaws, like scrubbing around rivets harder and longer during cleaning, shrugging off less-comfortable handles, or stirring more often (though that doesn't always work; some foods need to stick for a while and can't be stirred; and in any case stirring means you can't be doing something else in the kitchen at the same time).
Versatility: 5/5 Excellent. The Sensation 11-inch skillet is oven-safe to 500F, and you can use metal utensils on them if you don't mind scratching them up. It's easy to develop fond (stuck-on tasty bits of food that is part of many recipes as a constituent of pan gravy) and yet also easy to clean the slicker-than-usual Silvinox-treated stainless cooking surface. Sensation pieces are even dishwashable, though I wouldn't recommend it unless you are sure that your detergent isn't so aggressive that it eats aluminum, since Sensation pieces have exposed aluminum at the rims like almost all clad cookware. (If you aren't sure about your brand, consider Seventh Generation dish detergent and tablets
which are safe.) Lastly, Sensation pieces are compatible with induction cooktops. They also work great on gas and electric-coil cooktops as well.
CONCLUSION:
Here's how Demeyere 5-Plus/Industry5/Sensation stacks up against its closest rivals:
Demeyere's top-of-the-line Demeyere Proline skillets and Demeyere Atlantis straight-walled and curved pieces, are both better, but at a higher price. For instance the Demeyere Proline skillets have 85% thicker aluminum cores, and the straight-walled Atlantis pieces have copper and silver that spread heat twice as well as Industry5/Sensation and react faster to changes in heat.
All-Clad Stainless is about the same value; it doesn't perform quite as well and you lose rivetless/Silvinox features and a more comfortable handle, but it costs somewhat less, too.
Good All-Clad Stainless clones like Cuisinart MultiClad Pro (I review it here) are basically Chinese-made All-Clad Stainless with better lids and more comfortable handles (but still less comfortable than the handles on Zwilling Sensation). No, the All-Clad and MCP aren't as good, but they aren't fatally flawed, either; you can work around their flaws, like scrubbing around rivets harder and longer during cleaning, shrugging off less-comfortable handles, or stirring more often (though that doesn't always work; some foods need to stick for a while and can't be stirred; and in any case stirring means you can't be doing something else in the kitchen at the same time).
You can find Demeyere 5-Plus (and, until it got discontinued, Sensation) on Amazon
. Sur La Table (click anywhere outside of the pop-up box to get rid of any pop-up) carries "Demeyere Industry5," which is the same thing as Demeyere 5-Plus/Sensation, but with squarer handles that are bead-blasted rough to make them less slippery when wet in theory. (In practice I haven't found much difference among the handles in real-life use.)
The skillets mostly do not come with lids, so if you don't already have other lids that will fit, I would recommend buying a universal lid such as this one.
Steel that has been pelted with tiny little beads of glass. The result is a semi-rough surface that is hardened. ↩