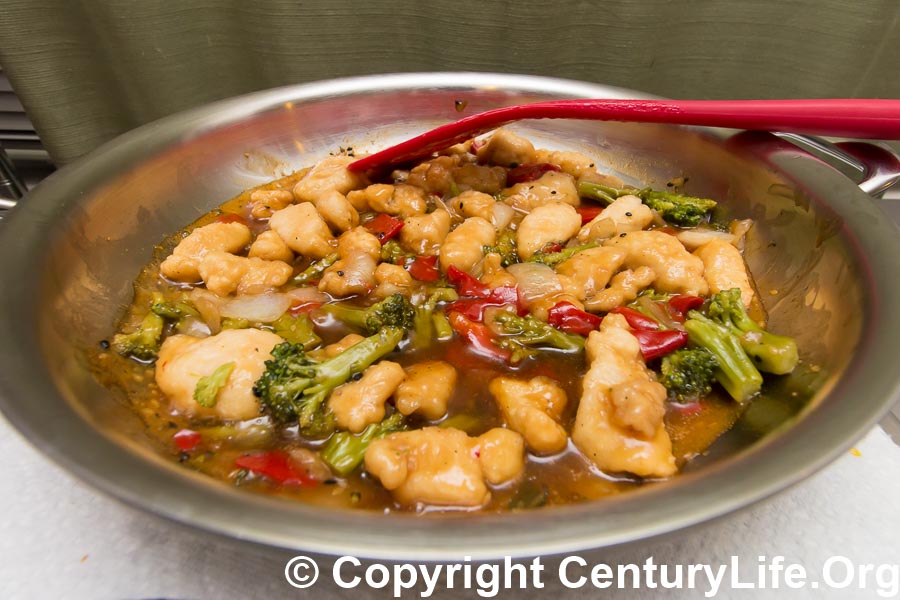 THE COMPANY
Demeyere (pronounced Deh-MAI-reh) is a Belgian company founded in 1908 as a family business. 100 years later, the family sold the company to Zwilling J. A. Henckels (itself owned by the Werhahn Group, a German family investment firm that also owns Staub and other high-end brands).
Demeyere is an offbeat cookware company. Imagine an uncle who loves cooking. Imagine he wins the lottery and decides to build the ultimate set of cookware for himself, regardless of cost, such that he will never even think of buying any more cookware afterwards. Imagine that he loves the results so much that he shares them with the world. That's pretty much Demeyere in a nutshell: superb–likely the last pan you will ever want to buy.
Here is Demeyere's video about Demeyere Proline skillets, explaining the skillet's 3-layer magnetic stainless base and how it's more responsive to induction than most other pans:
If you've never cooked on stainless before, here's a video showing you how to cook on stainless (though the take-off-the-burner-with-lid trick is only applicable to Demeyere's extra-thick pans; for other pans that don't hold as much heat, you will probably have to keep cooking on the burner):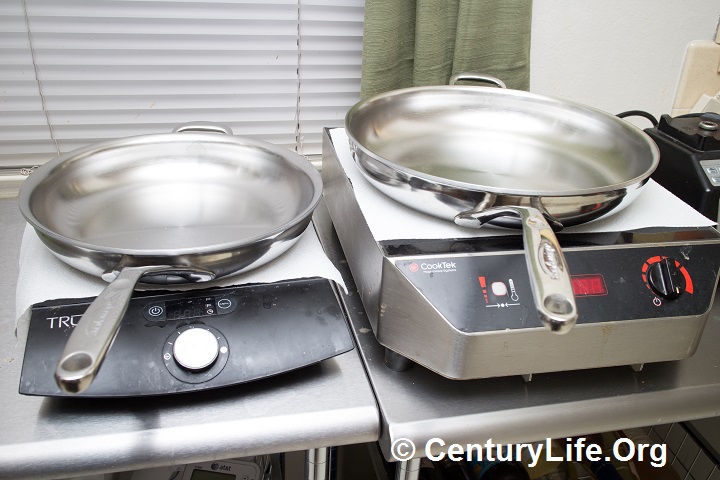 THE PRODUCTS BEING REVIEWED
This review is for Demeyere's top-of-the-line frying pans (skillets), in the 11-inch (28-cm) size
, and 12.6-inch size (32-cm)
. Known as Proline, 5-star, Gold, or Atlantis, these frying pans have some key features:
– 4.8 mm thick clad design (stainless steel inside/outside, 3.7 mm aluminum alloy interior) for even heating and large heat reservoir so it won't drop in temperature too much if you throw in a steak or large fish fillet, for example. That 3.7 mm thickness is roughly twice the thickness of the aluminum layer in All-Clad Stainless. And the total heat capacity of Proline is roughly 75% greater than All-Clad Stainless of the same size (taking into account heat capacity differences between stainless and aluminum). (Note that the smallest Proline, the 8-incher, is 3 mm thick instead of 4.8 mm thick. Presumably there is little point in making the pan thicker, because the burner will be as large or larger than the base of the pan so you will already have excellent heat spread.)
– Rolled lips help for drip-free pouring.
– Classic French curved cast stainless steel handles are comfortable and stay cool on the stovetop, yet can go into the oven at 500 degrees F without a problem.
– "Silvinox" electrochemical surface treatment. Basically they immerse 18/10 stainless steel into chemical wash that decreases the ratio of iron and impurities to chromium/nickel, resulting in 18+/10+ stainless steel, which is shinier, harder, and more corrosion-resistant than untreated 18/10 steel. It's safe for your health since all it does is remove iron and impurities. Even if it wears off, what's underneath is simply regular 18/10 stainless steel. Silvinox is slightly less sticky than untreated 18/10 stainless.
– Rivetless handle design won't trap food particles.
– "TriplInduc" 7-ply design. In addition to 18/10+ Silvinox treated cooking surface and three aluminum/aluminum alloy inner layers, the bottom three layers make the pan induction-compatible. Although Demeyere won't say exactly what the bottom three layers are, it's likely to be a sandwich of 304 stainless-4xx stainless-304 stainless. This gives you the best of both worlds: a highly magnetic 400-series stainless or carbon steel core, protected by a highly corrosion-resistant layer of 304 stainless on the outside that is made even more corrosion-resistant via Silvinox treatment.
In contrast, most induction-compatible cookware on the market is made with 400-series stainless on the bottom which is also known as "18/0" or "magnetic" stainless steel. The problem is that 400-series steel is not as corrosion-resistant. In any case, Demeyere's three-layer design is supposedly more energy-efficient on induction cooktops by "up to" 30% compared to rivals. Believe it or not, it's true, though the key word are "up to." The actual number is more like 10% in my experience (compared to cast iron, All-Clad, etc.).
– 30-year warranty for home use.
The 11-inch/28-cm model
has a bottom exterior base of 8.7 inches (22 cm) and weighs 2304 grams empty. (For comparison, an All-Clad Stainless 12-inch pan weighs 1265 grams, or 2.79 pounds empty. A Lodge 12-inch cast iron pan with tiny handles weighs 3730 grams, or 8.22 pounds.) The interior flat cooking surface is about 8.5 inches in diameter, which is about average for a frying pan of this size. It is 11 inches in diameter, interior to interior wall, at the top. This is probably the best size for most households of one to four people and sells for $270.
The 12.6-inch/32-cm model
has a bottom exterior base of 10.2 inches (26 cm) and weighs 2730 grams empty. The interior flat cooking surface is about 10 inches in diameter, which is about average for a frying pan of this size. It is 12.6 inches in diameter, interior to interior wall, at the top. Be aware that this size may be too big and cumbersome for many people, especially with the helper handle. This Demeyere 32 cm pan has 14% more cooking surface area than 12-inch pans and 31% more cooking surface than 11-inch pans. (Most pans advertised as 12 inches are actually 11.8 inches, or 30 cm, in diameter.) The 32 cm Proline sells for $310.
As an aside, I had the 9.5 inch (24 cm) Proline
for a while, too, but I gave it away since I already had the larger Prolines, though in hindsight I probably should have kept it anyway. The 9.5 inch model has a exterior base of 7.1 inches in diameter (18 cm) and an interior flat cooking surface of about 7 inches in diameter. It is 9.5 inches in diameter, interior to interior wall, at the top. This pan size is good for smaller cooking tasks like cooking for one or two people, or making omelets, and sells for $240.
Demeyere John Pawson saute pan

You may have heard of the Demeyere by John Pawson product line–which has been discontinued as of 2021. Pawson is the same thing as the Demeyere Atlantis product line and the Proline series of skillets, but with a few changes. On the plus side, Pawson has double-walled lids for better thermal insulation. On the minus side, Pawson has sharply square handles (and sharper transitions between the floors and sidewalls, in the conic sauteuse/sauciere), no hole at the end handle for hanging, costs more, and is pretty ugly in my opinion, though opinions can differ. Still, I don't recommend the Pawson product line due to those minuses. I'd stick with Demeyere Proline for skillets and Demeyere Atlantis for everything else (saute/sauciere/stock pots/sauce pans).
RATINGS
Demeyere Proline frying pans' Overall Rating: 4.7/5 Excellent. For an explanation of ratings methodology, click here.
Cleanup: 4/5 Very Good. Stainless steel (inox) is not Teflon and should not be compared to Teflon (which wears off) or ceramic (which loses its nonstick ability over time and heat), but Demeyere pans help minimize stickiness in several ways:
– You can pre-heat the pan with some oil to ensure that foods only encounter lubricated hot steel, which is a lot less sticky than bare, not-so-hot steel. Preheat the pan, then add oil, THEN add food. Do not put oil into a cold pan and heat them up together; it doesn't work as well.
– The sheer thermal mass of such thick pans helps ensure that temperatures don't drop too much when you throw in, say, a cold steak. Pans which are too thin will drop in temperature like a rock, necessitating an awkward time period where you wait for temperatures to come back up and sort of steam the food in the interim. If you don't have such a steep thermal dropoff, your food cooks in the ideal temperature range for longer and consequently tastes better.
– You can deglaze (wash off stuck-on brown bits to create a pan gravy or sauce) with water, wine or some other liquid; just pour a little bit of the liquid in while the pan is hot. The liquid will bubble off some stuck-on bits to make a delicious sauce, and as a side effect, it makes the pan easier to clean, too.
– Demeyere's proprietary "Silvinox" treatment apparently means dipping the pans into an electrochemical bath to boost chromium and nickel concentrations on the surface, by stripping out iron and impurities. Demeyere insists that this means their Silvinox-treated steel is harder and more corrosion-resistant that normal stainless steel. It might also mean less sticky cooking surfaces. In my experience you can't find any other clad skillet design that is as nonstick as Proline. It's not a nonstick pan, but if you use the hot-pan-cold-oil-turn-the-heat-down trick along with sufficient oil, you will have very little egg residue even after frying or scrambling notoriously-sticky eggs. I've had similar experiences with chicken, rice, fish, vegetables, etc. Even if you do get some stuck-on bits, a brief soak and a sponge scrub usually removes such bits unless they are really burned-on.
– Technically Demeyere Proline
is dishwasher-compatible, but like most clad pans, Proline pans have exposed aluminum at the rims. I recommend hand-washing. If you encounter a particularly sticky residue, use a little Bar Keepers Friend powder. (If you prefer a non-abrasive alternative to BKF, try Demeyere Non-Abrasive Cleaner
.) If you do throw them into the dishwasher, make sure you use a mild one like Seventh Generation Dishwasher Detergent Powder
. If you prefer pre-measured detergent pellets, there are also Seventh Generation Dishwasher Detergent Packs
.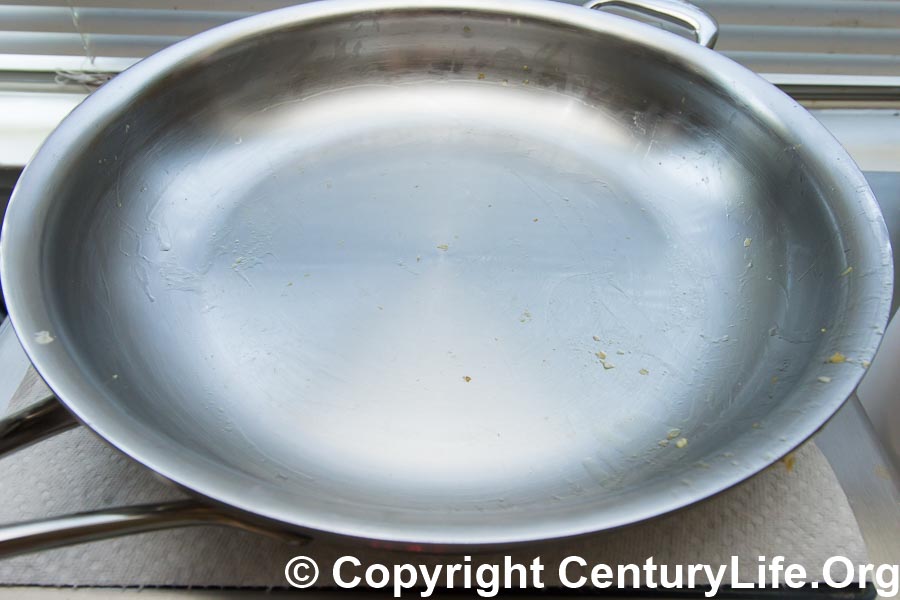 Durability: 5/5 Excellent. These pans will last you a lifetime. The welds are good, and Demeyere pans come with 30-year warranties for home cooks. You probably won't need it. These pans are sturdy enough to use as weapons during a Zombie Apocalypse.
Even heating: 5/5 Excellent, at or near the top of the Thermal Conductivity Rankings. I've cooked various dishes with no uneven-heat problems. Even heating is important to avoid over/under cooking food at the center or edges. Sometimes you can't simply stir, because you are busy tending to other dishes or because you are cooking something like fish, which will naturally "stick" for several minutes before naturally releasing on its own.
Demeyere Proline is 4.8 mm thick, of which 3.7 mm is aluminum. The aluminum layer is about double the aluminum thickness of pans like Cuisinart MCP and All-Clad Stainless, so a Demeyere Proline pan retains about 75% more heat than a comparably-sized Cuisinart MCP pan, after accounting for the stainless steel. This means superb heat spreading and heat retention, even when you throw in a lot of food like a big fish fillet or steak. That's important for keeping food in the proper temperature range for Maillard reactions (browning which gives food good taste and aroma).
In fact, a Proline pan holds roughly 90% as much heat as a 4 mm-thick cast iron skillet of equal size (and spreads heat much more evenly than cast iron). This is because aluminum isn't dense, but it holds twice as much heat as cast iron, pound for pound.1 (Some people mistakenly believe that aluminum doesn't hold heat well, but that's probably due to bad experiences with thin aluminum. Sufficiently thick aluminum can hold and evenly distribute a very large amount of heat.)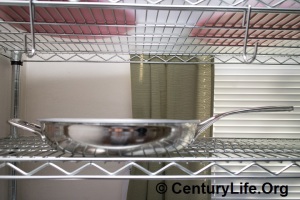 Handling and ease of use: 5/5 Excellent. Demeyere Proline
handles are made from solid cast stainless steel, so they stay cool no matter how long you cook on the stovetop. A cross-section of a Demeyere frying pan handle would look like an ellipse/oval. They don't have ridges that dig into your hands like, say, All-Clad handles. The handles even have small, gently-sloped divots for your thumb to rest on.
However, it bears mentioning that those who like to lift pans off the burner (e.g., flipping/jumping/sauteeing) may struggle with the weight of larger Demeyere Prolines (especially the 12.6-incher, which has 14% more surface area and is much heavier than most 12-inch pans). On the plus side, the larger pans like the ones in this review come with helper handles for easy movement, including washing in the sink, and it's still lighter than cast iron. (An empty Lodge 12-inch cast iron pan weighs 8.22 pounds, compared 5.08 and 6.02 pounds for the Demeyere Proline 11-inch and 12.6-inch pans, respectively, plus the Demeyeres have much longer, stay-cool handles that you can brace against your forearm if necessary). If you have a small sink, I'd recommend getting the 11-inch (28-cm) version for easier handling.
Demeyere Proline frying pans are shaped with large bottom cooking surfaces. Other companies sometimes shape their frying pans more like woks, which uses a little bit less metal, but at the cost of having less bottom cooking surface.
Lastly, the rolled lips make pouring easy; fluid doesn't try to cling to the outer surface of the pan when you pour.
Value: 4/5 Very Good. See Conclusion.
You can save a little time and/or money in the long run with Demeyere if you cook on induction. Demeyere claims that its patented TriplInduc triple-layer bottom is up to 30% more efficient on induction than rival pans. I've tested this on a Kill-a-Watt and multiple portable induction cookers: for any given power setting, Proline draws around 10% more wattage than most other pans. Thus Proline's TriplInduc appears to be more sensitive to magnetic fields than other magnetic materials. If my cast iron = 100% sensitivity on induction, then All-Clad/Cuisinart MultiClad Pro/etc. are all around that 100% mark, but Proline is more like 110%. Demeyere Atlantis (Demeyere's highest-end non-skillet cookware) is slightly lower at maybe 105%.

You can take advantage of Proline's extra sensitivity by either preheating/heating faster (higher maximum wattage) to save time, or by turning down your induction cooker's settings in which case you don't save any time, but you do save wear and tear on the induction cooker's electronics and fan, since the cooker doesn't have to work as hard. This may save a few watts in the process. Thus over the course of enough cooking time on an induction cooktop, a Proline skillet can help pay for itself in the form of lower utility bills and less wear and tear on induction cooktop components.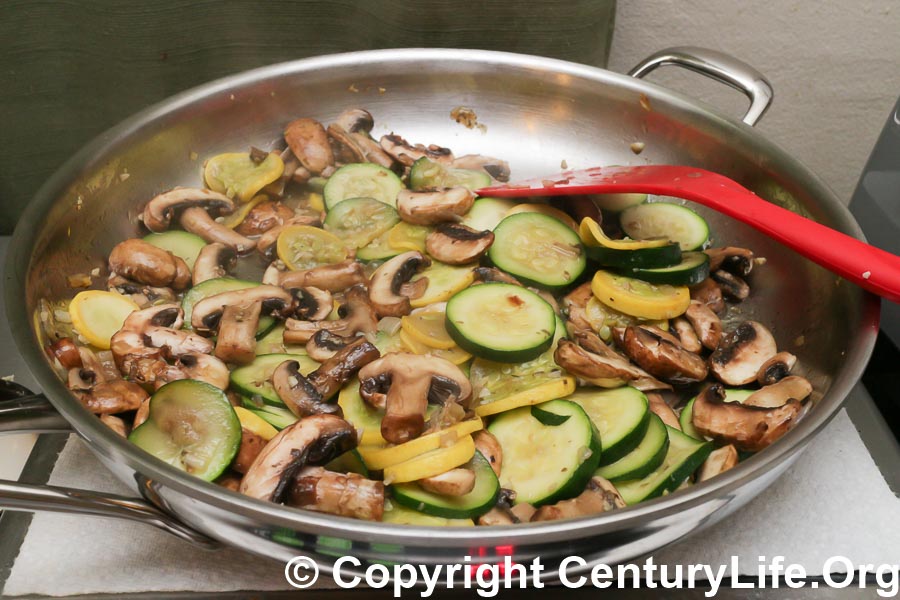 Versatility: 5/5 Excellent. I've used my Demeyere Proline
pans to cook all sorts of things (fish, sauteed vegetables, curry rice, eggs, etc.) and they've always performed as expected. Just preheat the pan and add oil once the pan is hot. Prolines are oven-safe to at least 500F, and you can use metal utensils on them if you don't mind scratching them up. It's easy to develop fond and yet also easy to clean the Silvinox-treated stainless cooking surface. Prolines are dishwasher-compatible, though I wouldn't recommend it unless you are sure that your detergent isn't so aggressive that it eats aluminum, since Prolines have exposed aluminum at the rims. (If you aren't sure about your brand, consider Seventh Generation dish detergent and tablets
which are definitely safe.) Lastly Demeyere Proline is already induction-compatible and as much as 20% more induction-efficient than other brands I've tested, due to Demeyere's vaunted TriplInduc (three bottom layers of stainless steel).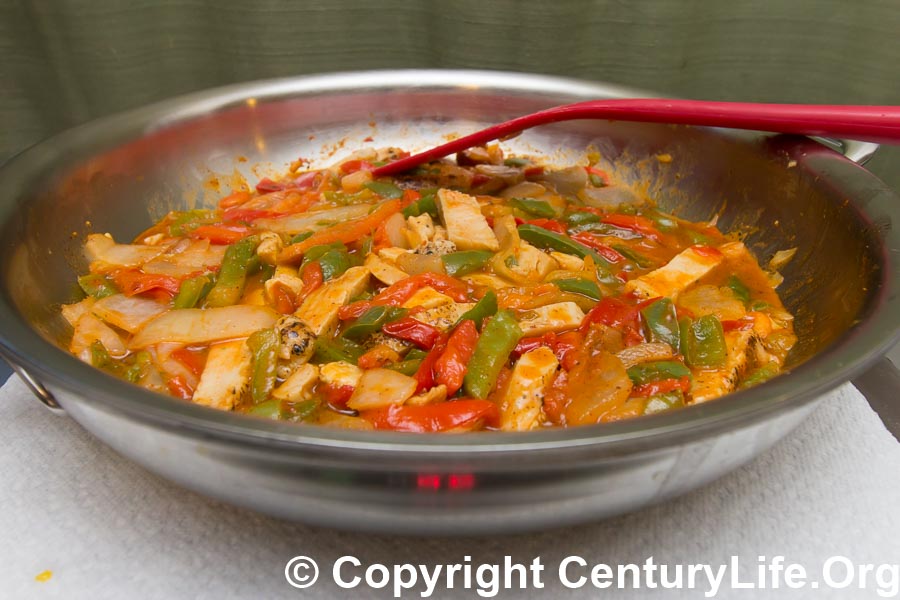 CONCLUSION
Are Demeyere Proline frying pans (skillets) worth the price? (I also review Demeyere Atlantis and Atlantis conic pieces, which are built with extra-large copper discs on the bottom and uncladded stainless steel sidewalls, but this review is just for the Proline skillets.)
If you cook often enough, and especially if you like easier cleanup, then an easy case may be made for "yes." With Demeyere Proline, you get ~90% of the heat capacity of cast iron, fantastic heat-spreading ability, and the corrosion-resistance and warp-resistance of stainless steel, all in a comfortable, easy to clean (Silvinox-treated and rivetless) package that can be used in the dishwasher and on induction, unlike aluminum, cast iron, copper, and PTFE pans. Those other pans have additional problems: cast iron is a terrible heat conductor, requires more care to avoid rust, and can give off-tastes with acidic foods; copper requires more maintenance and is not induction-compatible unless it's Prima Matera; bare aluminum is highly chemically reactive (can introduce metallic taste/color) and is notorious for warping; PTFE/nonstick wears off and can't be used with broilers and hot ovens (PTFE starts to decompose around 400F); and ceramic loses its nonstickiness over enough heating and cooling cycles and can chip or fracture.
And if you want to spend extra on any one piece of stovetop cookware, the skillet is the place to do it: it's versatile (able to cook both wet and dry foods) and has to survive higher temperatures and mechanical stresses than any other piece.
That said, there are alternatives that cost less:
Cristel Casteline (I review it here) has detachable handles, sealed rims, and similar thermal performance to Demeyere Proline, although the Casteline is a bit harder to clean up because it does not have the slicker Silvinox finish, and there are rivets to clean around.
All-Clad MC2 (I review it here) performs a notch below Proline but is still very good. It utilizes aluminum roughly 3mm thick (compared to Demeyere Proline's 3.7mm). It has a stainless cooking surface and a bare aluminum exterior but performs very well–better than Demeyere 5-Plus. It's also a better value than Demeyere, if you can live with the limitations of MC2 (no dishwasher or induction compatibility).
Anything less than the above doesn't perform in the same league. The "best of the rest" is a thinner, cheaper version of Proline: Demeyere 5-Plus, which has only 2mm of aluminum compared to the 3.8mm of aluminum in Proline. (I review Demeyere 5-Plus here.)
All-Clad Stainless
and its knockoffs of it such as Cuisinart MultiClad Pro
use even less aluminum (about 1.5 to 1.7 mm aluminum).
Demeyere Proline can be found at Amazon and Sur La Table (click anywhere outside of the pop-up box to get rid of the pop-up). These skillets do not come with lids, so if you don't already have other lids that will fit, I would recommend buying a universal lid such as this one.
Update: Starting in 2016, Demeyere made a Sur La Table exclusive called Demeyere Silver7 which is the same thing as Demeyere Atlantis and Proline, except with squarer handles and double-walled (i.e., better insulated due to an air gap between the top and bottom layers of the lid) lids a la the Demeyere John Pawson line.