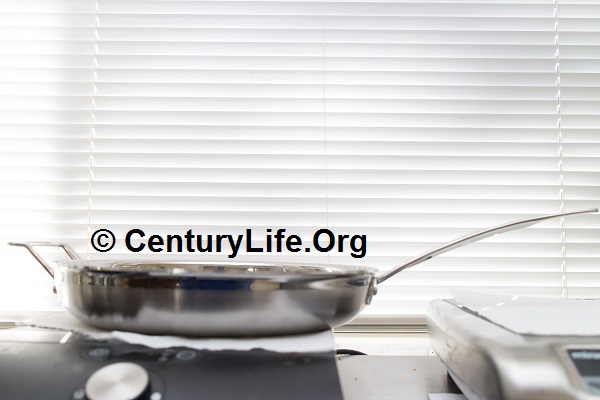 THE COMPANY
Cuisinart (pronounced "KWEEZ-in-art") is a subsidiary of the Conair Corporation, which is perhaps better known for hair dryers. But don't let that fool you; Cuisinart has been around since 1971.1 The short story is that Carl Sontheimer started Cuisinart in 1971 after visiting France and seeing semi-automated food preparation machines. He reversed-engineered a machine and added a feeding tube. His creation, dubbed a "food processor," was a success. Cuisinart subsequently expanded into choppers in 1986. Sontheimer sold the company in 1989 for $60 million, which was re-sold to Conair Corporation later that year. Under Conair's management, Cuisinart expanded its offerings to encompass virtually everything kitchen-related, from bakeware to wafflemakers.
THE PRODUCT BEING REVIEWED
Today, we're going to look at the Cuisinart Multiclad Pro (aka MCP or MultiClad Professional)
series, and in particular at the Cuisinart MCP22-30HN MultiClad Pro Stainless 12-Inch Skillet with Helper
, though this review is applicable to other pieces in the product line. There is an older, discontinued MCP line
; the newer MCP products have the letter "N" in their product numbers. The only difference is that the newer "N" product line has slightly more comfortable handles. All of my references to Cuisinart MCP are to the new "N" product line, because there is no real reason to buy the older product line.
Overall Rating: 4.65/5 Excellent. For an explanation of ratings methodology, click here.
Cleanup: 4/5 Very Good. I never give 5/5 to stainless steel because it can stick, but if you preheat the pan, then turn down the heat to low (or medium low depending on your burner's strength) and add oil, and THEN add food, you can minimize sticking. Deglazing a pan (adding a little liquid such as wine to stuck-on bits of protein while the pan is still hot) can also help with cleanup as well as make a great pan gravy.
As far as stainless pans go, I would rate Cuisinart MCP as somewhere in the middle of the pack and thus a solid 4. The pan does have rivets–two sets of them since it has two handles–so it is a little harder to clean than rivetless designs like Demeyere Proline.
If you ever find yourself with dull protein stains or rainbows of heated oil left on the pan, try boiling a little vinegar and water in the pan. If that's not enough, use Bar Keepers Friend.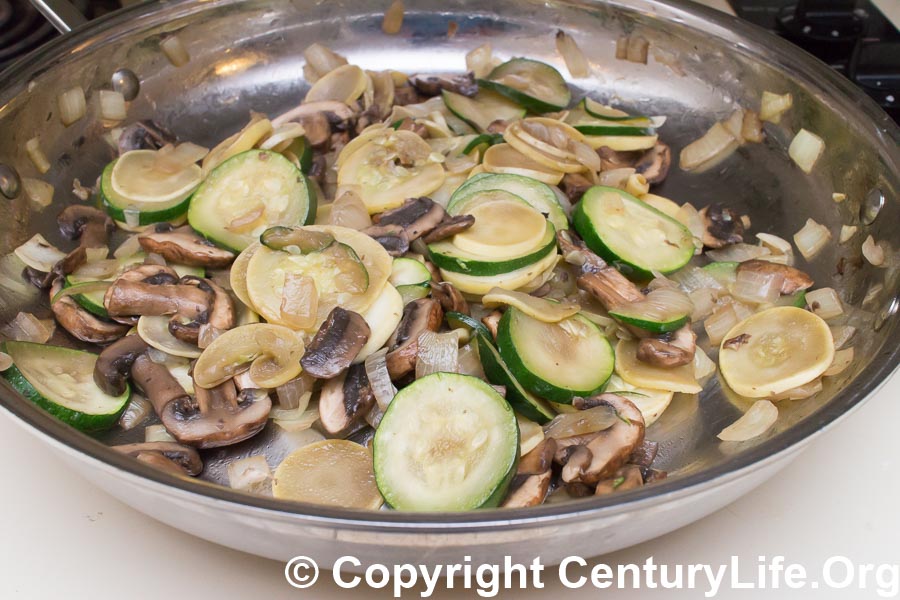 Durability: 5/5 Excellent. The Cuisinart MCP series is built very similarly to All-Clad (stainless inner and outer layers protecting an inner aluminum layer), and apparently just as tough. The most-abused pan in my kitchen is the Cuisinart MCP193-18N MultiClad Pro Stainless Steel 3-Quart Saucepan
, which I have boiled dry several times and also burned rice in. The worst boil-dry incident was when I used a steamer insert above the pan to steam some frozen food–but forgot to add water! I wandered off to another room, and before I realized what had happened, the saucepan ate at least 11 minutes of high heat. The food had remained frozen, so very little water dripped down to the saucepan to tame temperatures. The saucepan oxidized into a slightly golden color, yet remained perfectly flat at the base anyway. (The golden yellow eventually rubbed off with Bar Keepers Friend.) There were other incidents of abuse, including another boil-dry incident that turned the saucepan golden, but it shrugged off such abuse each time.
Sometime around 2010 Cuisinart stopped advertising MCP as SAE 304 (18/8 or 18/10 stainless steel; the 18 refers to 18% chromium, and the 8-10% refers to 8-10% nickel). (Amazon still hasn't updated their product description; it still says 18/10 there. As an aside, many companies that advertise 18/10 stainless use something more like 18/8.3 stainless and round way up to 18/10.) I contacted Cuisinart for clarification, but they wouldn't tell me exactly what stainless grade they use now. That said, we can be fairly confident that Cuisinart is using at least SAE 202/204 (18/4) stainless in MCP, since MCP is Cuisinart's highest-end product line, and the interior of MCP is not strongly magnetic (which it would be if it were a grade of stainless like 18/0, which resists rust less than 18/4).
18/8 or 18/10 stainless is strong and rust-resistant, which is why high-end cookware usually uses it, but I haven't noticed any corrosion-resistance difference between my 18/10 All-Clad and my post-2010 MCP, even after six years of hard use on the MCP and counting. Either 18/4 is still very good at resisting rust, or Cuisinart is using something better than 18/4 for MCP.
By the way, almost all stainless steel cookware made today (including All-Clad and Cuisinart MCP) is made with a bottom-most layer of SAE 400-series (18/0) stainless in order to be induction-compatible. That's because the addition of small amounts of nickel in stainless makes the steel less magnetic, so you can't use 18/4, or 18/8, or 18/10 stainless on the bottom and still be induction-compatible. 18/0 is still fairly rust-resistant–it survives dishwashers without rusting–but try to avoid letting your stainless pots sit in puddles of water for days on end.
Finally, please note that the rivets have stainless interior caps, but the exterior is aluminum, so if you clean the rivets a lot (especially if you run MCP through the dishwasher a lot), the outside part of the rivets will look less shiny. The dullness is purely cosmetic, and many people probably won't notice or care.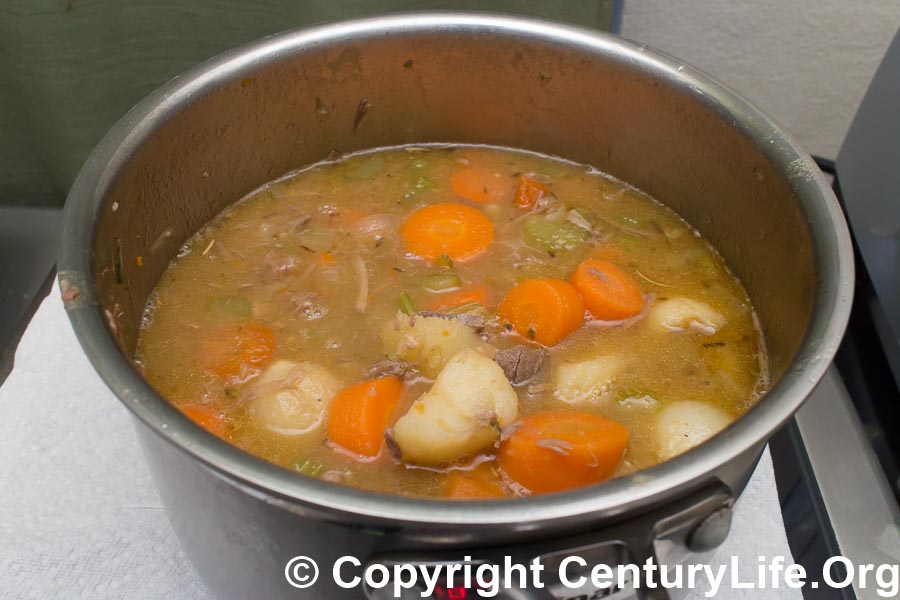 Even heating: 4/5 Very Good. The Cuisinart MCP product line is just as thick as All-Clad Stainless, so Cuisinart MCP pans perform pretty well. It's not top of the line but you should be fine with most foods. Where you might run into trouble is if you toss in a big steak or fish fillet or something else big and cold. The pan temperature may drop below the range that produces tasty Maillard reactions, which is why I recommend thicker pans like All-Clad D7 for people who cook such things. If you're a vegetarian, Cuisinart MCP should be fine.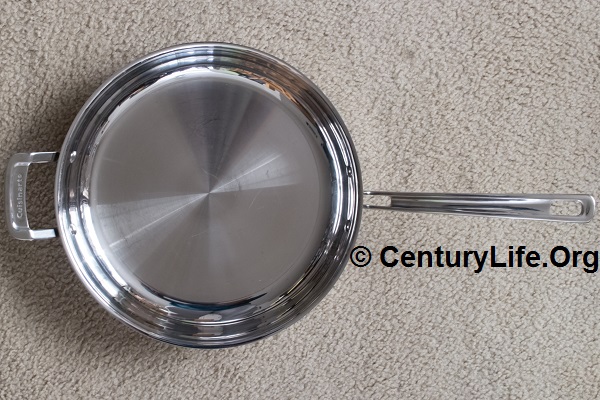 Handling and ease of use: 5/5 Excellent. The Cuisinart MCP22-30HN MultiClad Pro Stainless 12-Inch Skillet with Helper
weighs 1690 grams (3.72 pounds) when empty. When the pan is full, the pan is heavy enough and wide enough in diameter that the helper handle becomes very useful.
The handles look rather utilitarian, even though they have rounded corners. Nevertheless, the handles work and aren't uncomfortable. You won't have unwanted pan rotation, because the handle will dig enough into your palm to prevent that, but not so much that it hurts.
The pan has flared rims for easy, drip-free pouring.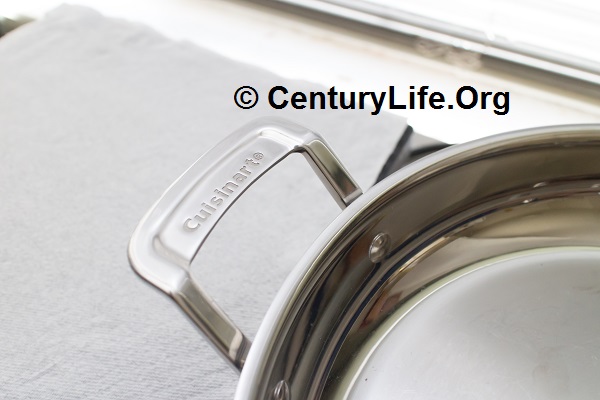 Value: 5/5 Excellent. The expiration of All-Clad Stainless patents in the 2000s triggered a gold rush. Seemingly every cookware manufacturer built a factory in China or contracted with a factory in China to make knockoffs. However, not all tri-ply is equally good, and where you often see cost-cutting is in things like not having helper handles when they would be useful, thinning out product, skimping on polishing, skimping on flaring rims, using glass lids instead of steel lids (glass is cheaper), and using lesser grades of steel.
To Cuisinart's credit, they have not skimped in any way that I can tell other than steel (but as I noted above, my MCP has not corroded any more than my 18/10 cookware from other companies):
flared rims on all pieces
good polishing
stainless steel lids.
sidewalls are about 2.6 mm thick, same as All-Clad Stainless, and thicker than cheaper knockoffs which are often in the 2.15 to 2.5 mm range. Since the stainless layers usually total 0.9 to 1 mm, that All-Clad Stainless has about 1.7mm-thick aluminum in their core, but knockoffs can go as low as 1.2 mm. That's a big difference and why cheap knockoffs often don't spread heat as evenly.
Furthermore, Cuisinart seems less reluctant to include helper handles in its products. E.g., the Cuisinart MCP22-30HN MultiClad Pro Stainless 12-Inch Skillet with Helper
has a helper handle, yet its All-Clad Stainless counterpart
does not. (Maybe All-Clad figures its pan is a little lighter and doesn't need a helper handle?)
Versatility: 5/5 Excellent.
This pan can cook on any heating surface including induction and can be put into the dishwasher. It's very sturdily-built and will not give off-flavors, nor will it chip or flake off like ceramic or nonstick coatings. All Cuisinart MCP is oven-safe to 550 degrees Fahrenheit and broiler-safe. And unlike glass lids which usually can't go much beyond 375F, Cuisinart MCP lids are oven safe to 550F (288C).
The 12-inch skillet's flat cooking area is about 9.5 inches in diameter, which is average for a 30 cm skillet. (Technically, 12 inches = 30.48 cm, but most manufacturers make 30 cm skillets which are 11.8 inches across and call them 12 inch skillets anyway.)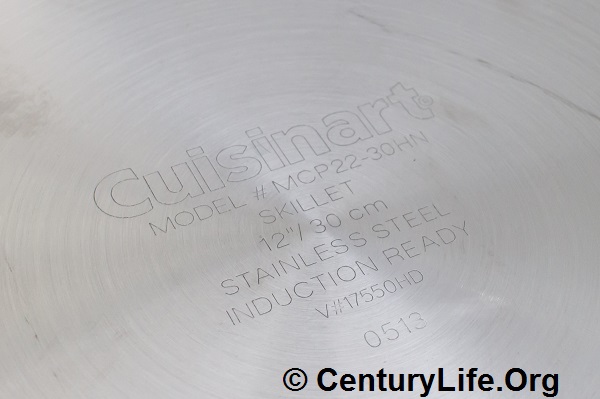 CONCLUSION
NOTE: As of 2020 it appears that French Classic has been discontinued.
The Cuisinart MCP22-30HN MultiClad Pro Stainless 12-Inch Skillet with Helper
is an excellent value and our top pick for bang-for-the-buck. It's basically thermally as good as All-Clad Stainless, but with a helper handle and made in China.
It used to be that you could get a slightly different version of MCP made in France, the Cuisinart French Classic Tri-ply
. It's the same thickness and thermal performance as MCP, but there are a few differences: it's made in France, has more comfortable handles, but also costs somewhat more and lacks flared rims for easier pouring (except for individually-sold French Classic Tri-ply skillets
).
However, as of 2020 it appears that French Classic has been discontinued.
SETS
For Cuisinart MCP sets, you have a choice between the MCP-7N 7-Piece Cookware Set and the Cuisinart MCP-12N 12-piece set. (Lids count as pieces. Also, note that Cuisinart also sells a version of MCP that comes with glass lids, which they call "tri-ply," at the same link. I would recommend getting the version with stainless steel lids because of their durability and how they are oven-safe above 350 degrees Fahrenheit, but if you must have glass lids, Cuisinart gives you that choice.)
In the 7-piece set, you get a 10 inch skillet, 1.5- quart and 3- quart saucepans, and an 8-quart stockpot. The 1.5-quart saucepan isn't absolutely necessary, though it's useful for making small quantities of sauces like a garlic butter dip for seafood.
The 12-piece set adds an 8 inch skillet, a steamer insert, and a 3.5-quart saute pan. The steamer basket is very useful, as is the saute pan. The 8-inch skillet isn't as useful but can be used for small omelets and such.
The 7-piece set by itself isn't enough; you really need a saute pan when you're trying to cook down a bunch of leafy greens, because a skillet does not have the floorspace or height to cope with that. Therefore I would recommend either a) getting the 7-piece set and separately adding the 5-quart MCP saute pan, or b) getting the 12-piece set, which comes with a 3.5-quart saute pan. Note that if you value the steamer basket or 8-inch skillet at more than zero, then the 12-piece set is the better deal. (A steamer basket can be extremely useful for quick meal preparation.)
For Cuisinart MCP French Classic sets, you get a choice between the Cuisinart FCT-10 French Classic Tri-Ply Stainless 10-Piece Cookware Set and the Cuisinart FCT-13 French Classic Tri-Ply Stainless 13-Piece Cookware Set
. (Lids count as pieces.)
The 10-piece set has 8 and 10 inch skillets, a 2-quart saucepan with lid, a 3-quart saute (not sauce) pan with lid, a 4.5-quart curved saucier/Dutch oven with lid, and an 8-quart stockpot with lid.
The 13-piece set adds a 24cm steamer basket, and instead of a single 2-quart saucepan, you get a 1.5-quart saucepan and 2.5-quart saucepan.
In my opinion the 13-piece set is only worth it if you absolutely must have a 24cm USA/EU-made steamer basket. There was no need to split the 2-quart saucepan into 1.5 and 2.5 quart saucepans, so that doesn't add much value. But USA/European 24cm steamer inserts are rare and usually very expensive (more than $100). Therefore:
For all Cuisinart products, the last portion of the model number tells you the inside diameter. For instance, the Cuisinart MCP22-30HN MultiClad Pro Stainless 12-Inch Skillet with Helper has a model number ending in -30HN. The "30" means the distance from the inside of the cookware to the opposite side, at the top, is 30 centimeters.
For both Cuisinart MultiClad Pro and French Classic Tri-Ply, the skillets do not come with lids, so if you don't already have other lids that will fit, I would recommend buying a universal lid such as this one.

FOOTNOTES