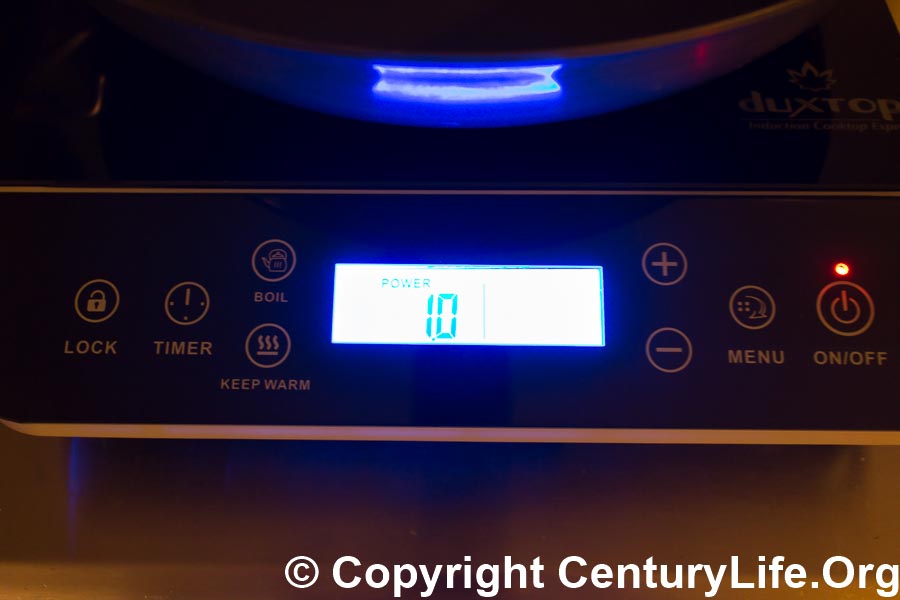 This article is divided into three sections. Depending on how much you already know about induction, you may want to skip down to the second or third section.
What is induction?
If you run electricity through a coil, it's possible to generate magnetic waves. If those waves connect with, say, magnetic cookware, then the waves induce electric eddy currents in the cookware, which generates a great amount of heat. The closer the cookware is to the coil, the stronger the induction and thus the more heat generated. In practice you need cookware to be within a couple of centimeters of the protective ceramic sheet that is directly above an induction coil.
Why buy induction?
Energy Efficiency. Induction is ~80% efficient; it's not 100% because some magnetic waves don't connect with the cookware, and you still have to run the fan and electronics separately from the induction coil. But 80% is as efficient as electric coil/radiant, and much more efficient than the ~41% of natural gas
Less waste heat. With induction, more heat goes into the pan as opposed to heating your kitchen air–which is especially welcome during hot summers.
Speed/Responsiveness. Cookware reacts instantly to increase/decrease of power–even faster than gas. Electric coils have a lot of thermal mass, so you have to heat up or cool down the coil before the cookware follows suit–that's why electric coils are so sluggish to preheat a pan or to respond to your turning down the power when trying to save dinner from burning.
Repeatability. Digital numbers makes repeating cooking results easier than guessing heat output via analog dials.
Easy clean-up. The ceramic surface above induction coils stays cool. It doesn't get so hot as to get carbonized crud burned onto it like you see with gas and electric coil burners. With induction, you can even drape paper towels on top of the ceramic to catch any food spills or grease splatters and further shorten the amount of time you spend cleaning the cooktop and pan bottoms. The paper towel also prevents scuffing so that pan bottoms look practically new even after thousands of meals on induction stoves.
Safety. A hot electric coil or gas flame would burn kids much worse than the relatively cool ceramic over induction burners; nor are there combustion byproducts so there is less need for venting when cooking with induction.
Digital timers allow for set-and-forget stock-making, steaming, and other tasks. You could even use your induction cooktop as a slow-cooker if there is not automatic shutoff after 120 or 180 minutes like most cheap units have.
Environmentally friendly. Induction is more environmentally-friendly than gas due to higher efficiency and how electricity may one day become more renewable than natural gas.
Why not buy induction?
Higher initial cost
You have indispensable cookware incompatible with induction and object to using standalone burners for those pieces; induction only works with cookware if a magnet strongly sticks to the bottom of the cookware
Your cookware is especially bad (conducts heat poorly and is too wide for the induction burner)
You routinely lift your pan up during cooking (e.g., saute or wok stir-fry motion) – however, some induction cookers won't automatically shut off if you lift the pan, and that feature is trickling down to cheaper units, such as this one
If you decide you want to buy a portable induction cooker, for any reason (e.g., for your RV, dipping a toe into induction to see how it differs from your existing range, etc.), here are the things to look for when buying an induction cooker:
Factors to Consider When Selecting a Portable Induction Cooker (Countertop Burner):
Most Important:
Number of Power Settings – More settings means finer-grained control and the ability to do things like simmer soup instead of having the induction blast it with hundreds of watts of energy and then do nothing for a few seconds, repeatedly
Coil Diameter – The larger the better so as to better match the burner size with the bottom diameters of most pans; keep in mind that the circular hotspot will be only about half the diameter of the coil diameter (see below)
Fan Quality – Long-lived two-ball bearing fans preferred to cheapo, short-lived sleeve-bearing fans
Induction Noise – Cheap units tend to produce louder squeals, especially at high wattage; squeals sound like high-pitched vibrations of metal on metal
Angled Control Panel – Don't buy induction cookers that look like tablets; a large-diameter pan can heat the control panel electronics too easily, since those controls are level with the pan. Instead, buy induction cookers that have angled front control panels which won't cook along with your food.
Important:
Fan Noise – The quieter, the better
Timer – A real time-saver and safety feature; it allows you to do things like steam food or make stock and walk away, only coming back once the unit is done, without worrying about forgetting about the cooker.
Case Build Quality – Ideally you want a large ceramic top plate with stainless steel or other durable frame. A plastic frame is an indication of cost-cutting. If they were willing to cost cut on the exterior, they might have cut a few corners on the interior component quality as well.
Thermometer – Some units let you target a certain temperature. The bad units will have huge gaps between temperature targets; the better units will give you finer-grained control. In any case, the thermometer is on the underside of the ceramic above the induction coil, NOT touching the bottom of the cookware itself. Therefore it's an imperfect measurement and can lag the actual temperature of the pan if the pan is rising or falling in temperature. I don't find temperature targets to be that important or accurate, but it can come in handy sometimes, like when simmering stock.
Warranty Length – This is a signal by the manufacturer to you, indicating how much confidence they have in the product. Don't even think about buying anything with less than a 1-year warranty.
Least-Important:
Length of Power Cord – Can be fixed via a heavy duty extension cord or a good surge protector. (Avoid cheap extension cords; you want something that can handle at least 1800 watts, preferably more if you want a safety margin. Most cheap extension cords are rated for only 13A@125V = 1625 watts. (The extension cord I linked to above can handle 15A@125V = 1875 watts.)
Three-Prong Outlet – Not strictly necessary, but good for safety as it protects against electrocution from short circuits; besides, if a manufacturer is skimping on this, what else are they skimping on inside the machine?
Wattage Maximum – High wattage only really matters when you are trying to heat something as quickly as possible; usually when trying to boil water as fast as possible. A 1400-watt induction cooker is good enough to generate 430 degrees Fahrenheit.
Dial vs Button Controls – Dials can be more responsive than pushing buttons that increment power levels one by one, but you can also lift an overheated pan off the burner entirely if you are in a rush to save food from burning

Induction cooking myths and facts:
Myth: Induction is unsafe.
Fact: Induction is the safest stovetop heating method. Electric coils can get very hot and stay very hot for a long time. Burning gas produces a very hot flame, which has obvious risks, as well as small quantities of combustion byproducts that are bad to breathe in and should be vented. In contrast to electric coil and gas, induction produces the lowest temperatures–nothing ever gets hotter than the pan bottom, since the pan bottom is the heat source (as opposed to a hot electric coil or gas flame, both of which get much hotter than the pan bottom). For short cooking tasks, the ceramic won't even get as hot as the pan bottom. Also, induction works via magnetic fields that strike the pan bottom and generate heat. There is no risk of electrocution; you can literally put your hand on a cold pan's bottom as it's being heated up via induction. But don't keep your hand there, because a hot pan is a hot pan, regardless of heat source, and a hot pan can burn you.
Myth: Copper and aluminum cookware are not induction-compatible.
Fact: This is true if the copper or aluminum has nothing underneath. If there is magnetic material attached to the bottom of copper/aluminum cookware (e.g., a thin sheet of magnetic stainless steel), then that's enough for the cookware to be induction-compatible. There are also some exotic, ultra-expensive induction heaters that are so powerful that they can heat copper and aluminum, albeit very inefficiently. Such exotic, ultra-expensive induction cookers are basically industrial or scientific laboratory equipment and not a real option for most people.
Myth: You can use induction converter discs to transmit induction heat to non-induction-compatible cookware.
Fact: Technically this is true, but why bother unless it's for that one piece you just can't give up? And even in that case, just get a portable butane burner or hotplate for that one piece. If you use a converter disc like the VonShef Induction Hob Heat Diffuser
(which apparently has durability issues but is still the best I've tried), you're basically converting your induction cooker into an unresponsive hotplate that you could have bought for a lot less money, e.g., this Waring SB30 1300-Watt Portable Single Burner
. If you use a converter disc with an induction cooker, it will act as a heat dam and get hotter than the pan/pot above it. If the converter disc gets too hot, it lead the burner to shut itself down. In any case, high heat is definitely not good for electronics longevity as it promotes electromigration–where electrons stray off-course and cause circuit failure. Bottom line: don't use converter discs unless you absolutely must, and even then, try not to use them for higher-temperature activities like frying.
Myth: You have to buy a particular brand of cookware for induction. For instance, if you buy brand X induction cookers, you have to buy brand X cookware, too.
Fact: False. Some induction cooker companies make it sound like you must use their particular brand of cookware, but that's false. If a magnet is strongly attracted to the bottom of a piece of cookware, then that cookware is induction-compatible, period. Since magnetic stainless steel costs less to make than non-magnetic stainless steel (nickel costs more than iron), cookware manufacturers actually LIKE making their stainless steel cookware be induction-compatible! The only drawback is that magnetic stainless steel is less corrosion-resistant than non-magnetic stainless steel. Therefore, many cookware manufacturers use magnetic stainless for the bottom surface of a pan and SAE 304 (18/8 or 18/10) stainless for the cooking surface of the pan.
Myth: The diameter of an induction coil equals the diameter of the circular hotspot in a pan heated above the coil.
Fact: Wrong. The magnetic waves peak roughly in the middle of the doughnut-shaped induction coil. So if you have a 12-inch coil, then you can expect the circular hotspot to be about 6 inches in diameter (not exactly, but that's a rough approximation).
Myth: Induction heating is so even-heating that it negates the need for quality cookware.
Fact: The opposite is true. In most cases, induction is more stressful than gas and electric coil/radiant in terms of spreading heat evenly:
Induction: All existing portable induction cookers, and most non-portable induction cooktops and ranges, use large induction coils. These induction coils generate an "O"-shaped hotspot in the cookware above. This is extremely stressful on the cookware because so much energy needs to move away from that circular hotspot.
Gas: Gas burners have a very hot visible flame and will produce a similar "O" shape, but the process of burning natural gas also produces hot carbon dioxide and water molecules (think water vapor), in addition to heating up air. These hot gases also heat a pan, so unlike induction, gas produces a hot "O" shape but also a hot wave of heat across the rest of the pan bottom as well, which promotes more even heating than induction coils.
Electric coil/radiant/solid metal hotplate: As for electric coil/radiant, the hot coil/heating element area is a spiral or filled-in circle, rather than an empty "O" shape, so it's possible to get even heating as long as the heating element area is not too undersized relative to the bottom of the pan above it.
The exception to the rule: induction cooktops with many little coils, like the $6000 CIT36XKB Masterpiece Series 36″ Wide Freedom Induction Cooktop Full Surface Cooking Auto Shut-Off Timer Child Safety Lock Hot Surface Indicator Light: Stainless
. It has 48 little 3-inch induction coils. You can place cookware anywhere on the surface and whatever induction coils happen to be underneath will become active and heat the cookware. It's way easier to distribute the heat evenly with a bunch of tiny coils, compared to one, big, hot "O." As for smaller-diameter pans, those don't need as much help with even heating in the first place.
Myth: The quantity or type of magnetic material matters.
Fact: Aside from extreme cases like a sheet of cast iron just a few millimeters thick, the quantity of magnetic material doesn't matter. Thick cast iron draws just as much wattage as thin cast iron, for instance. And as long as the bottom of cookware is made out of cast iron, carbon steel, or magnetic stainless steel (aka 18/0 or 400-series stainless steel, likely 430 stainless), all three will draw very similar wattage. So in practice, most induction-compatible cookware is just as magnetic as cast iron.
There are exceptions, though. My Demeyere Proline skillets are about 10% more efficient than normal. Demeyere Atlantis
is perhaps 5% more efficient. Demeyere is well aware of this; in fact they deliberately engineered their pans that way and treat it as a selling point; they claim that their Proline pans are up to 30% more efficient on induction than rival pans. "Up to 30%" is wildly optimistic, but I can vouch for ~10%. I've also seen a few pieces of cookware that were LESS efficient than ordinary cast iron/carbon steel/430 magnetic stainless, but those are rare and could result from metal impurities or manufacturing issues.
Possible Myth: If you wear a pacemaker, you can't cook with induction.
Fact: This is possibly true, but there is enough variation in pacemakers that you should consult your cardiologist for advice on your particular circumstance.
Myth: Induction has to be loud.
Fact: No. Cheap induction cookers often cheap electronics and small heatsinks. The result is a high-frequency squeal that sounds reminiscent of two pieces of steel rubbing against each other very quickly. I've had occasional success in dampening the squeal by placing paper towels in-between the induction cooker and the cookware, so perhaps some of the noise is related to the metal cookware vibrating against the cooker's hard ceramic.
Cheap induction cookers also tend to have cheap, loud fans. There's not much you can do about that other than making sure that there isn't anything blocking the air intake or exhaust, as anything that suffocates the fan will tend to amplify fan noise and decrease cooling efficiency. A decrease in cooling efficiency means more heat buildup, which tells the cooker to speed up the fan and cause even more noise.
Higher-end induction cookers tend to have better electronics and fans and bigger heatsinks, which result in less noise.
Myth: Cookware must be perfectly flat to use on induction.
Fact: A slightly warped pan might still work effectively on induction. Magnetic waves lose power very quickly over distance–so quickly that lifting a pan just one inch off an induction cooker may be enough to sever the induction link entirely. But a few millimeters isn't enough to sever the link. You can slide thin items like paper towels, heat-resistant silicone, wet cloth towels, etc. in-between the induction cooker and the cookware and still get most of the power. If you have a barely-warped pan, consider placing it on top of a thin amount of material that has a little give to it, like a damp cloth towel, in order to stabilize the cookware and avoid oil pooling up only on one side of the pan.

A Guide to Portable Induction Cookers
If you already know all about induction, these are my personal recommendations for 120-volt portable induction cookers (the kind you plug into a regular wall outlet), backed by personal experience and years of cooking on various induction cookers like the Tatung TICT-1500W (discontinued), Tru Eco 1400W (sort-of discontinued), and All-Clad Induction Burner (discontinued):
Best buy at or around $100 = Duxtop LCD 1800-Watt Portable Induction Cooktop Countertop Burner 9600LS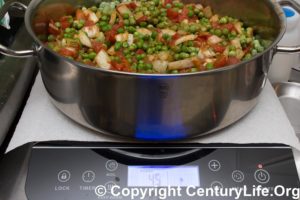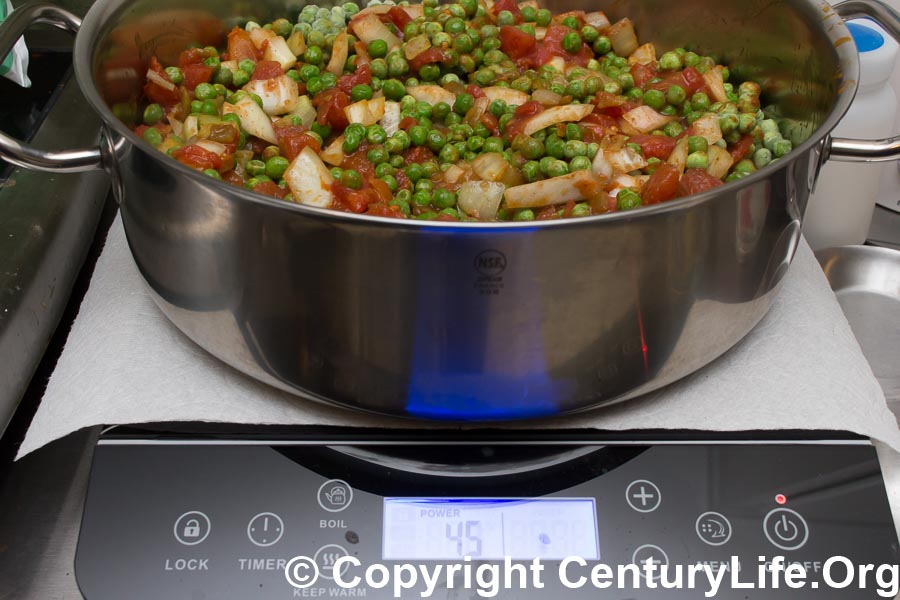 As I mentioned in my review of the 9600LS, the Duxtop 9600LS outclasses anything else in its price range.  It has 20 power levels, plus a timer with one-minute increments that goes up to 10 hours, so it can double as a slow cooker.  Sure, you can find slightly cheaper induction cookers out there, but those have typically have 10 or fewer manual power levels which results in a lot less control.  It's super-annoying to need a power level that resides in-between two presets, so this unit is a big step up.
This unit isn't perfect by any means; it's got a typically small coil for a portable induction cooker (under 4 inch hot-spot circle), a loud fan, louder than average induction squeal, and the two-prong plug makes me wonder what other corners they cut. But pretty much all induction cookers in this price range have dubious longevity, loud squeals, small coils, and loud fans, so compared to similarly-priced units, the 9600LS 100MC is a highly competitive product.
Best buy between $125 and $400 = Secura Duxtop Professional Portable Induction Cooktop (Commercial Range)
Most options in the $100-$400 range are worse value: many $200+ induction cookers still have only 10 power levels. Some brands don't make anything; they just import cheaply-made consumer-grade induction units from China and call the units "commercial," to try to make them sound more durable. When you look more closely, you see that they have only 6-month warranties and similar internal components as cheap consumer cookers, which probably explains why they have such short warranties–if they will even honor the warranties at all. (The same few Chinese induction cooker makers design and manufacture the same crappy induction cookers for importers.  That's why you see so many induction cooker with similar functions and 10 or fewer power levels.  The induction cooker market looks more diverse than it really is.)
Nevertheless, if you want a somewhat beefier induction cooker, try the Secura Duxtop Professional Portable Induction Cooktop (Commercial Range). I'm still putting it through its paces, but it's basically a 9600LS with steel body instead of plastic, so it can handle 65-pound loads. That's enough for 30-quart commercial stockpots. (Most home-use stockpots are between 6 and 12 quarts, which the 9600LS's 25-pound limit can handle.) The steel Duxtop is not otherwise much more rugged than the 9600LS; they both have 2-year warranties.
I used to recommend the $300 Vollrath Mirage Cadets instead, which I reviewed here, before Duxtop made the steel Duxtop rival. I would not pay the premium for the Cadet over the steel Duxtop; they're on par with each other, but the Cadet costs way more and is slightly less energy-efficient (75% vs. the Duxtop's 83%).
Also, I would warn against scammy induction cookers like the NuWave Portable Induction Cookers (PICs)
. NuWave's products have, how shall we say, overly enthusiastic marketing claims. The company's PIC product claims 52 steps of temperature control (starting at 100F, rising in 10 degree increments). Yet it offers only a paltry six levels of manual power level control. Why the discrepancy? There is no discrepancy: their PIC units have just six power levels. The 52 number is just the number of temperature presets, which is meaningless if the underlying machine is not up to the task of accurately steering temperatures to target. Even if we take those 52 temperature increments at face value, the problem with trying to cook by moving a temperature target is that thermometers are underneath the ceramic, so it lags the actual temperature of the bottom of the pan, and you can easily have a situation where the cooker thinks the pan is colder than it is and shoots way more energy than necessary into the pan, burning some of the food in the process. Like most cheap consumer portable induction cookers, the NuWave turns itself off after 2 hours. NuWave's build quality is poor according to many of its users, and the fact that their unit is circular saves on construction costs but probably makes for even less airflow and thus hotter electronics and shorter lifespan. Lastly, NuWave's selling practices have earned it lots of negative reviews; just read the many one-star reviews on Amazon
, for instance.
If you really want to know how temperature targeting works, it goes like so:

Let's say you are making a thick stew. You set the induction cooker to, say, 200F. The unit looks at your room-temperature stew (70F) and decides that the 130F difference means that it needs to hurry up and close the gap. So the unit blasts maximum heat into the pot until its temperature sensor reads 200F, then inputs just enough power to stay at 200F indefinitely. (Higher-end units have a smoother transition between full power and minimal power.)

The problem is this that induction is different from electric coil/radiant smoothtops/gas because the hottest part of the system is not the stovetop, but rather the pot's bottom. So if you blast max power into the pot bottom, that quickly heats up the pot, but only slowly heats up the temperature sensor underneath the ceramic. Your oblivious temperature sensor might think the stew is only at 150F when in fact it's already 500F and scorching.

The workaround is to avoid using temperature-target until the ceramic warms up a bit. In the stew example above, you might use low or medium power for a several minutes while stirring, before setting a temperature target of 200F or whatever. Give that temperature sensor beneath the ceramic time to catch up to the real temperature of the pot. This is where cooktops that do not pulse on-and-off too much excel: you don't have to rely on flawed temperature targets and have less chance of scorching your food during the "on" parts of the pulsing.
Best buy over $400 = Vollrath 59500P Mirage Pro Countertop Induction Range, 14-Inch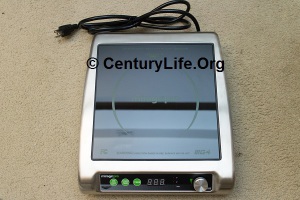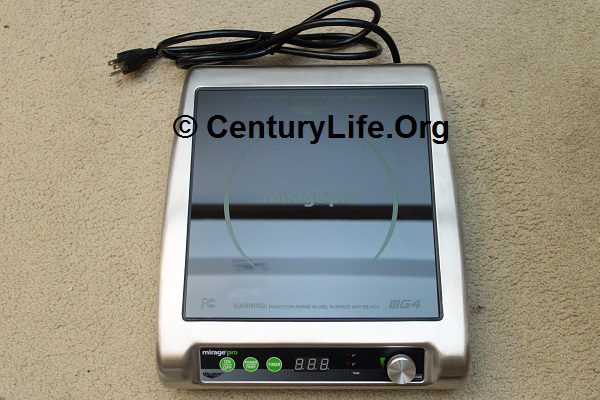 I wrote an extensive review of my Mirage Pro. At $450 it isn't cheap, but you get a larger-than-average induction coil, 100 power levels for extremely fine-grained power/temperature control, and even some nifty features like power memory (the unit turns on at the last power level you left it, and if you lift the pan up for techniques like stir-frying, the unit will not reset the power level while your pan is in the air), dynamic power scaling to account for smaller-diameter pans, and automatic throttling if you overload its circuits (instead of simply shutting down). The ceramic is framed on top by 18/8 stainless steel. As a commercial unit, the Vollrath won't turn itself off after 2 hours like most consumer induction cookers, so you could combine it with a pot to make a slow cooker.
The only portable, 120-volt induction cooker that's better is the Cook-Tek Apogee
, which costs twice as much but is better built and comes with an additional year of warranty (3 instead of 2). But if you're a home chef who cooks for only a few hours each day, you aren't likely to run into longevity issues with the Mirage Pro. Even if your Mirage Pro somehow breaks early, you could buy two Mirage Pros for the price of a single Apogee.
There are 220-volt units that are arguably better–they will boil water faster for instance–but few residences have 220-volt outlets available, and 220V usually cost even more.
FOOTNOTES