PRODUCT REVIEW
This product review is for the induction cooker commonly sold in North America as the Vollrath Mirage Cadet. (NOTE: As of 2020 this product appears to be discontinued.)
Background: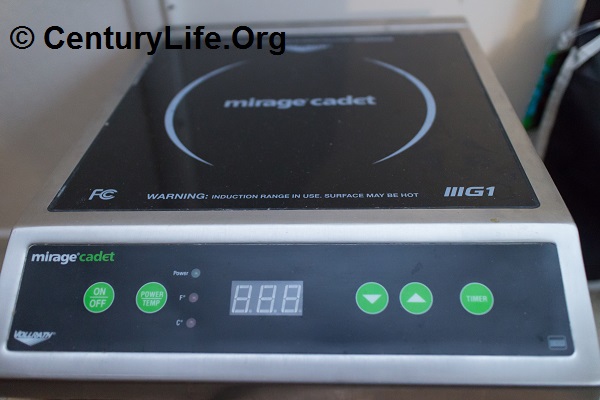 The Vollrath company is a privately-held American foodservice (kitchenware and appliance) manufacturer headquartered in Sheboygan, Wisconsin. The company traces its roots back to 1874, when Jacob Vollrath started a factory that made and sold various kitchenware products such as pots and pans. The company also made products as varied as furniture castings and railroad and agricultural parts.
Some of Vollrath's earliest popular products included ceramic/enamel-coated cast iron and sheet steel, but by the 1930s the company had begun to shift to stainless steel, and the company also mass-produced millions of military products like mess trays and drinking canteens during World War II.
Vollrath expanded, acquired, and divested various businesses after the war, including such major brands as Admiral Craft (AdCraft), Lincoln, and Leyse. Among these acquisitions was the 2009 acquisition of Luxine, a Malibu, California company that developed induction cooking technologies. Vollrath bought the entire company. The result is that Vollrath controls product design, unlike many other brands that basically buy a bunch of pre-built Chinese induction cookers, slap their logos on them, and call it a day. Vollrath has facilities in China for production of the topic of this product review, the Vollrath 59300 Mirage Electric Countertop Cadet Induction Range, 12-Inch
.
The Good:
The top ceramic is framed by 18/8 stainless steel on top, which is highly corrosion-resistant. The bottom is plastic but shouldn't really come in contact with anything. The front panel is covered by a tough membrane similar to what you find on Blendtec blenders
or other foodservice appliances. I have no doubt that it will survive residential and commercial use. Four stubby legs keep the unit raised about half an inch (1.27 cm) off the countertop. The unit comes with a six-foot (1.83 meter) cord with three-pronged (grounded) plug.
The unit has a coil roughly 8 inches across, including the hub, generating about a 4.5-inch diameter circular hotspot in the middle of the ceramic-covered cooking surface. Many cheaper induction cookers have 6- or 7-inch diameter coils.
Where this unit really distinguishes itself is how it has 20 power levels–double what is typical among ~$100 induction cookers, and may also be programmed to try to reach 100 to 410 degrees F via a thermometer underneath the ceramic cooktop. Adjusting power level up or down is performed via buttons, so it's not as fast as spinning a dial, thus defeating one of the advantages of induction (responsiveness). Though there is some interpolation of power levels, it's not nearly as bad as on the cheapest induction cookers which have long, hot pulses followed by long periods of no heating. The Cadet will serve well as a simmering device.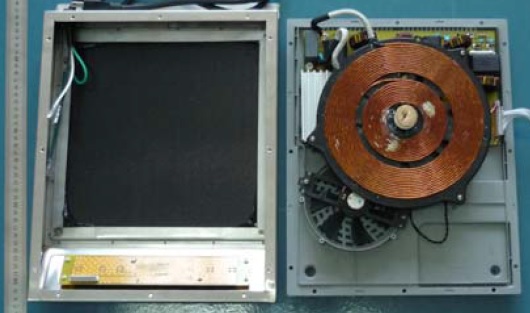 The unit also has a built-in timer that can increment from 1 minute to 180 minutes, set in full-minute increments. The unit beeps three times and shuts itself off after the timer counts down to zero.
Noise levels are well-controlled, with a fan that isn't too loud, and no unbearable whining/shrieking sounds.
The unit has the usual array of safety features, including auto-shutoff in case of overheat/volt, as well as a grounded (three-prong) plug. This is industry standard, though, so it's not something to be especially proud of.
The front panel is angled, unlike cheap portable induction units that look like flat tablets and as a result can have hot pan edges scorching the electronic control panel.
The unit does not emit any light when turned off and plugged in, unlike other units which have flashing lights (like a VCR that has not been set) even when turned off.
The Bad:
The fan inside is rated for only 20,000 hours (12-04-27 model YHWF-118 DC 18V 0.17a Dongguan Yuhong Micromotor), and that's assuming ideal conditions: no food particles, smoke, etc. and no obstructions. An extremely high-volume, dirty restaurant may cut that 20,000 hours down to 5,000 hours, which translates to ~2 years of service life if the Cadet runs 8 hours a day with no days off. A relatively clean residential kitchen that uses the Cadet for only 2 hours per day might expect 16 times more service life, or 32 years. The fan is standard but the mounting is not, so unless you live in China, you will find it difficult to replace the fan yourself.
The Ugly:
Many manufacturers use cheap fans that survive the warranty period (1 year, in this case) but not necessarily more. As a rule of thumb, I would avoid any induction cooker with less than a 1-year warranty right off the bat. If the maker doesn't have any confidence in the product, why should you? Remember, if the cooker malfunctions, it could potentially harm you or start a fire.
Conclusion:
If you're okay with a fan that might not survive 2 years in a brutal restaurant environment but could survive for 20 years in a light-duty residential environment, then I think this is a decent step up from the Duxtop 9100MC. You get 20 power levels instead of 15, less noise, better build quality, and a slightly larger induction coil. Is that worth $150? Perhaps, but personally I'd either step down to the Duxtop 9100MC or step all the way up to the Mirage Pro, rather than buy this in-between Mirage Cadet unit.