You occasionally see breathless marketing material about how their fancy cookware has heat-conductive walls that have more than three plies.
Q: What's a ply?
A: A ply is just another name for "layer."
Q: How thick does a layer have to be, in order to be counted as a "ply"?
A: It depends on whose marketing department is answering…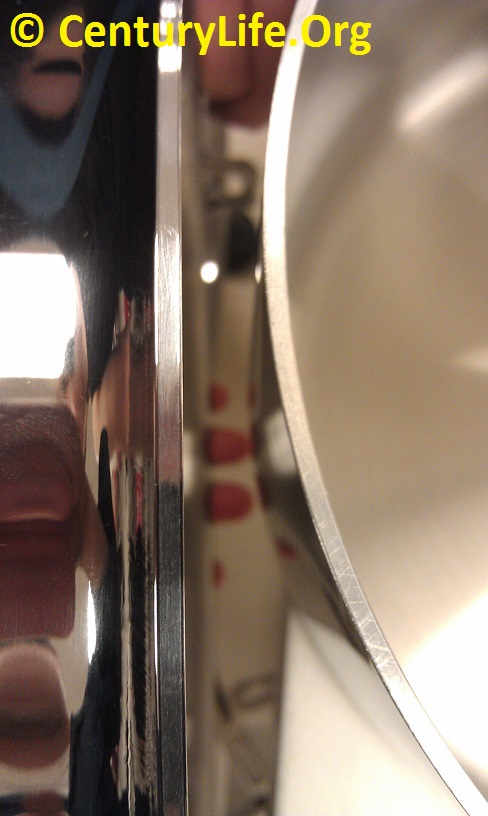 One of the earliest cladded designs that proved to be very popular was All-Clad Stainless
, which bonded stainless steel to both sides of an aluminum alloy core. Stainless is a relatively poor heat conductor compared to aluminum, so the aluminum does almost all the work of spreading heat. The stainless protects the aluminum from scratches, warping, deformation, and reacting with acidic/salty foods.
If you take an All-Clad Stainless pan and look at its rim, you will see only three visible layers. This is why All-Clad considers it to be 3 plies, or "tri"-ply ("tri" meaning "three").
But technically speaking, there are two nearly-invisible bonding layers as well–they are of a different grade of aluminum and act as glue to hold the three visible layers together. So while All-Clad Stainless is advertised as 3-ply because there are only three easily-visible layers of metal, it's actually 5-ply if you want to count the microscopically thin glue holding the three visible layers together.
After All-Clad Stainless's patent on tri-ply expired, seemingly every cookware company cloned All-Clad Stainless. Some called it 3-ply like All-Clad did, but other brands had enthusiastic marketers who counted the microscopically thin bonding layers in order to claim 5-ply.
Q: Do more plies give you more performance? For instance, what about 3-ply vs. 5-ply? Or 5-ply vs. 7-ply?
A: The short answer is that a larger number of layers does not give you more performance if the total thickness does not increase. For instance, 1,000,000 microscopically thin plies that total 0.5 mm of aluminum won't really heat any more evenly than a single layer of aluminum 0.5 mm thick. I made some tables showing relative heat-spreading power of various types of cookware, including cladded cookware, here.
The cookware "ply" arms race reminds me of the razor blade arms race, where anything more than 3 razor blades is almost meaningless. Gillette's single-bladed safety razor (1904) did just fine, but to improve sales, Gillette introduced a two-blade variant in 1971, and then a three-bladed "Mach 3" razor in 1998:
Schick's Quattro (4 blades) upped the ante. Gillette fought back with Fusion (5 blades). Korea's Dorco trumped everyone else with their six-bladed Pace 6 razor (2008) and then the 7-bladed Pace 7 razor in 2015. (By the way, Dorco's 2- and 3-bladed razors are the best bang for the buck in shaving–and they carry a full line of women's razors, too. Dorco's blades might not last as long as Gillette's, but Dorco's blades cost so much less that you're still saving a ton of money. I've been a Dorco customer for years. Unfortunately Dorco only sells online, so you can't get any emergency razors overnight.)
Ironically, more blades may be counterproductive. The New York Times ran an article about this where dermatologist and customer alike said 3 blades was too much: "When you add more blades, there's a greater chance of nicks and razor burn," said Dr. Ezra Kest, a dermatologist in Beverly Hills. "I always tell my patients not to use more than two blades." And more blades means a larger cartridge that can be harder to maneuver under the nose and chin. Schick admitted it.
The point is that more than 3 razor blades is overkill.
Similarly, cookware doesn't really need more than 3 plies: a heat-conductive layer and an inner- and outer-layer of stainless for protection.
For example, All-Clad d5 and d7 have extra stainless steel layers embedded into their aluminum layers. The extra stainless does little for performance. They do make the material slower to heat up and cool down, which in some cases is a positive, such as when you're trying to sear a steak and don't want the temperature to drop so much when you first throw in that cold steak. But it can be a negative as well, such as when you want fast thermal response such as faster pre-heating or cooldown. In any case, All-Clad could have achieved the same effect of d5 by taking regular All-Clad Stainless tri-ply and making the two outer layers of stainless steel a little thicker, or by increasing the thickness of the aluminum core layer, which would not only improve heat retention but also heat-spreading performance. But then they could not claim 5-ply or 7-ply and enter the bizarre "number of plies" arms race, like the razor blade companies have done regarding number of blades.
Q: Is there cookware that has more than 3 visible layers? (In other words, NOT counting microscopically thin bonding layers)
A: Yes. Examples:
– The aforementioned All-Clad D5
.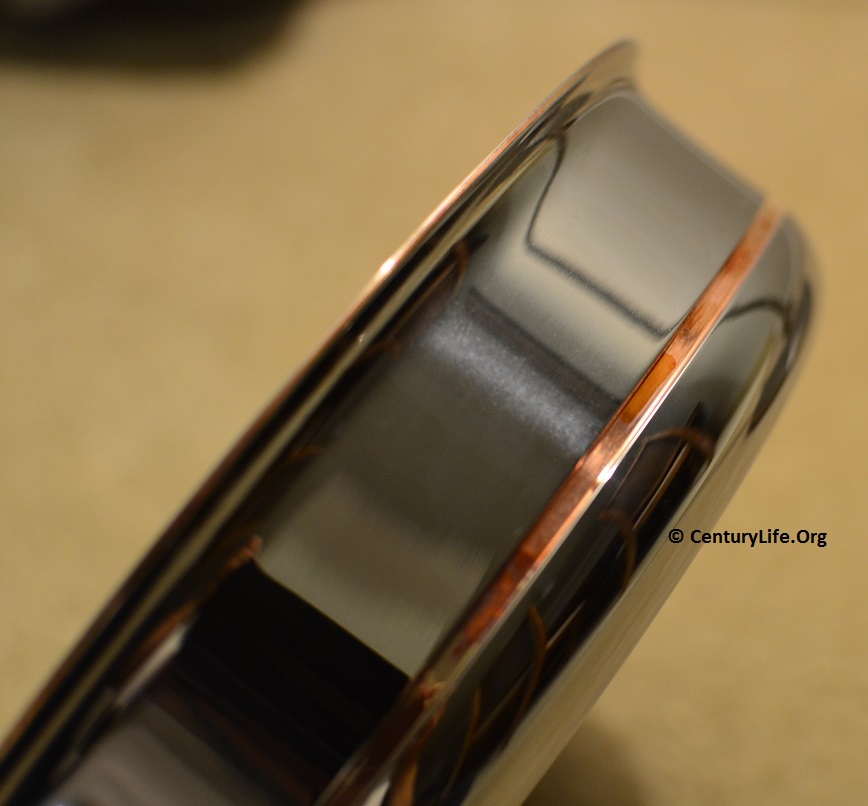 – All-Clad Copper Core, which is built with five visible layers of material: stainless-aluminum-copper-aluminum-stainless. It's somewhat better at spreading heat than All-Clad Stainless. Why not just have stainless-copper-stainless? Because it's actually pretty hard to permanently bond copper and stainless together; they are very dissimilar materials, and it's easier to have thin layers of aluminum act as intermediaries.
– Demeyere uses a 7-ply material for its skillets. That material is built like All-Clad (so it's 3-ply by All-Clad standards), but has an additional two layers of magnetic stainless steel on the bottom, which Demeyere claims makes their product more efficient on induction cooktops. If the two additional layers of stainless are as microscopically thin as the aluminum bonding layers, then Demeyere's 7-ply would be only 3-ply by All-Clad standards! But give Demeyere some credit: their aluminum alloy layer is 3.7 mm thick (around twice as thick as the aluminum layer in All-Clad Stainless), so Demeyere's skillets distribute heat very evenly on the stovetop.
– All-Clad D7) is a new line as of 2014 that is intended to compete with cast iron. It has seven visible, alternating layers of stainless steel and aluminum alloy. If you included all the microscopically-thin bonding layers between the visible layers of stainless steel and aluminum, we'd be up to THIRTEEN plies, by the way. (Hey wake up, Gillette, All-Clad has 13 plies–you've got to beat them with a 14-bladed razor!)
The bottom line: The thickness of the heat-conductive material (usually aluminum and/or copper) is what helps spread heat evenly, not the number of plies (layers). The number of plies doesn't matter.