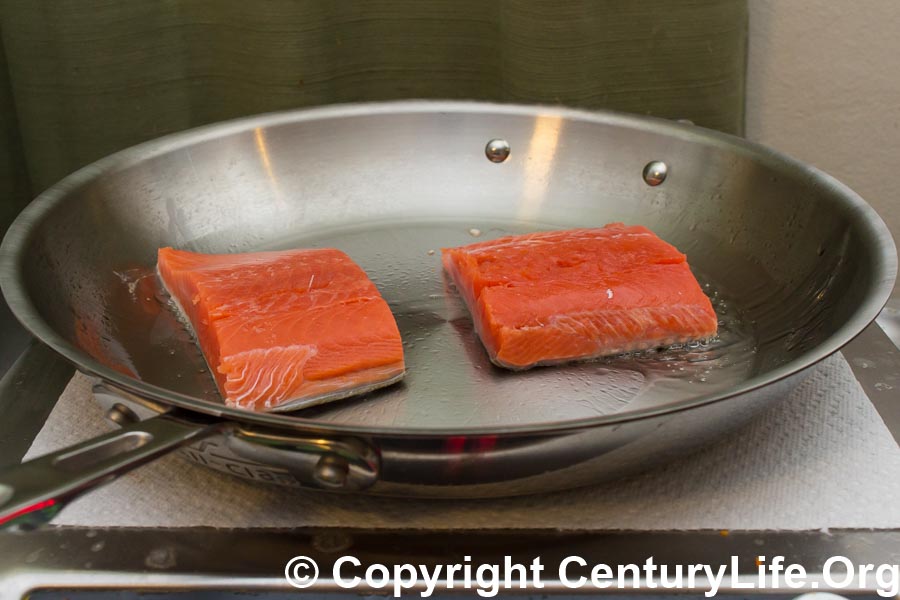 THE COMPANY
I've written extensively about All-Clad here.
THE PRODUCT
The subject of this review is the All-Clad Copper Core 12-inch skillet (frying pan)
, though it's applicable to the rest of the product line as well.
All-Clad Copper Core
– Copper Core is made in the USA out of a five-layer sandwich: stainless, aluminum, copper, aluminum, and stainless (in order, from inside to out). For decorative reasons, All-Clad shaves off some exterior steel in order to expose the copper in a thin band around the perimeter of the pot or pan. Thus the decorative band is thinner (stainless-aluminum-copper) and is missing the exterior aluminum and stainless layers. Copper Core has about the equivalent of 0.91 mm copper, making it slightly more heat conductive than All-Clad Stainless (1 mm of copper is worth about 2 to 2.4 mm of aluminum in terms of heat-spreading power, depending on the exact alloy grades in question). Copper Core is a slightly better performer than All-Clad Stainless. It also heats up and cools down faster than All-Clad Stainless and spreads heat more evenly.
RATINGS
Overall Rating: 4.1/5 Very Good. For an explanation of ratings methodology, click here.
Cleanup: 4/5 Very Good. I don't give 5/5 scores to stainless steel pans, ever, because that's reserved for Teflon-style pans. For a stainless steel pan, I'd rate this an above-average 4. I've cooked a lot of eggs in this pan, and it's definitely not nonstick but does well for a stainless steel pan.
If you pre-heat the pan, then add oil (or butter, etc.), and then add food, then that should help reduce stickiness issues. Do not heat the oil along with the pan; it works better to add the oil only after the pan is hot.
I'm not going to take a point off for rivets, but it bears mentioning that exposed rivets can be harder to clean than flush-rivet or rivetless designs.
Use Copperbrill Cleaner
or some other non-abrasive copper cleaner to restore the shine of the copper band without scratching. BKF also works, but it will scratch up the copper more.
Durability: 5/5 Excellent. All-Clad Copper Core may be only ~1.7 mm thick, but the core is almost 1 mm of copper, which is much harder and sturdier than aluminum of equivalent thickness. Thus the pan is thin but still fairly warp-resistant. I have not noticed any pan warping issues, and All-Clad has a lifetime warranty on their pans in any case.
Even heating: 4/5 Very Good. The pan heats fairly evenly as you can see in the electric/induction rankings. Nevertheless, there are definitely much more even-heating pans out there, so I can't give it a 5/5.
The pan's main claim to fame is the use of copper, which is much more conductive than aluminum. Since the pan's core is copper and the entire thickness is only 1.7 mm, the result is that the pan heats up and cools down exceptionally quickly… and that's a double-edged sword. There may be times you want to turn down the heat to rescue a meal or answer the telephone, in which case responsiveness is a boon. On the other hand, this pan does not have as much thermal mass as heavyweights like Demeyere Proline or cast iron pans, therefore a particularly thick, cold steak will drop the temperature of this pan about as much as if it were a regular All-Clad Stainless pan. That means you would need to crank the heat up to restore temperatures, which could result in hotspots if the pan can't distribute heat quickly. Thankfully this pan can distribute heat decently quickly, but that initial temperature drop will still occur.
Handling and ease of use: 4/5 Very Good. First, the good news. The flared rims on this product line are good to avoid dribbles down the side of the pan while pouring. And the finger guard on the handle is welcome. The handle also does not heat up very quickly from cooking, though the helper handle does get hot on gas stoves.
Second, the less-good news. All-Clad's palm-digger handles do stay cool on the stovetop, but they are also notoriously uncomfortable unless you wrap them in towels or tuck them underneath your forearm.
Third, back to good news. The Copper Core product line has helper handles on all of its larger pan sizes like this one, which makes handling much more comfortable both on the stovetop as well as transporting to/from an oven or washing in the sink. The helper handle is angled downwards, presumably as an anti-slippage feature or to allow more leverage. Nevertheless, there are times you may want to single-handedly pour from this pan without use of the helper handle, so I'm going to have to ding it a point on handling for the relatively uncomfortable main handle.
For reference, an empty All-Clad Copper Core 12-inch skillet weighs 1680 grams (3.70 pounds), compared to 1265 grams (2.79 pounds) for All-Clad Stainless.
Value: 3/5 Good. See Conclusion, below. This pan, and All-Clad Copper Core in general, avoids a lower rating because it's unique–nobody else has a pan that is as responsive, induction/dishwasher compatible, and as even-heating.
Although this pan is a good performer, the price is steep. You can get decent performance out of a regular All-Clad Stainless
pan, and if you are willing to pay All-Clad Copper Core prices and don't mind induction/dishwasher incompatibility and a lot more scratches, you are probably better off buying All-Clad MC2
. If you do want induction/dishwasher compatibility or if you do want a bottom exterior that shrugs off scratches better, then you should get a Demeyere Proline pan instead.
On the other hand, the All-Clad Copper Core 12-inch skillet (frying pan)
is undeniably more stylish, more responsive, and more even-heating than All-Clad Stainless. And it's significantly more responsive than MC2 or Demeyere Proline thanks to its copper core. In addition, it comes with a helper handle, unlike the Stainless and MC2 versions, and that helps a lot with handling on the stovetop and in the sink.
Versatility: 5/5 Excellent. Oven and broiler safe (to 500F). Dishwasher- and induction-compatible. Apparently the narrow band of exposed copper does not worry All-Clad enough to say that Copper Core should never be put in the dishwasher. However, All-Clad also recommends hand-washing, and I would second that; it helps keep the copper looking cleaner and shinier.
If you have some firmly stuck-on bits, try boiling a little water in the pan to loosen stuck bits. If that doesn't work, try using some Bar Keepers Friend. The pan has a flat bottom circle about 9 inches in diameter, which is on the smaller side of average for a 12-inch frying pan but still within the normal range for a pan of this type, and identical to the shape of other All-Clad 12-inch frying pans. One benefit of the shallower sidewall angle is that it provides easier access for spatulas and turners.
CONCLUSION
All-Clad Copper Core performs well, but at a steep price. If you are willing to pay All-Clad Copper Core prices, you are probably better off buying a Demeyere Proline pan instead. If you don't care about induction-compatibility or dishwasher-compatibility or a lot of scratches on the bottom exterior of the pan, then All-Clad MC2
costs less than any of the above and yet spreads heat as well as Copper Core.
On the other hand, All-Clad Copper Core
is more stylish, more responsive than MC2/Demeyere/All-Clad Stainless (preheats faster and responds faster to changes in burner strength), and is more even-heating than All-Clad Stainless. Also, All-Clad Copper Core's 12-inch skillet also comes with a helper handle, unlike other All-Clad variants, which helps a lot with handling. So if you're a fan of All-Clad and want both better heat spread and better responsiveness, then All-Clad Stainless Copper Core may make sense to you.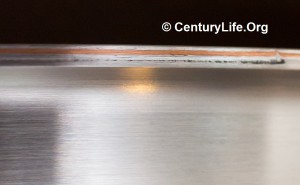 Lastly, I would be wary of buying Copper Core knockoffs, because it's apparently difficult to manufacture copper-core cookware. For instance, I tested two brand new BonJour Copper Clad 12 inch skillets
, and they both warped when heated; the exposed copper on the bottom bulged out and resulted in the middle of the pan sagging down–obviously not good for spreading oil evenly around the pan. Unsurprisingly, BonJour Copper Clad got discontinued pretty quickly. I tested two brand new KitchenAid Copper Core
pieces, a product line introduced in 2014 and discontinued a few years later, and a) both pieces had layers that were already separating, straight out of the box, and b) its performance level was actually worse than regular All-Clad Stainless because the copper and aluminum layers were thin. Calphalon AccuCore
and Culinary Institute of America (CIA) Masters
(a cooking school that probably has a deal like celebrity chefs, where some Chinese company wants to sell its mediocre products in the USA and pays a celeb for the use of their name) use much thinner layer copper layers than All-Clad Copper Core. I wash shocked to see the pan didn't outperform regular All-Clad Stainless, let alone All-Clad Copper Core. If a beer company watered down its beer to the point where it was 99% water, is it really beer? Or is it beer-flavored water? Similarly, these Chinese knockoffs are "copper-flavored" rather than legit copper core products.
Bottom Line: I've never seen a good All-Clad Copper Core knockoff.1 If you want something built like All-Clad Copper Core (thick copper layer surrounded by stainless steel), then buy All-Clad Copper Core–all of its imitations are worse.
The skillets do not come with lids, so if you don't already have other lids that will fit, I would recommend buying a universal lid such as this one.
Well, okay, there's one exception. Groupe SEB owns both All-Clad and Lagostina, with All-Clad being their premium brand in the USA and Lagostina being their premium brand in Europe. There was brief period of time where Lagostina produced a clone of All-Clad Copper Core for sale in Europe. But that's not a knockoff; that's a clone produced by a sister company. ↩