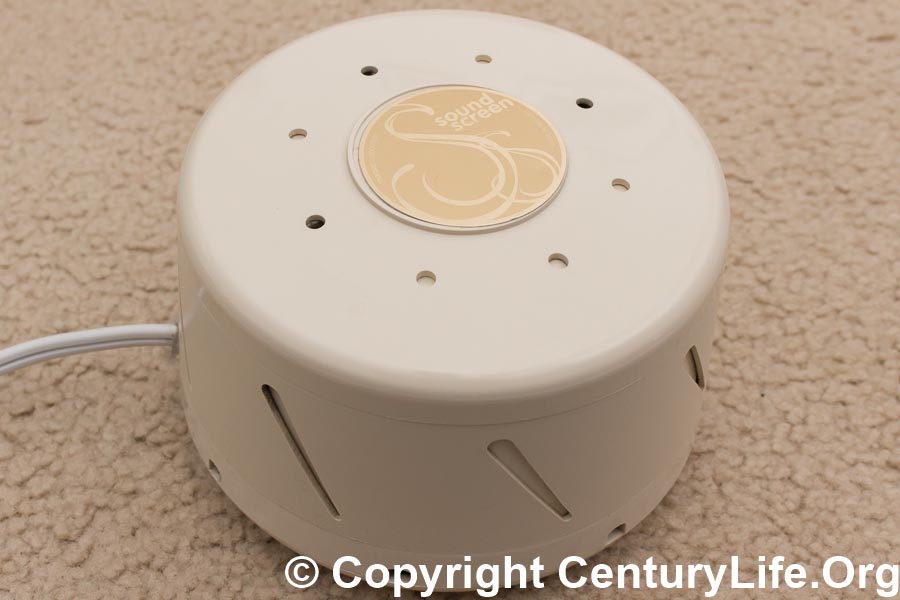 BACKGROUND
Do you have trouble sleeping sometimes?
Does your spouse snore?
Do you live in a unit with thin walls and loud neighbors next door?
Does your baby have trouble sleeping, or do you want to be able to calm your baby down with the push of a button?
What is white noise, and why does white noise help people sleep?
White noise is a consistent noise evenly distributed throughout all human-hearable frequencies.  However, some noise is better than others.  Humans tend to pick up higher frequencies better to the point where plain white noise can sound hissy and unnatural.  White noise that has been tuned to deliver more low-frequency noise is called pink noise.  And below pink noise is brown noise, which stresses those low frequencies even more.  Pink and brown noise are perceived by human ears as being flatter, with less hiss.1
White/pink/brown noise work by masking differences in background noise, so the meow of a cat outside your window fades into the chaos of sound in your room.
Combine white noise with orange-tinted glasses and a bedtime ritual (do the same thing before bed each day, such as brushing your teeth or whatever, and your body will take the hint and get ready to sleep as you're doing the ritual).
THE PRODUCT
According to Marpac's website, in 1962, Jim Buckwalter stuck a fan inside a dog bowl covered with foam-covered wood and used the resulting noise generator to sleep better at night.2  Marpac has been making these little fans to help you sleep ever since.
Here's how the Marpac fans work: you flip a switch and the fan spins, delivering a natural-sounding whir. You flip the switch off, and the fan stops and the noise goes away. It's so simple a small child could use it.  And they love it; it reminds them of the womb and typically calms them down.  There is no breeze, just noise.
Marpac makes its fans in the USA and has incredibly positive customer feedback as a result, with stories of people using their fans for decades without a hitch.  (Below, I'm going to compare their old model from last decade with their new one.)
THE GOOD
It's cheap to run, costing about $6.62 per year even if you use it every single day.3
The sound quality is top-notch because it uses a real fan, producing more pleasant white noise than the more-hissy white noise of recorded audio.
It's easy to use.
It won't wear out your speakers or cell phone/tablet/etc.
It's extremely durable (see below)
I happen to have two Marpac white noise generators, a beige one from 2009 that has been in continuous usage, and a black one from 2016 because I wanted to see if the new designs had any difference other than being more energy-efficient (18 watts instead of 40 watts).  At a distance of four inches, the new unit produced 71 dBA on low, and 74 dBA on high.  The old unit produced 69 and 73 dBA, respectively.  (As an aside, if you turn both of them on, you get about 75 dBA at most, so don't bother getting more than one, because you won't gain much in volume.)  At a distance of five feet, the numbers were 53/55 dBA and 51/54 dBA.
Therefore the new models do seem to be somewhat louder, though the difference may be partly or wholly explained by the old model wearing down (fan spinning less quickly).
THE BAD
It does one thing really well, but other devices are more versatile.  Still, the device does calm down babies and soothe pets, too. And the quality of the white noise generator is top-notch.
THE UGLY
It looks like a rejected Roomba prototype.
CONCLUSION
Marpac makes very durable white noise generators that are loud and soothing.  If you want to save a few bucks, get the Dohm-SS Single Speed Sound Conditioner by Marpac (formerly known as the Sleepmate/Sound Screen 580A) which has just the louder (faster fan speed) setting.
  If you want the flexibility of having both a quiet and loud setting, get the Marpac DOHM-DS, Natural White Noise (actual fan inside) Sound Machine, White which has both speed settings.
THE ALTERNATIVES
There's another way to get white noise generator: use your smartphone/iPod/tablet to play white noise via sound files or via apps.  There are a few problems with this approach that you should be aware of:
It's possible to burn out a phone/tablet. 8 hours every day is a lot of hours per year.  So if you go down this road, sacrifice an obsolete phone/iPod/whatever that you don't use anymore.
Many sound files/apps have jarring transitions when they reach the end of the sound file and repeat.
Some people don't like white noise or any digital noise, which has a more artificial sound profile than something like a Marpac fan.
Don't use a full-blown computer if you can help it: those typically use much more power (typically over 50 watts), leading to much higher electricity costs; also, you don't really want to put more wear and tear on something expensive like a PC/laptop's fans and components.
Mobile devices typically have weak speakers that sound tinny and/or weak (see below).
This is the rain sound file I recommend and use every night. Previously, I had tried about 40 different sleep-oriented audio files (white noise, brown noise, forest sounds, rain, etc.; you name it, I've probably tried it):
Steady rain isn't white noise per se, but it masks noises well and sounds more natural.  However, I've found that other "nature sound" files aren't as good as rain because they have too much difference between the high and low volume parts.  For instance, ocean waves don't provide a continuous noise, and some other rain audio files that I've tried aren't of the steady rain variety–they have thunderclaps and other distractions.
For those who don't mind a more artificial-sounding whir, I used to use this brown noise file until I settled on rain:
Another option: free noise generator apps like
SimplyNoise
, 
NiteFan
, and
White Noise
 (for Apple iOS); and
WhiteNoise
and
Chroma Doze
 (Android).  The apps are fine, but mobile devices generally have tiny speakers which a) may not be strong enough to drown out other sounds; and b) lack lower-frequency sound waves which most people find more soothing.  For example, my old Samsung Galaxy S4 managed only a tinny-sounding 55-63 dBA, which is a huge step down from the 74 dBA of a Marpac (which delivers lower-frequency sound waves better and is more than
10 times as powerful as the smartphone speaker
).
Therefore if you go down the app route, I'd recommend using external speakers.   Speakers that can use electricity out of wall sockets are the lowest-maintenance since they never run out of batteries.  Here's a list of Amazon best-selling speakers to get you started.  As of the time of this writing, the Amazon Echo (no batteries, plugs into wall) is the best-selling speaker.  A cheaper option would be a small speaker like the Anker Soundcore (battery operated but can also play music via a 3.5mm cable and while charging via USB cable).  But those are tinnier-sounding and may be not be much better than a high-end tablet's speakers.
One last note: the Marpac white noise generator is simple and foolproof, so if you want white noise in a baby/toddler/kid's room, you may want to get the Marpac. It's cheaper to replace than a broken smartphone and speaker set.
 The average price for electricity for the entire U.S. is projected to be $0.1259 for 2016:  https://www.eia.gov/forecasts/steo/report/electricity.cfm The older Marpac from a decade ago uses 40 watts, but the newer model uses 18 watts.  18 watts x 8 hours per day x 365 days x 1/1000 (to convert to kWh) x $0.1259/kWh =$6.62. ↩