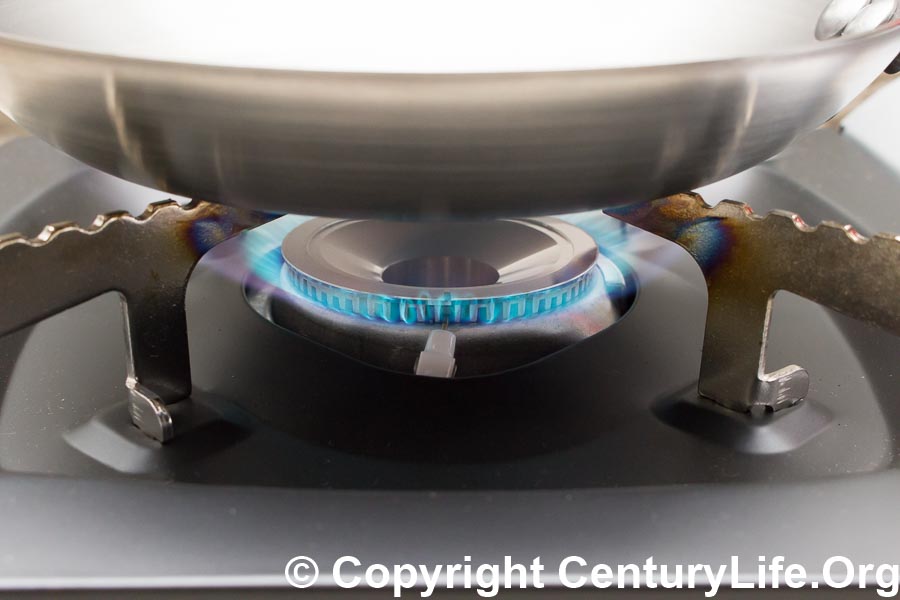 BACKGROUND
Iwatani Corporation of America is a subsidiary of the Iwatani Group of Japan, a conglomerate of over 250 companies employing 11,000 people worldwide.1 Iwatani is the market leader in Japan for liquefied petroleum gas, hydrogen, and helium, so they know their gases well.
Iwatani sells various consumer, commercial, and industrial products. On the industrial side, Iwatani makes gas valves, hoses and pipes, heat-resistant paints, piezoelectric igniters, oxygen sensors, etc. Some of Iwatani's well known consumer/commercial products include the Iwatani butane cooking torch CB-TC-PRO (which uses the same 8-ounce (227g) butane canister/cassette size as the stove) and the Iwatani ZA-3HP Portable Butane Stove Burner, which is the subject of this review. (NOTE: as of 2020, it's been cosmetically redesigned and renamed the Iwatani VA-30 butane stove; still performs the same and is still made in Japan.)
THE GOOD
This Iwatani ZA-3HP unit (renamed the Iwatani VA-30 butane stove; still performs the same):
produces a lot of power (12,000 Btu/h at max output which is more than enough to stir-fry or to sear steaks; most other portable butane stoves produce ~7,500 Btu/h; by comparison, the largest burner on cheap full-size natural gas stoves is ~9,000 Btu/h)
has automatic safety shutoff
piezoelectric igniter means no need for a separate lighter (doesn't require batteries; when you rotate the burner's dial, it deforms a piece of what looks like ceramic near the burner which throws off a spark to ignite the butane; the bottom line is that this is a safe and reliable igniter)
comes with a black plastic case
is CSA approved for commercial indoor use (think hot pot restaurants)
I've used many of these stoves in my thermal testing over the years, as well as keeping one for my own use that I ride hard. They have been very reliable. The units are very simply made, and simple is good, because that means fewer parts that can fail.
The ZA-3HP has what appears to be an aluminum burner, a removable drip tray (made out of what seems to be painted or anodized aluminum), and four aluminum tabs forming a grate to hold your pan slightly above the burner. There is a patented piece of aluminum connecting the burner to the butane canister holder to channel some of the flame's heat back to the canister. The idea is that a depleting canister will flow less and less gas and as its gets emptier and colder, so you want to keep it warm via waste heat. This allows for a steady flame no matter how depleted the canister gets.
To operate the unit, you simply do these steps (takes ~10 seconds):
lift open the thin metal hatch on the right side to expose the canister holder
slide in a standard 8-oz. (227g) butane canister/cassette, align the notch in the canister's rim with the tab in the burner's locking mechanism, and press the front panel's black lever down to lock the canister into position
close the cover to the butane canister holder
rotate the black dial all the way to the left, hard enough to "click" the igniter
rotate the black dial back to the right if you want less than max power; follow the power guide painted next to the knob and stay at or above "simmer" unless you want the flame to go out
if you are done, turn the black dial to "off," lift the canister holder's cover, and lift the front panel's lever up to release the canister for disposadepending on how high you set the burner to, you can get a few hours or so out of each butane burner
The diameter of the flame circle varies depending on the shape of your pan. I would feel comfortable cooking with anything up to a 12 inch frying pan or 11 inch saute–possibly even larger if you have an exceptionally even-heating pan.
Depending on how high you set the burner to, you can get a few hours or so out of each butane burner. (If you are in a rental with an electric coil stove that you can't replace, you can supplement that with this Iwatani burner for short cooking tasks and pay only a few dollars per month for butane. For long boils/simmers/braises use the electric coil to cut down on butane costs.)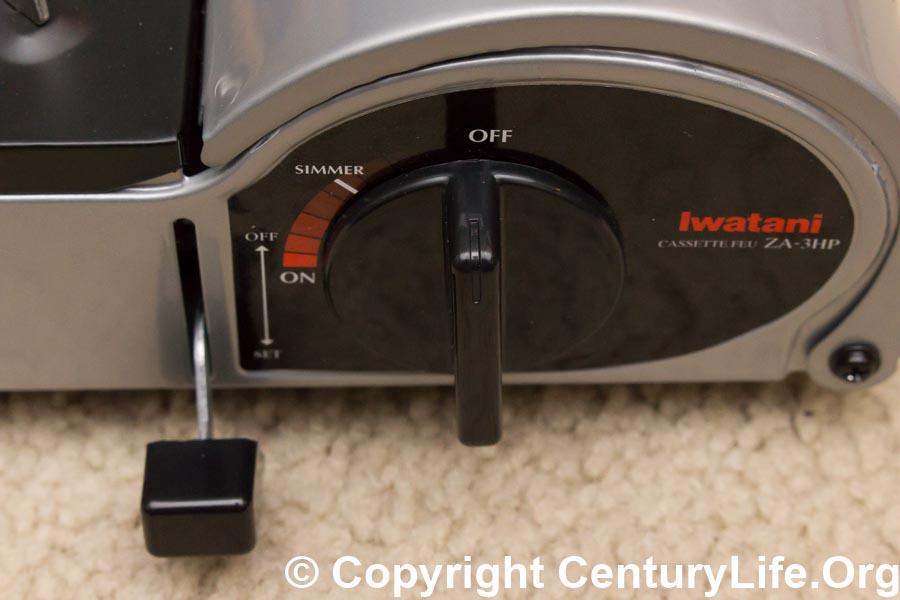 THE BAD
Although the unit is rated at 12,000 Btu/h, it turns out that this is conditioned on several things:2
Using a new Iwatani butane canister. An older canister will output less over time. And lower-quality butane canisters will not produce as much heat, either.
Using a new Iwatani ZA-3HP stove. With age, the butane stove's piping will become very slightly clogged and output decreases by a few percent.
It's actually 10,000 Btu/h but Iwatani claims that its aluminum heating connector makes the system more efficient by keeping the can from dropping too far in temperature, so the burner produces as if it were a 12,000 But/h.
If you were thinking about getting the big brother of this ZA-3HP butane stove, the Iwatani 35-FW, the 35-FW is made in Japan and has brass parts, a heavier grate, 15,000 Btuh/h output (that's 25% more heat than the ZA-3HP), and a small windshield, but at twice the price. The better component quality is good for unit longevity, and you immediately benefit from the higher heat output and the windshield which makes it excellent for car camping. The 35-FW also comes with a fancier magnetic locking system, but the cheaper ZA-3HP lever locking system works just fine.
(Note: Cheaper natural gas stoves typically offer 9,000 Btu/h output on the largest burner (most stoves have at least one large burner and multiple smaller burners). The most expensive residential stoves typically offer 17,000+ Btu/h output on the largest burner. Thus the ZA-3HP's 12,000 Btu/h is comparable to the largest burner on a medium-priced residential natural gas cooktop.)
THE UGLY
This ZA-3HP butane stove is almost perfect. The worst thing I can say about this unit is that on rare occasions, when you turn the dial too fast when starting up, there's not enough gas for the igniter to light, so you have to dial it back down and then try again. So basically you waste an extra 3 seconds of fuel every once in a while.
CONCLUSION
If you want a relatively inexpensive, portable gas burner that was designed and manufactured by a Japanese company (as opposed to some dubious Chinese company), I strongly recommend the Iwatani ZA-3HP Portable Butane Stove Burner. I trust it to not explode in my face, and I've used it in many circumstances. The burner can be used to:
Cook during a power outage-including warming infant formula. (Be careful with holding small bottles and such above the burner; even at minimum power, it gets extremely hot even six inches above the surface of the burner.)
Cook outdoors. Car camping, picnics, etc. It's way more powerful and stable and wind-resistant than backpacking stoves like the Jetboil Flash, which I have and love–for backpacking only. For car camping, the Iwatani ZA-3HP is cheaper and cooks like a gas stove at home.
Season pans. Carbon steel, copper, whatever. When used for limited periods of time, it doesn't get hot enough to set oil on fire but does get hot enough to burn the oil on. However, the process of seasoning emits carcinogenic smoke, so season pans outdoors and hold your breath if you get near the stove.
Cook with non-induction compatible cookware. It beats cheap electric coil stoves with its fast heat.
Stock an emergency "bug out bag" or survivalist/earthquake/natural disaster preparedness kit. Aside from allowing you to cook food, boiling water is one way to kill disease-causing microbes. Most microbes also die when exposed to high temperatures like those found on the bottom of a frying pan during frying.
Note: Iwatani prompts its customers to use only Iwatani-branded butane canisters to guarantee the 12,000 Btu rating and clean gas that won't gunk up the piping, but any reputable brand of compatible 8-ounce (227 gram net weight) canisters will do, such as GasOne's butane canisters. You aren't locked in and may switch canister brands whenever you want.
If you want to grill, also consider getting the grill attachment which works with both the 12,000 and 15,000 Btu Iwatani burners. Iwatani also makes a rectangular portable gas grill, but it doesn't work that well with circular pots and pans because the shapes don't match.
The above is why I have bought dozens of stoves and butane canisters–I can only use them when they are new or almost-new, after which I must dispose of them. Normal people don't need to do that, but I use the Iwatani for testing purposes when generating the gas even heat rankings, so I must have consistent heat, and only brand new units with brand new canisters output 10,000 Btu/h (or 12,000 Btu/h if you believe Iwatani's efficiency claims). It's still not as accurate as the induction heat rankings which I carefully control via wattage, but it's still more controllable than anything else I've tried. ↩