BACKGROUND
In a busy kitchen, nothing beats universal utensils for ease of use; you don't want to think about whether a spatula is going to scratch nonstick cookware or not. Thus I've gone almost 100% silicone. Plastic and (most) wood utensils won't scratch up your nonstick pans, either, but they generally don't tolerate heat and/or moisture as well as silicone. In particular, nylon plastic utensils can soften and melt when exposed to temperatures above 400 degrees Fahrenheit (the exact temperature depends on the plastic).
Furthermore, some manufacturers coat their entire utensils in silicone, instead of just the head of the utensil. A seamless silicone covering does a few things:
No seams = no place for food/grime to build up
Makes the handles impervious to heat as well. (Uncoated plastic handles can melt if you rest them onto the rim of hot pans.)
DEFINITIONS
Let's get definitions out of the way.
Turners are for cooking. The head of a turner will be angled, to allow you to reach the bottom of a saute or fry pan more easily to flip food.
Spatulas are mainly for baking and food prep. They are relatively straight from end to end and allow you to scrape the sides of bowls/jars/cans/etc. effectively.
Scrapers are small spatulas you can use to scrape food from the insides of narrow jars.
WHAT MAKES FOR A GOOD SILICONE SPATULA/TURNER/SCRAPER?
You would think that it would be easy to make silicone utensils. You just take a plastic or metal core and coat it with silicone, right? In actuality the quality of silicone, the underlying utensil size, thickness, and flexibility can vary.
Silicone Quality
Silicone quality can vary dramatically, but oftentimes only time will tell the difference between good-quality silicone and poor-quality silicone. The worst offender I have found so far has been the iSi Basics Silicone 13 inch turner, which gradually fell apart over the course of two years of use. If you look closely, you can see in the first photo that cracks developed in the silicone. The photos also show where corners of the silicone fell off, presumably into food that I ate. You can also see a bubble where the silicone became detached.
Utensil size
Some manufacturers cut costs by skimping on size. The problem with mini-sized utensils is that larger utensils are a) more useful for larger cookware pieces (e.g., a small ladle is not useful for large stockpots); and b) allow your hands to stay farther away from hot gases/steam. This is particularly true for people who cook on gas, since a lot of waste heat floats up from the burner. But it's true even on electric and induction because hot water vapor (steam) can hurt your hands if they get too close. Therefore, size may be a deal breaker for you.
Utensil thickness
A thinner utensil will be able to slide underneath food more easily. But all else equal, thinner also means weaker and less able to stand up to wear and tear.
Flexibility
It's okay for utensils to have a little give, rather than be brittle like glass. On the other hand, too much flexibility renders utensils almost useless. The worst offender I have found so far: the Lucentee 6-Piece Silicone Cooking Set. The utensils in this set are ridiculously flexible to the point of being almost unusable if you are trying to flip anything heavy, whether or a chicken breast or steak or pancake. If I recall correctly, this product used to have well over 1,000 five-star reviews, but most of them were taken down in Amazon's purges. A lot of reviews that seem dubious are still on there, though. It's an example of the problem of bribed reviews corrupting the Amazon ratings system.
After more than a year of testing several brands of silicone-tipped and silicone-encased utensils, including a head-to-head pumpkin pancake comparison, these are our results, organized into four tiers of performance:
TIER 1 of 4 – BEST PERFORMERS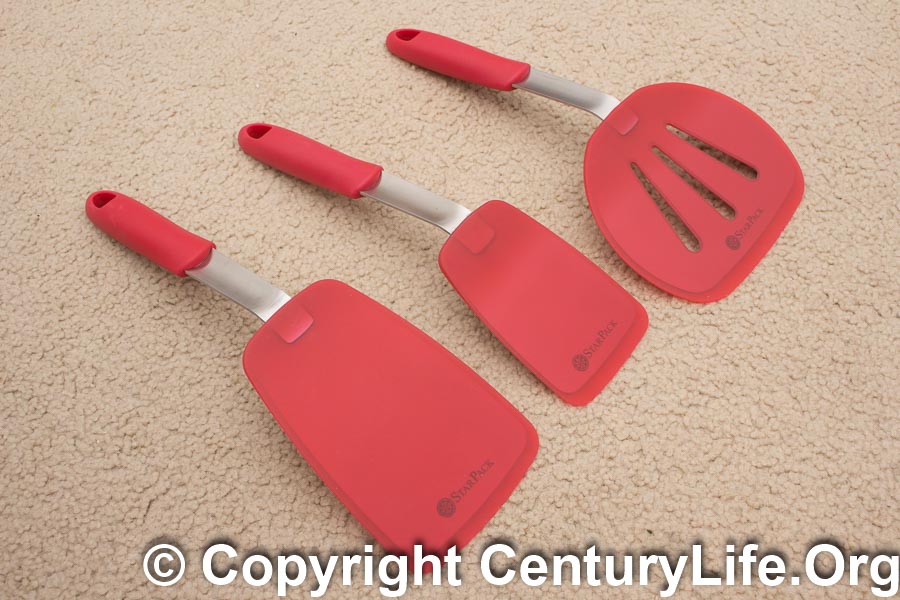 The best performers were the OXO Good Grips SoftWorks Silicone Flexible Turners, also sold as the di Oro Living FLEX and StarPack Ultra Flexible Silicone Turners. They are not completely silicone-covered, so sometimes you may need to clean the seams where the silicone meets the metal–or just toss them into the dishwasher. (OXO is pronounced "AWKS-oh" and is part of Helen of Troy Limited, a billion-dollar U.S. household goods company.)
These three brands apparently utilize the same Chinese supplier. All series use silicone heat-resistant heads up to 600F; have stainless cores, making for a springy but strong flexible core; and use stainless handles, which will not melt if you rest them on the rim of a hot pan. All have the thinnest edges I have encountered with any silicone utensils, making them easier to work underneath foods like pancakes. To the left, you can see that their edges are significantly thinner than a more typical silicone turner head.
The only differences are the logos (including the printing etched into the steel itself, which you can read through the thin silicone) and the handles: the OXOs have little logos on the handles, whereas the di Oros and StarPacks have slight indentations for your thumb. The di Oros also have their name brand molded into the silicone handles near the end. The thumb indents make no difference in real-life usage because the handle material is already very grippy.
So if these three brands are equal in quality, does it matter which brand you buy? Yes–if you are interested in specific combinations and sizes. Di Oro doesn't have a "large" turner whereas StarPack and OXO do. OXO doesn't sell bundles, but di Oro sells one with the omelet spatula and StarPack sells one with both the small and larger turner.
The best deal by far is the StarPack bundle, because you get both the small and larger turners (both very useful), and you get a pancake spatula thrown in basically for free, compared to the price you'd pay for the other spatulas alone. This is a better combo that the di Oro Living FLEX combo pack, which only gives you the small turner. The e pancake turners and omelet turners are nice and all, but they are not as useful for smaller pans, and to a large extent the large turner can substitute for them anyway.
If you can have only one of these turners, get the "small" version of the OXO Good Grips Silicone Flexible Turner which is about 12 inches long not counting the bend at the neck and has a usefully-sized head (4.5 inches long and about 3 inches wide at its widest). If you often cook on larger pans (11+ inches in diameter), also get the OXO Good Grips Large Silicone Flexible Turner. End to end, it's almost 13 inches long, not counting the bend at the neck. It has a head that's about 6 inches long and 4 inches wide at its widest.
OXO and di Oro only offer black turners, but StarPack offers their turners in teal, red, and black colors.
Di Oro foolishly glues product lables to the necks of their turners. The residue is not that hard to get off with a few passes of BKF, but it's an unnecessary hassle. In contrast, OXO staples its product tags, which doesn't leave sticky gunk on their handles. Similarly, StarPack spatulas are individually wrapped in plastic and don't have any gunk on their handles, either.
TIER 2 of 4 – GOOD PERFORMERS
The Schefs Silicone Spatula Turner with Stainless Steel Handle and Comfort Grip is also sold as the Quicklids® Silicone and Stainless Steel Turner Spatula. I have both and they are identical except for the color and brand names, so I would not be surprised if the same factory in China produces both.
Mechanically, this is a good turner: it's got a nice bend at the neck and is big, measuring nearly 14 inches (not counting the bend at the neck of the turner). That's good for larger pans (11+ inch diameter). The head is adequate size (about 3.25 inches wide and 4 inches long), so it can handle larger pancakes, cuts of fish, etc. more easily than smaller heads.
The reason why this design falls into Tier 2 is because it's got a thicker edge than the Tier 1 turners, so it's a little harder to work the turner head underneath food. Furthermore, I can't find a heat specification on the silicone. It hasn't fallen apart on me yet, but the fact that you can't find a heat rating anywhere–on the advertising copy, the product tag, etc.–is troubling. Lastly, beware that this 14-incher won't work as well on smaller pans (under 11 inches diameter).
The ~13 inch StarPack XL utensils are also good, and they are completely sealed in silicone for easier cleaning. However their thicker heads struggle a little more with getting underneath things like large pancakes; you are more likely to push food around a bit before getting underneath it. The heads are also only about 3.25 inches wide by 4.5 inches long at best, so they struggle with really big pieces of food like large omelets and pancakes. The StarPack XL silicone is rated up to 480 degrees Fahrenheit. Despite its lower rating, I've used StarPack silicone utensils for the better part of a decade with no silicone degradation/cracking/peeling/etc. That's durability!
TIER 3 of 4 – OKAY PERFORMERS
The (non-XL) StarPack Home Silicone Kitchen Utensil Set is not inherently flawed, but these pieces are on the smaller side (~11 inches long not counting the bend in the neck), with smaller heads (2.75 inches wide, 3.5 inches long at best). This means more difficulty dealing with larger pancakes, larger slabs of fish, etc. Moreover, these utensils are thicker at the leading edge than other spatulas; this makes it harder to get underneath food.
TIER 4 of 4 – WORST PERFORMERS
The iSi Basics Silicone 13 inch turner did okay for a while, but the silicone started coming apart after a year of use, and a second year of usage made it worse. For obvious reasons, I can not recommend this product.
I bought the Lucentee 6-Piece Silicone Cooking Set (at full price with my own money, as always; we are strictly independent and never take free or discounted samples at this site) for testing because it was the highest-rated silicone utensil set on Amazon at the time. Then Amazon started purging itself of many "incentivized" reviews. These are reviews were the company sends free/discounted merchandise to reviewers, who typically give five-star reviews with disclaimers that they were writing "honest" and "unbiased" reviews. The reality is that they are inherently biased: anyone who wants to continue receiving free stuff needs to give high reviews.
Due to Amazon's pressure, the review-bribery industry has gone underground and you don't see disclaimers anymore. Now it's even harder to identify fake reviews.
I bring this up because these Lucentees were the highest-reviewed and best-selling silicone utensils on Amazon at the time that I bought them, but they weren't much good: they are way too flexible to use with anything remotely heavy (in our pancake tests, the pancakes kept bending the turner heads and sliding off, and the turners felt like they would break if we tried flipping heavier things like thick steaks with them). They are short (~11 inches not counting the bend of the neck), making them awkward to use with larger pans. In short, don't bother with these.

OTHER UTENSILS: SPATULAS, TONGS, AND LADLES
I always recommend buying a set of silicone-tipped tongs along with whatever you end up getting as a silicone turner. This is because tongs allow you fine control, like flipping over individual potstickers, if necessary. They are also good for grills and salads.
It doesn't really matter what brand of silicone-tipped tongs you buy, because practically all of them are made in China and use the same basic design. If you want a name-brand model with high-quality silicone, the OXO silicone tongs are very good.
Also, if you're looking for spatulas in particular for scraping, baking, etc. I heartily recommend di Oro Living Silicone Spatulas. They do not bend and are not good for turning, but they are good for scraping cans, bottles, the sides of bowls, etc. You can see them in use to make pumpkin pancake batter, below.
Lastly, if you are looking for silicone ladles, I spent years looking for a good, large silicone ladle. I have found only one good choice, which I personally use all the time (we cook soup almost every week): the XL-sized StarPack Silicone Ladle. It's seamless so there is nowhere for food and grime to hide, and at 13.5 inches, it's big enough for most pots, unlike other silicone ladles that are 11 to 12 inches in length.