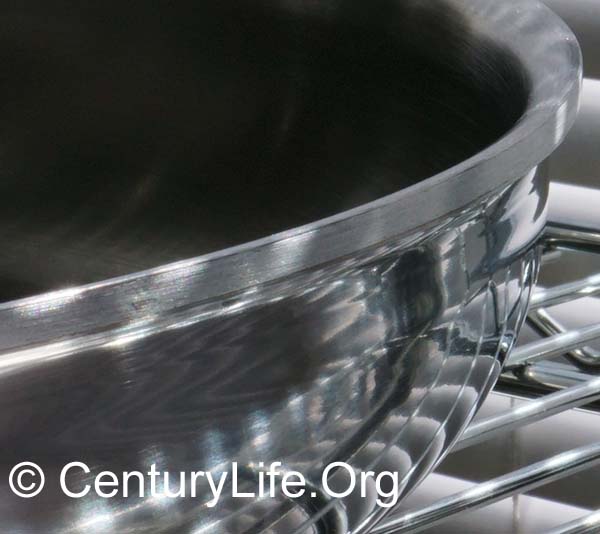 You've probably heard it before: cladded is better than disc-bottomed. But is it cladded cookware worth it?
The Short Answer:
Generally speaking, sufficiently thick clad is more versatile than disc-base cookware. However, thick cladded cookware tends to cost more than disc-base cookware, so if you are on a budget and need to prioritize, this is the order of prioritization:
Your skillets/frying pans, saucieres, and woks should be cladded or else have sidewalls made from copper, aluminum, cast iron, or carbon steel.
Saute pans benefit somewhat from cladding but it's less necessary than for skillets/saucieres/woks. Nevertheless, if you cook on gas, I would recommend getting a cladded saute pan to avoid the "ring of fire" effect (see below), or else a pan that has an oversized disc base to prevent the ring of fire (the cheapest being the Cuisinart Professional Series Stainless).
Saucepans and stockpots used to boil water or other thin liquids are a tough call.  You could go either way. I would say with induction stoves, which heat very unevenly, go with a thick disc-base construction because you will need every millimeter of aluminum or copper on the bottom that you can get.  Gas and electric coil are more even-heating, so if you get a decently-thick cladded piece, it should do fine.  Cladding may also help with extremely thick stews, in theory, because thick fluids do a poorer job of transporting heat than thin fluids like water–but in practice, you probably want to help things along by stirring, anyway.
Avoid thin cladded cookware, because such thin cookware lacks heat distribution ability so that you may get hot spots on the bottom. For reference, All-Clad Stainless is about 2.6 mm thick–roughly 1.75 mm of which is aluminum (rough estimate). Many cheap All-Clad knockoffs made in China are 2.5 mm thick (1.5 mm aluminum) or even thinner. Some of the biggest names have some of the shoddiest tri-ply cladded designs, such as Calphalon Tri-Ply Stainless, and Paderno Tri-Ply, which are all around 2.2 mm in total thickness and thus probably have ~1.25 mm of aluminum.
The Long Answer:
First, let's nail down definitions as used in common parlance.
Clad cookware usually means cookware where the non-handle part of the pan is made from a single sheet of multi-layered metal that is literally pressed into shape. This means the bottom of the cookware is as thick as the sidewalls (with some exceptions; it's possible to stretch out the sidewalls a little thinner than the base). A typical example is All-Clad Stainless, which is made of a stainless-aluminum-stainless sheet tri-ply material.
Disc-bottom cookware typically means cookware that has thin non-handle vessel made out of thin stainless steel (typically less than one millimeter). To this thin cooking vessel, a relatively thick plate of conductive material is bonded to the bottom of the vessel. That disc is great for spreading heat around the bottom of the cookware, even if it doesn't do anything for the sidewalls. Typically a manufacturer uses an aluminum or copper disc slightly smaller than the diameter of the pan, and wraps a thin sheet of stainless steel over the bottom for durability and induction compatibility, to avoid sharp edges, and to disguise the true thickness and composition of the disc. Cheap wrap-jobs leave a pocket of air in-between the disc and the wrapper, and only a few manufacturers (e.g., Demeyere, Fissler) make disc-base designs that stretch all the way to the edge:

There are also gimmicky disc-base designs that use silicone oil in the base, namely the Pauli Cookware Never Burn Stock Pots
. Avoid them. The only thing they are good for is simmering/boiling. If you go above boiling temperatures, you are at risk of damaging the pot such as having the metal deform or break, as this Consumer Reports article pointed out. Therefore you may be unable to brown meat, or cook onions and vegetables in the stock pot as part of a one-pot meal, because saute/frying/searing temperatures are far above boiling temperatures. And no matter how fancy the Pauli base may be, it won't conduct heat up the sides as well as clad designs. So if you want a disc-base pot, get one with aluminum or copper disc and skip silicone-oil bottomed pots which appear to be one-trick ponies.
More generally, clad vs. disc-bottom are just examples of larger categories: highly thermally conductive sidewall vs. low-conductive sidewall cookware. Other constructions styles can be considered clad or disc-based for purposes of this discussion, even if they are constructed using different materials. For instance, a solid copper pan will act like a cladded pan for purposes of this discussion, because it has thermally conductive sidewalls.
So should you buy cookware that has thin, steel sidewalls or not? The answer is: it depends on the type of cooking vessel!
I like Demeyere's answer to this question, with a couple of caveats. Demeyere looked at this question and figured that cladding is only necessary for skillets (frying pans), saucieres and woks (which are often used like frying pans), and a few other specialty pieces.1
Demeyere figured that saute, saucepan, and stock pot pieces don't really need conductive sidewalls, for reasons we'll get into below. (Note: Zwilling J.A. Henckels acquired Demeyere in 2008, and soon afterwards, Demeyere started coming out with product lines that were 100% cladded. I believe this is the result of Zwilling directing Demeyere to compete head-to-head with All-Clad and does not reflect how Demeyere would have done things if it were still an independent company.)
Why would you want cladding on skillets/saucieres/woks?
First, you often have food cooking on the sidewalls of these types of cookware, so of course you want heat to go up the sides and to maximize the amount of cooking surface.
If you attempt to use disc-bottomed skillets/saucieres/woks, you will run into a temperature discontinuity where the disc ends and the thin steel sidewalls begin. If you're using electric of any kind, this means a sudden temperature dropoff and thus it'll be harder to cook on the sidewalls since they are much cooler than the rest of the pan (e.g., omelets will cook in the center but be runny on the edges); hot food may also stick there if the sidewalls don't get hot enough. If you're using gas, the thermal discontinuity runs the other direction, because hot gases from your burner flow up past the disc base. (Burning natural gas produces hot carbon dioxide and water vapor which extend beyond the visible flame.) The hot gases that flow up beyond the disc may overheat the thin steel sidewalls with no aluminum there to absorb the heat. This results in the infamous "ring of fire" which scorches oil and food at the edges of the bottom cooking surface (scorched oil is particularly bad because of the carcinogens overheated oils emit). Making matters worse is how skillets/saucieres/woks are usually used at quite high temperatures, so the temperature discontinuities can be quite large.
None of this is to say that you can't cook on disc-bottomed skillets/saucieres/woks. You can stir food more often and turn down gas burners so they don't scorch rings. You can use tongs to lift food out if you're worried about food sticking to cold sidewalls, though that may not work so well for things like omelets. But ideally, skillets/saucieres/woks should have highly thermally conductive sidewalls.
In contrast to skillets/saucieres/woks, Demeyere figures that anything with vertical walls like saute pans, saucepans, and stock pots do not need conductive sidewalls. Their justification is that you don't really cook on the sides of a saute pan (oil will dribble down the sides, so why would you cook there?), and thin liquids like water will move heat around the interior of saucepans and stockpots via convection currents.
In my experience, Demeyere is not entirely right. I disagree with them about two things: 1) cooking thick liquids on the stovetop, and b) (in some cases) saute pans.
1) Cooking Thick Liquids on the Stovetop
In theory, if you are making extremely thick stews/oatmeal/etc., there might not be enough water in the food to move heat around efficiently, so you may end up with overheated stew on the bottom and colder stew on top if you don't stir.
In practice, I find that induction stoves are so uneven-heating that it's better to get disc-base pots, even for thick stews, because a thicker base will help counter the uneven stove.   You can then manually stir with a spoon/ladle/etc. to help spread out the heat.  (The downside to stirring: your attention  may be needed elsewhere in the kitchen, and every time you take the lid off a pot, heat escapes and adds to your cooking time and utility bill.)
But if you have a relatively even-heating gas or electric coil stove, a clad design can help with thick stews, as clad designs conduct heat up the sidewalls and thus heats the thick stew from more directions.  Popular clad choices include cladded stainless steel stockpots and enameled cast iron. Cast iron is relatively poor at heat distribution, and therefore cast iron can't handle high stovetop temperatures very well, but cooking thick stew usually means using low heat and long cooking times anyway. Enamel resists long exposure to acids better than stainless steel, so it's particularly good for recipes that call for long cooking times. On the other hand, cladded stainless stock pots and dutch ovens are often cheaper than the French-made enameled dutch ovens and more versatile, as they are better at boiling water and searing steaks on the bottom, which is why if I could have only one or the other, I'd go with the cladded stainless stock pot over the enameled dutch oven.
2) Saute Pans
From Demeyere's point of view, the vertical saute pan sidewalls means oil slides right off, so there's no point in heating the sidewalls since you aren't really cooking on them. The problem is that a) oil does actually stick to sidewalls a little bit so it's possible to cook on the sidewalls of saute pans, and b) most disc-bottom cookware doesn't heat the edges of the bottom of saute pans that well due to the thermal discontinuity discussed above, so you can get either temperature dropoffs or scorched perimeters. The discontinuity problem is smaller in saute pans relative to frying pans, since saute temperatures are lower than frying temperatures. Nevertheless, it's not ideal. (Years ago, my parents cooked on gas with a disc-base saute pan that would keep accumulating brown, scorched-food marks at the edges of the inside of the pan. Although such marks could be rubbed away with Bar Keepers Friend, it'd be better if oil and food didn't get burned and emit carcinogens in the first place.) Therefore, I believe that one can make the case that saute pans should have heat-conductive sidewalls just like frying pans.
Demeyere is aware of the temperature discontinuity problem, and their solution is to use a larger disc bottom than normal, at least on their higher-end product lines. (You can see the difference at the 0:54 mark of this Demeyere promotional video.) Demeyere bonds aluminum or copper discs of the same diameter of the saute pan (or saucepan or stock pot), and seals the disc with a large stainless steel wrapper that is laser-welded all along the perimeter. Thus the bottom of their pans are actually slightly larger in diameter than the pan bodies, if you count the steel cap/wrapper. This design spreads heat closer to the edges of the saute pan than typical designs that use smaller disc bottoms. (See below for a comparison of Sitram Profiserie vs. Demeyere Atlantis and how much larger the temperature dropoff area is in the Sitram case vs. the Demeyere case). Unfortunately, few cookware manufacturers use such large discs, so most disc-base cookware looks like the Sitram and has that larger area of temperature discontinuity at the edges of the cooking surface.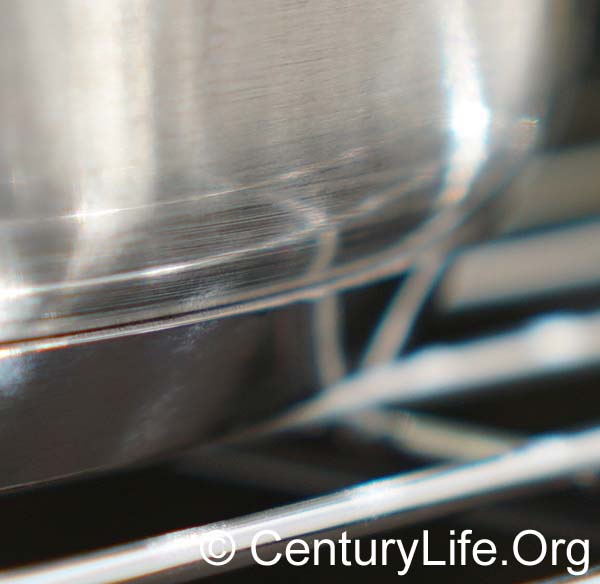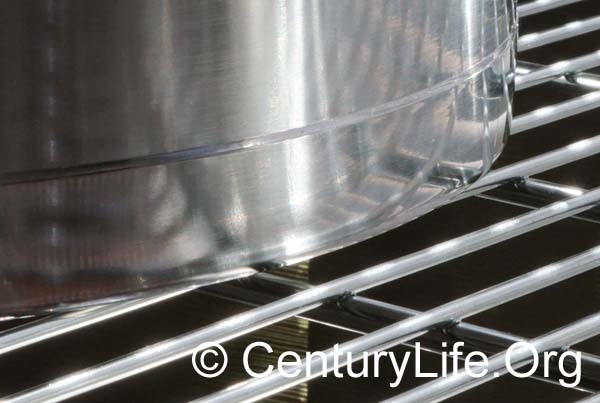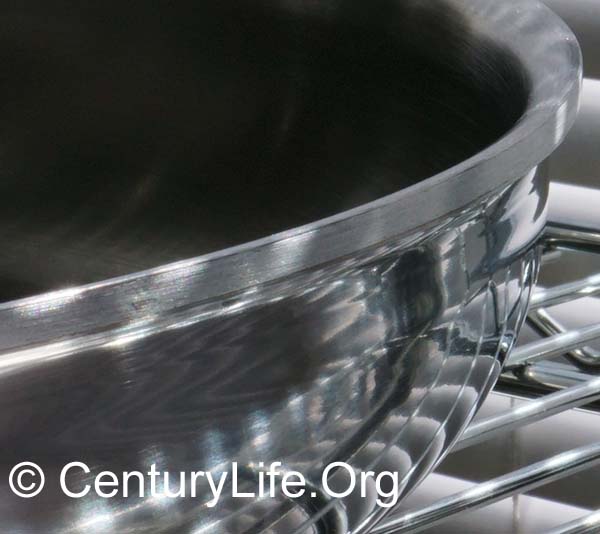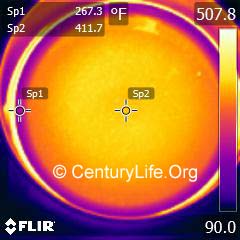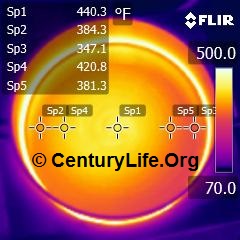 FOOTNOTES
 http://english.demeyere.be/Default.asp?CID=953&SLID=1

"Experience shows that for each cooking method the heat transfer involved is essentially different; hence compatible cooking utensils are required. There is not one particular mode of technology that is suitable for all utensils. Hence, Demeyere has developed a specific technology for each type of cooking utensil.

For cooking methods with fluids, such as making soups or steaming vegetables, Demeyere uses walls of stainless steel 18/10 that keep the heat inside the pan, combined with a heat-conducting bottom that spreads the heat optimally. For certain recipes and cooking methods, the heat should also be spread along the sides. This is the case e.g. when grilling, frying, simmering, preparing delicate sauces, stir-frying, etc. In these particular cases, a multi-layer material (7-PlyMaterial) up to the edge is ideal.

The thickness of the multi-layer material determines the distribution of the temperature. This is why the 7-PlyMaterial has several thicknesses, for different sizes and applications:

2,3 mm for woks: 230°C at the bottom – 140°C at the sides
3 to 3,3 mm for conic sauté pans, simmering pans and certain frying pans (skillets)
4,8 mm for professional Proline frying pans (skillets)." ↩