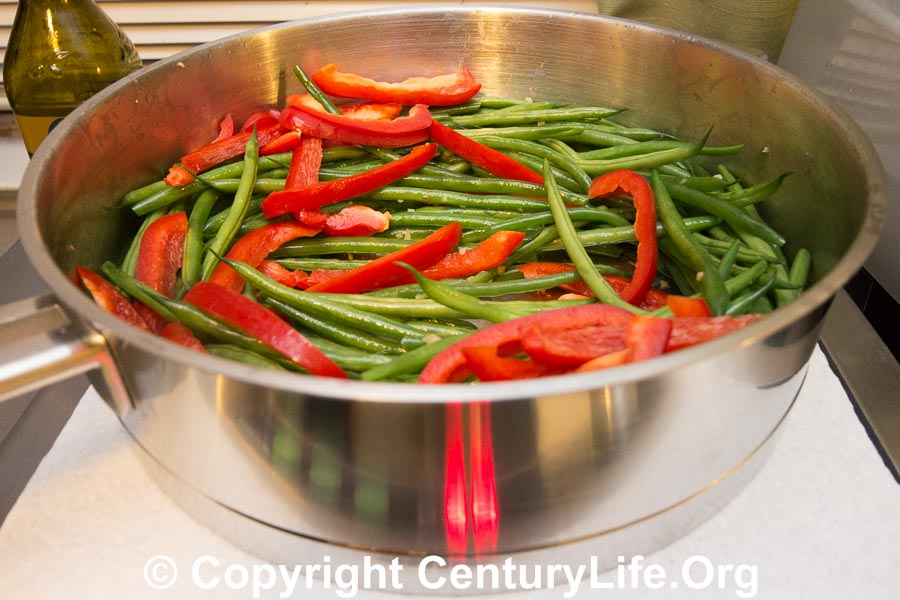 THE COMPANY
Demeyere (pronounced Deh-MAI-reh) is a Belgian company founded in 1908 as a family business. 100 years later, the family sold the company to Zwilling J. A. Henckels (itself owned by the Werhahn Group, a German family investment firm that also owns Staub and other high-end brands). I did a more extensive writeup of its history in the Demeyere Proline Skillet review.
THE PRODUCTS BEING REVIEWED
We've previous looked at Demeyere Proline Skillets and Resto product lines, but today we're looking at what is called Atlantis or John Pawson.
This review is for the Demeyere Atlantis 4.2-Quart Sauté Pan with Lid
(11 inch/4.2 quart, or 28cm/4 liter). Demeyere Atlantis has a nearly-identical twin that I recommend against: Demeyere John Pawson. John Pawson is an architect hired by Demeyere to re-imagine the Atlantis product line. There are only two differences between Demeyere John Pawson and Demeyere Atlantis straight-sidewall pieces: 1) Pawson has slightly better lids (double walled so they get hot more slowly); and 2) Pawson has much worse handles (square, uncomfortable, lack hanging holes).
This review is also applicable to the rest of the Demeyere Atlantis product line
, most of which I have used for several years.1
If you enjoy promotional videos, here is Demeyere's explanation of its Atlantis product line:
According to Demeyere and its promotional video, Demeyere Atlantis is constructed like so: thin stainless steel vessel, bonded with a multi-layered bottom disc. The bottom disc is made out of 2 mm thick copper (about twice as good at heat transfer compared to aluminum alloy) and is the same diameter as the rest of the pan so that heat reaches the edges of the cooking surface instead of stopping short, like most disc-base cookware. Directly above and below the copper disc are two thin layers of silver which are too thin to help out very much in terms of spreading heat, so presumably they are there for bonding purposes. Below the disc are three layers of stainless steel which form a bottom cap. The cap is welded to the exterior sidewalls of the bottom of the pan or pot.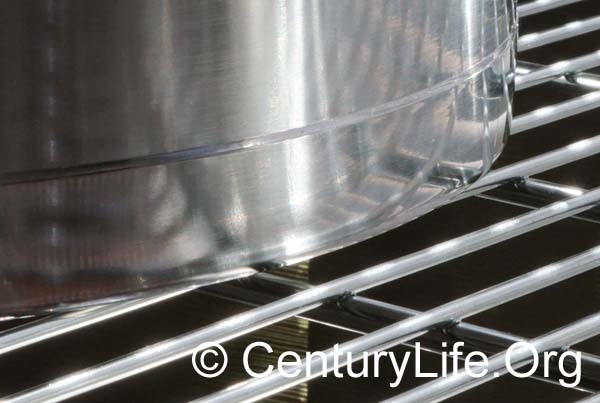 Demeyere Atlantis pieces come with several features:
– Rolled lips for drip-free pouring
– "Silvinox" electrochemical surface treatment. Basically they immerse the pan into a chemical wash that decreases the ratio of iron and impurities to chromium/nickel, resulting in 18+/10+ stainless steel, which is shinier, harder, and more corrosion-resistant than untreated 18/10 steel. It's safe for your health since all it does is remove iron and impurities. Even if it wears off, what's underneath is simply regular 18/10 stainless steel. Silvinox is slightly less sticky than untreated 18/10 stainless.
– Rivetless handle design won't trap food particles.
– "InductoSeal" bottom (see above). The bottom three layers make the pan induction-compatible. Although Demeyere won't say exactly what the bottom three layers are, it's likely to be a sandwich of 304 stainless-4xx stainless-304 stainless. This gives you the best of both worlds: a highly magnetic 400-series stainless or carbon steel core, protected by a highly corrosion-resistant layer of 304 stainless on the outside that is made even more corrosion-resistant via Silvinox treatment.
In contrast, most induction-compatible cookware on the market is made with 400-series stainless on the bottom which is also known as "18/0" or "magnetic" stainless steel. The problem is that 400-series steel is not as corrosion-resistant. In any case, Demeyere's three-layer design is supposedly more energy-efficient on induction cooktops by "up to" 30% compared to rivals. Believe it or not, it's true, though the key word are "up to." The actual number is less than 10% in my experience (compared to cast iron, All-Clad, etc.).
– 30-year warranty for home use.
RATINGS
Demeyere Atlantis Overall Rating: 4.55/5 Excellent. For an explanation of ratings methodology, click here.
Cleanup: 4/5 Very Good. Stainless steel (inox) is not Teflon and should not be compared to Teflon (which wears off) or ceramic (which loses its nonstick ability over time and heat), but Demeyere pans help minimize stickiness in several ways:
– You can pre-heat the pan with some oil to ensure that foods only encounter lubricated hot steel, which is a lot less sticky than bare, not-so-hot steel. Preheat the pan, then add oil, THEN add food. Do not put oil into a cold pan and heat them up together; it doesn't work as well.
– The sheer thermal mass of such thick pans helps ensure that temperatures don't drop too much when you throw in, say, a cold steak. Pans which are too thin will drop in temperature like a rock, necessitating an awkward time period where you wait for temperatures to come back up and sort of steam the food in the interim. If you don't have such a steep thermal dropoff, your food cooks in the ideal temperature range for longer and consequently tastes better due to Maillard reactions.
– You can deglaze with something as simple as water or as fine as wine; in either case, the liquid will bubble off some stuck-on bits and make for easier cleaning after dinner.
– Demeyere's proprietary "Silvinox" treatment means dipping the pans into an electrochemical bath to boost chromium and nickel concentrations on the surface, by stripping out iron and impurities. Demeyere insists that this means their Silvinox-treated steel is harder and more corrosion-resistant that normal stainless steel. It might also mean less sticky cooking surfaces. In my experience it's still stainless and can stick, but it's less sticky than any other stainless on the market. Even if you do get some stuck-on bits, a brief soak and a sponge scrub usually removes such bits unless they are really burned-on, which case, use a little Bar Keepers Friend powder. (If you prefer a non-abrasive alternative, try Demeyere Non-Abrasive Cleaner
.)
Durability: 5/5 Excellent. Demeyere pans are built to last, with extra-hard stainless steel Silvinox treatment and a thickness of 1.0 mm at the sidewalls and 3.8 mm of steel, silver, and copper on the bottom. 1 mm is much thicker than the typical 0.6 mm thickness you will find on the sidewalls of cheaper disc-base cookware; the thinner stuff can dent if dropped or banged against a sink hard enough. The Atlantis's laser welding of the handle and bottom cap is good, and in any case, Demeyere pans come with 30-year warranties for home cooks.
Even heating: 5/5 Excellent. I've cooked various dishes on my Pawson/Atlantis saute pan with great results; the pan is very even-heating. In fact, Atlantis spreads the heat out to almost the very edges of the cooking surface (within about 0.2 inches). Compare that to cookware with disc bases that don't go to the edges, resulting in possible overheating (if gas) or underheating (if electric coil/induction) of that outer 0.6-inch ring. Personally I would be willing to give up a little center evenness to ensure that the edges get hot too. Why? Because sometimes you can't stir food into being evenly-cooked, because you are busy tending to other dishes or because it's hard to chase food around with a spatula–I'm thinking of one recipe in particular where I wind up spending a lot of time trying to herd peas into the center. And in some cases the food is sticky and fragile, so you can't stir. That means if you get any along the edges, then you can over- or under-cook them depending on whether you cook using gas or electric.
Those who think that the copper core of Atlantis will give them a true copper experience should know that's not quite true. The total thickness of the pan's bottom is about 3.8 mm according to Demeyere, of which about 1.7 mm is stainless steel. That stainless steel means that the pan holds heat well but doesn't respond to changes in burner temperature as quickly as pans with higher proportions of copper. On the other hand, copper does react faster than aluminum, so Demeyere Atlantis still has a leg up over aluminum-based cookware when it comes to responsiveness. And while the steel doesn't help much in spreading heat evenly, it doesn't hurt, either, so you still get very even heat distribution thanks to the copper. Lastly, since there is no exposed copper, the pan can be put into the dishwasher; exposed copper will oxidize into ugly matte brown.
Handling and ease of use: 5/5 Excellent. The handles on regular Demeyere Atlantis are great (see above photos). The Demeyere Pawson handles are terrible (see above photos). The Pawson handles are squarish and have hard edges at the ends. A cross section of Pawson handles looks like an elongated circle where the elongated part is a set of parallel lines. Also, they don't have holes for hanging, though thankfully the larger skillets and saute pans come with helper handles which can be used for hanging. But the saucepans, saucieres, skillets, and saute pans that do not come with helper handles? No hanging rack for you!
My Handling score is for Demeyere Atlantis pieces. Atlantis handles are very comfortable and made from solid cast stainless steel, so they stay cool no matter how long you cook on the stovetop. A cross-section of a Demeyere frying pan handle would look like an ellipse/oval. They don't have ridges that dig into your hands like, say, All-Clad handles. The handles even have small, gently-sloped divots for your thumb to rest on.
The rolled lips make pouring easy; fluid doesn't try to cling to the outer surface of the pan when you pour.
Just like with Demeyere Proline skillets, the Atlantis saute pan is heavier than the flimsier competition. For example, the Demeyere Atlantis 11-inch, 4.2 quart (28-cm, 4 liter) saute pan weighs 2830 grams (6.24 pounds) empty, without lid. The Pawson version, with its chunky handle, weighs 3009 grams (6.63 pounds) empty, without lid. Those who like to lift pans off the burner while cooking (e.g., flipping/jumping/sauteeing) may be frustrated with the weight. On the other hand, the pan comes with a helper handle for easy movement, including washing in the sink. And you can always just use a spatula to shift food around, instead of lifting the pan.
Value: 3/5 Good. See Conclusion. Demeyere Atlantis is unique in its combination of features, hence why I am unwilling to give it any lower of a score here.
Versatility: 5/5 Excellent. Demeyere Atlantis is oven-safe to at least 500F, and you can use metal utensils on them if you don't mind scratching them up. It's easy to develop fond and yet also easy to clean the Silvinox-treated stainless cooking surface. The saute pan is about 8.3 cm (~3.25 inches) tall without lid.
CONCLUSION
Very few disc-base product lines heat evenly all the way to the edges of the bottom cooking surface, or close enough that the last fraction of a centimeter doesn't matter. Demeyere Atlantis is in that exclusive club, but with a large price tag. However, Demeyere Atlantis is unique in its combination of features, hence why I am unwilling to give it any lower of a score in Value. If you prefer welded handles, Silvinox treatment, stainless steel lids, faster response to changes in heat, and sturdy construction, then get Demeyere Atlantis
. If you can sacrifice those features for a riveted, untreated, glass-lidded, aluminum-base alternative with thinner sidewalls and a lower grade of stainless steel that is stickier, then get Cuisinart Professional Series Stainless, which heat roughly as evenly as the Demeyere Atlantis (30cm saute pans are 15% larger in surface area than 28cm saute pans, preventing a true apples-to-apples comparison). Avoid the John Pawson variant of Demeyere Atlantis unless you really enjoy its look and want double-walled lids and can live with the uncomfortable handles–especially since Pawson costs more than Atlantis.
That said, if you want something that performs similarly to Atlantis, albeit with a smaller disc on the bottom, then I can recommend Sitram Catering which has a 2mm thick copper disc bonded to 18/10 stainless steel. It has about 0.6 inches of coolspot all around the perimeter of the cooking surface, but costs less. However, note that Catering is not induction-compatible.
It bears mentioning that stock pots that use a copper disc base do not boil water faster than stock pots that use an aluminum disc base, based on my boiling tests. So I would recommend not getting a Demeyere Atlantis stock pot and instead getting something cheaper, like the Update International (SPS-8) 8 Qt Induction Ready Stainless Steel Stock Pot w/Cover
.
The following are the diameters for the various Atlantis pieces:
Demeyere Atlantis 4.2-Quart Sauté Pan with Lid = 11 inch (28 cm) diameter (NOTE: As of 2021 this appeares to be discontinued, but I'd reviewed a cheaper alterantive Cuisinart saute pan here)
Demeyere Atlantis 2.6-Quart Sauté Pan with Lid = 9.4 inch (24 cm) diameter
Demeyere Atlantis 8.5 Quart Deep Stockpot with Lid = 9.4 inch (24 cm) diameter
Demeyere Atlantis 8.9 Quart Casserole with Lid = 11 inch (28 cm) diameter
Demeyere Atlantis 5.3-qt. Stock Pot with Lid = 8 inch (20 cm) diameter
Demeyere Atlantis 5.5 Quart Casserole with Lid = 9.4 inch (24 cm) diameter
Demeyere Atlantis 4.2 Quart Casserole with Lid = 8.7 inch (22 cm) diameter
Demeyere Atlantis 3.2-Quart Covered Saucepan, Silver = 7.9 inch (20 cm) diameter
Demeyere Atlantis 2.3 Quart Saucepan with Lid = 7.1 inch (18 cm) diameter
Demeyere Atlantis 1.6 Quart Saucepan with Lid = 6.3 inch (16 cm) diameter
Demeyere Atlantis and Pawson may be found at Sur La Table (click anywhere outside of the pop-up box to get rid of the pop-up). Amazon also carries Atlantis.
Update: As of July 2016, Pawson appears to be discontinued. Also, Demeyere also sells a Sur La Table exclusive called Demeyere Silver7 which is the same thing as Demeyere Atlantis and Proline, except with squarer handles and double-walled (i.e., better insulated due to an air gap between the top and bottom layers of the lid) lids a la the Demeyere John Pawson line. The Demeyere Silver7 cladded (not disc-base) pans also have rims mostly sealed with stainless steel–there is still a little exposed aluminum on the underside of the rim. So avoid using harsh dishwasher detergents for Silver7 that may eat away at the aluminum. Then again this is probably not a major problem because many people have used cladded pans with exposed aluminum (such as All-Clad) for decades in dishwashers without problems.