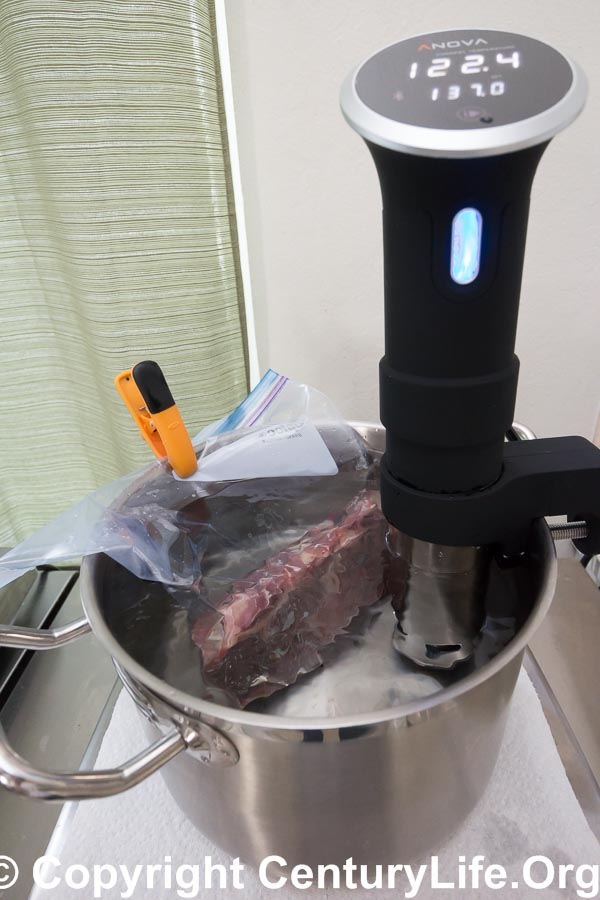 If you'd like to learn more about sous vide, please visit my introduction to sous vide page here.
This is an ongoing review of the Anova Culinary Precision Cooker/Immersion Circulator
, which–ironically–I got not for sous vide but for thermal testing purposes. But it also does its intended purpose quite well.
THE PRODUCT
This is an immersion circulator. You stick it into a pot of water and it heat it up to a very precise temperature–and hold it there for up to 99 hours. It will also stir the water so that the entire pot of water is the same temperature.
You do this because some things are best cooked low and slow to ensure maximum taste/flavor and to save money, because you can turn a cheap cut of meat into something better than restaurant-grade filet mignon.
The immersion circulator's main cylinder is about 15 inches long from tip to tip, made with metal and plastic, and has an LCD touchscreen panel on top and a giant scroll wheel on the side that lets you set the target temperature. There is a heating element and fan assembly near the bottom. Water goes in, gets heated, and gets pushed out by the fan.
You can control the Anova either manually or by using an Anova smartphone app via its Bluetooth wireless radio. The Anova smartphone app also gives recipe instructions/recommendations. To operate the Anova Precision Cooker manually, push the red button to start or stop; push and hold to switch between Fahrenheit and Celsius temperature measurements. (The Anova Precision Cooker is accurate to the nearest 0.1C according to manufacture specs. That's really important because being off by even half a degree can noticeably change the texture or flavor of your food.) The product comes with an adjustable clamp which lets you rotate the main cylinder any way you want–side to side or at something other than the standard 90-degree angle to the pot bottom. There is no minimum height for the pot you use this device with, but realistically you need at least ~3 inches of water or so to operate the unit (there is a line marked "MIN" at ~2.5 inches), else the unit auto shuts-off for safety. Presumably any purchasers of this device already have a large enough pot.
Preliminary Results: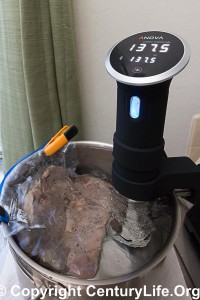 So far we've cooked six ribeye steaks in Ziploc freezer bags using the water displacement method, where you slowly lower the bag into the water and let the water "close" the bag and thus minimize the amount of air in the bag.1 The first steak was messed up on account of timing (we overslept… the steak was delicious anyway even though meat slowly loses texture if you keep it in a water bath for several hours longer than necessary), so we'll consider that a mulligan.
A note about temperatures: We verified that the Anova's thermometer was accurate with two other thermometers, but just to be safe, we opted for 137F as the lowest we'd go. 135F would give you medium-rare, 140F would give you medium, so 137F or 137.5F should deliver medium/medium-rare steak and provide a larger margin for error in terms of food safety.
Ribeye Steaks 2 and 3: I patted down two ~18 oz. ribeye steaks with salt and pepper before placing them into a gallon-sized Ziploc freezer bag and submerging the bag into the water via the water displacement method, which uses the water in the stockpot to push out air. I used my Vollrath Mirage Pro induction cooker to quickly boost the temperature to ~137.5F so that the Anova would just have to maintain the temperature. (Why make the Anova do all of the work to heat up the water at 800 watts, when my induction cooker does the job faster at 1800 watts?) The pair of steaks cooked for 120 minutes at 137.5F. Then I browned them at ~450F along with smoking-hot olive oil, 30 seconds on each side (flipping every 15 seconds), and 15 seconds per edge. We deglazed with wine and crushed garlic and served with salt and pepper. Unfortunately we forgot to get the vegetables ready in time for the photo.
Ann gave her steak an "8 or 9 out of 10," i.e., fancy restaurant quality steak (which themselves use sous vide, by the way). I concurred.
There are other methods to searing steak that involve a lot more unhealthiness, like drenching in butter, or using much more oil than the splash that I used, or searing at higher temperatures, but that would not be in keeping with this site's healthy cooking ideals. To me, a relatively quickly and healthily-seared "8 or 9" steak is preferable to a "10 out of 10" steak with charred, carcinogenic bits. (I do regret not adding a bit of thyme or rosemary, though, just for a little extra flavor.) But you aren't going to get cancer from eating the occasional charred steak crust, and your body has natural defenses such as antioxidants, so feel free to crank up the heat and use butter for extra flavor if you desire. Ultimately it's a personal decision.
Ribeye Steaks 4 through 6: Due to the fact that we bought a massive number of rib eye steaks for testing and didn't want to eat it all ourselves, we had friends over for dinner. One of them is an airline pilot who flies a lot, often to France, so I was nervous about producing a substandard steak. I need not have worried because the Anova makes utterly predictable steaks if you set it to the same temperature every time. The only variability is how you sear it, and everyone has a different style because everyone's tastes are different.
Salmon: We had another couple of friends over, for lunch, and we had salmon sous vide. Everyone liked the salmon (which we pan seared to finish), but frankly it wasn't a real step up from how we cook salmon in a skillet. I forgot to take photos or even write down the time/temperature settings, sorry. But it was a standard sous vide recipe like the Anova salmon recipe. In any case, we don't plan to sous vide salmon anymore because there's not enough of a bump up in quality for us to want to go to the trouble of setting up the pot and water and waiting. Sous vide is still magical for meat, though.
The Anova Precision Cooker is the cheapest reliable thermal immersion circulator on the market, and it performs admirably well. If you look at our second attempt alone, we basically took about $25 worth of ingredients and electricity and turned it what would cost you $100 at a fancy restaurants (on an ounce-for-ounce basis, including tax and tip). In other words, the Anova can pay for itself after just a few meals, especially if you like steak or seafood.
Update March 2021:
Anova has since updated their product lineup, and the most affordable and best-selling version is now smaller and 750 watts. There is a bigger, more-expensive version with WiFi that would allow you to monitor the device from much farther away, even via internet and a smartphone at work or something. But the WiFi/Bluetooth distinction doesn't matter if you use it manually or within-house, nor does a 250 watt difference matter much in terms of heat-up time if you're using hot water from your faucet anyway, so the cooker just needs to maintain temperature rather than heat up water. I would save yourself $75 and get the basic version unless you intend to monitor via WiFi/internet.
How to cover a pot while using this thing??:
If you use a thermal immersion circulator, you will not be able to use the cover that came with your stockpot. You have a few choices such as buying a piece of plastic and cutting a hole in it, wrapping plastic wrap
around the top, or simply living with the evaporation and waste heat and higher electric bill that results from having an uncovered pot of water around. By far the most energy-efficient cover, though, is air, such as the air inside plastic balls like the ones in this sous vide kit or balls without the container. You might wonder why you wouldn't use ping pong (table tennis) balls instead. That's because ping pong balls are too big, so they leave larger gaps for water to evaporate. Also, ping pong balls may not be rugged enough to withstand repeated use, especially in hot water, and they probably would not be dishwasher safe.
FOOTNOTES
I'm not thrilled about cooking in plastic, even though it's probably safe to use Ziploc bags at these relatively low temperatures (Ziploc bags are made out of polyethylene plastic that is presumed food safe and which does not soften or melt until you approach 200F). But I know that most sous vide cooks use plastic, and that relatively inexpensive Ziploc freezer bags are commonly used in sous vide, so I'm following suit for product testing purposes. ↩