This post-in-progress is going to be an ongoing review of Rebecca Katz's cookbook, The Cancer-Fighting Kitchen: Nourishing, Big-Flavor Recipes for Cancer Treatment and Recovery
, where I make various recipes from the cookbook. I'll write a conclusion after I have made enough recipes from her book to feel confident in appraising it as a whole.
Despite the title of the book, you don't need to have cancer to enjoy the book, though Katz's personal story is that her father fought off throat cancer with the help of her recipes. (We'll never know whether he would have survived regardless of the recipes.) The point is that these recipes are supposed to be tasty and good for both cancer survivors as well as people who want to increase the amount of anti-cancer nutrients in their diets.
I have the hardcover version of this book, which comes with a standard thin book jacket and high-resolution photographs of some of the recipes.
The book starts with the obligatory overview of how some foods are more nutritious than others, summarizing the information into a "cancer-fighting tool kit." Katz also talks about balancing FASS (fat, acid, salt, and sweet) which is important because even the healthiest food won't be cooked often if it tastes bad. Experimentation may be necessary for some cancer patients due to nerve damage or other issues, such that they taste things differently than others.
I can't republish the recipes here due to potential copyright issues, but I can describe them generally (sorry for the vagueness).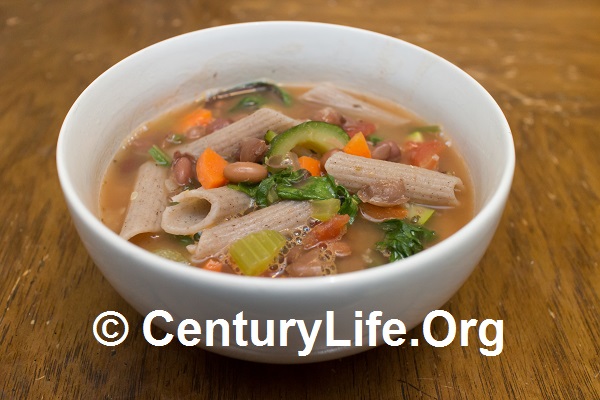 Minestrone Soup (p.64)
For the first recipe that Ann and I made, we chose minestrone soup. Katz's minestrone soup is pretty standard. We used buckwheat penne pasta as that was what was on hand, and otherwise followed the recipe pretty strictly. The result was a flavorful minestrone soup packed with vegetables. But in my opinion it's hard to mess up minestrone soup, so that wasn't very conclusive.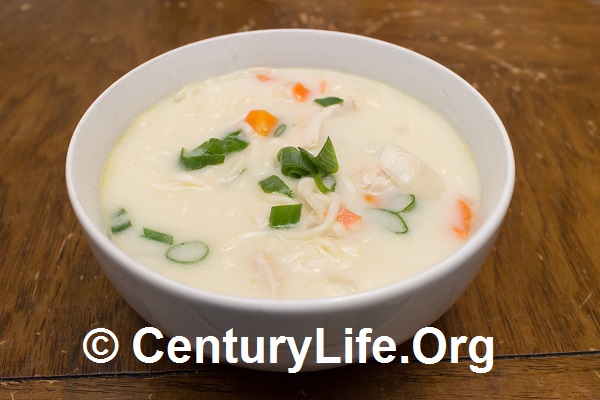 Thai It Up Chicken Soup (p.62)
For our second recipe, we decided to make Thai It Up Chicken Soup, a photo of which graces the cover of the cookbook. Katz's Thai It Up Chicken Soup is basically chicken soup with a Thai theme. We didn't have lemongrass on hand, but we improvised by substituting lemon juice. We also used ramen (wheat noodles) instead of rice noodles. Otherwise, we followed the recipe fairly closely.
The recipe is easy to make (though lemongrass and lime leaves may be hard to procure). The most labor-intense part was to soak the noodles separately and to fish out solids. Contrary to the recipe, we left in the onions for nutrition.
As for the soup itself, the results were very delicious. This is basically Thai chicken noodle soup. However, the recipe as written was too watery for our tastes, as a result of too much liquid. I would use ~70% as much mineral broth and coconut milk as the recipe calls for. (Ann objected to the quantity of coconut milk because it's high-calorie further increased the liquids-to-solids ratio. That's another reason to add less coconut milk, or maybe skip it altogether.)
Four-Recipe Easter Dinner 2015:

For Easter dinner, we made four recipes out of Katz's cookbook: orange chicken, lemon chicken (listed as an alternative to the orange chicken), purple potato, and (basically candied) chard.
The main course was "Orange Ginger Roasted Chicken" (p.117), and we also made the alternative formulation which called for substitutes such as lemon zest instead of orange zest. This roasted chicken recipe was a lot of work for not much gain over Ann's usual roasted chicken. Don't get me wrong: Katz's recipe tasted good, and the citrus/ginger/cinnamon was a welcome change. But the aromatics didn't actually impart that much flavor to the meat, and Ann thinks aromatics aren't as effective when used as stuffing.
The first side was "Purple Peruvian Smashed Potatoes" (p.93), which relies on literally smashing purple potatoes instead of using butter and milk like with less-nutritious mashed potatoes. We really liked this dish, as it was a fun, funky color that tasted great: light, if not outright fluffy, and the added greens contrasted with the potatoes to give it great mouthfeel/texture.
The second side was "Emerald Greens with Orange" (p.84). Without going into specifics, the recipe seemed healthy enough, but it also called for dried cranberries, maple syrup, and orange juice, heavily reduced to a rather sweet glaze. Ann and I don't have as much sugar tolerance as we used to, thanks to years of green smoothie consumption, so I jokingly referred to the dish as "candied chard." It wasn't bad, just too sweet for our tastes.
PRELIMINARY CONCLUSION
After making several recipes, themes have emerged. In Ann's words, the cookbook is good for people who aren't complete novices at cooking, because Katz occasionally assumes that the cook knows various terms. The section up front about mineral broth is good and important, because collagen is so important for maintaining one's health. Professional athletes know all about this.
The downside to the typical recipe is that they usually have a step or two that adds to preparation time and nutrition but not necessarily to flavor. So this book would be good for those who are serious about getting more nutrients in their diet, but not those who are pressed for time and care only about taste.
We'll make more recipes from this cookbook before giving it a final rating, but if I had to rate it today, I'd give it a 4/5 Very Good rating.