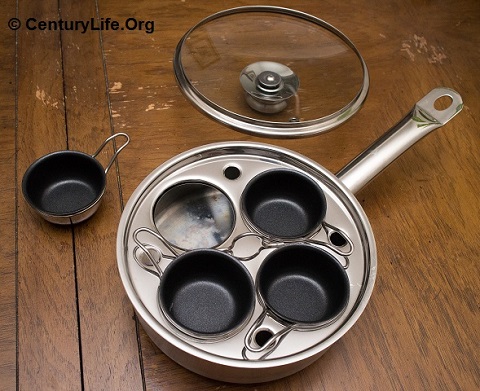 THE COMPANY
Demeyere (pronounced Deh-MAI-reh) was a Belgian company founded in 1908 as a family business. 100 years later, the family sold the company to Henckels/Zwilling. Demeyere is an offbeat cookware company. Imagine an uncle who loves cooking. Imagine he wins the lottery and decides to build the ultimate set of cookware for himself, regardless of cost, such that he will never even think of buying any more cookware afterwards. Imagine that he loves the results so much that he shares them with the world. That's pretty much Demeyere in a nutshell: superb but expensive. That said, my kitchen has quite a lot of Demeyere in it; it has never failed to impress.
THE PRODUCTS BEING REVIEWED
The Demeyere 1.5-quart 4-Cup Egg Cooker/Poacher
is a two-in-one sauce pan with 4-egg poacher insert. Use it as a saucepan OR as an egg poacher–heck you can even bake in it (up to 350F). Demeyere also calls this a "Gourmet Pan," but it's the same product with a different handle.
By the way, poaching just means cooking by simmering in liquid (water). In practice this setup gives you a cross between poached and steamed eggs, but that shouldn't stop you from enjoying the delicious results no matter what you call it.
Key features:
– 1.4 liter (1.48 quart) capacity
– 18 cm top diameter (7.1 inches); 16 mm bottom diameter (6.3 inches)
– 4 mm (0.17 inch) thick aluminum disc base
– Glass lid with steam vent and steel handle
– Welded 18/10 stay-cool stainless steel sauce pan handle
– Rivetless handle design won't trap food particles
– Stainless steel 18/10 interior surface, magnetic stainless steel bottom surface (for induction compatibility)
– 4 nonstick egg cup inserts with individual handles, plus a stainless steel lifter for quickly lifting all four inserts at the same time
– 2-year warranty
The sauce pan/egg poachers are made in Indonesia and are part of Demeyere's "Resto" line
of affordable specialty cookware that isn't made in Belgium.
RATINGS
Overall Rating: 4.55/5 Excellent. For an explanation of ratings methodology, click here.
Cleanup: 4/5 Very Good. 18/10 stainless steel is usually 304 stainless in disguise. It's durable, albeit a little sticky, hence the addition of PTFE coatings on each egg cup. PTFE is generally safe below 450F. Since you will likely be using the inserts for boiling/poaching eggs, that isn't a problem. I can't give it full marks for cleanup because the egg holders can still get egg stuck to them if you don't use enough lubricant of some sort, such as butter. You can use oil sprays, but don't use oil spray that is not safe for nonstick surfaces, as the propellant may contain chemicals that damage PTFE/Teflon. The spray can should say if it's safe or not for PTFE/Teflon/nonstick. Alternatively you can get a Misto
, which doesn't use any chemical propellant; you just fill it up with oil and pump it yourself.
For the saucepan itself, a little Bar Keepers Friend powder will very quickly clean up any rainbows or grungy white residue on the stainless steel.
Durability: 4/5 Very Good. The underlying sauce pan would get a 5/5 because it is well-built with welded handles that stay cool but won't fall off or trap food particles. You also don't need to worry about the disc base. However, the glass lid is a minor negative because of the possibility of breakage. The nonstick coating will eventually come off, too so I have to deduct a point.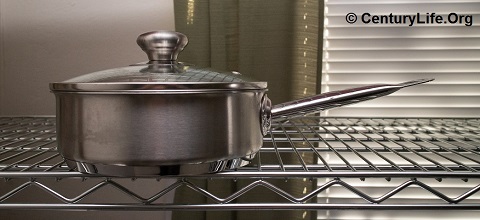 Even heating: 5/5 Excellent. The smaller the burner size relative to the bottom of the pan, the worse hot spots/uneven heating is, and vice versa. Given that this sauce pan has a great 4 mm thick aluminum base and is only about seven inches wide, you won't get any significant hotspots on electric stoves. On gas stoves, make sure the flame is turned down low enough that the hot flames and gases don't scorch the outside perimeter of the pan.
Handling and ease of use: 5/5 Excellent. The sauce pan's welded steel handles stay nice and cool. The little egg cups come with stainless steel lifting tabs, and they rest in little holes in a tray. The tray itself has a stainless steel lifting handle, so you can quickly lift all four cups out at the same time. Lastly, the rolled lips make pouring easy; fluid doesn't try to cling to the outer surface of the sauce pan when you pour.
One thing to note, though, is that the egg cup and tray handles can get hot and, so can the lid handle, so use a towel or oven mitt to lift.
I'm ambivalent about the glass lid: it can break more easily than steel, but on the other hand, for an egg poacher you want to see what's going on through the lid without lifting it. My solution is to use it with the glass lid as an egg poacher, but use another lid I have that is made out of stainless steel, when I want to use just the sauce pan.
Value: 4/5 Very Good. I have to dock a point for the fact that PTFE will wear away with enough use, otherwise it's a great price. There are other, cheaper egg poachers out there, but they
a) sometimes use plastic egg holders (yuck, who wants plastic leaching into their eggs? plastic degrades at room temperature and degrades even faster at high temperatures);
b) sometimes do not leave behind an excellent-quality sauce pan when you are not poaching eggs; and/or
c) are made with uncertain materials that may not last.
PTFE (such as Teflon) is not something you want to skimp on, because once that nonstick coating is gone, it's gone, and you wind up with eggs sticking like crazy on stainless steel. Good-quality PTFE has multiple coatings and sometimes rings or rough material to help hold it in place (imagine sandpaper coated with nonstick; the rough sandpaper helps prevent the nonstick material from sliding around and off). As for steel, I've bought one too many products that were supposedly "18/10 stainless steel" but rusted as if they were 18/0 stainless steel. Demeyere is a trustworthy name, so if they say it's 18/10, it's probably 18/10, and in years of use, I have yet to see any rust on my egg poacher.
Furthermore, the underlying sauce pan all by itself is almost worth the asking price for the whole thing. (See below.)
Versatility: 5/5 Excellent. As an egg poacher it's excellent–and REPEATABLE! Depending on your elevation and how cooked you like your eggs, you need to give the eggs different amounts of time. I usually fill the pan about 1/3 full of water and give the eggs about five minutes of simmering time. Repeatable results, every time.
However, the egg poacher is not a one-trick pony. The egg poacher can be repurposed for lower-temperature baking (stay well below 400F), or poaching just about anything that will fit.
Furthermore, the poaching tray can be lifted away to reveal a very good 1.5-quart sauce pan. If you remove the tray, you can stick the sauce pan into the oven up to 350F, and possibly even higher if you use a non-glass lid (borrow one from another pan).
In this sauce pan, I've made things garlic butter sauce for crabs, and like pasta sauce for, well… pasta, among other things. It's a good size for such small projects where using a larger sauce pan would be overkill. Opinions (and family sizes and appetites) may differ but I find that the sauce pans larger than 1.5 quarts but smaller than 3 quarts are awkwardly sized, as they are either bigger than necessary for small projects like dipping sauce, or not big enough for larger projects like making a family-sized batch of rice or oatmeal or reheating leftovers for a family meal.
In fact, the Demeyere 1.5-quart 4-Cup Egg Cooker/Poacher
performed so well that I got rid of my 1.5-quart and 2-quart All-Clad-style cladded sauce pans. Those sauce pans delivered only about 2 mm of aluminum, and while it was nice and all that the cladding went up the sidewalls, in practice it doesn't matter that much for such small pan sizes. Even pasta sauce at the top of the 1.5-quart Demeyere sauce pan will only be a couple of inches away from a 4 mm thick, evenly-heated aluminum disc base.
CONCLUSION
The price would be poor for just a thick-bottomed, first-rate 1.5-quart saucepan, even one that has a genuine 18/10 stainless cooking surface, but the addition of the egg poaching cups makes this a decent value.
Update 2021: Demeyere basically discontinued this product line years ago, as the market was overrun with cheaper Chinese-made knockoffs. Since Demeyere's egg poacher was made in Asia and nonstick loses its nonstickiness after a while, it's not much of a downgrade to go with a knockoff–though beware that knockoffs may use thinner steel and aluminum.
FOOTNOTES