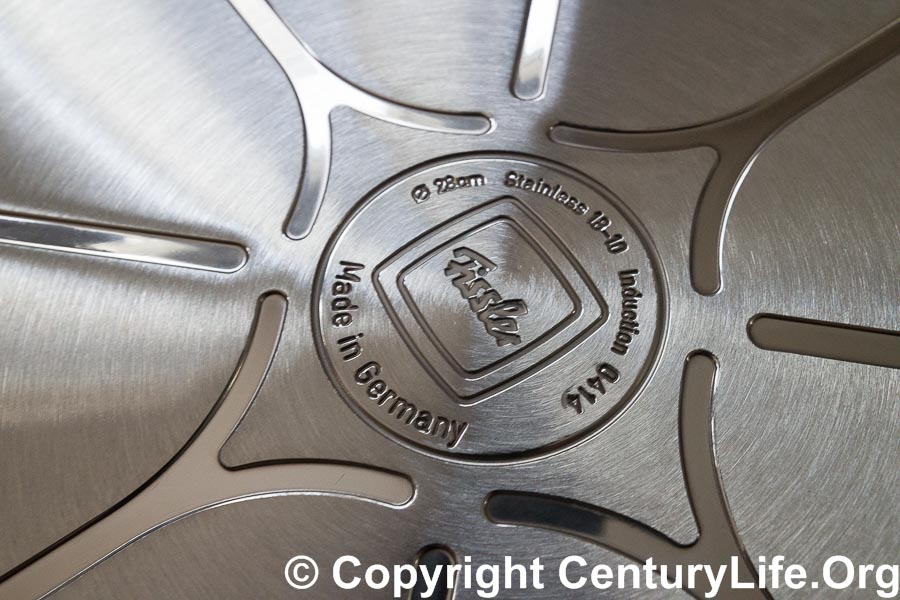 THE COMPANY
Fissler is a German kitchenware manufacturer dating back to 1845, when it was a plumbing shop. Its first popular product was a horse-drawn food truck. The company expanded into stovetop cookware (1900) and pressure cookers (1953). In 1995, Fissler introduced its "CookStar all-stove base," which is basically an induction-compatible, 6 mm thick aluminum-and-stainless-steel disc base that is supposed to stay flat.
Fissler's Original Pro and Solea product lines use CookStar 6mm disc bases that do not have air gaps at the edges (see below). The Crispy Steelux Premium 11.0-Inch Fry Pan also uses the CookStar base. Fissler's cheaper product lines use ordinary disc bases; in my opinion, those ordinary disc bases are not worth getting because they don't give you anything better than what you get with cheaper brands.

As an aside, the main difference between Original Pro and Solea is the lid. Original Pro uses stainless steel, while Solea uses glass.
THE PRODUCT BEING REVIEWED
Today we're looking at the 28 cm (11 inch) diameter frying pan in Fissler's Solea product line, but since it uses a CookStar base, this review is also applicable to the Original Pro product line's 28 cm (11 inch) diameter frying pan and the Crispy Steelux Premium 11.0-Inch Fry Pan. Those three product lines all use the 6mm-thick CookStar base and waffled/dimpled "Novogrill" pattern that Fissler offers as a substitute for grilling.
RATINGS
Fissler Solea 28 cm (11 inch) Frying Pan Overall Rating: 4.05/5 Very Good. For an explanation of ratings methodology, click here.
Cleanup: 4/5 Very Good. Stainless steel (inox) is not PTFE (such as Teflon) and should not be compared to PTFE (which wears off) or ceramic (which loses its nonstick ability over enough heating cycles and can chip and flake off), but you can help minimize stickiness in several ways:
You can pre-heat the pan with some oil to ensure that foods only encounter lubricated hot steel, which is a lot less sticky than bare, not-so-hot steel. Preheat the pan, then add oil, THEN add food. Do not put oil into a cold pan and heat them up together; it doesn't work as well.
You can deglaze with something as simple as water or as fine as wine; in either case, the liquid will bubble off some stuck-on bits and make for easier cleaning after dinner.
If you do get some stuck-on bits, a brief soak and a sponge scrub usually removes such bits unless they are really burned-on, which case, use a little Bar Keepers Friend powder. (If you prefer a non-abrasive alternative, try Demeyere Non-Abrasive Cleaner.)
Did the waffled/dimpled "Novogrill" surface help when cooking proteins? Not really–while it didn't hurt, it didn't help, either. Plus there may be times when you'd probably prefer a flat, smooth surface, like making pancakes or eggs. (But in Fissler's defense, their waffled-pattern pans aren't designed for eggs/pancakes in the first place; for those you could use nonstick pans.) The bumpy surface does seem to create fewer sticky bits–but you may actually want more sticky bits to make pan sauce out of.
Durability: 5/5 Excellent. The welded handle feels sturdy, the pan is built out of corrosion-resistant 18/10 stainless steel (except the bottom 18/0 stainless steel which is magnetic and makes the pan induction-compatible). The pan bottom also has stripes and patterns designed to relieve stress from heating and cooling cycles. I have zero doubts about this pan's longevity–it's quite well-built.
Even heating: 5/5 Excellent. The Novogrill surface scattered infrared light enough so that it prevented me from analyzing the pan's thermal qualities, but there's clearly a lot of aluminum in the base–6 mm according to Fissler. Fissler's design is very rare in that it's the only brand that offers at least 5mm of aluminum and extends all the way to the edges and even up the sides a little bit. Most cheap disc-base cookware uses undersized discs of 3.5mm thickness or less. Regarding the few brands that use thicker aluminum, both Sitram and Paderno (5mm to 7mm aluminum) stop their discs far short of the edges.
As a result of Fissler's design, there is no sudden temperature discontinuity at the edges of the pan. On electric/induction, this means no sudden dropoff in temperature. On gas, this means no sudden temperature increase at the edges that can scorch food. (hot gases and combustion products float up and around the sides of the pan, heating the thin stainless steel sidewalls if there is no aluminum there to protect them).
The Fissler Solea's CookStar base held up well; the temperatures did not crash too hard despite the massive hunks of protein I threw in during my cooking tests. Pans which are too thin will crash hard in temperature when you throw in lots of food, necessitating an awkward time period where you wait for temperatures to come back up–your food will steam instead of brown in the meantime. You generally want proteins to spend less time steaming and more time at higher temperature ranges, in order to produce tasty Maillard reactions (browning).

Handling and ease of use: 3/5 Good. The pan's rolled lips make pouring easy; fluid doesn't dribble down the sides when you pour. The pan's bottom cooking surface is a little over 9 inches in diameter, which is about average for an 11-inch pan.
The Solea fry pan's empty weight is 1760 grams (3.88 pounds). For sake of comparison, an All-Clad Stainless 12-inch frying pan weighs 1265 grams (2.79 pounds). The pan's empty weight is heavy enough that it could use a helper handle. I am also going to take a point off for the uncomfortable bit of metal where the hollow handle attaches to the pan. If you ever need to hold the handle there, during washing or to better support the pan when it's fully loaded with something heavy, those parts can dig into your hand. This is where a helper handle would have helped. On the plus side, by narrowing the tube down to two thin stainless steel attachment points, it helps keep the handle cool during cooking–even very long frying sessions. It's one of the (literally) coolest handles I've ever used.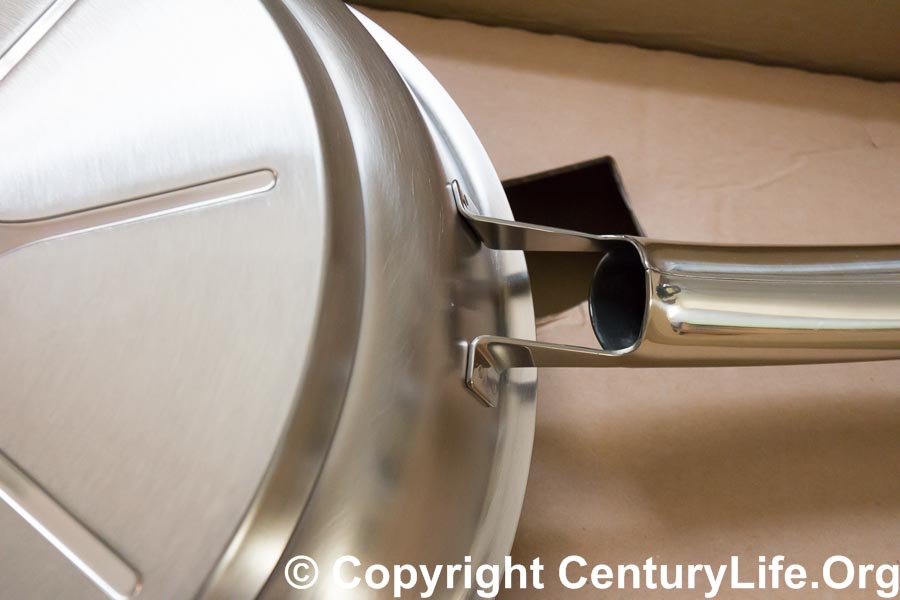 Value: 3/5 Good. See Conclusion.
Versatility: 5/5 Excellent. The pan comes with laser-etched volume markers so you can pour exact quantities of liquid into it without using a measuring cup. The pan is oven/broiler safe and dishwasher safe. I won't take off a point on versatility despite how it has a bumpy surface that you might not want when cooking certain foods, but I'm not thrilled about it.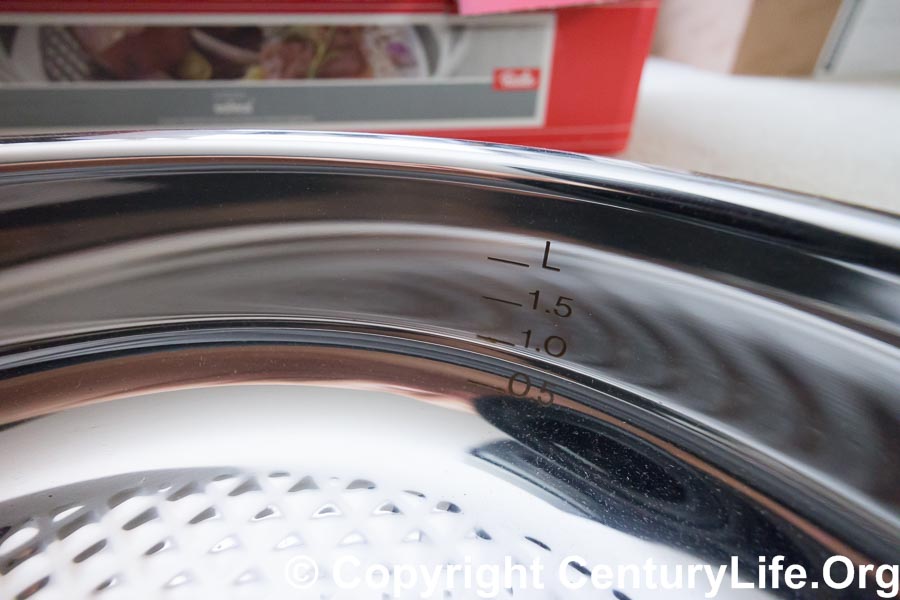 CONCLUSION
Fissler's Original Pro and Solea product lines use CookStar 6mm disc bases that do not have air gaps at the edges. The Crispy Steelux Premium 11.0-Inch Fry Pan also uses the CookStar base but has nonmetallic handles that may not stand up to broilers, if that's important to you. Fissler's other lines have ordinary, non-CookStar disc-bases with thinner aluminum and gaps at the edges, and in my opinion, they are not worth getting because they don't give you anything better than what you get with cheaper brands.
So is it worth paying for the cookware that comes with CookStar bases (Original Pro/Solea/Crispy Steelux Premium cookware)? It depends on how much you value certain things.
Fissler Cookstar-base products are made in Germany to exceptionally high quality standards and have the thickest base on the market that runs all the way to the edges. There are no rivets to clean, either.
If you want a disc-base frying pan that performs a little worse than Fissler but still very good, consider the 12-inch frying pan from Cuisinart's Professional Series Stainless product line. The Cuisinart is made in China instead of Germany, has rivets to clean around, uses thinner and less corrosion-resistant stainless steel, uses a thinner aluminum disc, and doesn't do quite as well at preventing a temperature dropoff at the extreme edges. But it also costs a third of the price, has a more comfortable handle (than the Solea; the Original Pro handles are fine), and has a helper handle.
If you are okay with cladded designs, then Demeyere Proline frying pans have the thickest aluminum layer in the world and are therefore the only ones that can hope to compete with Fissler. Prolines utilize 3.7 mm of aluminum (that's twice as thick as All-Clad Stainless), but that's still a lot less than Fissler's 6 mm. However the Prolines also have aluminum running up the sidewalls, which holds heat and partially makes up for the difference in bottom thickness (also also makes some foods easier to slide out of a pan; if the temperature difference is too great then some foods will cling to the sidewalls), and an easier-to-clean finish, so I would rate Prolines as competitive with Fissler's frying pans.
In any case, if you want to go Fissler, I'd recommend getting Original Pro instead of Solea because the Original Pros get rugged stainless steel lids instead of glass, and more comfortable handles than Solea's handles.
Some of the skillets might not come with lids, so if you don't already have other lids that will fit, I would recommend buying a universal lid such as this one.
FOOTNOTES