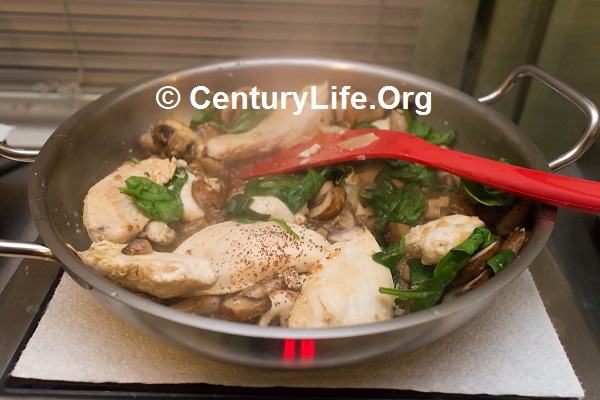 THE COMPANY
Sambonet Paderno Industrie S.p.A. is an Italian cookware manufacturer that is also known in the USA as "Paderno World Cuisine." Paderno started as "Alluminio Paderno" in 1925, specializing in aluminum cookware. Paderno acquired Italian flatware maker Sambonet in 1997. Paderno acquired World Cuisine in 2007; thereafter, World Cuisine became "Paderno World Cuisine" and the USA distributor for Paderno. Paderno expanded into porcelain via acquisition of German company Rosenthal in 2009.
Note that there is a Canadian kitchenware company named Paderno as well; their products are not made in Italy and while they produce decent cookware, they do not have the famously thick disc bases that Paderno Grand Gourmet pieces have.
THE PRODUCT
One of the most famous Paderno product lines is Grand Gourmet, and today we're reviewing the 11-Inch Paella Pan
, though the 11-Inch Frying Pan
is shaped and sized the same way. This review is applicable to the other pieces in the product line as well.
Since the World Cuisine acquisition, naming has gotten more complicated, so I'd like to take a moment here to go over the various series of Paderno: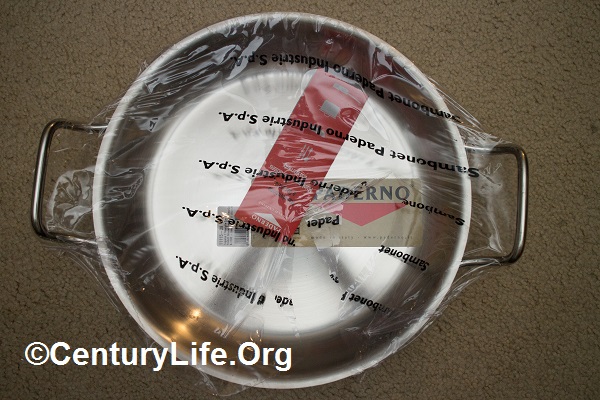 Grand Gourmet = Series 1100 = Series 2100. They are all interchangeable. Paderno's 2014 catalog1 says on page 5 that the 1100 series and 2100 series are the same except the handles on their two-handle products. Buying any product in the 1100 or 2100 product line will get you 7 mm thick aluminum disc bases. (7.5 mm thick if you count the stainless steel cap.) Update November 2017: Apparently Paderno disc bases vary based on size of the pan. So only the larger pieces will have 7 mm thick aluminum disc bases. Apologies for the error.
Paderno World Cuisine Series 1000 = Series 2000 in terms of vessel and disc construction. Only the handles differ.
What's the difference between the 1100/2100 and the 1000/2000 series?
For the 1100 series it says on page 3:
Outside and inside satin polished. Top edges mirror polished. Hollow tubular stay cool handles in S/S, ergonomically shaped. Extra thick edges. Double thick bottom. Sandwich thermoradiant bottom (S/S-aluminum-S/S). Concave bottom when cold and flat when hot (100% heat exploiting).
For the 1000 series it says on page 7:
Outside and inside satin polished. Non-drip edge. Hollow tubular stay cool handles in S/S, ergonomically shaped. Uniform thickness in sides and bottoms. Sandwich thermoradiant bottom (S/S-aluminum-S/S). Concave bottom when cold and flat when hot (100% heat exploiting).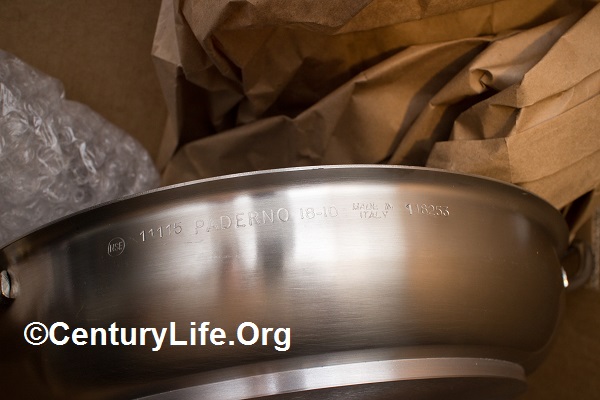 Did you catch the difference? The 1100/2100 series has thicker disc bases (7 mm thick aluminum with about 0.5 mm of stainless steel capping it off) and reinforced lips. Furthermore the 1100 series has thicker, more dent-resistant stainless steel sidewalls (a whopping 1.2 mm thick as measured by my micrometer, compared to less than 0.7 mm for budget brands) and a lifetime warranty. It's hard to tell from the marketing material, but apparently the 1000 series uses thinner sidewalls and has a relatively short 1-year warranty. Exactly how much thinner sidewalls, I don't know, but it's probably back in the realm of thinner, more pedestrian pans such as 0.8 mm to 1 mm. Update November 2017: The "double thick bottom" may be a mistranslation as the disc base of the 1000 series is probably not literally half as thick as the 1100 series. It seems more likely that they mean the sidewall thickness or bottom induction-compatible stainless steel cap is half as thick.
By the way, Paderno World Cuisine also makes tri-ply cladded pieces, called Series 2500. Do not bother with this series as it's only 2.2 mm thick (much shoddier than the ~2.6 mm thick All-Clad Stainless).
Also, Paderno's sizing on certain pieces is off. Their 24 cm low stock pot (9 quarts) is too narrow to accept 24 cm lids from other manufacturers. The sizing for their skillets and saute/rondeau pans is correct, though.
RATINGS
Overall Rating: 4.5/5 Excellent. For an explanation of ratings methodology, click here.
Cleanup: 4/5 Very Good. The welded handles mean no rivets to catch food particles or other grime, but I don't give 5/5 scores to stainless steel pans, ever, because that's reserved for Teflon-style pans. For a stainless steel pan, I'd rate this a solid 4. It's not the best or worst I've ever encountered, in terms of stickiness–I've cooked eggs many times on it and it's good but undistinguished. However the thick base lets you get very even heating and turn the heat way down after you achieve temperature, which helps with reducing stickiness and uneven cooking.
Durability: 5/5 Excellent. Rivetless but oven safe to 800 degrees Fahrenheit (425 degrees Celsius). The stainless steel handles are comfortable, and the stainless steel sidewalls are very thick and resistant to denting (1.2 mm thick as measured by my micrometer). This pan is a legitimate SAE 304 (18/8 or 18/10) pan. Many cheap disc-based stainless steel products have sidewalls of 0.8 mm thickness or less, and some are under 0.7 mm and made out of 18/0, which does not resist corrosion nearly as well.
As a side note, I did not notice any flatness problems or convexity issues when adding oil to the hot pan. The extra thick aluminum disc base, with stainless steel on both sides, should also prevent warping (non-flatness) from becoming an issue even after repeated use.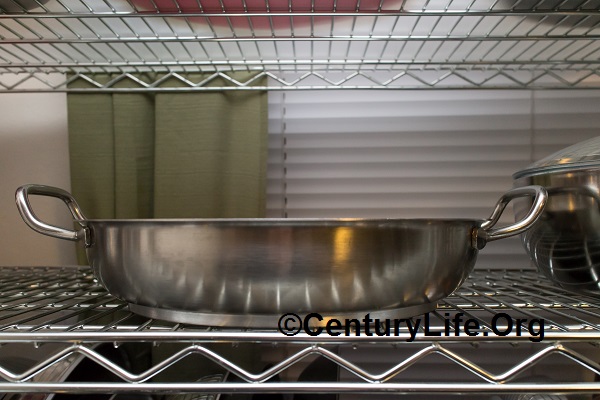 Even heating: 4/5 Very Good. I verified the thickness of the disc base as about 7.5 mm, of which about 7 mm is aluminum. The unusually thick aluminum disc base makes for unusually even heating; see it dominate the disc-base electric/induction rankings. It's still a disc-base piece, so there is a temperature discontinuity around the edges of the pan where the disc ends and the tin steel begins, but otherwise it's an excellent result. The unusually thick base means preheating takes longer, and responsiveness is poorer, than with thinner pieces. On the other hand it also means better heat retention so temperatures don't fall as much when you toss in a cold steak. The pan is so thick that it's comparable to cast iron in terms of heat retention. If you need to cool it down in a hurry, I would suggest lifting the entire pan off a hot burner and put it on a cool, unused burner.
The reason why I knocked off a point is because there is a thermal discontinuity around the edge of the cooking surface. Even though the area directly above the disc base is exceptionally even-heating, that half-inch perimeter is annoying. I'll be reviewing other disc-base cookware that doesn't have that discontinuity, which is quite helpful when you're doing things like chasing small peas around the perimeter, trying to get them into the middle where they will get the same amount of heat as the other peas.
Handling and ease of use: 5/5 Excellent. The pan's heavy disc base makes it on the heftier side (2035 grams empty weight, or 4.49 pounds), but with two comfortable, stainless steel handles that stay cool on the stovetop, that should not be a problem. The flared rims on this product line are good to avoid dribbles down the side of the pan while pouring. There may be times when you want to single-handedly pour from the pan, and if you plan to do that often, you should get the 11-Inch Frying Pan
instead of the 11-Inch Paella Pan
. I just make do with two-handed pours and tongs.
Value: 4/5 Very Good. Although it is possible to get very good performance for less money, it's very unusual to find cookware with 7 mm thick aluminum disc bases (plus 0.5 mm of magnetic stainless steel to cap it off and make it induction-compatible) and 1.2 mm thick stainless sidewalls. Thus Paderno is in another league as far as even heating and heat retention and durability. Most cheaper brands use 5 mm of aluminum or less in their disc bases, and thinner sidewalls less than 1 mm thick (often 0.8 mm or thinner), which more easily dent. Lastly, for those who object to products made in places like China, Paderno is made in Italy, which should lessen the risk of contaminated steel or squalid working conditions.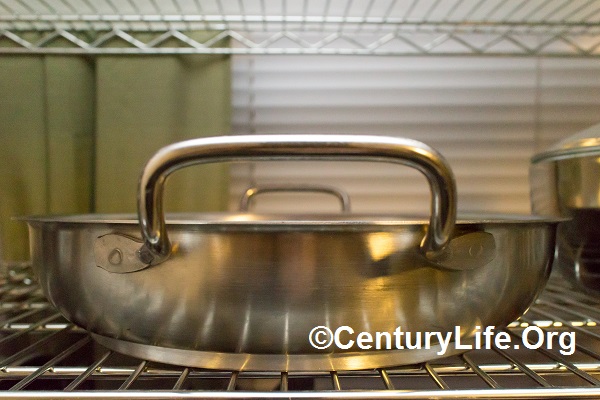 Versatility: 5/5 Excellent. Oven and broiler safe (to 800 degrees F or 425 degrees C), dishwasher- and induction-compatible. If you have some firmly stuck-on bits, try boiling a little water in the pan to loosen stuck bits. If that doesn't work, try using some Bar Keepers Friend.
The pan has a flat bottom circle about 9 inches in diameter, which is actually pretty close or even equal to the flat bottom diameter of some 12-inch pans.
CONCLUSION
If you're on a very strict budget, don't plan on using your cookware in an oven, don't mind the lack of a long warranty, and don't mind a higher risk of your cookware corroding/rusting after a couple of years, then you could get cheap lookalikes like the Vollrath Optio / Update International SuperSteel piece.
But if you want significantly more even heating, significantly more heat retention, the ability to go into an oven, much higher corrosion resistance, much thicker sidewalls that will resist dents better, and a lifetime warranty, then the better option is to get a Paderno 11-Inch Paella Pan
or 11-Inch Frying Pan
. Paderno is also made in Italy, not China, if that matters to you. As a final note, some Paderno Grand Gourmet (Series 1100)
pieces, such as stock pots, do NOT have flared rims, but the frying pans do.
Paderno cookware does not come with lids, so if you don't already have other lids that will fit, I would recommend buying a universal lid such as this one.
FOOTNOTES