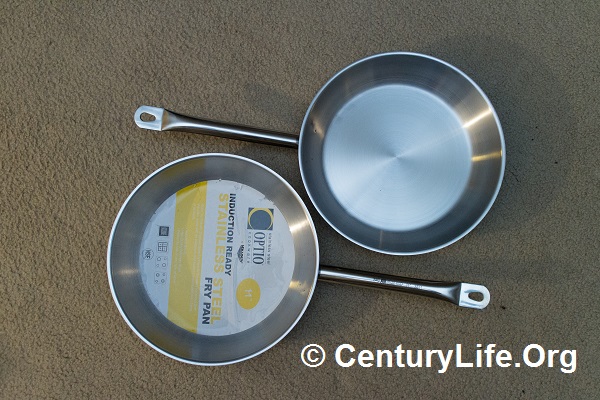 THE COMPANIES
The Vollrath company is a privately-held American foodservice (kitchenware and appliance) manufacturer headquartered in Sheboygan, Wisconsin. The company traces its roots back to 1874, when Jacob Vollrath started a factory that made and sold various kitchenware products such as pots and pans. The company also made products as varied as furniture castings and railroad and agricultural parts. Some of Vollrath's earliest popular products included ceramic/enamel-coated cast iron and sheet steel, but by the 1930s the company had begun to shift to stainless steel, and the company also mass-produced millions of military products like mess trays and drinking canteens during World War II.
Today, Vollrath manufactures a broad array of commercial kitchenware and kitchen electrics.
Update International Inc. makes a broad spectrum of commercial kitchenware and kitchen electrics, just like Vollrath, but almost everything they sell is made in China or India. Perhaps it is more accurate to call Update an importer than an manufacturer. Update's website is extremely spartan, but from what I've managed to piece together, the company was incorporated in 1978 in Los Angeles, California.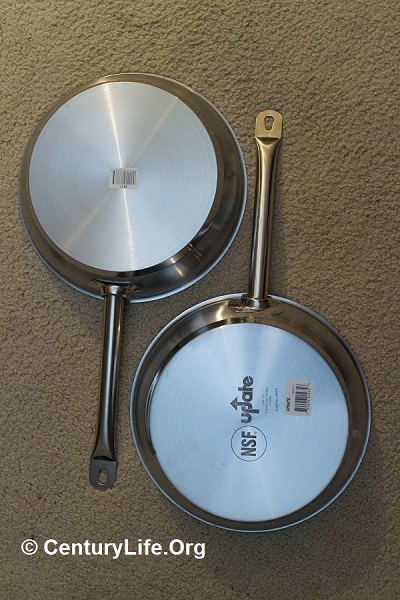 THE PRODUCTS BEING REVIEWED

Vollrath's budget line is called Optio
. Optio is simply constructed: thin stainless steel cooking vessel with impact-bonded aluminum disc. A magnetic stainless steel bottom cap seals off the aluminum disc and makes the cookware induction-compatible.
Update International has a similar budget line, which they call SuperSteel
.
Today, I'm reviewing the Vollrath 3811 Optio Stainless Steel Fry Pan with Natural Finish, 2-Inch
and Update International SFP-11 SuperSteel Induction ready Stainless Steel Fry Pans with Helper Handle, 11-Inch, Natural Finish
. In both cases, only the skillets 12 inches and larger come with helper handles, no matter what retailers might mistakenly put into their images and product descriptions. This review would be applicable to other pieces in the same product line, too.
Oh, and, by the way: Vollrath Optio and Update International SuperSteel are one and the same.
Apparently Vollrath and Update source from the same Chinese factory–a common practice in some industries, especially electronics. If you compare the pans side-by-side, they look the same: handles, polishing, shape, etc. They even weigh the same: 1340 grams (2.95 pounds). (My current weigh scale rounds to the nearest 5 grams.) The only difference is in the branding, warranties, and price. Vollrath gives a skimpy 90-day warranty. Update gives a 30-day warranty. Update is usually slightly cheaper, so there is little reason to buy Vollrath Optio unless you really care about that extra 60 days of warranty.
The pan bodies are 22 gauge (0.7 mm according to my micrometer). That's sturdy-ish. It's sturdy enough for home use, but the pans are on the thinner side for commercial kitchen usage and would no doubt dent if dropped onto a hard surface enough times. Or maybe even once.
The body of the pans are supposedly made out of 18/8 (304) stainless steel, according to the Amazon description for the Update International version, but that's wrong. Amazon's description of how it has a helper handle is also wrong. The actual steel quality is likely 18/0 (see below).
An aluminum disc is impact-bonded to the bottom, and there is a magnetic stainless steel wrapper around the aluminum. This magnetic stainless steel wrapper is the bottom-most layer and is what makes the pan induction-compatible. Vollrath claims that the aluminum layer is 1/4-inch thick, but I think they meant the disc AND the magnetic stainless wrapper, judging by the thermal results.
The top diameter of the pans are 28 cm (11.02 inches), with a flat cooking surface on the bottom about 8.5 inches in diameter. The pans are each 2 inches high. That's a standard frying pan shape and not too wok-like, so you have plenty of flat cooking surface for steaks or whatever you're cooking.
The handles are hollow tubes of stainless steel. The cross-section of the tube is shaped like an ellipse (a squashed circle). Although the tube handles stay cool even when cooking for a long time, I find the handles to be somewhat slippery when wet and a little uncomfortable to hold in general, because I have to grip them tightly to prevent accidental rotation. Pretty much the only time you want a pan to rotate is when you are pouring the contents out onto a dish, so 99% of the time, overly-round handles are a drawback. This is less of an issue with the 12-inches-and-larger skillets, since they come with helper handles that can stop the pan from accidentally flipping upside down.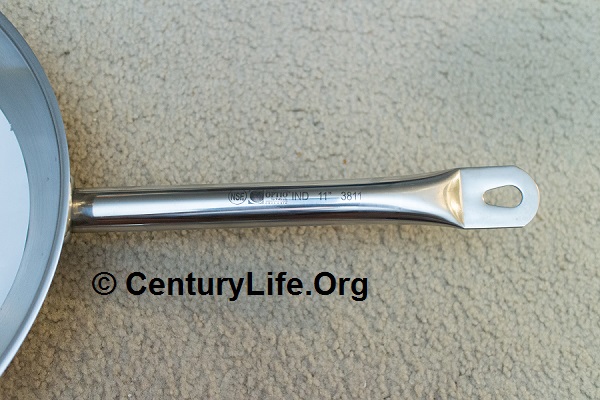 The handles are welded, which means easier cleaning since food particles won't collect around a rivet.
Try to avoid using this pan in the oven. Vollrath/Update do not list an oven temperature rating for these pans, and their sales reps are all over the map if you ask them the temperature rating. One even said that the disc could fall off at 400F if the pan were heated empty in an oven. I doubt that's true, but even if the disc base holds up to high oven temperatures, the handle welds might not.
Fit and finish are mediocre at best. One of the pans was a little dinged up around the rim, and the other had a dark spot (chromium oxide from polishing?) along the disc edge, which I Bar Keeper Friended away.
RATINGS
Overall Rating: 3.35/5 Good. For an explanation of ratings methodology, click here.
Cleanup: 4/5 Very Good. Remember that for all stainless, the pan must be preheated to near-frying temperatures before adding oil and then the food. The Optio/SuperSteel pan did well on my scrambled eggs test, heating the eggs evenly in the area directly above the disc; a little bit of stirring and it was all good. The pan is stickier than true nonstick pans like Anolon Nouvelle Copper (which allows me to cook eggs without using any oil at all), but for a stainless steel pan, it's not bad and didn't allow too much egg to stick. Boiling a little water in the pan allowed me to scrape off most of the residue with a silicone spatula.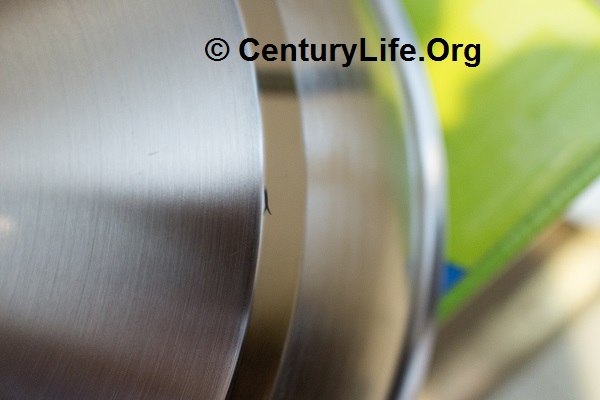 Durability: 3/5 Good. Something that really bothered me about this pan and others like it is how none of them are verified oven-safe. I can't tell whether that's due to weak bonding on the base or cheap handle welds or both, but it is not reassuring. Neither is Vollrath's 90-day warranty, or Update's pathetic 30-day warranty. How much confidence can they possibly have in a product that has a warranty that short? I've also heard at least one story about an Optio disc delaminating. And the mediocre fit and finish don't inspire confidence, either.
As for the body of the pan, the 0.6 mm thick stainless steel sidewalls are okay for home use, but they are not as sturdy and dent-resistant as premium restaurant cookware that tends to be thicker (the high end stuff can reach 1.2 mm).
Lastly, this pan is likely made out of 18/0 stainless. (Amazon's Update International product description inaccurately says 18/8. Vollrath simply calls it "high chrome stainless steel" with no mention of nickel.1) As I explained in my Stainless (Inox) article, the body of the skillet is strongly magnetic. That is a clear indication that the material used is NOT 18/8 stainless, but something lower like 18/0. This means this pan is less corrosion-resistant than higher-end stainless. You can still use it, but it won't last as many years. Replace it once it starts to develop large pits or rust that can't be scrubbed off.
Salt is really bad news for stainless and you should never undissolved sprinkle salt crystals directly onto a pan (e.g., when boiling water, wait until the water is strongly agitated before adding salt; this keeps the salt from sinking to the bottom before it gets a chance to dissolve). Nevertheless, this was a cheap pan, so I was willing to experiment. I tested it by sprinkling a little salt on the cooking surface, leaving it there for several minutes before washing it off. The pit marks were immediately apparent. The speed at which this pan pitted was shocking.
Ironically the handle appears to be legit 18/8 even though the body of the vessel and bottom cap are not. If you're wondering how much money skimping on nickel saves the Chinese manufacturer, my rough calculations suggest ~$0.80 per pan.2 Presumably the same Chinese company makes other pots and pans–some of which are much larger than this 11-inch skillet–in which case the nickel cheating could save more per piece.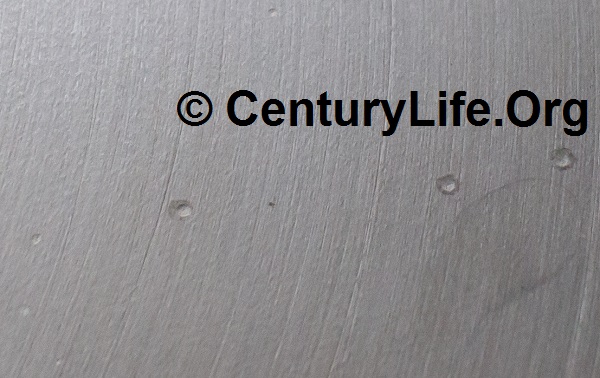 Even heating: 4/5 Very Good. 5 mm of aluminum is very good and it's one of the reasons why the pan did well on my scrambled eggs test: there were no major hot spot issues. However, since this pan is disc-based, there will be a temperature discontinuity where the disc ends. On electric, you have to stir food to ensure that nothing languishes on the colder periphery. On gas, you have to keep the flame low enough so that hot gases rolling up the sides of the pan don't scorch food on the edges, which is not shielded by the disc base. Once again, this calls for stirring. It's not always possible to continually stir a pan, as there may be other kitchen tasks that need your attention, or your food may be too fragile to stir, but for the most part you can cope by stirring. I will deduct a point due to the possible need to keep stirring.
Handling and ease of use: 3/5 Good. The tubular handle is slippery when wet, and it's also a little too round for my taste. I wish they had squashed the handle into a narrower ellipse shape (cross-sectionally). I can see myself accidentally rotating this pan and pouring food out, especially if the pan were laden with heavy liquid or something. If the pan had a helper handle (available only on 12-inch and larger skillets), I'd upgrade this to 4/5.
Value: 3/5 Good. Just because something is cheap does not make it a good value. I look at overall lifetime costs, and given the lack of verified oven-safe handles/disc bonding, lousy warranty, and the limitations of a disc-base design in terms of temperature discontinuities, I have to deduct some points. The pan is cheap enough that I think a 3/5 score is justified. By the time the pan falls apart, you might be able to afford a better one.
Versatility: 3/5 Good. The temperature discontinuity issue makes this pan slightly less versatile. The pan is also not verified oven-safe, nor is it recommended for dishwashers. Given these limitations, I can't really give more than a 3/5. Furthermore, the flat bottom diameter is about 8.5 inches, compared to the 9 inches (12% more surface area) that you can get in other pans such as the Paderno Grand Gourmet Paella and skillet pans.
CONCLUSION
Vollrath's budget line is called Optio
. Optio is simply constructed: thin stainless steel cooking vessel with impact-bonded aluminum disc. A magnetic stainless steel bottom cap seals off the aluminum disc and makes the cookware induction-compatible. Update International has a similar budget line, which they call SuperSteel
.
There's little reason to buy the Vollrath Optio when it's identical to the usually-slightly-cheaper Update International SuperSteel series. This line of cookware is serviceable and can give you good results, but the somewhat uncomfortable handles (especially when wet), dubious durability, and lack of oven- and dishwasher-compatibility mean that I can't really recommend them for anyone who can afford better. But if you are on a strict and low budget, then these pieces are good choices, and the portion of the pan bottom that's directly above the disc base heats quite evenly. Just remember to stir along the edges because there can be a large temperature difference between the bare stainless steel sidewalls and the portion of the bottom covered by the disc.
Although Vollrath and Update are restaurantware brands, this Optio/SuperSteel stuff is their bottom-of-the-barrel stainless. For instance, Vollrath offers just 90 days warranty on Optio, but a lifetime warranty on their much more expensive Intrigue and Centurion lines, which are built with better and thicker stainless steel. (The Intrigue is basically the Optio with 18/10 steel; the Centurion utilizes even thicker steel, at 1.2mm thick.)
Also, a note about restaurant cookware in general: restaurants have a different set of worries than consumers, so don't think that you should necessarily buy what restaurants buy. First, restaurants have access to bigger and better burners, and if you have awesome burners, there is less need for awesome cookware. Second, restauranteurs love cheap, easily-replaceable equipment because a) their employees are often low-paid and may steal equipment; b) restaurant employees are not known for gentleness, so they may treat equipment roughly; and c) many restaurants quickly go bankrupt, so there is no point is spending a lot of money on durable cookware. In fact, even the most optimistic restaurant surveys taken BEFORE the Great Recession of 2008 found that 60% of restaurants fail in 3 years; other studies found that over 50% of restaurants fail within a year.3 Third, restaurantware tends to be no-frills, and while that's laudable in some ways, it also means things like cookware can be uncomfortable to handle. For instance, there might not be a helper handle on a restaurant pan, even when a pan is large and heavy enough that it ought to have one. Lastly, restaurantware comes in various quality levels and durability levels.
The skillets do not come with lids, so if you don't already have other lids that will fit, I would recommend buying a universal lid such as this one.
REFERENCES
The entire pan weighs about 2.95 pounds. The aluminum disc weighs about 0.96 pounds (assuming about 20 cm diameter x 5 mm thickness 3003/3004 aluminum alloy). The thin bottom stainless disc weighs 0.53 pounds assuming it's a typical 0.5 mm thick. The hollow handle might weigh another 1/4 pound. That means the body of the pan weighs about 1.25 pounds. The price difference between nickel and iron has been about $7.50, using 2014 prices. (Iron is heavily recycled and costs only a few cents per pound.) Thus substituting 0.08 pounds of nickel with 0.08 pounds of iron nets you $7.50 x 0.08 x 1.25 = $0.75. I suspect that skipping the step of buying and melting and adding nickel to the alloy saves some money, too. So my final guess as to how much this switcheroo saves the manufacturer is $0.80 per pan for 2014. Nickel prices are expected to rise in 2015 and beyond due to the new Indonesian nickel export ban, so that number could rise to $1 or more per pan. ↩