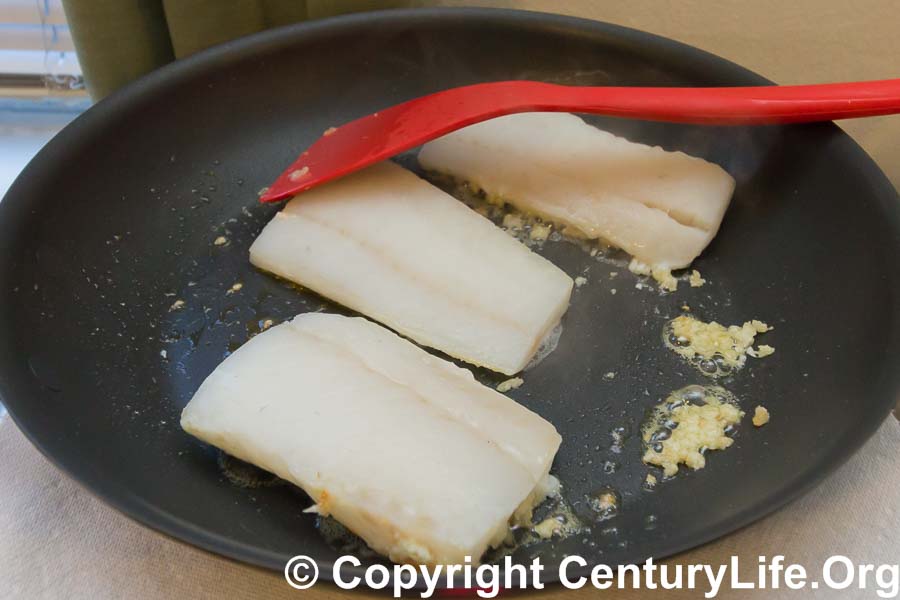 THE COMPANY
Meyer Corp. is one of the largest cookware manufacturers in the world. Meyer is often one of the actual manufacturers, if not the sole manufacturer, for brands like Farberware
, Rachael Ray
, and Paula Deen. Typically, the brand owner sets the specifications, and Meyer does the manufacturing. Anolon (which most people seem to pronounce "Analon") is one of Meyer's house brands. I.e., Meyer itself owns the Anolon brand along with others like Circulon.
THE PRODUCTS BEING REVIEWED
This review is for Anolon Nouvelle Copper, of which I have several other pieces. They are made in Thailand. I have the 8, 10, and 12-inch skillets as well as the 5-quart (12 inch) saute pan, but this review is applicable to the rest of the product line as well.
Anolon Nouvelle Copper features some of Meyer Corporation's best technology. These are beyond a doubt some of the sexiest pieces of cookware I have ever seen, due to the silvery curved handles, the copper bands, and the slick, black interior surfaces that are not marred by uncoated, bumpy rivets that can collect food particles and grime. Every time I cook with them is a joy, as is every time I clean them up in seconds with a splash of water and Scotch-Brite 3M Non-Scratch Sponge
.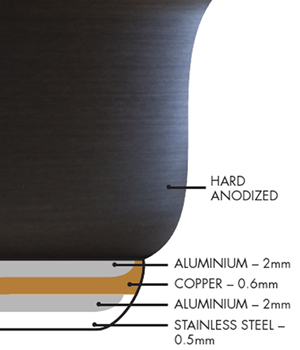 To the right, you can see the manufacturer's diagram, which they show on the sides of Anolon Nouvelle Copper boxes. 4 mm of aluminum + 0.6 mm of copper is comparable to over 5 mm of aluminum in terms of heat-spreading ability, and then you have a protective 0.5 mm thick layer of magnetic stainless on the bottom to make it more durable and induction-compatible. That's an impressive amount of heat-spreading ability already–comparable to the thick disc bottoms you see on many premium stock pots. But then consider that the hard-anodized aluminum cooking vessel on top of that is 2.54 mm thick (as measured by my pair of micrometers). Assuming Anolon isn't lying about the thickness of its base, we're talking the equivalent of ~8 mm of aluminum on the bottom. That's an epic amount of heat-spreading power–in theory it should rival 2.5 mm copper pans. A 10-inch pan isn't wide enough to be tested and placed in my Thermal Conductivity Rankings, but I would expect that a 12-inch Anolon Nouvelle Copper skillet would place near the top, based on thermal imaging of the 10-inch Anolon Nouvelle pan.
The nonstick, flush interior rivets and comfortable cast stainless steel handles are other high-end traits of this cookware (see below).
In December 2014, I added the 12-inch Anolon Nouvelle Copper Nonstick Skillet for thermal testing. It weighs 1540 grams (3.39 pounds–for reference All-Clad Stainless 12-inch skillets weigh 1265g/2.79lbs.) and has outstanding thermal conductivity. The exterior disc bottom had a flat area about 7.5 inches in diameter, and it does a great job on induction. The interior flat part of the pan is about 9 inches in diameter.

Please be aware that the 12-inch Anolon Nouvelle Copper Nonstick Skillet is different than the cheaper, wok-like Anolon Nouvelle Copper Nonstick 12-Inch Open Stir Fry Pan! Both are 12 inches across at the top, but the "Stir Fry Pan" is more wok-like and therefore not as useful for cooking things that need more flat space like large cuts of meat and fish.

I also added the Anolon Nouvelle Copper Nonstick 5-quart saute pan. It does not have a perfectly flat bottom. Instead it has an 8-inch flat portion, and the rest of the bottom bends upward at a slight angle. It's definitely not a wok or anything like that, and it's flat enough that it can still be used as a regular saute pan, but it surprised me. The saute pan is 12 inches in diameter, so its lid may be used on both the saute pan and the 12-inch skillet. The lid is excellent; it's shaped like a low dome and has a rivetless handle. There's a big area between the handle and the lid, so you will never burn your knuckles.


In terms of thermal performance, the Anolon Nouvelle Copper crushed the T-Fal 12-inch Professional Nonstick pan. Furthermore, the Anolon was not as sticky in my nonstick pan torture tests (frying and scrambling eggs without oil, which I routinely do on my Anolon Nouvelle Copper nonstick pans in order to cut down on calories). I eventually got the T-Fal to stop sticking, but it required much more care, whereas the Anolon Nouvelle Copper gave me a HUGE margin for error. Why? Maybe because the Anolon heated up more evenly, so there wasn't as bad of a hotspot. But since the pan was easier to clean even when cold, I think part of the difference must be because the DuPont "Autograph 2" nonstick coating on the Anolon Nouvelle Copper is better than T-Fal's "Prometal Pro" nonstick coating.

I am not reviewing Anolon Nouvelle Copper Stainless, which uses thin stainless sidewalls and thick aluminum-and-copper disc bases. It doesn't outperform cheaper brands that use 5 mm thick aluminum discs by enough to justify the price premium. You get slightly better heat distribution and responsiveness–but no heat on the sidewalls. In contrast, Anolon Nouvelle Copper Nonstick blows away the competition on both performance and value, and you do not have any thermal discontinuity at the edges of the cooking surface.

I'm also not reviewing the Anolon Copper Infused product line, which is a bad joke. It's way too lightweight to have any substantial amount of copper in it. You can tell when a pan uses substantial amounts of aluminum or copper because the pan will be much heavier, more even heating, and less likely to bend/warp/break.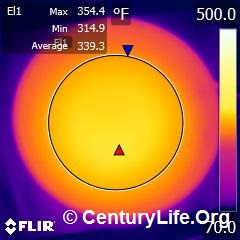 RATINGS
For an explanation of ratings methodology, click here.
Anolon Nouvelle Copper Overall Rating: 4.6/5 Excellent.
Cleanup: 5/5 Excellent. PTFE (such as Teflon) is famous for being easy to clean, since food will not tightly stick to it. I routinely cook scrambled eggs with no cooking oil at all, to cut down on calories, yet the eggs don't stick, and the pan is incredibly easy to clean. A cool and unusual quality of Anolon Nouvelle Copper is how the rivets are flush AND nonstick-coated. Flush means there is no bumpy rivet. For all intents and purposes, the pan has no rivets on the interior (though if you look closely you can see the rivets; they look like someone stuck a pair of stickers onto the inside of the pan). No rivets means no area where grime can build up. It also looks great.
For PTFE pans like this one, don't use nonstick sprays as they often contain chemicals in addition to oil; these chemicals damage PTFE. 100% oil misters like Mistos
are fine.
If you find that the copper ring around the base of the pan has oxidized a little too much for your taste, you can quickly polish it up by using Copperbrill Cleaner
or some other copper cleaner to restore the shine of copper without scratching. BKF also works, but it will scratch up the exterior more. Do not use those metal cleaners on the PTFE, as they are abrasive enough to wreck the nonstick coating.
Durability: 4/5 Very Good. As long as you handle the pans with care, they should be fine. The thick bottom plate and sturdy anodized aluminum should should easily resist warping. Anodized aluminum is very hard–harder than stainless steel–but if you bash them on something else hard, like the side of your sink, then anodized aluminum will chip. Once it starts chipping, there is exposed aluminum and some harsher detergents may start eating away at the aluminum. Time will tell how the PTFE layer holds up, but DuPont's "Autograph 2" multi-coating is supposedly top of the line. DuPont is confident enough in the coating that Meyer advertises Anolon Nouvelle Copper as oven-safe to 500 degrees Fahrenheit, and even metal utensil safe. I suspect that such claims are laden with hyperbole and that the Teflon will wear off eventually anyway, just more slowly. I would not put the pans in dishwashers or use metal utensils, just to be safe. Similarly, I would not use the pans over 450F, even though the pans are rated to withstand 500F.
Even heating: 5/5 Excellent, at the top of the rankings. (See above.) I don't ever have to worry about how some parts of a fish fillet are getting hotter than others, or how some potstickers are browning while others are not. Pancakes are a breeze as well–it's a real pleasure to use a pan that has such an even temperature profile from center to edge.
Evenly heating a pan's cooking surface is especially important for PTFE (Teflon) pans. That's because PTFE breaks down at high temperatures, so hotspots over 500F can shorten the life of a nonstick pan.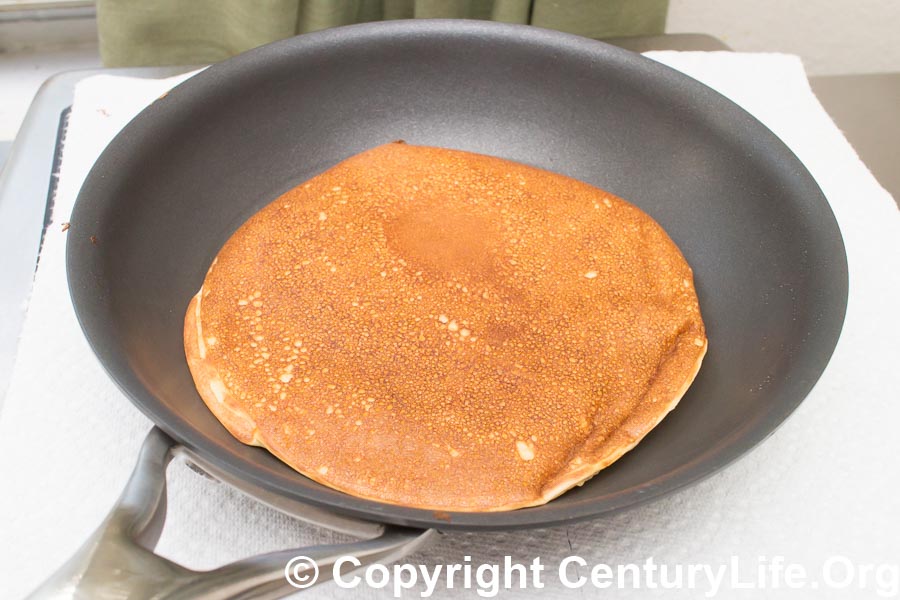 Handling and ease of use: 5/5 Excellent. Anolon Nouvelle Copper's cast stainless steel handles are very comfortable, with a classic, French curve. The handle's rounded-off cross-section means that there aren't any sharp edges or divots to dig into your palm. Stainless steel isn't a good heat conductor, so the handles stay cool for a long time when cooking on the stovetop. Lastly, for gas cooktop users, the handles have a "V" shape to allow hot gases to flow up and through the handle rather than be forced to loiter at the handle base, heating it up. These flow-through holes are par for course for any decent pan these days. The skillets have rolled rims for drip-free pouring, but the non-skillet products in the Anolon Nouvelle Copper line are a lot less flared.
The empty 8-inch pan weighs 802 grams (1.77 pounds); the 10-inch pan weighs 1,202 grams (2.65 pounds), so they are heftier than the usual cheap, thin nonstick pans. (For reference, an All-Clad Stainless 12-inch skillet weighs 1,265 grams, or 2.79 pounds, empty.) Each pan features a thick plate of aluminum, copper, and stainless steel attached to bottom. They feel substantial, not flimsy like cheap, thin aluminum nonstick pans that have no thick disc base.
These pans have pretty good profiles that give decent floorspace and height, in case you want to cook larger quantities of food without crowding. For example, the 12-inch pan is about 2.5 inches tall and has about a 9 inch diameter flat cooking surface, which is about average for a pan of that size.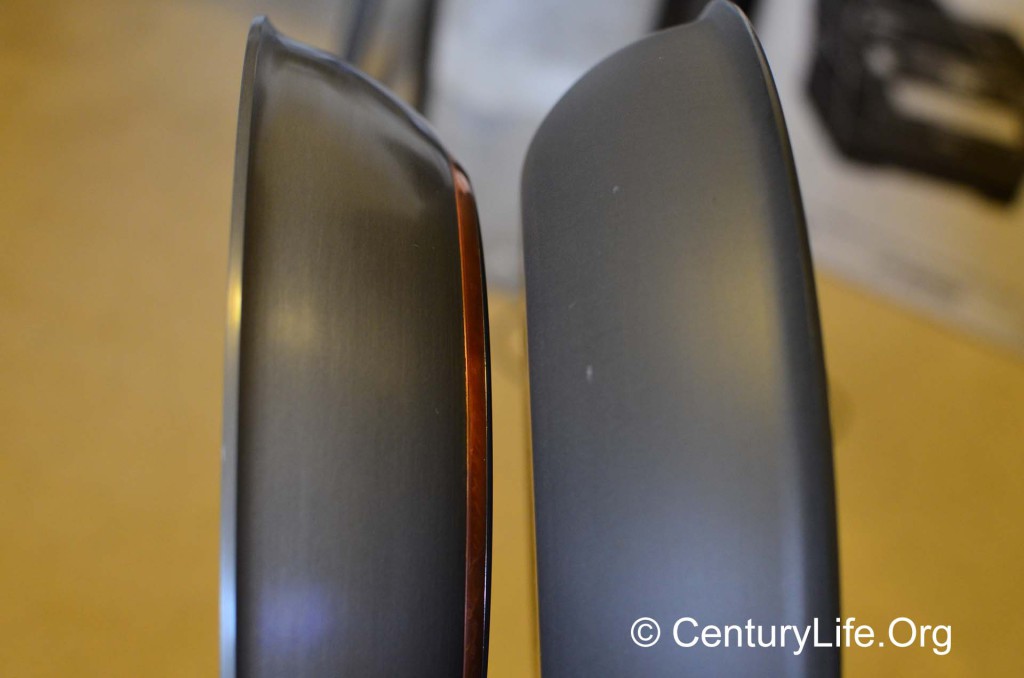 Value: 4/5 Very Good. I can't give it a 5/5 because all PTFE pans eventually wear down and lose their non-stickiness. However, a) these pans come with lifetime warranties, and b) these pans use DuPont's top-of-the-line Teflon (Autograph 2), which should be more durable than normal–so durable that the manufacturer claims you can use metal spatulas on it. If it weren't for the PTFE issue, these pans would score a perfect 5/5 on value because they are absolutely the best nonstick pans I have ever tried. You can even scramble eggs in them without a drop of oil, if you're calorie-counting. They are extremely even-heating (see above), incredibly comfortable to hold, induction compatible, and even easier to clean up than normal nonstick pans, due to the nonstick-coated, flush rivets. The smooth black interiors go well with the stylish French curved handle and copper band around the bottom. Without a doubt, these pans are the sexiest pieces of cookware in my kitchen. And as I've said above, every time I cook with them is a joy, as is every time I clean them up in seconds with a splash of water and a Scotch-Brite 3M Non-Scratch Sponge
.
Versatility: 4/5 Very Good. You probably shouldn't stick Anolon Nouvelle Copper into an oven above 450F, due to the nonstick coating breaking down from prolonged exposure at those temperatures, and you should avoid metal utensils to maximize the life of the nonstick coating. Nonstick is also not optimal for developing fond. Nevertheless, this pan excels at cooking fragile foods such as eggs and fish. The nonstick coating resists acids and salt, as does anodized aluminum, so corrosion is not a real problem. The 8-inch pan is surprisingly roomy and good for up to six scrambled eggs or so, though it gets uncomfortably full. (I learned this the hard way when I was forced to use the 8-inch pan to make scrambled eggs once; my 10-inch pan was unavailable at the time.)
CONCLUSION:
If you were in the market for high-performance nonstick, get Anolon Nouvelle Copper Nonstick
. It's exceptionally even-heating, with no rivets to clean around, great handles and lids, hard anodized exterior to help prevent dings, and a nonstick coating that the manufacturer claims is metal utensil safe (though I would stick to silicone/wooden/plastic utensils anyway, just to be safe). It's even induction-compatible!
Other Notes:
If you need a utensil that won't damage the pan, I'd suggest adding a steel-reinforced silicone turner because:
Metal utensils are too hard for nonstick, tin- and silver-lined pans; they will scratch the pan's lining. Metal utensils can chip ceramic-lined pans.
Plastic spatulas like nylon can soften/melt at frying temperatures.
Wood utensils will eventually stain and break down and isn't dishwasher safe, and the cheap ones disintegrate quickly. But it's a good option as long as you keep replacing them when they wear out.
Silicone is very durable.
After extensive testing, our recommendation is the OXO Good Grips silicone turner. This is also sold as the StarPack Ultra Flexible Silicone Turner set.  Alternatively, get a pair of silicone-tipped tongs.
Finally, in order to prolong the life of a nonstick pan, I would clean nonstick pans with gentle sponges like the Scotch-Brite 3M Non-Scratch Sponge
. If something is particularly sticky, try boiling a half-inch of water in the pan and scraping the sticky stuff off with a spatula during the boil.