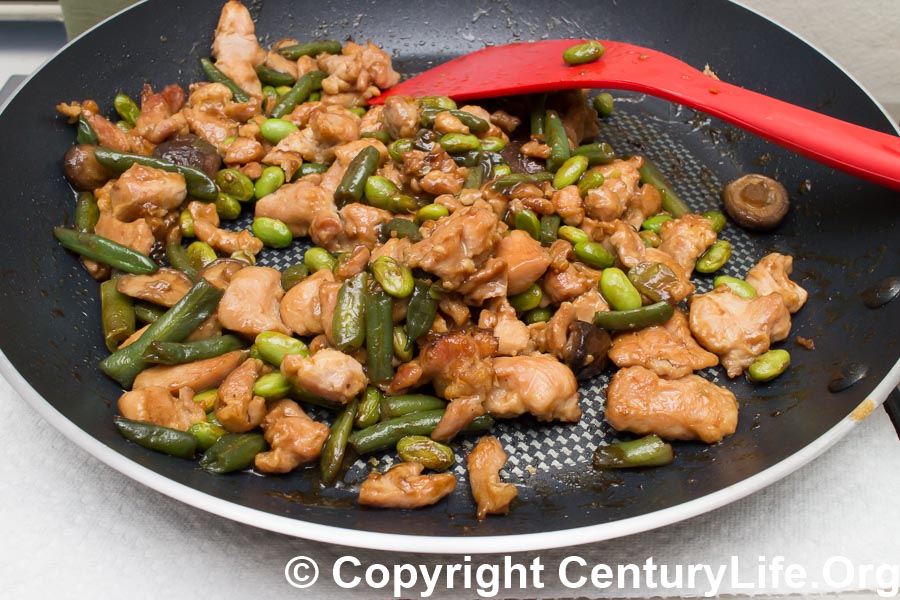 THE COMPANY
Groupe SEB of France is one of the two largest cookware manufacturers in the world. Groupe SEB's strategy is apparently to buy the biggest brands in each country and then aggressively market them. As a result of this strategy, Groupe SEB owns a lot of brands, ranging from All-Clad and T-Fal and to names you've probably never heard of before because you don't live in the target market for them (e.g., Panex, Supor, Maharaja, etc.).
Fun fact: T-Fal is actually known as TeFal (Teflon-Aluminum) in many other countries, but DuPont successfully threatened legal action and got the name changed to "T-Fal" in the USA. Apparently DuPont felt that "TeFal" might be confused with "Teflon."
THE PRODUCTS BEING REVIEWED
This review is for the T-fal E93808 Professional Total Nonstick Thermo-Spot Heat Indicator Fry Pan, 12-Inch, Black
, though it is be applicable to the rest of the same product line. The T-Fal is made in China.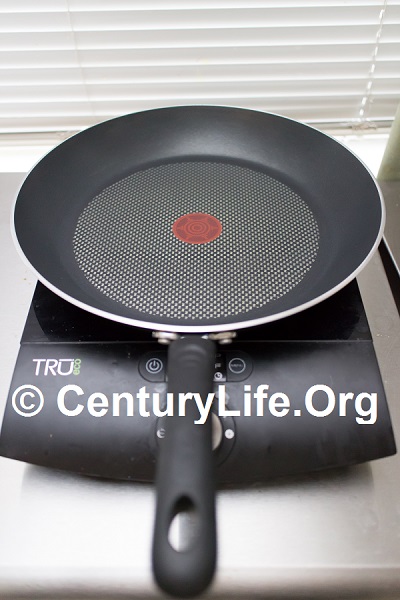 This T-Fal pan has a reddish dot in the middle of the pan with a circular, bulls-eye pattern in it. This so-called "Thermo-Spot" gradually changes color with temperature, so that 375 degrees F, you should not be able to see the circular bulls-eye pattern. In my opinion that's a nice novice-friendly feature.
The pan is also unusual in that it has a thin magnetic stainless steel disc base. It doesn't look like there is any additional aluminum on the bottom, though. Still, even a thin plate of magnetic stainless is welcome because a) it makes the pan induction-compatible, and b) it adds rigidity and thus improves the warp resistance of the pan. A lot of thin aluminum pans warp and dent easily, especially if subjected to thermals stress like dunking the hot pan into cold water.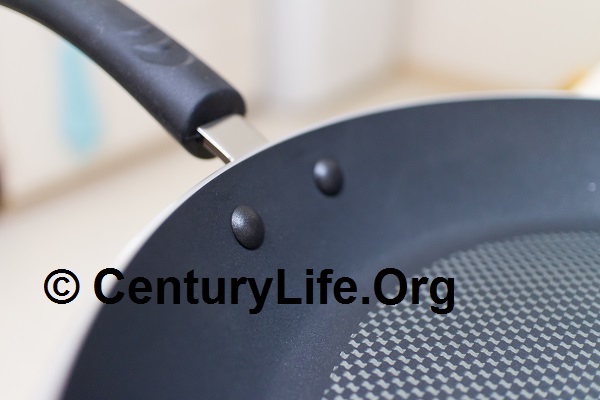 I prefer metal handles in part because they can tolerate higher oven temperatures, but those who are used to rubbery handles might prefer the T-Fal's partially-silicone-covered handle. The handle's core is made out of some sort of steel, but not a particularly corrosion-resistant one because it's strongly magnetic. The handle has a hole in it for hanging. The other end of the handle spreads out into a plate shape which is not silicone-covered. The handle is attached to the pan via what appear to be aluminum rivets. Thankfully the rivet heads inside the pan are coated with nonstick, though they aren't flush, so food can still catch onto the rivet bump. Cheaper nonstick pans sometimes have exposed metal rivets, which partially defeat the purpose of nonstick pans if you think about it.
The PTFE (colloquially known as "nonstick") cooking surface has a checkerboard pattern, and T-Fal claims it is metal utensil safe. In fact they go so far as to call this in-house nonstick coating "Prometal Pro." Yes, two "pros" in addition to calling the pan "Professional," in case you didn't get the hint that T-Fal wants to convey a sense of PROfessionalism. Unfortunately cookware, like many other industries, often gets "pro" labels slapped onto even the worst products as a marketing gimmick, although in this case the T-Fal pan does look sturdy enough for a commercial kitchen.
T-Fal claims that their nonstick coating is metal-utensil safe, but in my opinion, regardless of what any manufacturer claims about resistance to metal, PTFE is softer than metal, so don't use metal utensils unless you want to prematurely wear out your pan. And use a Scotch-Brite 3M Non-Scratch Sponge
to clean it without damaging the PTFE. Yeah, it comes with a lifetime warranty, but shipping costs could be so high as to make it not worth replacing under warranty.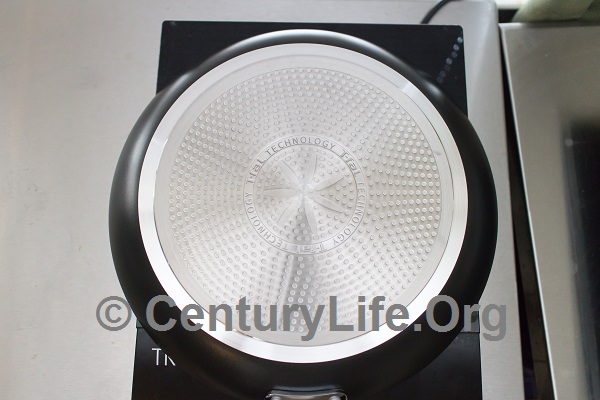 The empty 12-inch pan weighs 1140 grams (2.508 pounds). The pan is a little cheaper than thinner, cheap nonstick pans, but is still lightweight enough that it does not need a helper handle. Also, the pan is slightly more than 12 inches in diameter (interior diameter, as per industry practice).
RATINGS
T-Fal Professional Nonstick Overall Rating: 3.7/5 Very Good. For an explanation of ratings methodology, click here.

Cleanup: 4/5 Very Good. PTFE (such as Teflon) is famous for being easy to clean, since food will not tightly stick to it. However, whatever nonstick coating T-Fal used for this pan (it's some in-house concoction they call "Prometal Pro") is not quite as effective as the DuPont Autograph 2 nonstick on Anolon Nouvelle Copper. I can easily make scrambled eggs without oil in the Anolon (the torture test I give to pans to test how nonstick they really are). The T-Fal does not give as much margin for error; you need to baby it by turning the heat low and avoiding the hotspots of the burner. The first two times I tried went poorly, but the third time, the T-Fal was able to cook scrambled eggs without oil without incident. You just have to be more careful about it (in contrast to the Anolon which gives you a huge margin for error). Also, the T-Fal has bumpy rivets that can catch food, instead of flush rivets. At least the bumpy rivets are coated with nonstick, though, so it's not a big deal.
For PTFE pans like this one, don't use nonstick sprays as they often contain chemicals in addition to oil; these chemicals damage PTFE. 100% oil misters like Mistos
are fine.
Durability: 2/5 Poor. All PTFE wears down, especially if you use metal utensils. The pan has a thin magnetic stainless steel plate on the bottom, so that should help keep the pan bottom flat for longer, but it isn't a thick disc base, so I would be very careful not to subject it to high thermal stress such as heating it on High or pouring cold water over it if it's still hot.
The exterior is apparently not hard-anodized so be careful not to scratch the finish. Once there is exposed aluminum and some harsher detergents may start eating away at the aluminum. It's not a big deal, though, and I am not deducting a point for that.
The points I am deducting are for the limited lifespan of PTFE and the fact that it's aluminum, which is prone to warping over long enough periods of cooking time, even with a thin disc of stainless attached to it. And even despite it's 3.28 mm wall thickness, which is a little thicker than cheapo nonstick pans.
Update February 2016: The T-Fal has gotten worse over time and now crowns (warps so that the center is slightly higher than the edges, so that oil pools up on the perimeter). That's after about 50 uses. I'm taking a point off its Durability score for that. I've seen that crowning behavior in many aluminum pans whether anodized aluminum or not. A steel bottom disc helps resist that somewhat, but if you want something that doesn't warp, go with a much thicker bottom base like Anolon Nouvelle Copper (I've cooked with it over 100 times to date with zero warping issues so far).
Even heating: 4/5 Very Good. This pan is a good performer in terms of spreading heat around. It's not as good as Anolon Nouvelle Copper Nonstick, but few things are. The T-Fal is lightweight and doesn't retain that much heat, so it would drop in temperature much faster than heavier pans, potentially turning what would be frying into something more like steaming. The pan would be fine for fish and eggs, but might suffer a little if you dumped a thick steak into it.
Handling and ease of use: 4/5 Very Good. It's lightweight which some people may like, and it also means no helper handle is necessary. The handle is comfortable enough and at a typical angle. The pan does NOT have rolled rims (aka flared lips), so pouring pan contents out may be a little drippier than pans with rolled rims. That's a partial point off. The pan DOES have that color-changing "Thermo-Spot" which may assist some people in determining when a pan is hot enough to fry with.
I'm taking off a partial point for its low 350F oven heat rating, though, as that may impact some stove-to-oven transfers. Seriously, T-Fal, 350F? Your own Thermo-Spot is supposed to change colors at 375F. The only explanation that makes sense to me is that the pan can go up to at least 375F, but the silicone handle or the exterior of the pan starts melting at 350F. I also suspect that T-Fal wants to limit liability (from lawsuits and warranty claims), so it only rates this pan up to 350F for oven use.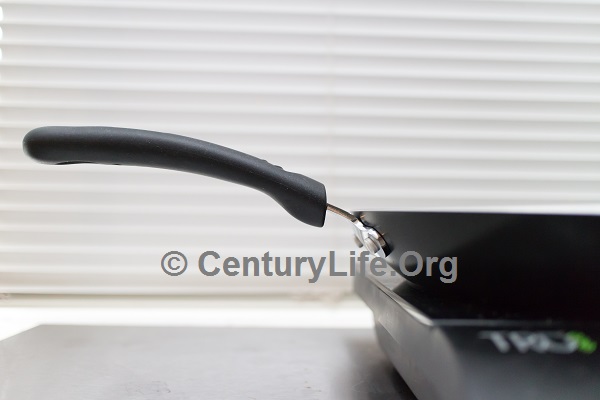 Also, like all nonstick pans, fond doesn't develop as well as on steel/carbon steel/cast iron. But the checkerboard pattern does help you see what's going on better than an entirely dark pan.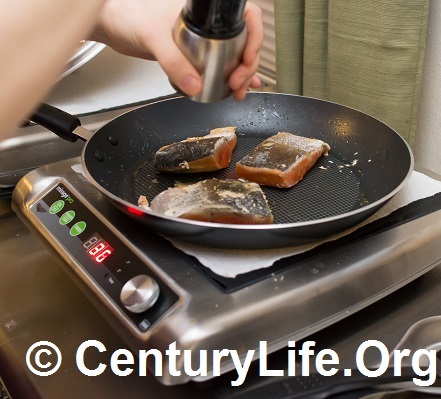 Value: 4/5 Very Good. I can't give it a 5/5 because all PTFE pans eventually wear down and lose their non-stickiness, and whatever nonstick is on this pan isn't as slick as DuPont's latest and greatest Autograph 2.
Everything else is pretty good. The pan doesn't have rolled rims, but it does have a Thermo-Spot and a checkerboard pattern to help you see what is going on. The pan is lightweight, has a decently comfortable handle, and T-Fal's Prometal Pro nonstick is decent, albeit not as good as DuPont's Autograph 2. This pan is unusual for a thin aluminum pan in that it has a thin magnetic steel bottom plate for induction-compatibility and warp-resistance.
All in all, this T-fal E93808 Professional Total Nonstick Thermo-Spot Heat Indicator Fry Pan, 12-Inch, Black
is a decidedly above-average performer, and the 12-inch size is relatively cheap for what you get. It ain't no Anolon Nouvelle Copper, but the 12-inch Anolon Nouvelle Copper pan costs three times more. However, for smaller sizes, the Anolon Nouvelle Copper 8- and 10-inch skillet bundle
is a killer deal and would be far, far, far better values than buying 8- and 10-inch T-Fal Professional Nonstick skillets. Perhaps the cost-conscious way to get all three sizes is to buy the Anolon Nouvelle Copper 2-pack and then the T-Fal 12-inch.
Versatility: 4/5 Good. T-Fal somehow claims that the pan is dishwasher safe (why? it's nonstick so just wipe it off by hand), yet is only oven-safe to 350F? Like I said above, I suspect that the silicone and Prometal Pro nonstick coating can take more than 350F–at least 375F which is when its Thermo-Spot is supposed to fully change colors–and that the 350F limit is only because of the handle or pan exterior. Fine, T-Fal, but I'm knocking off a partial point for that.
The pan is also nonstick which means it is not optimal for developing fond, like with a steak, nor should you use metal utensils on it, so I have to take a partial point off. Nevertheless, this pan excels at cooking fragile foods such as eggs and fish–just not as much as pans with DuPont's Autograph 2 nonstick coating, so I'll knock off another partial point.
On the plus side, the pan's magnetic stainless plate bottom diameter is about 9 inches, and the interior cooking surface has a flat area nearly 9.5 inches diameter. Cheaper pans will have a more wok-like shape that doesn't give you as much flat surface area, which is more versatile.
CONCLUSION
The T-fal E93808 Professional Total Nonstick Thermo-Spot Heat Indicator Fry Pan, 12-Inch, Black is a good pan. It's not a great pan, because it will warp (the center will rise higher than the edges, so oil will make a circle and there is a greater chance of overcooking/burning food in the center of the pan), and because it's not that cheap compared to other options:
If you do NOT need induction-compatibility, or if you don't want a PTFE (e.g., Teflon) nonstick pan, then I'd recommend GreenPan Ceramic Nonstick (I review it here) which is about the same price and thermal performance. It isn't quite as nonsticky as PTFE, but it's pretty good and can tolerate higher temperatures (up to 500F+ in the oven).
Other Notes:
If you need a utensil that won't damage the pan, I'd suggest adding a steel-reinforced silicone turner because:
Metal utensils are too hard for nonstick, tin- and silver-lined pans; they will scratch the pan's lining. Metal utensils can chip ceramic-lined pans.
Plastic spatulas like nylon can soften/melt at frying temperatures.
Wood utensils will eventually stain and break down and isn't dishwasher safe, and the cheap ones disintegrate quickly. But it's a good option as long as you keep replacing them when they wear out.
Silicone is very durable.
After extensive testing, our recommendation is the OXO Good Grips silicone turner. This is also sold as the StarPack Ultra Flexible Silicone Turner set.
Finally, in order to prolong the life of a nonstick pan, I would clean nonstick pans with gentle sponges like the Scotch-Brite 3M Non-Scratch Sponge
. If something is particularly sticky, try boiling a half-inch of water in the pan and scraping the sticky stuff off with a spatula during the boil.
The skillets do not come with lids, so if you don't already have other lids that will fit, I would recommend buying a universal lid such as this one.