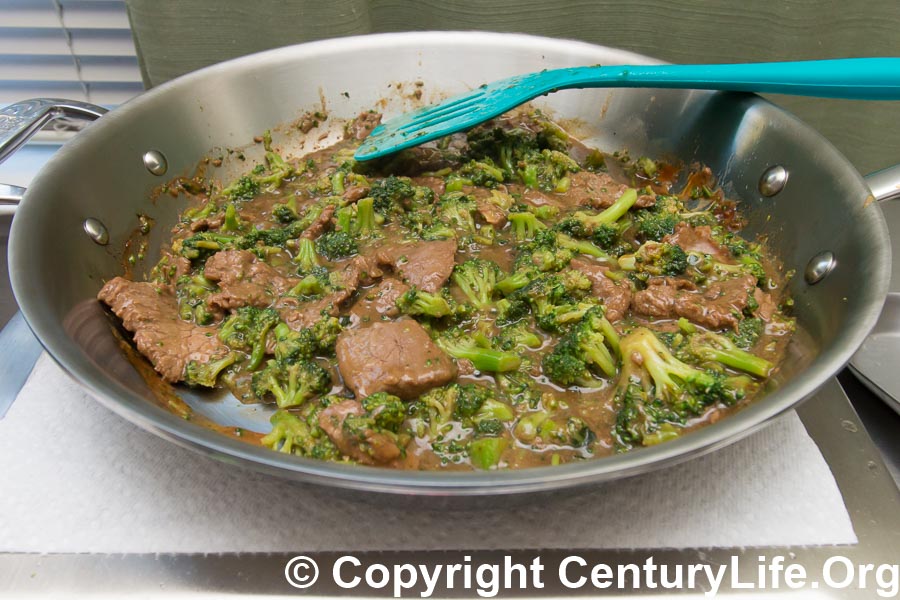 Please note that All-Clad discontinued D7 in or around 2018.
For a brief history of All-Clad, click here.
THE PRODUCTS BEING REVIEWED
In 2014, All-Clad launched All-Clad d7 pots
constructed out of a seven-layer sandwich of alternating stainless steel and aluminum (s-a-s-a-s-a-s), in 6- and 8-quart sizes. D7 was advertised to give you better heat distribution and 25% less weight than cast iron of similar size, but was priced at $300 and $400, respectively–even higher than Le Creuset or Staub enameled cast iron. Basically you paid more for something that was less corrosion-resistant than enameled cast iron, but got a more evenly-heated cooking surface for stovetop cooking, and shaved a couple of pounds off the weight of the pot (but most of the weight of a full pot of cast iron is the food and not the pot).
In 2015, All-Clad expanded d7 to saucepans, skillets, and saute pans, such as the All-Clad d7 12-inch skillet, which is the subject for this review. All-Clad d7 is made in the USA.
Please note that All-Clad promptly discontinued d7 sometime around 2018.
RATINGS
All-Clad d7 Overall Rating: 4.7/5 Excellent. For an explanation of ratings methodology, click here.

Cleanup: 4/5 Very Good. I never give 5/5 to stainless steel because it can stick, but if you preheat the pan, then turn down the heat to low (or medium low depending on your burner's strength) and add oil, and then add food, you can minimize sticking. Deglazing a pan (adding a little liquid such as wine to stuck-on bits of protein while the pan is still hot) can also help with cleanup as well as make a great pan gravy.
I would rate the d7 skillet as average compared to other stainless steel pans for interior-surface cleanup. It can be a pain to clean stuck-on grime around rivets, but I won't take a point off just for that.
If you ever find yourself with dull protein stains or rainbows of heated oil left on the pan, try boiling a little vinegar and water in the pan. If that's not enough, use Bar Keepers Friend.
Durability: 5/5 Excellent. D7 is built like a tank; you get about 3.76 millimeter thick alternating layers of stainless steel and aluminum which is ~1.2 millimeters thicker than ordinary All-Clad Stainless. The rivets are capped off with 18/10 stainless steel.
The stainless steel used for the cooking surface is 18/10 stainless, made wholly from USA-sourced materials. This is highly corrosion-resistant and hard and strong.
The bottom (exterior) stainless is 400-series (18/0) magnetic stainless steel. This is normal and par for the course because most stainless steel cookware made these days is induction-compatible, which necessitates the use of magnetic stainless even though you sacrifice some corrosion resistance compared to 18/10.
Even heating: 5/5 Excellent. This pan is a high performer in terms of spreading heat around, for both induction/electric stoves as well as gas. My micrometer readings of the sidewalls was ~3.76 mm with about 2.2 mm of that being unusually pure aluminum, which is a great heat conductor. (Compare that to the paltry ~1.6 mm of lower-purity aluminum in All-Clad Stainless and knockoffs thereof!)
Furthermore, the d7 pan has a lot of thermal mass so it won't suffer as much as thin pans when adding food. A thinner pan can crash in temperature when you throw in large amounts of food, which turns tasty frying (Maillard reactions) into bland steaming until the pan can get back up in temperature.
Handling and ease of use: 5/5 Very Good. The empty 12-inch pan weighs 1960 grams (4.32 pounds). Compare that to 1265g (2.79 pounds) for a regular All-Clad stainless pan.
This extra weight doesn't feel bad because of two reasons:
First, the d7's main (long) handle is better than regular All-Clad handles, with far less of an indentation, so it won't dig into one's palms as much. (Regular All-Clad handles dig into your palms because they are shaped like the letter "U" thanks to that big indentation along the handle.)
Second, the d7 comes with a helper handle, unlike most All-Clad 12 inch pans which don't. The helper handle helps in maneuvering the pan (e.g., to or from the oven or table, or in the sink for washing). The d7 helper (short) handle is reasonably large and comfortable.
However, the d7 handle is slightly shorter, at 8 inches long vs. about 8.5 to 8.75 inches for regular All-Clad handles, and the portion of the handle nearest to the pan body gets hot during longer cooking sessions, so be careful not to venture too close.
Value: 4/5 Very Good (5/5 for d7 skillets). See Conclusion.
Versatility: 5/5 Excellent. D7 is dishwasher- and induction stove-compatible. D7 is shaped the same as all All-Clad pans, except with straighter sidewalls that don't curve as much to the rim. D7 pans are also slightly taller, about a centimeter though part of the height difference is due to the thicker D7 material. The flat bottom diameter is about 9 inches in diameter. 9 inches is about average for a 12-inch frying pan and gives you decent floorspace while also making it easy to slide a spatula or turner underneath food that you want to turn. All-Clad d7 is oven safe to 500F. Unlike cast iron, you don't have to worry about cooking acidic foods and and having metallic flavors infiltrate your food.
Note that there are times when you may be trying to cook something and overshoot in temperature, but the d7 hangs onto so much heat that it keeps overcooking anyway even after removal from the burner. An example would be fish or other such delicate foods. So there's a bit of a learning curve involved if you are going from a thinner, flimsier pan to a d7. I wound up overcooking eggs and fish for a while on the d7 until I climbed the learning curve.
CONCLUSION
The short story is that the d7 skillets are great, but feel free to skip the rest of the d7 series.
The thing about d7's construction is that it holds onto a lot of heat: about the equivalent of 3.0 mm of cast iron or carbon steel. This makes d7 slow to respond to changes in burner strength. If you accidentally start burning dinner, even lifting the pan off the burner altogether is not going to cool the pan down that fast. This is not a big deal in a skillet where you may want lots of heat retention when searing a steak or something in order to fry food rather than merely steam food. But it's a little annoying for other pieces:
For saucepans, faster temperature response could be useful to avoid scorching chocolate when you're merely trying to melt it, or other such situations.
A d7 is probably even overkill for a saute pan, unless you plan to sear on it. A cheaper variety of All-Clad or similar, or even a disc-base pan, will work fine.
There's little reason to get a d7 for a stock pot or casserole if you're just going to boil water or make thin soups in it, since it will take longer to bring to a boil thanks to the extra metal.
A d7 dutch oven sort-of makes sense in that it's somewhat lighter than enameled cast iron, and yet retains heat almost as well. But on the other hand enamel/ceramic is immune to even the longest acidic/salty braise, whereas the 18/10 stainless steel that All-Clad uses is not as resistant. It's unclear how many years of that kind of punishment a d7 can tolerate compared to enameled cast iron.
Therefore I would recommend getting All-Clad d7 only for skillets and maybe saute pans, but getting more responsive designs for sauce pans and stock pots.
As far as skillets go, All-Clad d7 is a great value compared to its main rivals:
Lower-end designs such as All-Clad Stainless do not have the thermal performance of any of the above, and it's not hard to see why (e.g., All-Clad Stainless is only 2.6 mm thick for instance, or about 1.2 mm thinner than d7).
Some of the skillets might not come with lids, so if you don't already have other lids that will fit, I would recommend buying a universal lid such as this one.