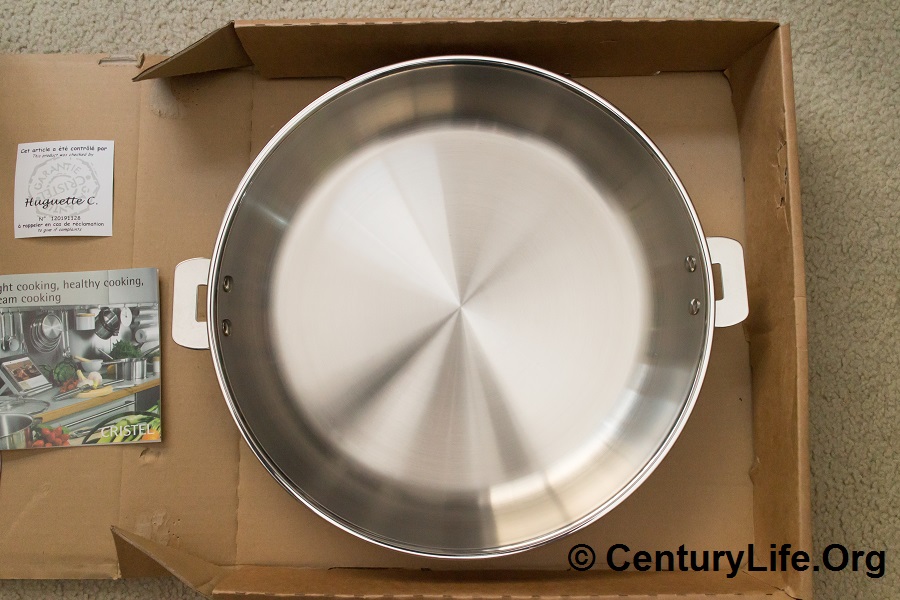 THE COMPANY
Cristel (pronounced kriss-TELL) traces its lineage to the Japy (pronounced like zyeah-PEE) company of France, a major manufacturer of domestic goods such as kitchenware and watches.1
The two World Wars and the Great Depression of the 1920s weakened the Japy company, eventually prompting various divestitures and reorganizations, including the breaking up of the company. Banks and lenders took over the pieces, and the last of the Japy companies went bankrupt in the 1980s. The Fesches-le-Châtel factory shut down in 1981. Some former factory workers illegally restarted production in 1983 and eventually won the legal right to restart the factory as a workers cooperative company. The name of the new company was Cristel, a play on words, derived from Cristal Champagne and the location of the Fesches-le-Châtel factory.2
The workers cooperative struggled with outdated machinery and lack of funding, so in 1984 the workers hired Bernadette Dodane (an accountant and freelance consultant) to see if the business was worth salvaging. Her husband Paul Dodane, then an engineer at Peugeot, became interested over time in helping his wife's project. On his off-hours, he designed "Cook and Serve" cookware that could double as serveware by means of detachable handles. The "Cook and Serve" concept debuted in 1986 and was successful enough so that in 1987, the Dodane family took over the struggling workers cooperative, turning it into the French equivalent of a limited liability company.3
Cristel eventually became profitable and started exporting products, especially to Japan, where cramped living quarters meant that space-saving detachable handles were particularly valued. Cristel entered the U.S. market in 2014.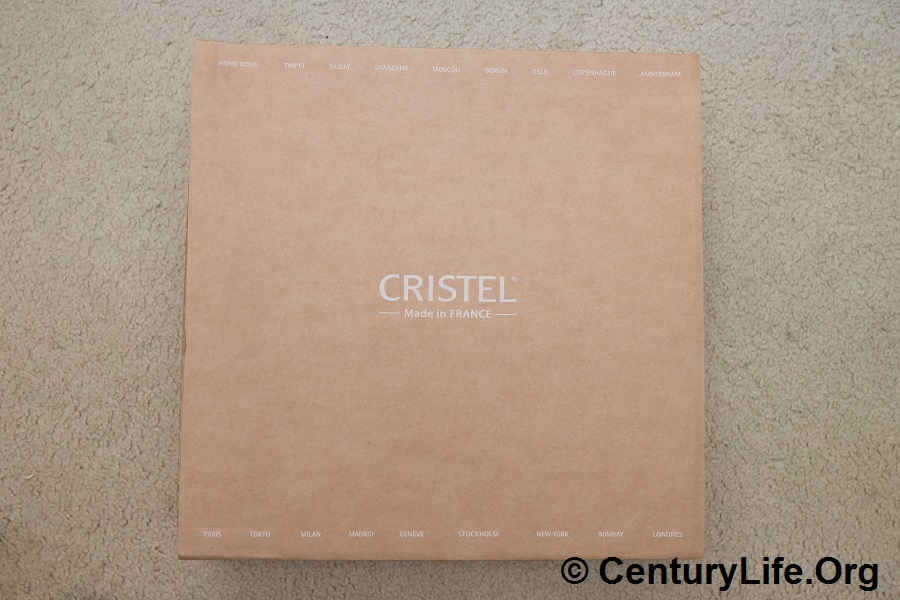 THE PRODUCT BEING REVIEWED
Today, we're reviewing the Cristel Casteline (CAST-el-leen) 32 cm frying pan
, though it is applicable to other pieces in the Casteline product line. The frying pan looks like a paella pan when the handles are not attached. You can attach either a 7.25-inch Long Handle
or a U-shaped Helper/Side Handle
to the flanges. There are two flanges, on opposite sides of the pan.
These are what the handles look like (these photos are not to scale; the long handle is bigger in real life):
Cristel Casteline is a product line that uses thin tri-ply cladded stainless-aluminum-stainless vessel bonded on top of a thin aluminum disc, which in turn is bonded to a bottom cap of magnetic stainless steel. This is a hybrid clad+disc design that is supposed to combine the great heat distribution of an aluminum disc and yet bring enough heat up the sides so as to avoid the temperature discontinuities so common among disc-base-only cookware.
Some Cristel is available with a nonstick interior coating, but PTFE (commonly known as Teflon) can flake off over time and is not as resistant to wear and impacts as 18/10 stainless. The prices Cristel charges for their nonstick pieces are way too high compared to better performers like Anolon Nouvelle Copper and thus I would recommend avoiding Cristel's overpriced nonstick lines.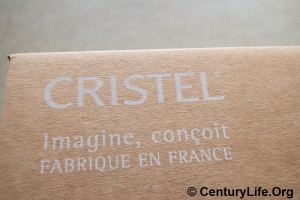 Cristel is the only cookware manufacturer that I know of which currently produces stainless hybrid cookware.
(Note: Not all Casteline pieces are hybrid! The Casteline stock pots have thin steel sidewalls (no cladding) and an aluminum disc base with a magnetic stainless steel wrapper over the disc; basically they are Mutine stock pots (see below about "Mutine"). That sort of design can be found much cheaper from other companies, so unless you must have detachable handles, I would avoid Cristel's expensive stock pots.)
Cristel also makes a Cristel Strate
line of cookware that uses a larger-than-normal disc base where the aluminum follows the contours of the bottom of the stainless, to avoid a temperature discontinuity around the perimeter of the cooking surface. However, Strate is almost as expensive as Casteline and does not heat up the sides, so I don't see the point of buying Strate.
Lastly, Cristel also makes some disc-base cookware called Cristel Mutine where the aluminum disc is smaller than in Strate, and therefore creates a temperature discontinuity around the perimeter of the bottom cooking surface (a common problem with disc-base cookware). Usually the cookware manufacturer folds a thin layer of magnetic stainless steel over the aluminum disc to make the cookware induction-compatible. Mutine's undersized-aluminum-disc-base design is a very common design that you can get from literally hundreds of companies for a lot less money, so there is no point in buying Mutine unless you absolutely adore the detachable handle system.
Overall Rating: 4.45/5 Very Good. For an explanation of ratings methodology, click here.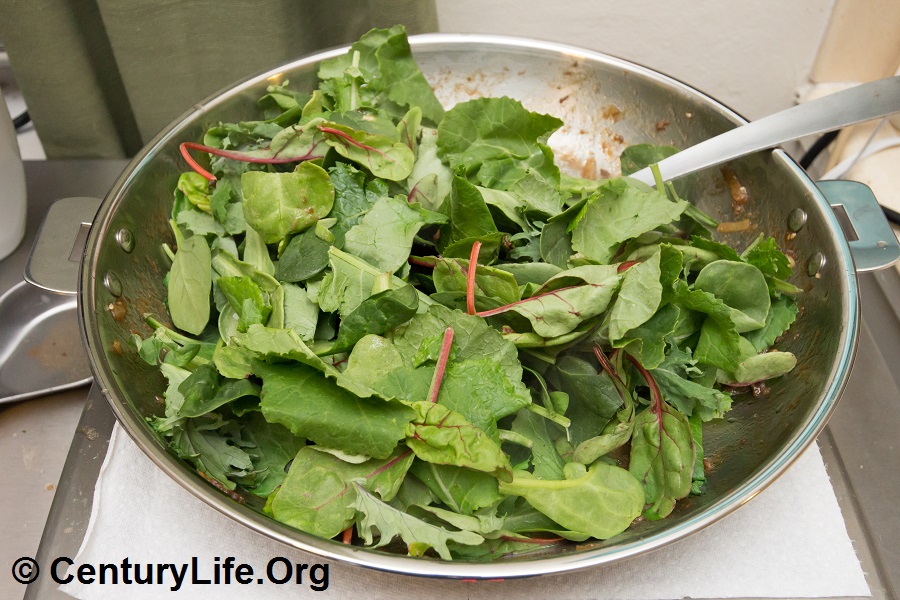 Cleanup: 4/5 Very Good. I never give 5/5 to stainless steel because it can stick, but if you preheat the pan, then turn down the heat to low (or medium low depending on your burner's strength) and add oil, and then add food, you can minimize sticking. Deglazing a pan (adding a little liquid such as wine to stuck-on bits of protein while the pan is still hot) can also help with cleanup as well as make a great pan gravy.
As far as stainless pans go, I would rate Cristel Casteline as about average stickiness. Eggs will stick to it about as much as an average stainless pan, even when pre-heated before adding oil. The pan utilizes rivets, so it is a little harder to clean than rivetless designs like Demeyere Proline, but I won't knock off a point for that.
If you ever find yourself with dull protein stains or rainbows of heated oil left on the pan, try boiling a little vinegar and water in the pan. If that's not enough, use Bar Keepers Friend.
Durability: 5/5 Excellent. Most pieces of Cristel Casteline are hybrids: they are built like a very thin version of All-Clad (stainless inner and outer layers protecting an inner aluminum layer), with a thin disc of aluminum bonded to the bottom, and finally a bottom cap of stainless that fully envelops the aluminum disc.
Stock pots are the exception: Casteline stock pots are built out of thin stainless steel, with aluminum disc base and a bottom wrapper of magnetic stainless. There is no heat-conductive aluminum layer in the sidewalls. The thinking is that thin fluids like water can do the work of moving heat up the stock pot.
The interior stainless steel is SAE 304 (18/8 or 18/10 stainless steel) and should resist corrosion quite well.
All Casteline pieces have sealed pouring rims, so there is no exposed aluminum. This means that Casteline pieces are extremely dishwasher-friendly; you can use industrial-grade, harsh detergents and Casteline will shrug it off, whereas most other clad/hybrid cookware (e.g., All-Clad, Cuisinart Multiclad Pro) have exposed aluminum at the rim which may be eaten by harsh detergents. In practice, this is not a big issue, since most people simply avoid using harsh detergents.
Even heating: 5/5 Excellent. The result of Cristel Casteline's design is very evenly-heating. The 32 cm Casteline beats both Demeyere Proline and de Buyer Prima Matera in thermal testing rankings. Casteline's cladded layer isn't that thick (just under 2.2 mm total thickness, compared to about 2.6 mm thickness for All-Clad Stainless), so most of the heat spreading is done via the disc base. But the cladded layer does enough to prevent large temperature discontinuities so common in disc-base-only cookware along the perimeter of the pan.
In addition to even heating, the large mass combines with the cladded vessel to make for a good thermal retention. If you throw in a cold steak, temperatures won't crater as much they would with a thin aluminum nonstick pan or with thinner clad. That said, this pan does not hold quite as much heat as Demeyere Proline of comparable size, which makes it slightly harder to maximize Maillard reactions when cooking very large amounts of protein. But the difference isn't much.
Lastly, Casteline tends to react more slowly to temperature increases or decreases than you might expect from a similar clad pan. That's because there's an extra layer of stainless steel. With clad, you get stainless-aluminum-stainless. With Casteline you have stainless-aluminum-stainless-aluminum-stainless. Ideally that middle stainless layer would be aluminum instead, because that would help spread heat and also react to changes in burner strength faster, but alas, that middle layer of steel is in the way. This is not a big deal for things like searing steaks, but it does make the pan slightly harder to use for delicate dishes. I recommend lifting the entire pan off the burner and setting it on an unused, cool burner, if you need to quickly cool down the pan.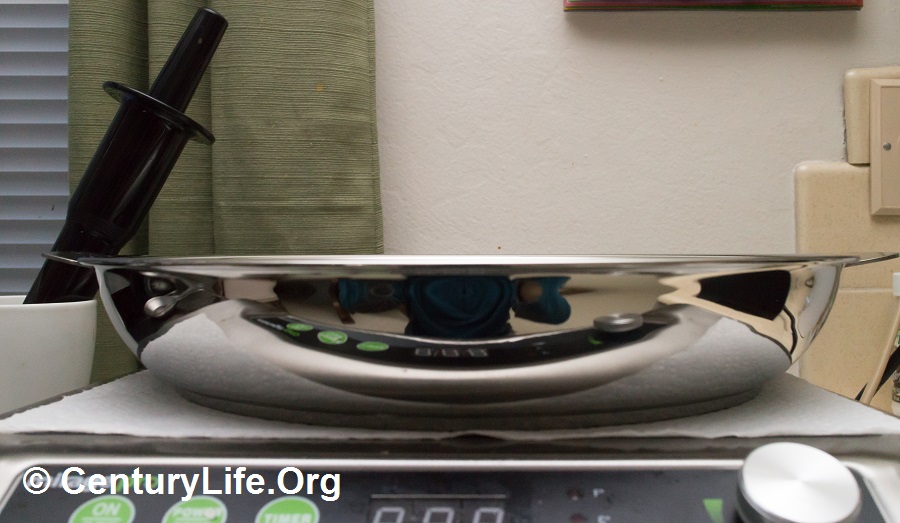 Handling and ease of use: 4/5 Very Good. The Cristel Casteline 32 cm frying pan
looks like a paella pan with flanges that accept handles. You can attach either a 7.25-inch Long Handle
or a U-shaped Helper/Side Handle
to the flanges. There are two flanges, on opposite sides of the pan.
The design philosophy of Casteline is to give you more cladded metal thickness where you need it (the bottom, which gets blasted by high heat and needs to spread that heat evenly) and less thickness where you don't need it (the 2.18 mm thick sidewalls). This has resulted in a pan that spreads heat better than Demeyere Proline (uniform 4.8 mm thickness on bottom and sidewalls), yet weighs less.
The 32 cm (12.6-inch) Casteline pan weighs 1925 grams (4.24 pounds) empty, without handles. For sake of comparison, an All-Clad Stainless 30 cm (12-inch) pan weighs 1265 grams (2.79 pounds) including handle, and Demeyere Proline 32 cm skillets weigh about 2730 grams (6.02 pounds), including handle.
I tried out the optional Casteline long handle, and it's reasonably comfortable albeit utilitarian-looking and too short to comfortably tuck under one's arm. The handle attachment does not feel particularly secure, so I would try to avoid stressing the handle too much.
The handles' claim to fame is the ability to attach/detach from any Cristel Casteline pot or pan, which allows you to do nifty things like cook a meal in a pan and then serve it in the same pan, by detaching the handle(s). By detaching handles, you can also put more Cristel Casteline into a dishwasher at a time, store the bodies of the pan separately from the handles. That means you can more easily stack pots inside of each other, since there are no handles to get in the way. Be warned that the handles use plastic buttons/sliders and thus probably aren't oven-safe.
Without any optional handles attached, you can still move the pan around using the flanges, but the little flanges do get hot on both gas and electric stoves.
Value: 3/5 Good. Cristel Casteline is a great performer, especially if you like their glass lids and detachable handles. Those who would take advantage of the "serve" part of Cristel's "cook and serve" system might save some money by using their Casteline as serveware in place of serveware (presenting food to guests). Nevertheless, there is a lot of competition at this price point, and especially after factoring in the price for handles, this pan is merely a good deal. See the Conclusion for more information.
Versatility: 5/5 Excellent. This pan can cook on any heating surface including induction and can be put into the dishwasher, even with harsh dishwasher detergents, thanks the sealed rims. Cristel Casteline bodies are oven-safe and broiler-safe, but the handles should be detached because they have plastic pieces that probably can't survive high temperatures.
The Cristel Casteline pan's flat cooking area diameter at the bottom of the pan is about 10.2 inches, which is the same as Demeyere Proline's 32 cm pan. For comparison, most cladded skillet of 30 cm (12 inches) in diameter have flat bottom cooking area diameters of about 9 to 9.5 inches.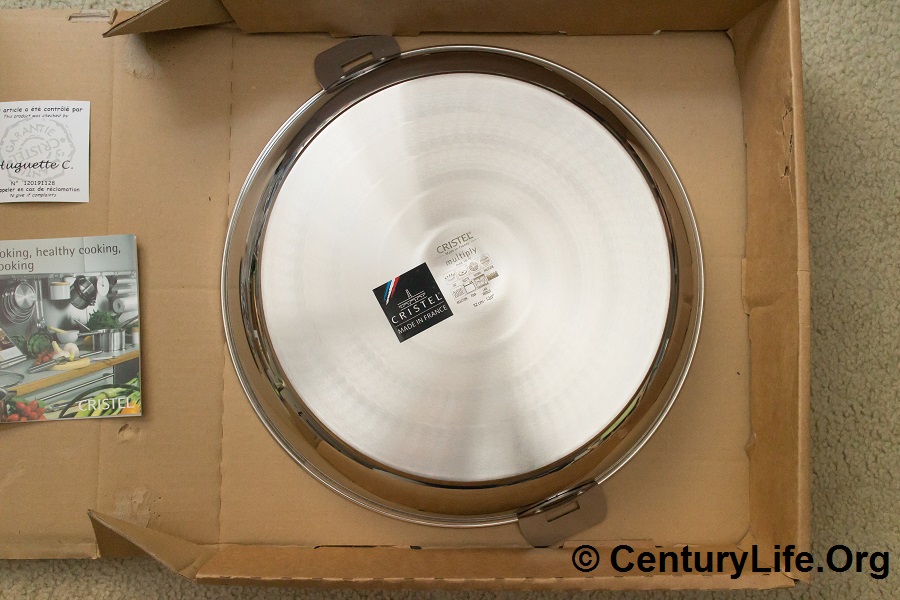 CONCLUSION
Cristel Casteline
is a good product and a must-have if you value its unique combination of high thermal performance, detachable handles, and sealed rims. The detachable handles allow you to use cookware as serveware and to store many pieces in a small space to reduce clutter. Removable handles also helps pack more pans into a dishwasher. The sealed rims allow you to use harsh dishwasher detergents without any fear of the detergents eating away an exposed aluminum layer.
Among frying pans (skillets), Cristel Casteline has stiff competition. Casteline has nifty handles and heats somewhat more evenly than Demeyere Proline, and it's stainless steel so it cleans up easily and doesn't have the maintenance of copper. But personally I prefer Demeyere Proline because it's easier to clean (no rivets, slightly less sticky stainless surface) and because I don't need detachable handles. But you can't really go wrong either way.
For non-skillet pieces like saute pans and saucepans, Cristel Casteline is offers the extremely rare combination of cladded sides and disc base. The cladding ensures no hotspots around the perimeter of the cooking surface, and the thick disc base helps distribute heat more evenly than almost all similar clad designs.
The skillets do not come with lids, so if you don't already have other lids that will fit, I would recommend buying a universal lid such as this one.
Cristel Casteline is available at Amazon.com
and Jet.com.
The Japy family hailed from the village of Beaucort in eastern France, at the edge of the Alsace region which has been an industrial powerhouse for centuries, owing to its mineral wealth of iron and coal. The French ironware manufacturer Staub and French cookware maker de Buyer also hail from that part of France.

Jacques Japy was a village blacksmith whose son (also named Jacques) continued the tradition and was appointed mayor of Beaucourt in 1760. The junior Jacques's son Frédéric opened a factory nearby in 1777 and continued to work with metals, especially watches and watch parts. By 1794, Frédéric's assembly line produced watches that cost only a third as much as what artisan-made watches cost. Frédéric and his descendants built company-town factories (complete with lodging for workers) that would mass-produce watch parts, tools, engines, bicycle parts, and various household goods.

One such factory was built in 1826 in the town of Fesches-le-Châtel in France. There, the company produced beaten iron for household use, including cooking utensils; the company would incorporate new materials as time went on, such as making tinplate cookware by 1849. http://www.cristelusa.com/history-and-heritage.html ↩

http://www.entrepo.co.za/blog/article/cristel-the-story-of-excellence (a link which no longer works, unfortunately); see also http://fr.wikipedia.org/wiki/Cristel ↩