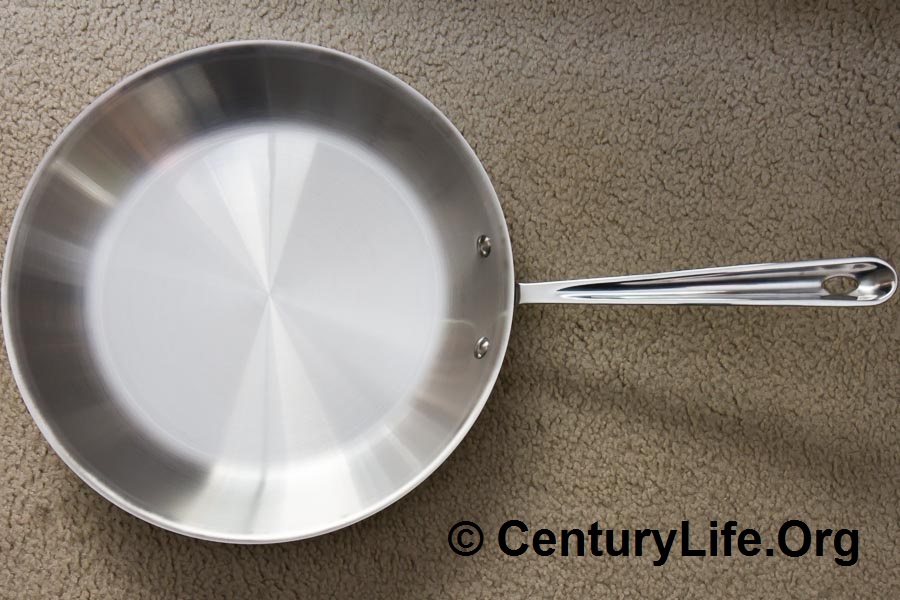 THE COMPANY
I've written extensively about All-Clad here.
THE PRODUCT
Please note that MC2 was discontinued sometime around 2018 and relaunched as LTD2, which is basically the same thing but with anodized exterior for scratch-resistance; LTD2 does cost more though. You can see the LTD2 lineup here.
The subject of this review is the All-Clad 7112 MC2 (aka Masterchef 2 or Master Chef 2 or MC²) 12-inch skillet (frying pan)
, though it's applicable to the rest of the product line as well. MC2 is not induction– or dishwasher-compatible. MC2 is made in the USA but discontinued as of 2018, replaced by All-Clad LTD2 which has anodized exterior (basically aluminum "rust" on the outside to make it harder and more scratch-resistant).
MC2 harkens back to the original All-Clad Masterchef popularized in the 1970s, but with updated handles; the original Masterchef handles were rougher and more of a teardrop shape. Unlike regular All-Clad Stainless, which is made out of stainless-aluminum-stainless sandwich material, MC2 is simply stainless-aluminum: stainless on the inside (cooking surface), aluminum on the outside. (All-Clad sometimes claims two layers of aluminum, but that's splitting hairs; the two layers essentially add up to one thick layer of aluminum.) MC2's aluminum layer is much thicker than the aluminum layer in All-Clad Stainless (about 3 mm vs. 1.7 mm), which means that MC2 spreads heat much more evenly. On the downside, aluminum is soft and scratches easily, so if you buy MC2 you have to be okay with having very scratched-up pan bottoms. MC2 pans come with brushed aluminum finish, not mirror finish, so in essence the external aluminum is already slightly scratched up for you, to better conceal the scratches you will inevitably add.
RATINGS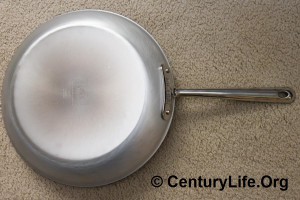 Overall Rating: 4/5 Very Good. For an explanation of ratings methodology, click here.
Cleanup: 4/5 Very Good. I don't give 5/5 scores to stainless steel pans, ever, because that's reserved for Teflon-style pans. For a stainless steel pan, I'd rate this pan about average for stickiness among all stainless steel pans. If you pre-heat the pan first, then add oil (or butter, etc.), and then turn down the burner and add food, then that should help reduce stickiness issues. Do not heat the oil along with the pan; it works better to add the oil only after the pan is hot.
I'm not going to take a point off for rivets, but it bears mentioning that exposed rivets can be harder to clean than flush-rivet or rivetless designs.
Durability: 4/5 Very Good. Thin pans, especially those made from softer metals like aluminum, like to warp/bend/flex when heated and cooled rapidly, but MC2 isn't thin. MC2 is made of thick aluminum that also has a stainless steel top side, so it resists deformation quite well. That said, aluminum is soft and scratches easily. Aluminum also has a low enough melting point (1200F) that in theory, with a powerful enough stove, you would be able to permanently deform the aluminum if you forgot about an empty MC2 pan on High heat for a while (depending on the strength of the burner and size of the empty pan). However, that amount and duration of heat would warp most pans, not just MC2. Don't heat an empty pan on High for half and hour and walk away, or anything like that, and you'll be fine.
Even heating: 4/5 Very Good. The pan heats so evenly that it even outperforms All-Clad Copper Core. Furthermore, even though MC2 is an aluminum-based pan, there's so much aluminum that it can hold heat better than a regular All-Clad Stainless pan. In other words, a thick, cold steak won't crash the temperature of this pan as badly as it would with lesser pans. That means better browning, as you spend more time creating Maillard reactions (browning, which is what gives protein their delicious flavor) and less time steaming the meat as you try to build the heat back up.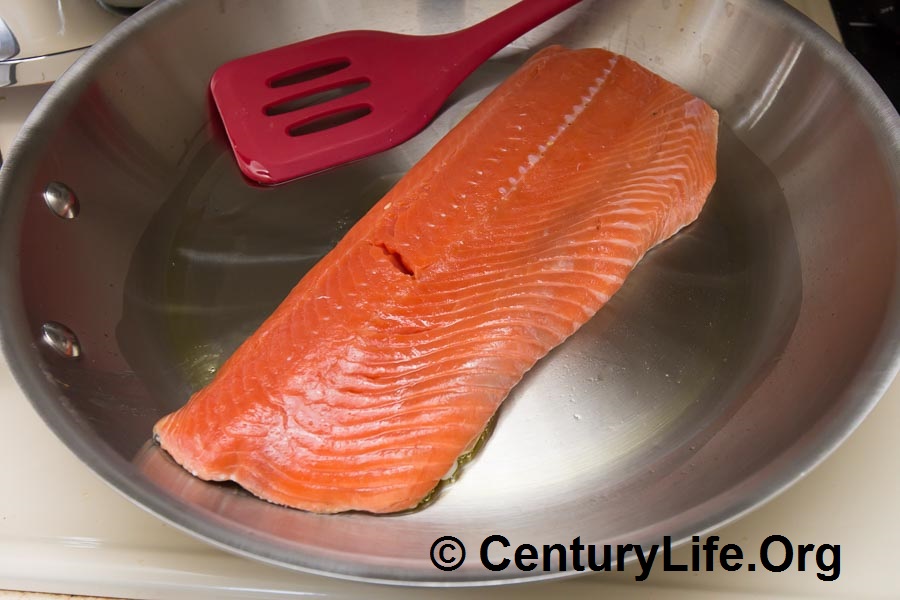 Handling and ease of use: 4/5 Very Good. The flared rims on this product line (on all but the saucepans) are good to avoid dribbles down the side of the pan while pouring. That said, All-Clad's palm-digger handles do stay cool on the stovetop, but they are also notoriously uncomfortable unless you wrap them in towels or tuck them underneath your forearm.
This pan could arguably use a helper handle, but I don't think it really needs one. For reference, an empty All-Clad Stainless 12 inch frying pan weighs 1265 grams (2.79 pounds). An empty MC2 12 inch frying pan weighs 1390 grams (3.06 pounds). However, those with weak wrists or other such problems may want to stick with pans that have helper handles, such as the Cuisinart MCP 12 inch frying pan.

Value: 4/5 Very Good. MC2 is the best value in All-Clad's entire product line, if you can live with the drawbacks of the pan such as lack of dishwasher and induction compatibility, easily scratched-up exterior, and occasional lack of a helper handle on some specific products.
Versatility: 4/5 Very Good. Oven and broiler safe (to 500F). NOT dishwasher- or induction-compatible. If you have some firmly stuck-on bits, try boiling a little water in the pan to loosen stuck bits. If that doesn't work, try using some Bar Keepers Friend.
The pan has a flat bottom circle about 9 inches in diameter, which is on the smaller side of average for a 12-inch frying pan but still within the normal range for a pan of this type, and identical to the shape of other All-Clad 12-inch frying pans. One benefit of the shallower sidewall angle is that it provides easier access for spatulas and turners to flip fish, pancakes, or other flat foods.
CONCLUSION
As I stated above, MC2 is the best value in All-Clad's entire product line, if you can live with the drawbacks of the pan such as lack of dishwasher and induction compatibility, easily scratched-up exterior, and occasional lack of a helper handle on some specific products. MC2 spread heats better than All-Clad Stainless or Copper Core, yet it costs less than All-Clad Stainless.
If you can't live with MC2's drawbacks, but you still want something better than All-Clad Stainless (more even-heating, holds heat better, has more comfortable handles, and has a slicker finish), then I would recommend buying a Demeyere Proline pan.
Note: All-Clad updated some of its product lines with slightly different sizes and slightly different angles of handle attachment a few years ago. It's not worth the upgrade. For instance, the original 10-piece MC2 set
got "upgraded" into a new version
that has a 2-quart saucepan instead of a 1.5-quart saucepan but costs hundreds of dollars more. I've linked to the old version of MC2 throughout this entry, and below, because it's a much better value.
The skillets do not come with lids, so if you don't already have other lids that will fit, I would recommend buying third-party lids such as these universal lids that go up to 12.6 inches.