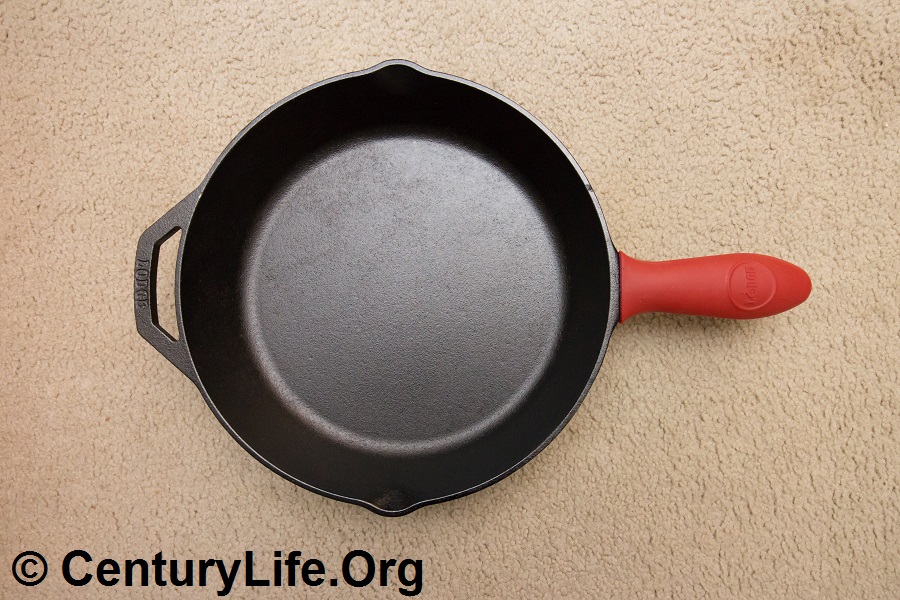 THE COMPANY
There used to be many American cast iron manufacturers from the 1800s and 1900s, but Lodge Manufacturing is the only survivor, making it something of a hometown favorite, or home-country favorite, if you will. The company originated with Joseph Lodge and is still a private, family company to this day. Its main foundry is still in the original town of South Pittsburg, Tennessee, where bare cast iron cookware is made. Lodge's enamel-coated cast iron cookware is made in China.
Lodge has had its ups and downs, surviving downturns like the Great Depression by making iron ornaments and sculptures. Lodge has had a Renaissance since 2002, when it introduced pre-seasoned cast iron rather than require that customers build up their own layers of seasoning–something that no doubt intimidated people using raw cast iron for the first time. The preseasoning also helps protect the product against rust.
Lodge also gained customers in the 2000s due to fears about the safety of PTFE such as Teflon and/or aluminum exposure, cost (initial cost is low and cast iron can last a century or more if not abused, though longer preheat times mean a higher long-term cost), distrust of the purity and quality of Chinese-made cast iron, need for induction-compatible cookware, and nostalgia for the past. Until 2015, when new environmental regulations kicked in, production of PTFEs also created PFOAs, an environmental pollutant.
Advantages of Cast Iron:
– Ability to be seasoned with baked-on oil that polymerizes into a semi-nonstick surface; some people prefer this over PTFE such as Teflon
– Induction-compatible since it's magnetic
Disadvantages of Cast Iron:
– Gives metallic off-flavors/colors if used with acidic foods
– Rusts when exposed to water, unless protected by a coat of seasoning and/or heated after each washing to evaporate water quickly
– Poor heat conductivity leads to relatively uneven heating
– Heavy
– Long preheating times
Cast iron is a relatively poor heat conductor compared to aluminum and copper, so you wind up with uneven heating on anything but the lowest power settings/flame. You can work around this problem sometimes, such as by continually rotating food around the pan so that each piece gets its fair share of time above the hottest portion of the pan. However, in some cases you may be cooking multiple things and can't devote 100% of your attention to one pan. And some things aren't as easily stirred as others, such as delicate fish.
THE PRODUCT BEING REVIEWED

This review is for the 12-inch Lodge Cast-Iron Skillet model 10SK bundled with a silicone handle (L10SK3ASHH41B)
, though it is applicable to other pieces in the product line. You can also get the version without an included silicone handle: Lodge L10SK3 Pre-Seasoned Skillet, 12-Inch
, but the price isn't much different, and I highly recommend getting the silicone handle for safety/comfort. If you already have a Lodge cast iron skillet, you can get the Lodge ASHH41 Silicone Handle
for the main handle. Lodge even makes the Lodge ASAHH41 Silicone Assist Handle Holder
for the helper handle, if you want maximum protection.
Lodge used to focus on bare cast iron, asking people to season it themselves, but since the 2000s or so, Lodge has focused on pre-seasoned cast iron. The seasoning is hot vegetable oil sprayed on and allowed to cool and harden into a semi-slick, black surface. I don't mind factory pre-seasoning. It helps protect against rust even if you decide to sand it off later. You could always just strip off the pre-seasoning, sand the pan bottom a little smoother if you like it that way, and season the pan yourself.
The number before the "SK" indicates the approximate flat cooking surface diameter. Thus this "10SK" skillet is 12 inches in diameter measured at the rim, but the circle you actually cook on is 10 inches in diameter.
The pan's sidewall is about 5 mm thick, but that's a very rough approximation that includes the bumpy texture and the thickness of the pre-seasoning on both sides.
The pan is heavy: even without the silicone handle, it weighs 3730 grams (8.22 pounds) empty. For reference, an All-Clad Stainless 12-inch skillet weighs 1265 grams (2.79 pounds) empty. So once you include the weight of the silicone handle, additional seasoning that builds up over time, and the food itself, you could be looking at 10+ pounds.
RATINGS
Lodge Cast Iron 12-inch Skillet Overall Rating: 2.35/5 Poor. For an explanation of ratings methodology, click here.
Cleanup: 2/5 Poor. The factory pre-seasoning of baked vegetable oil is reasonably thick, and the bumpy cast iron surface helps hold it in place. But the factory pre-seasoning isn't that slick. Even on medium-low heat with the same amount of olive oil I'd use with a stainless steel pan, my scrambled eggs stuck. To simulate many meals' worth of seasoning, I baked 5 thin layers of flaxseed seasoning on top of the factory pre-seasoning, and the eggs still stuck, no matter whether it was on gas, electric coil, or induction, at various heat levels. Bacon didn't stick as much because of all the fat. And eggs didn't stick as much if I drenched the pan in oil–but that's not healthy, and it's also silly. If you are looking to avoid PTFE (e.g., Teflon) nonstick pans but still want something that won't stick, I'd recommend a ceramic nonstick pan instead of PTFE/Teflon or cast iron pans.
Update November 2015: I used Crisco vegetable shortening
to add three additional layers of seasoning, for a total of NINE baked layers: a factory vegetable oil layer, five flaxseed oil layers, and three Crisco layers. All of that seasoning helped reduce sticking somewhat more.
Cleanup takes longer than stainless steel pans, which don't rust and which you can treat with Bar Keepers Friend. You can't do that with seasoning, since BKF will take off some of the seasoning. One old method of cleaning cast iron involves scrubbing with salt and paper towels, but I would recommend using a steel scraper (carefully) or a piece of chain mail armor
(because the contact points are all curved, the chain mail won't bite that hard into the seasoning). Alternatively, Lodge makes plastic scrapers
and ones with teeth
(for grill pans), but they are made out of polycarbonate plastic and thus probably have estrogenically active chemicals in them; therefore if you do use plastic scrapers, make sure you rinse thoroughly in case any microscopic particles of plastic remain in the pan after scraping.
After cleaning, dry thoroughly and then heat the pan back up for a while to force any remaining water to evaporate. During or after this heating process, you may want to spread a very thin layer of oil to help seal the iron away from water molecules in the air.
To avoid rust, don't ever soak the skillet in water or put it through a dishwasher. This is another reason why cleaning up cast iron requires more time/effort than cleaning up stainless steel or regular nonstick.
Lodge cast iron is somewhat bumpy, which helps keep the seasoning in place instead of letting it flake off. The downside is that it takes many layers of seasoning to make the cast iron semi-nonstick. If you want faster results, consider buying vintage cast iron by Griswold, Wagner, Favorite Piqua, and Wapak, which were American cast iron manufacturers from the 19th and 20th centuries that produced quality cast iron. (Note: if you're cooking on electric coil, avoid vintage cast iron with raised ridges around the bottom perimeter.) Those vintage cast iron pieces were often polished to a smooth-ish texture, so they don't require as much seasoning as Lodge's bumpy cast iron to attain a semi-nonstick texture. The downside is that vintage pieces can have cracks, chips, pits, or other damage, are thinner and less even-heating than Lodge's modern cast iron, and prices are higher than for new Lodge cast iron. Furthermore, most vintage cast iron has seasoning that you may want to strip off in case the previous owner(s) seasoned the pan with anything weird, and that takes time, effort, and lye (to dissolve the seasoning). (Get some Easy-Off Oven Cleaner, cover the entire surface of cast iron with it, and let it soak–sealed and outdoors–in for 24 hours in plastic trash bags, then scrub off as much seasoning as you can and rinse clean with water. Repeat as necessary. Bare cast iron is metallic gray, not black. Use BKF or vinegar to wipe off any rust.)

In my opinion, it's not worth the time, effort, and money to restore vintage cast iron unless you got it for cheap or free. (And maybe not even then–how much do you value your time?) A modern Lodge's bumpiness may be a curse when you're trying to season it into slickness quickly, but once you do season it into slickness, that bumpiness should help keep the seasoning in place. Vintage cast iron is thinner, heats a little less evenly as a result, and while they do season into semi-nonstick faster, the lesser bumpiness means the seasoning is more likely to shed into your food.

Furthermore, if you want something smooth, you don't have to buy old cast iron; you can buy carbon steel instead (though if you buy Lodge's carbon steel, I'd recommend doing the seasoning yourself since the default pre-seasoning is poor.)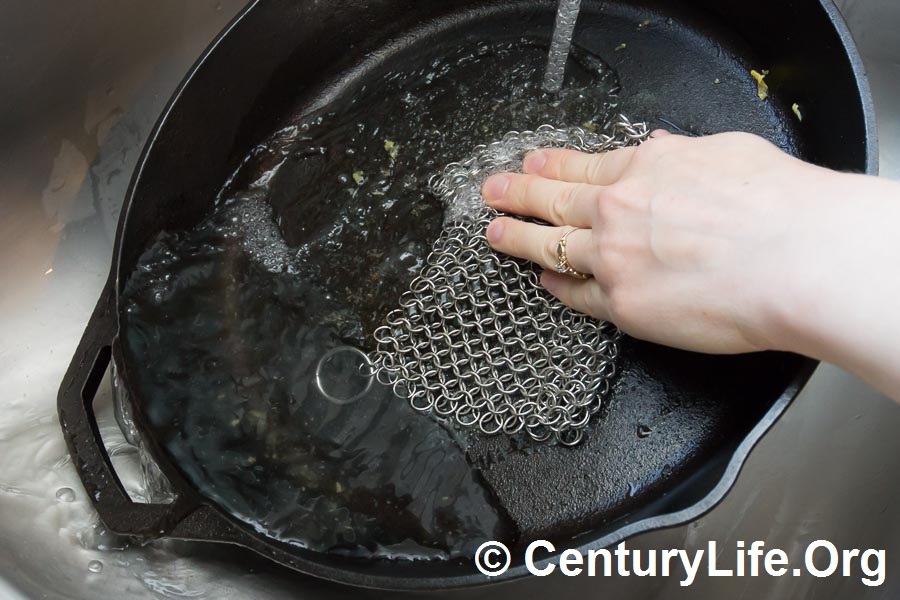 Durability: 4/5 Very Good. Cast iron takes a long time to heat up due to all that mass, but try to resist the temptation to pre-heat it on High, because you will wind up with a superheated hot spot above the burner if you do. I am deducting a half-point for durability not because of the cast iron portion, but because the seasoning itself can be damaged, for instance, due to a spouse or child's carelessness. You could strip and re-season the pan, but that takes time/effort. Compare that to a stainless steel pan which can more easily shrug off abuse. Steel is also less brittle, whereas a cast iron pan that drops hard enough or gets slammed into the side of a sink hard enough can crack. That's another half-point deduction.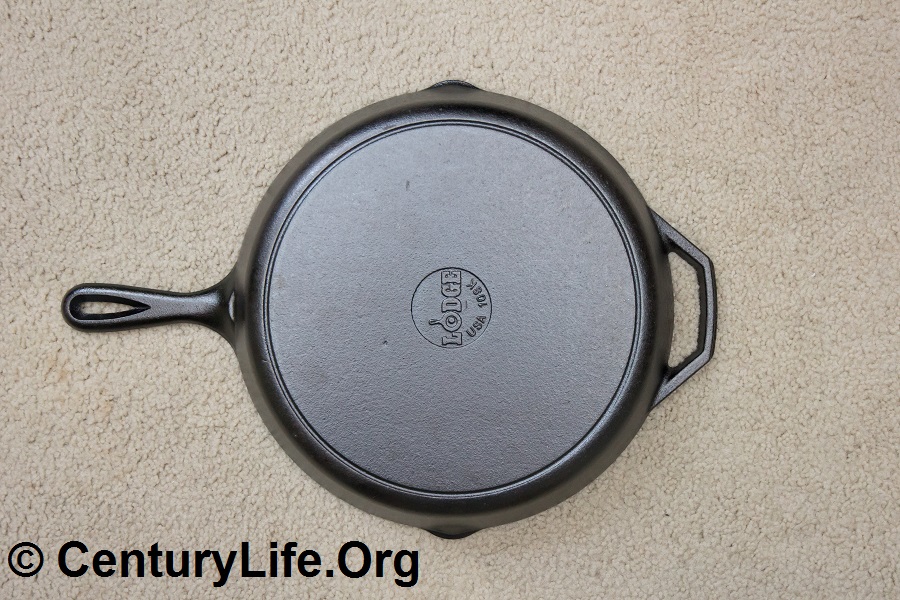 Even heating: 2/5 Poor. Even heating is important to avoid over/under cooking food at the center or edges. Sometimes you can't simply stir, because you are busy tending to other dishes or because you are cooking something like fish, which will naturally "stick" for several minutes before naturally releasing on its own. It's a pleasure to be able to cook fish without worrying if one part is getting hotter than another. It's great to be able to pan-fry dumplings without having the center dumplings burning while the off-center ones are just starting to brown.
Well forget about all that with this pan, unless you have high-end gas burner. If you don't, or maybe even if you do, you will have to either cook via oven (where hot air from all directions means even heating no matter how bad the cookware), or babysit the pan by rotating food into and out of the hotspot so that each piece gets its turn. Therefore, if you have a smaller-diameter burner, please consider getting a more thermally-conductive pan or to at least get a smaller cast iron skillet such as the Lodge L5SK3 8-inch model
.
A cast iron pan is the cheapest way to get a pan with very high thermal mass. Heating up 8.22 pounds of cast iron takes a long time, but the reverse is true, too: if you throw in a large, cold steak, it won't crash the temperature of the pan that quickly. This means your food spends more time in the proper temperature range to produce Maillard reactions (browning). If the pan temperature drops too much, you spend more time steaming meat and less time browning/bringing out the flavor in the meat.
That said, you don't need a cast iron pan if you don't cook huge hunks of protein in the first place, and even if you do, there are alternatives. Most people don't think of aluminum as holding heat well, but I think that's because most people think of thin nonstick aluminum, whereas truly thick aluminum is actually very good at holding and distributing heat. For instance:
The Paderno World Cuisine Series 1100 (Grand Gourmet) product line uses ~7 mm-thick aluminum disc bases, along with about 1.7 mm worth of stainless steel (includes the bottom stainless disc cap and the body of the cooking vessel). That disc holds about as much heat as a ~6.5 mm thick disc of cast iron.1 To be fair, the cast iron skillet has additional thermal mass going up the thick sidewalls, too, which the thin-sidewalled Paderno does not have, but the point is that you don't need cast iron to sear big steaks; a stainless steel pan with a thick aluminum disc base can also hold a lot of heat. Furthermore, most people keep the burner on when they sear steaks, and aluminum spreads that incoming heat far more evenly than cast iron, so that heat won't be concentrated in hot spots.
Another alternative is Demeyere Proline, which uses 3.7 mm thick aluminum surrounded by 1.1 mm of stainless, holding heat equivalent to about 3.6 mm of cast iron. The sidewalls are hot as well, making it easier to cook on the edges and to avoid temperature discontinuities associated with disc bases. If you take the bumpiness and pre-seasoning away, Lodge cast iron might be as thin as 4mm. That means the Proline could hold up to ~90% as much heat as the Lodge cast iron skillet of equal size–and spread it far more evenly.
If you're looking for something cheaper but still good, check out Cuisinart Professional Stainless (I review it here). Roughly speaking, the bottoms of pieces like the the Cuisinart 89336-30H Professional Stainless Saute with Cover, 6-Quart (which is 30 cm or 11.8 inches in diameter) hold about as much heat as 4.5 mm-thick cast iron discs would.
Therefore, if you just want a pan that can handle massive cuts of meat/fish/etc., then I would recommend skipping the cast iron and getting stainless steel cookware with thick aluminum, as such pans can do just as good of a job and are also more versatile, easier to clean and maintain, faster to preheat, and easier to handle (lighter and probably with better handles).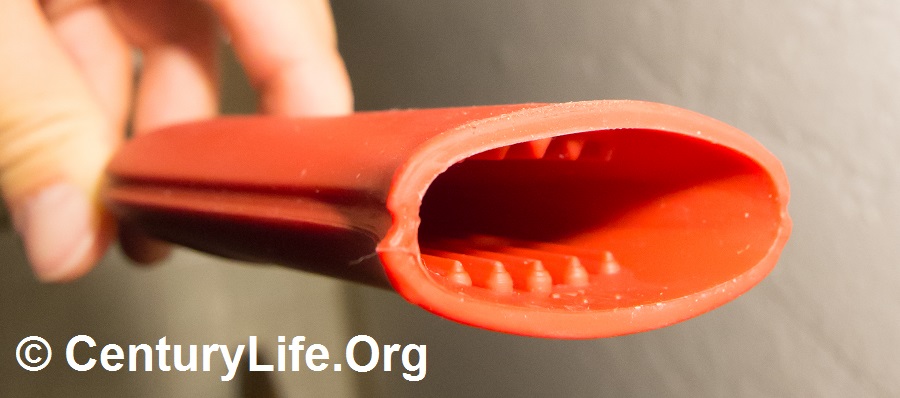 Handling and ease of use: 1/5 Very Poor. Most other pans of this size weigh far less. The Cuisinart MCP 12 inch skillet weighs 1690 grams (3.72 pounds), or less than half as much as this 8.22-pound monster–and the MCP-12 has larger and longer handles, too!
Speaking of handles, the stubby main handle (too short to brace underneath your forearm) and even stubbier helper handle get hot along with the rest of the pan, and the silicone sleeve handle has rubbery "teeth" that only lightly touch the underlying cast iron. Thus you have to clench your fist to get the silicone handle tight with the iron–although in practice that's not a big problem since you have to clench tightly just to pick up this 8-pounder anyway.
There are no flared lips or spouts, so the pan isn't that great at pouring fluid.
Value: 4/5 Very Good. Even though this pan doesn't cost that much in the grand scheme of things, I can't give it a perfect score because a) it's not as versatile as it could be (e.g., for acidic foods); b) you pay less in up-front costs, but pay more in ongoing costs for this pan, since it uses more energy to pre-heat; and c) I value my time and suspect others value their time, too, and cast iron takes more time to maintain than stainless pans.
To put things into perspective, you could get an Ozeri Green Earth ceramic nonstick skillet or T-Fal Professional Total Nonstick skillet for about the same upfront price as a cast iron pan, and over the course of several years the cast iron will end up costing more due to all the energy it guzzles during those long pre-heating sessions. The cast iron can last longer if you take care of it right, but the other two pans can last years with proper care, too, and they are much easier to lift/clean/maintain, truly nonstick instead of merely being semi-slick, and spread heat much more evenly. (If you are okay with stickier surfaces, I would recommend stainless steel clad pans, which are extremely durable, can be made semi-slick with hot oil, and are relatively easy and fast to clean. Since they never chip or wear off–unlike ceramic or PTFE nonstick–and are energy-efficient, such stainless clad pans are arguably the best long-term value.)
How much more does cast iron cost vs. PTFE/ceramic nonstick/stainless pan? Here's a quick back-of-the-envelope calculation:

The average price for electricity in the USA is ~13.7 cents/kWh.2

Let's say that the inflation-adjusted price will be exactly 15 cents per kilowatt-hour (kWh) over the next decade. That's probably an underestimate, because of the big push into renewable energy infrastructure and carbon taxation (via cap-and-trade or other schemes). But let's assume 15 cents/kWh for sake of argument.

Let's say that cast iron takes an additional 4 minutes of heat at ~1 kWh (for pre-heating, cooking, and post-cleanup heating), relative to an alternative pan, due to the cast iron's huge heat capacity. 4 minutes is 1/15 of an hour, so that means each meal cooked with this cast iron skillet costs an extra penny. (1/15 x 1 = 0.0667 kWh. $0.15 x 0.0667 = $0.01.) If you cook one meal a day in this pan, that's an extra $3.65/year or $36.50/decade. That doesn't count any extra time/effort/water/soap/etc. spent on cleaning, which is arguably easier with other types of pans. So keep operating costs in mind when comparing initial prices of pans.
Versatility: 2/5 Poor. Unless you have a very good gas range or cook in the oven, you have to coddle this pan way more than more even-heating pans. You could preheat this pan in an oven to smooth out the heat, but every pan can do that–and it wastes energy to rely on the oven. Don't get me wrong: you can get good results from this pan. However, it requires more attention and care than almost every other pan in my collection. It's also not dishwasher-compatible. On the positive side, it's induction compatible and very durable as long as you don't abuse it, making it excellent for things like searing steaks.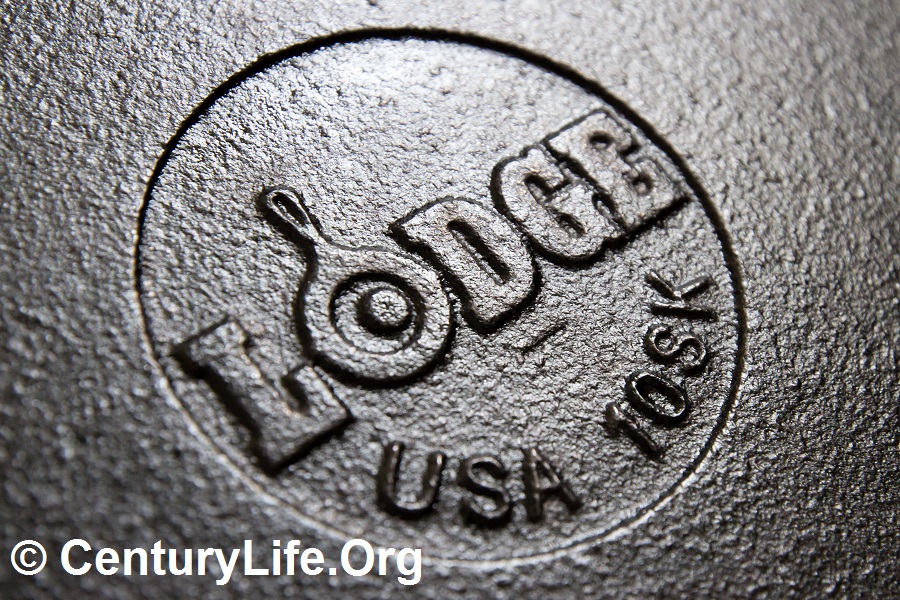 CONCLUSION:
The 12-inch Lodge Cast-Iron Skillet model 10SK bundled with a silicone handle (L10SK3ASHH41B)
is a throwback to an earlier time. Cast iron is heavy, doesn't heat evenly, takes more time and effort to clean and keep rust-free than stainless-lined pans, is less versatile than stainless-lined pans (e.g., metallic tastes can leach out into acidic foods like tomato soup), is more of a safety hazard since the handles get hot and stay hot (along with the rest of the pan) for such a long time, and it's not energy-efficient because the pre-heating time is so long compared to most other pans.
However, if you don't want to pay for a pan with thick aluminum or copper, and you want to sear a huge steak, then a cast iron pan is the cheapest way to get a lot of thermal mass. You'll have to spend more energy heating it up though, both before and after cooking, so in the long run it might actually be more expensive than using a stainless steel pan with a thick aluminum disc or layer.
Finally, if you were thinking about other companies' Chinese-made cast iron, I would recommend against it. I've measured Chinese cast iron from other companies like Calphalon, and surprisingly they are actually thinner than Lodge, and they aren't any cheaper than Lodge's USA-made cast iron, and they are also rough instead of smooth just like Lodge, and China has a worse history of contaminants in their metalworks than the U.S.
The skillets do not come with lids, and even the pieces that do come with lids are heavy pieces of cast iron. So I would recommend buying a universal lid such as this one.
FOOTNOTES