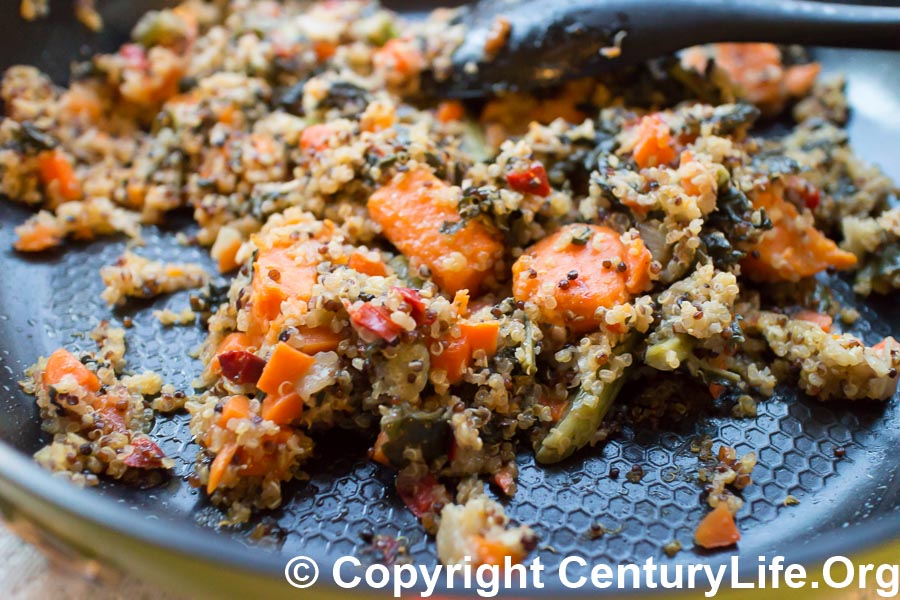 THE COMPANY
Ozeri is a brand affiliated with Commonpath LLC, a Ventura, California company that imports household goods from overseas and has existed since at least 2009. The company is supposed to have gotten its start by supplying timeshare residences.1
THE PRODUCT BEING REVIEWED
Today, we're reviewing the 12 Inch Green Earth Frying Pan with Textured Ceramic Non-Stick Coating from Germany (100% PTFE and PFOA Free)
model number ZP1-30, though it is applicable to other pieces in the product line. (Ozeri also offers a less-popular smooth version with a less-ergonomic handle
that doesn't seem to perform any better, but won't give you slight hexagonal impressions on your pancakes.)
I was pleasantly surprised by the Ozeri Green Earth ZP1-30 pan. There are a lot of small companies that import garbage made in China, with little concern for quality or durability. Ozeri seems to pay a little more attention, and we'll see why, below.
This pan is basically made in China. Ozeri claims that the ceramic is GREBLON ceramic, a formulation by the German company Weilburger. What Ozeri does not say is whether Weilburger supplies the ceramic, or merely supplies the formulation for the ceramic, which is then produced on-site in China along with the rest of the pan components. The only thing we know for sure is that the final assembly of the pan takes place in China. So for those who are trying to switch away from PTFEs (such as Teflon), you are basically trading concerns over PTFE for concerns about contaminants in the ceramic. If you don't like the idea of Chinese ceramic, I'd recommend the Berndes Vario Click line instead, which is completely made in Germany.
Although Ozeri's Green Earth Pan (the one in this review) is PTFE and PFOA free, Ozeri offers a misleadingly-named sister product, the Stone Earth Pan, which is just another PTFE pan. (Teflon is the most famous PTFE.) That's why Stone Earth is advertised as merely PFOA free–any pan that is both PTFE and PFOA free will almost certainly say so. If you're trying to escape PTFE, then the Green Earth pan (which I'm reviewing here today) is what you want. If you're interested, I wrote an article about PTFEs such as Teflon, here.
The ceramic has a honeycomb pattern to it, where you have slightly-raised hexagons, so food that is liquid-heavy may have a honeycomb texture imprinted into it. I haven't found this to be a real problem, even for soft foods like pancakes that take on a faint honeycomb pattern (see below). It's just cosmetic, tand some people might even like the honeycomb pattern.
However, due to the honeycomb pattern, it's harder to spread oil evenly in the pan. I have to work to get the oil to go into the little pockets formed by the honeycomb. Thankfully, as a nonstick pan, lack of even oil spread won't matter so much, because food will just peel right off the pan anyway, even if it didn't get as much oil to ride.
Overall Rating: 4.35/5 Very Good. For an explanation of ratings methodology, click here.
Cleanup: 5/5 Excellent. The combination of the honeycomb pattern and ceramic really works–the pan feels very nonstick and easily passed my "no oil added" egg test (to cut down on calories).
There have been complaints about ceramic that nonstickiness doesn't last, so I will update this review if the ceramic starts to lose its non-stickiness. (Update October 2015: after about 60 uses, the pan is still just as nonstick as when it was new. Potstickers, sausages, pancakes, veggies, fish, etc. don't bother it. However, I don't do any high-heat searing just in case that would create a buildup of baked-on oil. For high-heat searing I usually use a stainless steel pan to more easily see the fond–the crusty brown flavorful bits that you can use to make a pan gravy.) I've used this pan about 30 times now for eggs, potstickers, fish, and more, and the pan is still nonstick. Even if egg looks like it's stuck, you can just give it a nudge with a spatula. Nevertheless, it's a common problem among ceramic nonstick pans, so I fully expect the pan to eventually lose its nonstickiness. At that point I will soak it in Bar Keepers Friend for a while, scrub it off, and see if that solves the problem. I suspect that one of the reasons why some people claim that their pans quickly grow sticky is because a nearly invisibly-thin film of polymerized oil builds up. I expect BKF scrubs to merely delay the inevitable, though, because even ceramic cookware manufacturers admit that ceramic loses its nonstick properties after enough heating-cooling cycles.
A word about rivets: you can tell when a company has given thought to the design of a product by looking at the details. In this case, even the rivets are coated with ceramic. If a company produces a "nonstick" pan but fails to coat the rivets with the nonstick material, it makes me wonder what else the company is skimping on. And a lot of companies do skimp on coating the rivets with ceramic–even the higher-end brands like All-Clad
.
Durability: 3/5 Good. Due to the pan's rubbery handle, it's not oven safe to high temperatures. The ceramic will also inevitably chip at some point, because ceramic is brittle. (This is analogous to the problem that PTFE pans have, where the nonstick coating wears through.) Even if you don't use metal/ceramic utensils, at some point you may cook a T-bone steak or something and the bone itself could chip the pan. And you need to be careful to avoid stacking this pan without a pan separator, else the bumping and grinding may result in chipped ceramic.
Therefore I can't give the pan a perfect score.
On the plus side, the pan comes with a thin layer of magnetic stainless steel on the bottom of the pan, in addition to what looks like a thicker base than the ceramic-coated aluminum used on the sidewalls. That stainless disc should help the pan retain its shape and not flex/bend/warp–something especially important for those who cook or may in the future cook on glasstop stoves.
Update February 9, 2016: I noticed recently that my Ozeri pan will warp very slightly when heated so that the center is very slightly higher than the edges. Apparently that circular cutout at the bottom needs a re-design, because it's not helping keep the pan flat. For this, I'm lowering its Durability rating–though only a point because the honeycomb pattern does help keep oil in the center of the pan despite the slight crowning effect.

Even heating: 5/5 Excellent. The ample aluminum used in the design of this pan results in a very evenly-heating pan.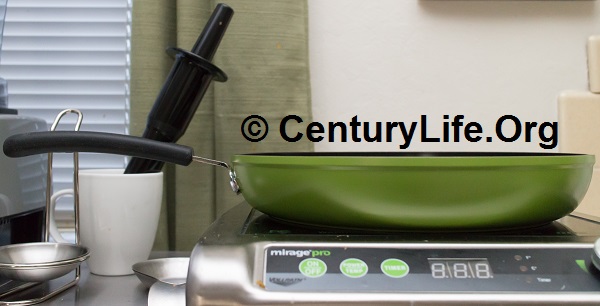 Handling and ease of use: 4/5 Very Good. I'm not a real fan of rubber-coated handles, as they never feel quite as clean to me as all-metal handles, and rubbery handles will eventually wear down over many years/decades, but the Ozeri Green Earth Pan handle feels reasonably comfortable. It's about 8 inches long and oven safe to 350F.
A helper handle would help in theory, but in practice, the pan isn't that heavy at only 1235 grams (2.72 pounds) empty. (For reference, an All-Clad Stainless 12-inch pan weighs 1265g or 2.79 pounds empty.) So I think it's okay that it doesn't have a helper handle.
Value: 5/5 Excellent. If you're okay with the Chinese/German provenance, then this pan is an excellent bang for the buck.
Versatility: 4/5 Very Good. This pan can cook on any heating surface including induction. Although it's dishwasher safe, I'd hand wash it only to be sure no plates or forks accidentally bang into it during washing. As a nonstick pan, it's very easy to scrub lightly and be done. I clean them up with a splash of water and a Scotch-Brite 3M Non-Scratch Sponge
.
The pan's flat cooking area is about 9.5 inches in diameter, which is about average or slightly above average for a 12-inch skillet–another pleasant surprise and sign that Ozeri didn't aim to cut corners, because a smaller floorspace means less material needs to be used, and some companies like to save pennies rather than give you more floorspace to fit more food.
CONCLUSION
Update February 9, 2016: I noticed recently that my Ozeri pan will warp slightly when heated so that the center is very slightly higher than the edges. Apparently that circular cutout at the bottom needs a re-design, because it's not helping keep the pan flat. For this, I'm lowering its Durability rating. What a shame, because this was a good pan otherwise.
I was expecting cheap garbage imported from China and instead got a much better pan than expected. The fact that it heats more evenly than T-Fal's best nonstick pan and has coated rivets tells me that Ozeri didn't try to sell the cheapest product it could import; instead, Ozeri wanted to set a higher standard for its pans.
What's amazing to me is how low the price is. For anyone looking for a non-Teflon/PTFE-coated nonstick pan, I would highly recommend the 12 Inch Green Earth Frying Pan with Textured Ceramic Non-Stick Coating from Germany (100% PTFE and PFOA Free)
.
Other Notes:
If you need a utensil that won't damage the pan, I'd suggest adding a steel-reinforced silicone turner because:
Metal utensils are too hard for nonstick, tin- and silver-lined pans; they will scratch the pan's lining. Metal utensils can chip ceramic-lined pans.
Plastic spatulas like nylon can soften/melt at frying temperatures.
Wood utensils will eventually stain and break down and isn't dishwasher safe, and the cheap ones disintegrate quickly. But it's a good option as long as you keep replacing them when they wear out.
Silicone is very durable.
After extensive testing, our recommendation is the OXO Good Grips silicone turner. This is also sold as the StarPack Ultra Flexible Silicone Turner set. Alternatively, get a pair of silicone-tipped tongs.
The skillets do not come with lids. Ozeri sells them separately: Ozeri ZP-30GL Green Earth Frying Pan Lid, 12-Inch
, Ozeri ZP-26GL Green Earth Frying Pan Lid, 10-Inch
, and Ozeri ZP-20GL Green Earth Frying Pan Lid, 8-Inch
. But to save money, I would rather just buy a universal lid such as this one.
FOOTNOTES