THE COMPANY
NOTE: As of 2021 this produt line appears to be discontinued.
Berndes (BURN-dez as pronounced in the USA, or BAN-dez in German), formally known as Berndes Küche GmbH, and formerly known as Heinrich Berndes Haushaltstechnik GmbH & Co. KG, is a German cookware manufacturer established in 1921 in Arnsberg, Germany.1 The Berndes family eventually sold the company to an investor that moved nearly 70% of production to China to cut costs, with underwhelming results. There was a January 12, 2012 news article on German broadcaster Deutsche Welle about how Berndes subsequently brought production back from China to Germany. The clip is below:
https://www.youtube.com/watch?v=12j0HVCxdY4
In the clip above, the managing director of Berndes, Marcus Linnepe, claimed that their Chinese outsourcing failed because the quality difference was too high, which sounds plausible considering that they outsourced to a Shanghai company that subcontracted with even more companies. He also claimed that Berndes could get higher prices for Made in Germany products in some international markets, including China. Apparently even Chinese don't like to cook with Chinese-made cookware if they can help it. Given China's history of melamine-laced milk and leaded paint, can you blame them?
Despite moving production back to Germany, Berndes company became insolvent in July 2012. On October 1, 2012, it announced that it had sold a 75% stake to Alluflon, an Italian cookware maker as part of a rescue package. Range Kleen has been the North American distributor for Berndes since 2009.
THE COOKWARE IN GENERAL
Enough about the company. Let's talk about the products. Berndes produces spun and vacuum cast aluminum pans, with apparently all of their high-end pans (such as SignoCast) being vacuum cast (among other things, cast aluminum is stronger than spun so should resist warping better).23
Berndes claims that its ceramic is cadmium, PFOA, PTFE & PFOS Free. Berndes also claims that it sprays magnetic stainless steel onto the bottom of their aluminum pans to make them induction capable. I've seen aluminum discs separate from the stainless steel endcaps on disc-bottom pieces of other companies before, so it seems that a sprayed-on stainless particle induction base might be more durable. Berndes claims it uses computer-aid stress tests on its cookware and spot checking to ensure top quality.45
Although ceramic is sometimes marketed as nonstick, Berndes specifically disclaims that ceramic is nonstick because it loses its nonstickiness over time:
Ceramic coatings are not directly comparable to non-stick coatings. Although they come with good non-stick properties at first, these decline after a short period of use and cleaning. This is normal! We recommend always using a few drops of oil when cooking, just as you would with stainless steel cookware.
Initially, ceramic coatings also have good non-stick properties which can be improved even further by using a little fat or oil. However, over time, the non-stick properties wear off, a process that is accelerated by cleaning in a dishwasher. For this reason, we recommend washing by hand. This is no problem, because the coating ensures even stubborn residues wash off easily.
Note: You can restore some of the nonstickiness by occasionally cleaning the ceramic pan with a little BKF or baking soda, though. This is because BKF and baking soda are very mildly abrasive and can clean off invisibly thin layers of cooking residue. (However, don't even think about using abrasives on PTFE/Teflon pans, as that will scratch up those pans.)
THE (DISCONTINUED) PRODUCTS BEING REVIEWED
Editor's note: These particular pans are discontinued for the USA market, but some of its closely-related cousins are still in production. The non-induction version is still available for sale
but has no sprayed-on magnetic stainless steel layer on the bottom. And the nonstick (Teflon-like) version of this pan has never been discontinued: Berndes SignoCast Classic
. The induction-compatible version of the pans I tested is now called Berndes Vario Click Pearl Induction
. Since Berndes claims 6 mm (bottom thickness) cast aluminum for all of these product lines, presumably they all perform similarly to each other.
Lastly, it can be hard to find a 32 cm (12.6 inch) lid. My imperfect solution was to buy a 32 cm glass lid. Berndes makes them (Berndes Tradition 13-Inch Glass Lid
), but the cheapest reputable 12.6-inch lid I've found is Scanpan Classic 12-1/2-Inch Glass Cover
. I can vouch for that one as I use it personally; it is well-built. Alternatively, just get a universal lid.
Both pans I am reviewing are 12.6 inch (32 cm) interior top diameter: a saute and a skillet.
First, the saute pan. Apparently I have an older model of Berndes's SignoCast Pearl Ceramic saute pan with screwed-on detachable, plasticky handle (bakelite as far as I can tell). The handle is reinforced only where it connects to the pan proper. It can't be older than 2009, because that's when Berndes started making pans with spray-on stainless steel particles on the bottom for induction compatibility.
Second, my frying pan. My frying pan looks like a prototype EcoFit, which appears to be the same thing, but thinner-base, with metal-reinforced handles around the hole in the handle, perhaps because hanging such heavy cookware via phenolic handles was prematurely breaking them. Berndes's newest line of ceramic-coated cast aluminum cookware is basically the same thing as EcoFit, but with a "Vario Click" detachable handle that attaches/detaches in seconds for times when you need to transition from stovetop to oven or vice versa:
(It bears mentioning that I've felt two different version of these ceramic-coated pans. The ones I got had a glassy feeling to them, similar to high-end enameled cast iron. Beware of inferior "factory seconds" models out there with unbelievably thin coats of ceramic and a rougher/bumpier feel as well. In some cases, the aluminum was actually showing through. Avoid those semi-defective pans like the plague, because those bumps are stress points and the ceramic will fail there quickly. And let's hope those were simply factory seconds and not indicative of Berndes's quality going downhill.)
Both pans are quite heavy. The saute pan is 2.10kg, and the frying pan is 1.70 kg. That's 4.62 pounds and 3.74 pounds, respectively. The handles are lightweight with some metal reinforcement near where they meet the pans. The thin spray of magnetic stainless on the bottoms probably don't contribute that much weight, either. Thus the pans probably contain something like 1.9 kg and 1.5 kg of cast aluminum, respectively. The saute pan does come with a helper handle as part of its cast aluminum body, so the helper handle will get hot on the stovetop. I'd rather have hot handles than rely on screwed-on plastic handles though. The frying pan does not have a helper handle, which seems to be an oversight in my mind, given that a full pan may weigh FAR more than the empty weight of 3.74 pounds.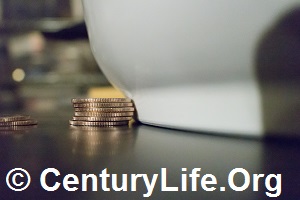 The pan thicknesses are difficult to measure. Berndes claims on their website that they utilize 6 mm thick cast aluminum of particularly high grade, but they don't specify further. I'm going to take that as puffery and assume that they are really just using industry-standard 3003/3004 aluminum, but perhaps they really are using a more heat-conductive grade of aluminum, or even commercially pure 1000-series aluminum, which is the most heat conductive of all aluminum alloys.
As you can see in the photos, the saute pan's bottom is far thicker than the frying pan's bottom, and their handles are different, too, which leads me to believe that Berndes started off with cast aluminum well over 6 mm thick and subsequently scaled it down to 6 mm for later models. Apparently I got one of their earlier, thicker models for the saute pan and one of their later models for the frying pan.
Sidewall thickness is roughly 3 mm. The thick plate of aluminum slapped onto the bottoms of these pans is difficult to measure. I used stacks of coins to guesstimate that the frying pan has a little over two quarters' worth of aluminum (two quarters is 3.5 mm). The saute pan has about SIX quarters (10.5 mm). What are we up to, ~12.5 mm of aluminum, assuming 0.5 mm of ceramic coating on each side? That's a monstrous amount of heat-spreading power–most stock pot disc bases are between 4 mm and 7 mm thick–at the cost of having longer pre-heating and cool-down times. The saute pan is not something that gives you fast reaction to turning up or down the heat, that's for sure. (To cool it down faster, lift it off the hob and put it onto an unused hob.)
In fact, so much aluminum should be comparable to common thicknesses of cast iron in terms of heat retention. Pound for pound, aluminum has twice the heat capacity of iron.6 Thus a 1.9 kg aluminum pan should have the heat capacity of a 3.8 kg cast iron pan. This means you can toss in cold steak and not have the temperature drop like a rock, like you see with thin aluminum pans, and this gives you better browning. And since aluminum has terrific heat conductivity, you also get very even heating compared to cast iron: whatever heat you do lose from tossing in that cold steak gets replenished quickly and evenly. The downside is that the massive heat capacity means it takes a long time to heat and to cool down. If you need to cool down quickly, don't thermally shock it with cold water, as it might damage the ceramic. Try setting it on an unused burner.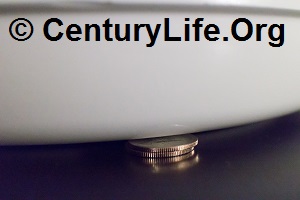 In my thermal testing, both established themselves as some of the most even-heating pans I've tested so far. (I don't list them on the thermal rankings because I try to standardize around 28-32 cm diameter frying pans for testing, and both Berndes pans are 32 cm which handicaps them because they have to spread heat a farther distance. Despite that handicap, the Berndes pans easily beat out almost every 28-30 cm pan.)
Both pans are relatively nonstick, though ceramic pans have a long history of losing their stickiness over time, so only time will tell how well they retain their nonstickiness. Even Berndes states that ceramic will become stickier over time (see above).
That said, I believe that most people do not clean their pans as well as they think they do. It's easy to see this on stainless steel or other shiny metals, because even very thin layers of hard water or oil will look relatively dull. PTFE pans are so slippery that baked-on oil will scrub off relatively easily. But ceramic is not as shiny as metal and not as slippery as PTFE, nor is it supposed to be seasoned like cast iron (else why bother with ceramic rather than get a cheap cast iron pan in the first place?), so it's possible that many people who complain about sticky ceramic actually have a thin film of baked-on oil in their pans. In such cases, a healthy dose of Bar Keepers Friend should restore some or all of the nonstickiness.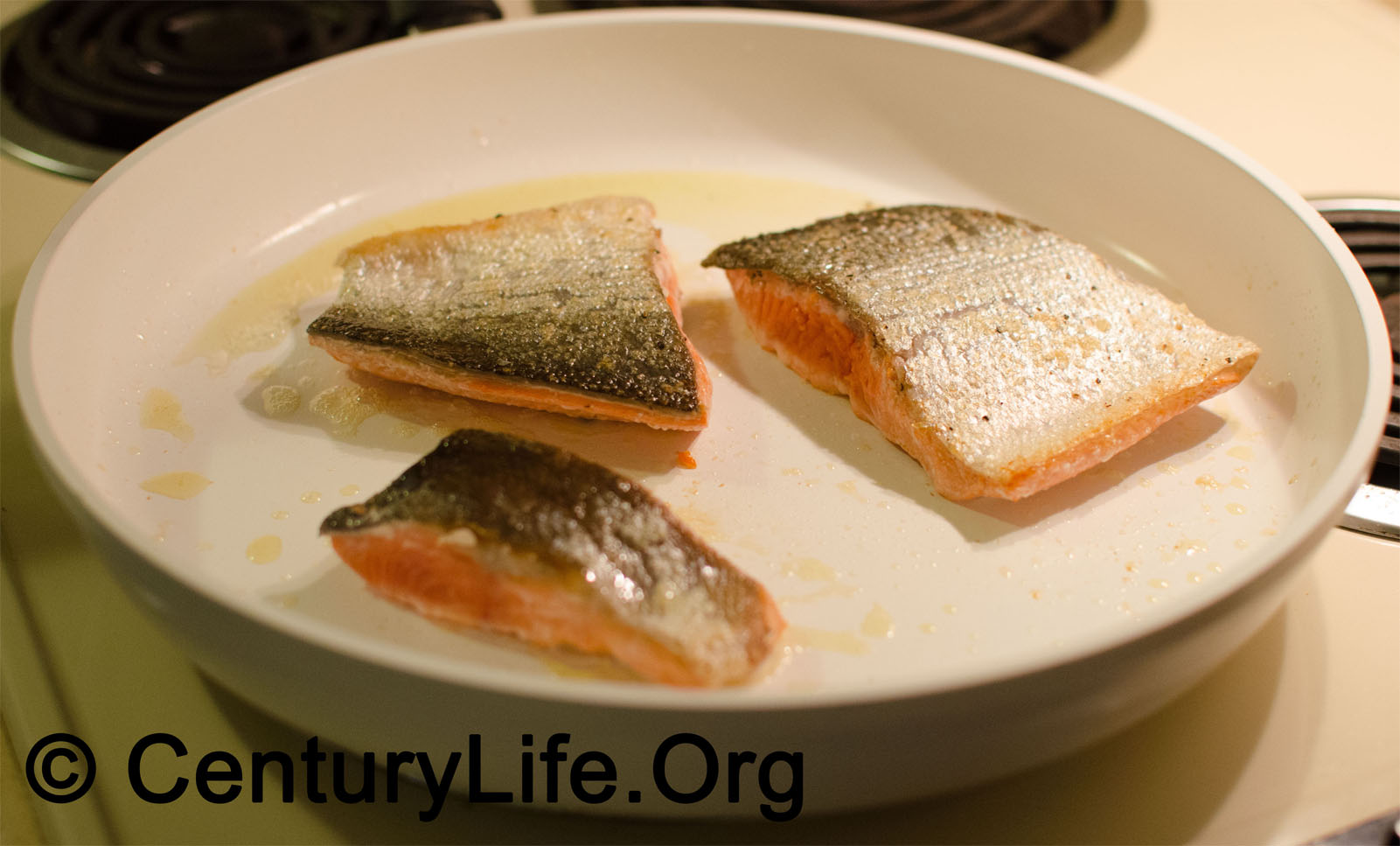 RATINGS
For an explanation of ratings methodology, click here.
Berndes 32 cm SignoCast Pearl Saute Pan Overall Rating: 3.9/5 Good.
Cleanup: 5/5 Excellent. Ceramic is very hard and even burned-on material should go away with a dose of Barkeepers Friend. Although the company disclaims nonstickiness, I've used the pans dozens of times and so far they are still fairly nonstick and definitely way less sticky that most stainless steel.
Durability: 3/5 Good. Impacts will chip the ceramic, but otherwise it seems durable, and the company brags about its machine stress testing tests. Ceramic is basically immune to acidic and salty foods, much more so than almost any other non-enamel/glass/ceramic cookware material, but any exposed aluminum (due to chipping) is vulnerable. Very thick cast aluminum construction with steel bottom should easily resist warping.
UPDATE November 2014: My Berndes frying pan has developed a small hole on the bottom, about 1 mm wide. I have no idea how the ceramic flaked off there, but it did. I mainly cook eggs and fish in it. Perhaps a fish bone caught on a microbump and cracked off some ceramic? Who knows? I'm taking another point off Durability, though, as well as 2 points off Value, because this impacts the longevity of the cookware. I also updated the Overall rating.

Even heating: 5/5 Excellent. Superb, at the very top of the rankings. The super-thick aluminum also does a good job of retaining lots of heat, so it will not crash in temperatures as much as thin aluminum. This means more time spent in the temperature range that produces tasty Maillard reactions.
Handling and ease of use: 3/5 Good. The helper handle is a necessity, and it helps, but it is definitely NOT stay-cool so you will need to use a wet towel or something. Theoretically these pans are dishwashable, but I would not risk it because once it starts chipping, there is exposed aluminum and detergents may start eating away at the aluminum. Handles are not oven-safe past 350F unless you unscrew the handles.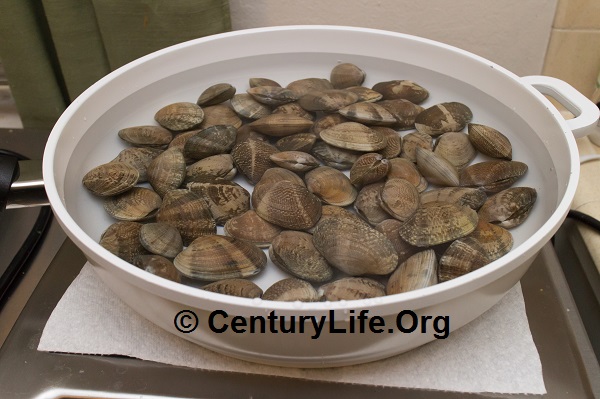 Value: 3/5 Good. The retail cost for these is over $100, but considering the product's excellent performance and non-PTFE nonstick ceramic cooking surface and induction capability, it's not a bad buy at all, especially if you need large surface area for searing/browning. I also use the saute pan for soaking clams in saltwater to encourage them to spit out sand, since salt water can eat away at stainless steel over time.
Versatility: 5/5 Excellent. You could fry or saute, eggs and fish are no problem, and the capacity is such that it could even be used as a (rather flat) casserole/dutch oven if you have a large enough cover. Ceramic resists acids and salt so corrosion is not a problem. The thick sidewalls make it possible to cook thick stews without as much risk of burning. One downside is how few 32 cm steamer inserts there are. I did have to knock off a point under "Handling" because it's not easy to use in the oven.
Berndes 32 cm EcoFit Pearl Frying Pan (Skillet) Overall rating: 3.65/5 Good.
Same ratings as for the saute pan, except lack of helper handle lowers its Handling and ease of use score to 2/5 Poor. Such a large, heavy 32 cm frying pan really needs a handle, especially for particularly heavy foods. The 32 cm surface area provides a ton of space for searing, which is a good thing if you are cooking lots of food. As mentioned above, it's significantly thinner than the saute pan for some reason, but still performs extremely well. I do not worry about uneven heating–even when frying fish at the edges of the pan.
CONCLUSION
Ceramic nonstick doesn't stay nonstick forever, and it will chip off eventually, but you can partially counter that with period BKF scrubbing and using a bit of oil when cooking. This pan is exceptionally even heating, holds a great deal of heat for better browning, and isn't that heavy given how well it performs thermally.
If you need a utensil that won't damage the pan, I'd suggest adding a steel-reinforced silicone turner because:
Metal utensils are too hard for nonstick, tin- and silver-lined pans; they will scratch the pan's lining. Metal utensils can chip ceramic-lined pans.
Plastic spatulas like nylon can soften/melt at frying temperatures.
Wood utensils will eventually stain and break down and isn't dishwasher safe, and the cheap ones disintegrate quickly. But it's a good option as long as you keep replacing them when they wear out.
Silicone is very durable.
After extensive testing, our recommendation is the OXO Good Grips silicone turner. This is also sold as the StarPack Ultra Flexible Silicone Turner set. Alternatively, get a pair of silicone-tipped tongs.
FOOTNOTES