Cooking surface: 2/5 to 4/5 (Poor to Good depending on the exact formulation; numerous reports of stickiness even for allegedly nonstick ceramics; on the other hand, enamel/glass/ceramics are mostly non-reactive with food)
Conductive layer: 1/5 Very Poor (enamel/glass/ceramic is a terrible heat conductor by itself)
External surface: 3/5 Fair (chipping is common, but careful usage and buying only thick, high-quality EGC can go a long way)
Examples: Fontignac, Le Creuset, Lodge, Staub, Pyrex, Corning Visions
Health safety: 5/5 Excellent (non-reactive)
—–
DESCRIPTION AND COMPOSITION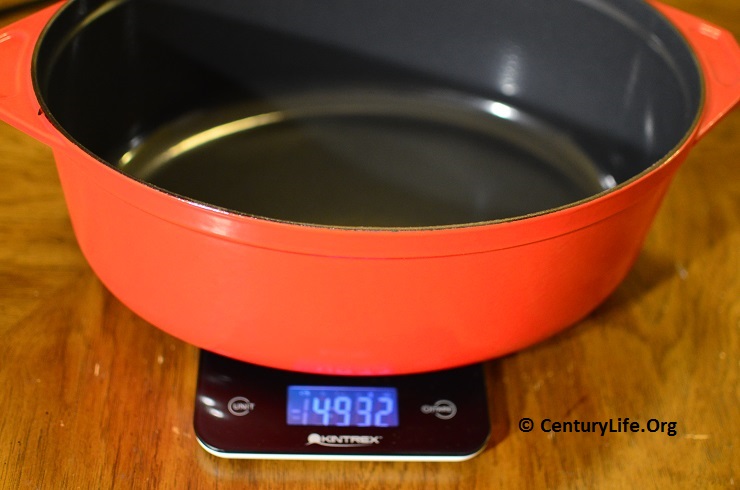 Glass is non-crystalline material like Pyrex, made from sand/stone/soil. Glass is hard, brittle, and impermeable.
Enamel is powdered, melted glass used to coat something else, such as enamel coating over cast iron.
Ceramic is a general term which encompasses stoneware, porcelain, and earthenware. Ceramics are hard, brittle, and impermeable like glass. Stoneware and porcelain are examples of clays fired to high temperatures.
Stoneware is fired clay and is opaque and more or less nonporous and nonabsorbent (2-5 percent absorption). Like glass, it is hard, brittle, and impermeable, so water and air can't fully penetrate.
Porcelain is a special type of high-grade stoneware that uses kaolin clay. Porcelain is more durable than other stoneware and is nonporous, translucent, and especially nonabsorbent (0-1 percent).
Earthenware is not fired as high as stoneware. Earthenware is not impermeable, so liquids can get through eventually. It should not be used as general-purpose cookware. We won't be considering it further.
For purposes of cookware, enamel, glass, ceramic, and stoneware are all basically the same thing: nonmetallic, hard (some are harder than many metals, including stainless steel), brittle (more likely to chip, fracture, and shatter than most metals), and terrible heat conductors, with low coefficients of thermal expansion.
As a group, enamel, glass, and ceramic (hereafter referred to as "EGC" or "EGCs") has horrific thermal conductivity about two orders of magnitude worse than metal cookware. (Copper cookware is around 200 hundred times more thermally conductive as enamel, for instance.) This makes EGCs the least-even heating cookware on the market today.
So why do people use EGCs at all? Simple.
– For ovens and steaming/boiling, even heating matters less because the food will be evenly heated by air and water (vapor). It should be fine to use Pyrex in ovens, for instance. However, EGCs are rarely if ever used on stovetops because they do not heat evenly at common thicknesses. If someone made an all-ceramic pot 30 cm thick, it still would not heat as evenly as a few millimeters of aluminum or copper and would take hours to bring up to frying temperatures. Years ago, Corning made a line of glass stovetop cookware ("Visions") that failed in the marketplace, perhaps because of its poor stovetop heat transfer. Some people have also reported that Visions cookware has a habit of shattering as it heats up or cools down, perhaps after microscopic scratches accumulate over time.
– For cooking methods that demand even heating, the entire cookware does not need to be made from EGC. For instance, cast iron is pretty bad as a heat conductor relative to copper and aluminum, but not so bad that cast iron can't be used for stovetop cooking. Coating cast iron with EGC gives you the thermal conductivity of cast iron coupled with the useful attributes of EGC (see below).
COOKING
EGCs are useful for cooking because:
1) EGCs are corrosion-resistant. Corrosion resistance is especially important for several-hour-long braises with acidic and salty food, which can damage stainless steel. Acidic and salty foods can't penetrate the EGC cooking surface and thus your food will not get off-colors/odors. In fact, you can store acidic and salty foods in EGC cookware indefinitely, making it the ultimate one-pot mealmaker (saute onions for a stew, cook the stew, and store the stew all in one pot).
2) EGC is harder than many metals and will resist dings up to a certain point, after which EGC will crack instead.1
3) EGCs have high specific heats. Cast iron has high heat capacity for a cookware metal, at roughly 0.45 J/gK specific heat. EGCs double that, making them suitable for holding heat for a long time. This is more of a factor for cookware that is 100% EGC.2
4) Some EGCs are marketed as nonstick, though not as nonstick as PTFE. How durable these surfaces are remain to be seen, as many people have complained that the nonstickiness does not last. On the other hand, those people might not be cleaning their cookware as thoroughly as necessary to retain nonstickiness.
5) Some people reject every other cooking surface. Some people listen to scaremongers claiming that all other cookware material is toxic, save perhaps for pure titanium which is biologically inert (and extremely expensive, especially if you want it at extremely high levels of purity). "Coincidentally," some of these scaremongers sell EGC-coated cookware at exorbitantly high prices.
While it's true that PTFEs like Teflon can have problems with offgas and decomposition into toxic gases, and bare aluminum is not the healthiest thing to cook on, and eating seasoning is not good for your health, and some people have allergies to the nickel in stainless steel, so the leaching of even minute amounts of metal affects them, you would have to be allergic or deliberately abusive (e.g., by eating chunks of seasoning off your cast iron pan) for those cookware materials to harm you. Remember, most restaurants use cheap aluminum or even nonstick cookware, blenders use stainless steel blades, and aluminum is ubiquitous in our environment. Furthermore, EGC may contain lead or other heavy metals that may leach into hot food, and a lot of EGC is made in places that may not have the strictest quality control.3
There is a saying among toxicologists that the "dose makes the poison," meaning small amounts of a chemical may be neutral or even positive for your health, even if larger amounts injure your health. For instance, copper is necessary for life; you will die without enough copper intake. Yet overdosing on copper can kill you. Similarly, water is necessary for life; you will die without enough water intake. But you can overdose and die on water. This is not a myth; people have died from drinking too much water in too short a timespan.4 Yet you wouldn't consider water toxic, would you? Of course not.
CARE
Treat your EGC cookware like glass and you will be fine. This means:
Don't bang EGC against hard surfaces like a steel sink or the side of your stove. Impacts will increase the chances of chipping/fracturing.
Don't subject your EGC to thermal shock. Avoid heating your enamel-coated cookware on high heat; use lower heat to reduce the chance of fracturing. Also, moving EGC from oven to freezer is bad for both the cookware (increases chance of shattering) and freezer/freezer contents (your freezer's motor has to work overtime to cool down the EGC; in the meantime the contents of your freezer will go up in temperature, potentially to unsafe levels).
Conversely, moving EGC from, say, freezer to microwave is asking for trouble as well. This goes double for moving EGC from freezer to stovetop, since stovetop temperatures can be several hundred degrees F. If you need to quickly thaw something, put it on top of a thick aluminum or copper plate, which should transfer lots of heat into the EGC faster than air would.
As for ceramic nonstick cookware, many consumers claim that ceramic loses its nonstick qualities within months of heavy usage. My own studies on this subject are inconclusive, and I suspect that what is really happening is oil polymerizes onto ceramic pans over time in invisibly thin layers. At some point that will cause the ceramic nonstick pan to become a ceramic sticky pan until the polymerized oil is removed via hard scrubbing and probably some cleaning agent such as Barkeepers Friend.
Special note about Pyrex: Most Pyrex cookware/bakeware on the market today is not like the old borosilicate pyrex of old. Modern Pyrex is made out of soda lime glass and can take more dings before shattering. When soda lime glass shatters, it can disintegrate into lots of small pieces, unlike borosilicate glass, which tends to split into big pieces. Soda lime glass also doesn't resist thermal shocks as well as borosilicate glass (e.g., going from freezer to microwave). However, soda lime glass is much cheaper to manufacturer than borosilicate glass, too, by a factor of 4 (in 2013). If you prize thermal shock tolerance, consider Lock&Lock Boroseal airtight glassware
. Boroseal tends to be thinner than Pyrex (probably due to the high cost involved), and you need to be more careful to avoid dinging and chipping borosilicate glass.
Q: Is enamel safe to cook on? Is glass safe to cook on? Is ceramic safe to cook on?
A: If the enamel, glass, or ceramic is contaminant-free, yes. Sometimes you have consumer advocates claiming that ceramic cookware contains contaminants like heavy metals or whatever, but then it turns out that the contaminants are on the outside of the pan and not the inside (though maybe that's not enough to be safe, for those who stack pans on top of each other), or something like that.5
Q: How should I take care of my enameled cast iron to keep it from chipping, cracking, or rusting?
A: Follow these steps:
Buy some Crisco shortening (the solid stuff). Alternatively, buy some flaxseed oil. You don't need much, so a small bottle like this will be more than enough (you can add the rest to your meals to get some healthy omega-3 fatty acids).
The first thing to do with a new enameled cast iron pot is to wash and rinse it off, then towel dry it, then heat it up on a stove or in an oven to the point where's its warm to the touch. This ensures that the cast iron is clean and ready for seasoning.
Preheat the oven to 500F and stick your Dutch oven in there for a minute.
Take out the Dutch oven. Open up your Crisco or flax and using your a dry cloth, try to make the thinnest possible coating of flax oil around the exposed rims of the Dutch oven and lid. The layer should be so thin as to be invisible. Wipe up any excess with a dry cloth towel. Your pan should look basically dry–that's how thin of a layer of Crisco/flax you want.
Bake the enameled Dutch oven and lid at 500F alone for at least 90 minutes. Make sure nothing else is in the oven, and that it's dry.
Let the Dutch oven and lid rest and cool down.
Repeat steps 4 through 6 at least one more time, preferably at least three more times.
Congrats on seasoning the exposed cast iron on the rims of your enameled cast iron. The tough coats of polymerized Crisco or flaxseed oil will help prevent rust.
When washing and drying your enameled cast iron, remember to wipe the rims. To be extra safe you can even warm up the cast iron on the stove for a while to make sure any microscope remnants of water evaporate.
Avoid large temperature swings, such as taking it out of a hot oven and pouring cold water into it. Never use high heat on your stove. Use low or medium. If even heating on a stovetop is an issue (because cast iron doesn't spread heat that well, and the issue gets worse the more undersized the burner is relative to the Dutch oven bottom diameter), try pre-heating the entire Dutch oven in an oven first to get more even heat, and then transferring the Dutch oven to your stovetop. If that seems like too much hassle, try using a Kuhn Rikon heat diffuser of appropriate diameter. The 9.5-inch diameter version is cheaper and already helps substantially. If your Dutch oven has a maximum diameter of more than 11 inches (especially common for oval Dutch ovens), then go for the 11-inch diameter heat diffuser instead. However, note that neither heat diffuser is induction-compatible. You can try using an induction-compatible cast iron heat diffuser (cast iron under your cast iron pot, hah!), but that is going to make heating up your Dutch even even slower. Cast iron and induction don't mix well because most induction is single-ring and thus highly stressful, and there is no good induction-compatible heat diffuser to help. You can use cast iron on induction, but the lower the heat setting the better–it gives your cookware more time to distribute the heat throughout the entire vessel.
Never drag your Dutch oven across hard surfaces like stainless steel, ceramic, or the grates above your burners. Enamel is very hard but also brittle and can chip.
Never use metal utensils on the interior ceramic, either. Use wooden or silicone utensils, which are unlikely to fracture the enamel.
If you burn something on your enameled cast iron, try cleaning it with an overnight soak. If that doesn't work, try boiling two cups of water with two tablespoons of vinegar for half an hour. Open a window and turn on your vent because it will smell horrible. Some people prefer using baking soda and making into a paste and scrubbing, but baking soda is abrasive and can dull the enamel over time if you keep using it. Bar Keepers Friend is a nontoxic cleaning powder which also works, but it is also very slightly abrasive. If you are in a big rush, you can use oven cleaner but wash and rinse extremely thoroughly as that's very harsh stuff.
Back to A No-Nonsense Guide to Cookware Materials.
FOOTNOTES