WHY DO WE WANT EVEN HEATING AND WHAT CAN WE DO ABOUT IT?
The main job of the stovetop cookware is to smooth out the uneven heat coming from the burner underneath so that the cooking surface of the cookware is the same temperature. If you have too much of an imbalance in temperatures, you wind up with hot or cold spots that can undermine your dish and your health by leaving some food overcooked and some food undercooked. You may even scorch oil and produce carcinogenic smoke, if some hotspots grow hotter than the oil's smoke point. If you've ever cooked fish where part of a fillet got overcooked while the rest was undercooked; if you've ever made rice and had some undercooked while the rest burned; if you've ever burned part of a strip of bacon while waiting for the ends of the strips to be done, then you've already experienced the joy of uneven heating.
A second job of cookware is to hold that heat so as to maximize Maillard reactions. These reactions take place at higher temperatures. Thus if you have a flimsy pan and tossing in a steak crashes the temperature, that will mean more steaming/boiling of your food and lower Maillard reactions, resulting in less-tasty food.
The larger the diameter of your cookware bottom relative to the diameter of the flame or heating element or induction coil, the bigger the uneven heating problem can be, since heat has to travel a longer distance to reach the sides. (This is less true of gas, since hot gases can roll up the sides in all directions and naturally smooths out heat somewhat, but as we shall see in another article, the problem can persist. Also, gas and induction rings can produce a problem where the pan's center is colder than the hot circle directly above the gas/induction ring.)
There are various ways you can attempt to fix the problem of uneven heating:
1. Buy a bigger burner. If your current burners aren't cutting it, you can go shopping for a new cooktop/range, but that can be expensive. (I have written an in-depth discussion of various cooktop/range technologies.) You can also buy portable gas, electric, and induction burners, but most cheap portable burners will have smaller effective areas than full-size cooktops/ranges.
2. Buy better cookware. This can get expensive, but if you buy durable cookware, you effectively spread the cost out over many decades. I will be posting my measurements of various cookwares' even heating ability on induction/electric. Gas results are also available.
3. Continually move your food. Continual stirring ensures that each ingredient spends time in the hot spots. This method works for some foods, but you run into problems if you have to tend to multiple tasks in the kitchen at the same time or get distracted, say, by a pet or kid or cookbook. Furthermore, you can miss spots like the hard-to-reach area at the edges, like chasing peas around the perimeter with your spatula. Some food can't really be stirred, such as eggs and fish. And some food is sticky and does not like to be prodded continually, like potstickers. In fact, fish and meats like to stick-and-release and make fond (tasty stuck on brown bits packed with Maillard reactions) on surfaces like stainless steel. You disturb that process if you keep stirring.
4. Preheat your pans slowly. This solution is imperfect, because a) cookware radiates heat, so there comes a point where if you heat something too slowly, you might as well not heat it at all because it will lose heat to the surrounding air as fast as you pump in heat from the burner below; b) you waste a lot of time and possibly energy; and c) if you toss cold food onto that pan you babied into evenness, then pan temperature will drop, so you may need to crank up the heat again anyway. For really bad thermal conductors like cast iron, no amount of coddling on the stovetop will make them even heating, but you could preheat them in an oven. However that eats more time/energy/money as oven heating is far less efficient than stovetop heating.
5. Cook everything in the oven or with boiling water or with steam. Ovens heat evenly (heat comes from all sides into the dish). Hot/boiling water or water vapor also heats evenly, because the water or water vapor heats from all sides–eventually, anyway. But not everything can be cooked using these methods, which limits the kinds of foods you can prepare (and how you can prepare them). Furthermore, electric ovens are energy-inefficient ways to cook food, though gas ovens aren't so bad.
6. Buy a large slab of aluminum or copper to cover up your stovetop burner and thereby make a relatively even heating surface for your cookware. This works in theory, but in practice there are a lot of drawbacks, so I don't recommend it. The short story is that it takes much longer to heat up stuff, and the copper will develop a matte brown to black crust that is hard to remove, though if you drop boiling water on it while it's hot, the crust may fracture and reveal the copper underneath. Aluminum won't develop such a nasty crust, but aluminum melts if you forget about a pot and overheat the aluminum, resulting in melted aluminum dripping down beneath the grate.1
WHY YOU SHOULD BE SKEPTICAL ABOUT CLAIMS THAT ALL COOKWARE IS EVEN HEATING
If you look at online reviews, virtually everybody claims that the cookware they use is even heating. However, they don't specify what kind of heating levels they use. Low heat on gas is much more forgiving than high heat on induction, for instance. E.g., cast iron heated on very low heat on an electric coil burner as large in diameter as the cast iron may be as even-heating as All-Clad stainless heated on high on a severely undersized single-coil induction burner. But is that fair? Of course not. The deck is stacked in favor of the cast iron in that case.
Even supposedly professional review sites don't seem to understand thermodynamics. For instance, one site that shall go unnamed reviewed cast iron and used recipes that called for putting the pan into the oven. Based on those tests, they claimed that the cast iron was even heating. But anything thrown into an oven will be even heating, because the oven is subjecting the cookware to heat from all sides! Similarly, water boils evenly in any cookware, because the water itself will move heat around and smooth out any temperature differences at the bottom of the pan.
CONCLUSION
So by now we know that even heating matters because you don't want a hotspot that will smoke your oil while the rest of the pan isn't hot enough; or undercook or overcook portions of your food. We also know that heat retention matters for large steaks, fillets of fish, etc. because they will crash the pan temperature down below the range required to produce tasty chemical reactions (Maillard reactions).
How are we to evaluate cookware thermally, then?
What you really want to do when testing cookware for even-heating ability is to stress test it under realistic scenarios. You want realistic tests such as my induction tests and gas tests which subject cookware to medium-low and medium-high heat (about the equivalent of 5900 and 12000 Btu/h). These are not unusual situations for home cooks–most of us have seared steaks or sautéed veggies at medium to high heat before, and we know that you can't do a proper job of it at low temperatures, so we can't coddle our cookware using low heat. And most of us don't cook with big, restaurant-grade gas ranges. Many of us rent or own homes that have undersized burners that don't heat as evenly.
As for thermal retention, that's more difficult to test, so I just literally cook large amounts of meat or fish in pans in my product reviews and give a qualitative assessment of how they perform.
I'll end this entry with some an illustration of how uneven heating looks in a real-life scenario. Below, you can see a 2-minute time lapse of how poorly an enameled oval cast iron dutch oven heats up on medium-low heat (790W induction). Even after two full minutes, the central "O" still has not closed, unlike most other cookware I've tested. In comparison, you can see what a pan with 2 mm of copper disc base looks like after just one minute of medium-low heat (790W induction). Cooking food means you need continuous energy being pumped into the cookware, so we can already tell that that cast iron won't cook as evenly as the copper-based pan.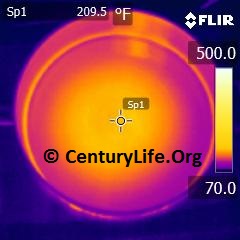 FOOTNOTES
Years ago, I tried this method for a while on an electric coil stove. I gave up on it. Inevitably, bits of food or oil will find its way to the slab somehow, and even if you use smaller discs, eventually something will boil over or dribble down the sides. Aluminum slabs can melt when used on high heat or if you forget about a pot that then boils dry. If it's a copper slab, it will accumulate a tough-to-clean black surface if you use it on high heat, like for searing. Even if you do not burn food onto that blackish oxide, weird stuff starts happening, e.g., drops of boiling water hitting a hot, blackened copper slab will result in those drops disintegrating part of that blackish oxide layer, sending small black particles in different directions. Lastly, a slab dramatically lengthens the time it takes to heat a pan, since you have to heat both the slab and the pan and punch through the insulating pockets of air that are trapped between the slab and the pan (unless both the slab and the pan are mirrorlike, they aren't smooth and will trap tiny pockets of air). This means using more gas/electricity and heating your kitchen up more. A thick slab also remains hot for a long time, which may be a safety concern if you have kids or pets, and it may shorten the life of electronics underneath your burner if you have such a cooktop.

The long story:

First the good news: you do get more even heating, and if your gas burner is too strong even at the lowest setting to simmer, then a heat-diffusing slab of metal can fix that problem.

Everything else is bad news:

– High stovetop temperatures can melt aluminum. Forgetting about a pot and letting it boil dry goes from becoming a nuisance (at worst you just warp one pot) to being a nightmare (molten aluminum all over your burner). Copper won't melt on typical residential stovetops, but it develops a nasty black crust that won't scrub off easily even with Bar Keepers Friend, vinegar, lemon juice, or other acids. Even steel wool won't take all of it off. If you've ever seen the black underside of a heavily-used pan, it looks like that. I've observed that the black crust can disintegrate when struck with water while the slab is very hot, which sends little black particles all over the place. It does help clean that one small area where the water droplet fell, though.

– Slabs act as semi-insulators (relative to aluminum and copper, which are the most common materials used in cookware to conduct heat). They blunt and deflect some of the burner's heat instead of transferring it to the pan. You experience this as waste heat and higher kitchen temperatures. How this happens: Metal is rarely perfectly level and is never perfectly smooth. If a piece of metal doesn't look like a perfect mirror, then it has microscopic peaks and valleys. Put two such pieces together and you trap little pockets of air between them. Air is a terrible heat conductor: 10,000 to 15,000 times worse than copper. (See http://en.wikipedia.org/wiki/List_of_thermal_conductivities) In fact, air is considered an insulator. The less metal-to-metal contact, the more air pockets and the worse the problem. In order to achieve the same temperatures in cookware as you would without the slab in place, you would have to crank the burner higher and force more heat through the slab and into the pan. This generates more waste heat (hot kitchen air). As a hypothetical example, a "medium" setting with just the pan might reach 400F max, but if you place a slab in-between the burner and the pan, the same "medium" setting might only get you to 330F max. Therefore to reach 400F you would have to increase the burner power above "medium."

The problem of air gaps between flat metal plates is not unique. In the computer industry, high-performance computer processing units (CPUs) can burn out within minutes if uncooled. Such CPUs are mounted to heatspreaders, which make contact with aluminum or copper heat sinks with fans blowing across the heatsink in order to more quickly dissipate heat. To fill in the air gaps, computer builders use thermal paste ~50 times more heat conductive than air. (Copper is about 13,000 times and aluminum is about 5,300 times more heat conductive than air.) (A typical thermal compound might have thermal conductivity of 1.5 W/(mK), compared to 0.03 W/(mK) for air, 160 W/mK for 3003-H14 aluminum alloy, and about 385 W/mK for copper. Id. Also see Thermal Properties of Metals)

A computer enthusiast site found that a CPU generating 95 watts of heat went from 26C to 88C when there was no thermal paste used in-between the CPU's top surface and the bottom surface of the heatsink/fan–and that's with a large aluminum heatsink with lots of fins clamped down tightly onto the CPU, with a large fan blowing air continuously through it, and low wear and tear on the metal. Despite all these advantages and the low wattage involved, the CPU was roasting at 88C (62C above room temperature) because the heat struggled to punch through the air pockets.

Analogously, if you heat a slab of aluminum or copper and set a pan on top, then heat tends to build up in the slab as the heat has to punch through the air pockets. Instead of a CPU roasting, you have the slab heating to a much higher temperature than the cookware on top. A piece of cookware also probably has a lot more dust/grime/scratches resulting in even more air pockets and thus even more of an insulator effect.

In the CPU case, a decent thermal paste decreased the temperature difference from 62C to ~35C.

In the cookware-on-slab case, temperatures are far higher and would break down most thermal pastes. Even if you had a paste that could tolerate extreme temperatures, you would have to re-apply the paste each time you separated the pan and slab (e.g., when you want to clean the pan).

– Metal slabs retain a lot of heat. This is because they get hotter and stay hotter than just the pan by itself (see above). This is not necessarily a problem and can even benefit a flimsy pan that would otherwise crash in temperature too hard when food is added. However it's an additional danger for little kids and pets, and if you're using a heat diffuser that has magnetic material in it on an induction cooktop, it will keep the ceramic surface a lot hotter a lot longer. Electronics wear out faster when subjected to heat due to electromigration (basically electrons start going where they are not supposed to go as circuits get damaged), so hot, prolonged preheating and post-cooking times can shorten the lifespan of the electronics and fans in your induction cooktop.

– Just like pan can warp over time if rapidly heated or rapidly cooled, slabs can warp, too, and are subjected to higher temperatures due to being hotter than the pan above. The thinner the slab, the more quickly it will warp (bend/flex). Warping will exacerbate the problem of making good contact between the pot and slab–the more the warping (in either the slab or the pan), the less metal-to-metal contact. Thicker slabs have their own problems, though, such as even longer preheating and post-cooking cooldown times. They are also more expensive and heavier.

– Even if slabs weren't semi-insulators, they absorb heat into themselves and thus prolong preheating times. This isn't necessarily a big problem, but it can be annoying.

– If you ever have a boil-over, or if food or oil jumps out of the pan onto the diffuser, it will can add to the crud that builds up.

Due to the factors above, I don't recommend the use of metal slabs, except if you have a gas burner that can't simmer properly because its lowest setting is still too hot. If you want to buy a slab anyway, you can buy aluminum slabs off Amazon at very competitive prices (my local scrap dealers and many online metal dealers actually charge more). 6061 or similar grade is probably what you want as those are harder, sturdier grades of aluminum, though 3003 or 3004 is ok too. Just remember to avoid using high heat to avoid melting aluminum. You can also get 1/8-inch thick copper slabs, but copper is more expensive and accumulates hard-to-clean black crud. If you don't want to mess with square slabs or cutting them into circles yourself, you can get a pre-made Kuhn Rikon 9.5-Inch anodized aluminum disc that is decently thick. (It's also available in 11-inch diameter for very large pans.) Other brands are flimsier or use less heat-conductive materials like stainless or cast iron, which resist warping better than aluminum, but also don't spread heat as well. ↩