BACKGROUND
This is a review of the Oster Pro 1200 Blender Plus Smoothie Cup, Brushed Nickel
(model number BLSTMB-CBG-000) which is a new blender introduced at the end of 2015 to compete in the low- to mid-range blender market. It comes with a 24-ounce smoothie cup and boasts 1200 peak watts and all-metal drive socket interface between the jar's bottom and the base.
I had high hopes when opening the box and inspecting the contents. The blender does appear to be better-built than most blenders in its price range. All components feel solid. The black plastic jar base has a lever that, when seated into the blender base, ensures that the jar will not become unscrewed during use.
THE GOOD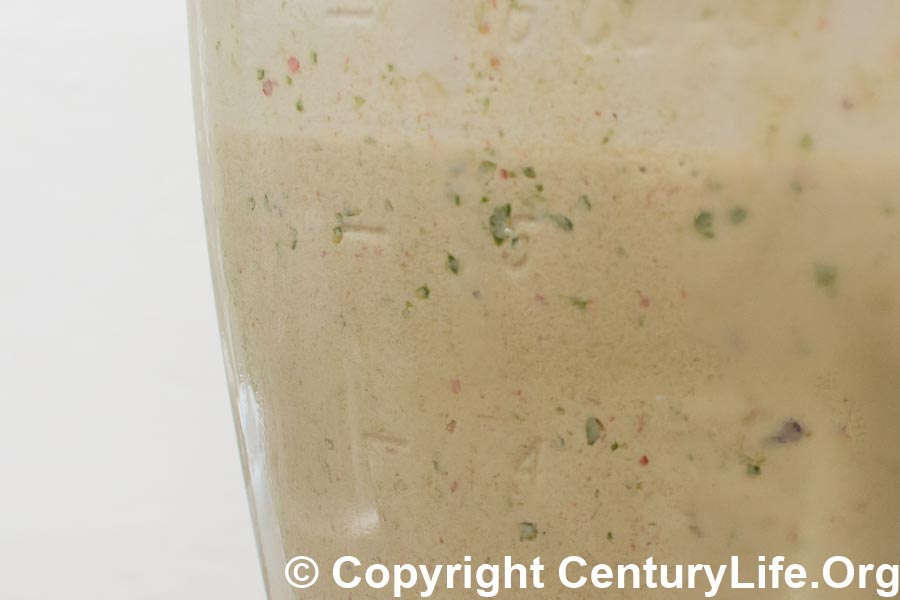 The big question is: is it really as good as a high-powered blender? It's allegedly a 1200-watt blender, after all.
The good news is it that the blender was able to make smooth green smoothies–eventually. Given a full minute, my first green smoothie looked like the above: semi-blended. It took 2-3 minutes of extra effort (blending, turning the machine off and shaking the jar to pop the air pocket that formed above the blender blades, and blending some more) to get the results acceptably smooth.
Although Oster doesn't come right out and say it, judging by its "Boroclass" name and description, the jar appears to be made out of borosilicate glass, which is more expensive than typical soda lime glass like that found in regular Pyrex. Borosilicate glass can withstand changes in temperature better. Thanks, Oster, for not skimping on the glass.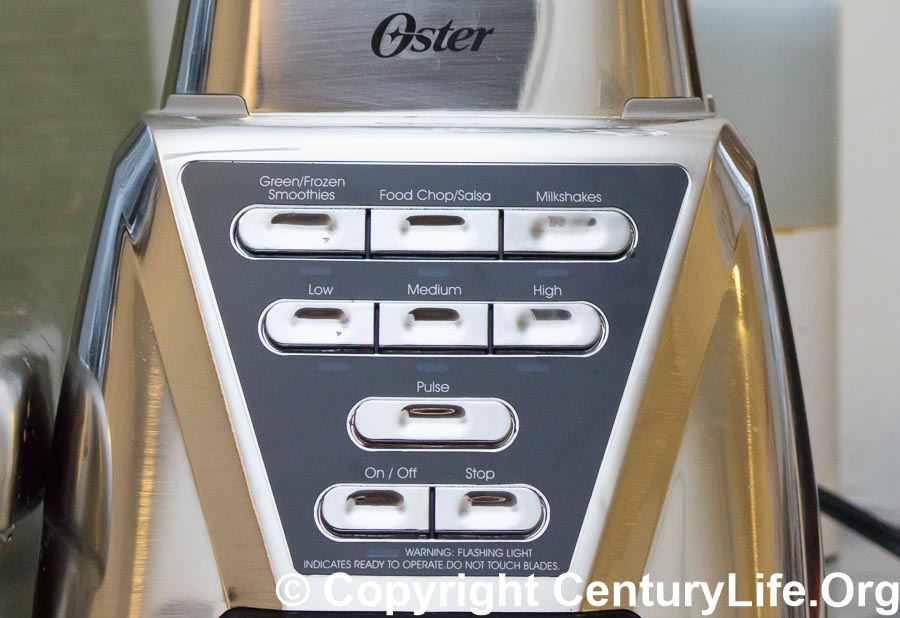 The blender has no real manual controls other than Low Medium and High buttons and a Pulse button which ramps up the motor for as long as you hold down the Pulse button. You press the Stop button to interrupt any non-Pulse blending.
The blender comes with three blending cycles presets: green/frozen smoothies, food chop/salsa, and milkshakes. I found the cycle for smoothies to be too short, but most lower-end blenders will struggle to finely chop up spinach and bust ice cubes, so that's not surprising. The food chop cycle is fine but who cares? You could just judiciously press the Pulse button and get the same effect. (One of the nice things about lower-powered blenders like this one is that their lower speed settings are quite low, so you have more control over chopping up food. Some higher-powered blenders have such fast Pulse buttons that you may liquefy salsa rather than chop it up, if you aren't careful.) The milkshake button didn't quite work for me either, but a little extra manual blending time fixed things.
The On/Off button should be self-explanatory.
THE BAD
The bad news manifests itself not with the external build quality, but with the motor. The blender sounded very loud and strained when blending ice cubes and frozen fruit, and while it would eventually deliver results that weren't that far away from high-powered blenders' results, it took a lot more time. That tends to heat up the fluids and put more wear and tear on the already-strained motor. One wonders about the longevity of this machine despite its advertised 3 years of warranty.
Perhaps more worrying was how the blender smelled like burned rubber for a week, as if we weren't already concerned enough about the longevity of the blender motor. And that was after we dismantled the entire jar and ran it through the dishwasher like the manual recommended to do before the first blend.
Finally, something that was pretty annoying was how the instructions say to clean the blender jar by dismantling it and washing by hand or dishwasher. In theory you should do this after every use, but that's quite inconvenient compared to self-cleaning blenders where you can just put in a drop of liquid dish soap and blend several cups of water and rinse.
Cleaning the blender is extra-awkward because there are no markers telling you how far you should turn the black jar base when screwing it back onto the glass jar. The first time I tried putting the jar back together, I didn't turn it far enough, and the jar leaked. I got the hang of it over time, but it makes the blender slightly harder to use.
THE UGLY
This machine is advertised at 1200 peak watts, but its continuous wattage is pretty bad; it maxes out at 450 watts when blending 3 cups of water, compared to 1000+ watts for true high-powered blenders. Does anyone really care if this blender can go up to 1200 watts for 0.000000001 seconds at the very start of the blending cycle, if it drops like a rock afterwards?
Blender Power Comparison (Blending 3 Cups of Water)
Oster Pro 1200 (advertised wattage: 1200)

Oster Versa 1400 (advertised wattage: 1400)

Vitamix 6300

(advertised as peak 2hp = 1491W)

Blendtec Total Blender (advertised as peak 3hp = 2237W)
Watts (off)
0.5
0.5
0
0
Watts (lowest)
90
200
85
160
Watts (mid)
140
850
280
680
Watts (max)
450
1000
1000
1080
Weight (kg) of Blender/Jar
1.57/2.00
3160/1310
3860/1140
2495/760
Price
$75
$250
$500
$400
(Blender weight refers to the weight of the base only, not including the power cord. For the Blendtec, a power setting of "5" was used for "medium" power testing.)
CONCLUSION
For people who will rarely blend, the Oster Pro 1200 Blender Plus Smoothie Cup, Brushed Nickel
is an affordable, good-performing blender. You won't find anything better for the price. The blender has an all-metal connection between the jar and the base (unlike cheap blenders that use plastic), an unusually large (for the price) blending blade array, a glass jar, and a good motor (for the price).
But if you plan to blend hard objects like ice cubes or pieces of frozen fruit, or if you plan to blend regularly, get a real high-powered blender that can self-clean, blend faster, and survive longer. This Oster Pro 1200 blender has a 3-year warranty, which is good for its price class, but less than half the 7-8 year warranties you get with higher-end blenders.  Also, the Oster Pro 1200 blender smells and the motor sounds labored at high speeds–like a little economy car straining to reach a top speed of 140 mph that beefier cars easily surpass. The glass jar is nice in that it won't leach chemicals like plastic can at high temperatures, but you also have to dismantle the jar to do a proper cleaning, including messing around with sharp blender blades. That's inconvenient and makes this a no-go for people who want to blend regularly.