How would you like to relieve clutter in your kitchen AND get more counter space?
Today I'm reviewing the Seville Classics Stainless Steel Professional Kitchen Cart Cutting Table
.
NOTE: Seville changed the manufacture of this cart so it's now a three-tier moveable wire rack, which can be even more useful due to the extra space in the middle tier.
Background:
Seville Classics is a home/office products producer that is not bashful about the Chinese origins of its products. In fact, Seville Classics even boasts on its website about its 32-acre factory campus in Guangdong, China. I'm not particularly squeamish about buying Chinese products as long as they have good quality control, and since I don't plan to have food come in contact with my carts, ever, it's even less of a problem.
Like many importers, Seville Classics has its headquarters near Los Angeles, in the city of Torrance, California. Los Angeles is home to San Pedro harbor, one of the largest and busiest ports in the world.
The company was incorporated back in 1979, so it's clear that Seville Classics is not a newcomer to the home/office products game.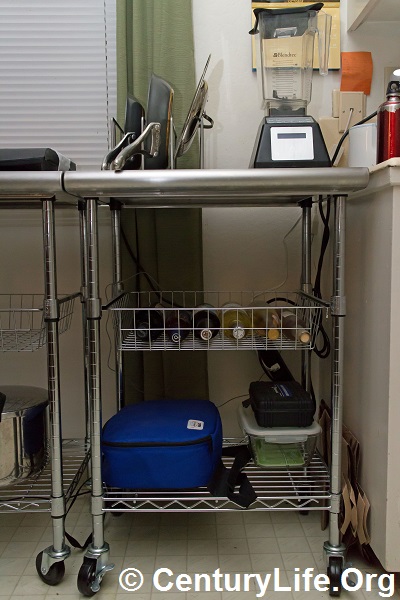 Okay, enough about the company, let's move on to the review.
The Good:
I've owned two of the Seville Classics Stainless Steel Professional Kitchen Cart Cutting Tables
for almost a year now. This product is incredibly useful. It converts unused kitchen floorspace into an extension of your countertop space and under-the-counter storage space. And it's portable, too.
My wife is a neat freak, and these carts passed her "is it worth the clutter?" test because they actually de-cluttered our kitchen! That's because these carts are multi-purpose. We replaced a single-purpose wine rack with this cart. The wine fit in the middle basket, leaving us with the top surface of the cart and the lower shelf available for other storage needs.
What's great about this cart:
It's there when you want it, and gone when you don't. You could put a rarely-used slicer or other equipment on it and store it in a closet, rolling it out only when needed, for example. You can even roll it out back to the outdoor grill during the summer. I leave mine out as permanent countertop and storage extensions.
It's sturdy. You can put up to 300 pounds on the top shelf, or 100 pounds on the bottom wire rack, or 50 pounds on the sliding shelf, assuming equal weight distribution across the frame.
It comes with lockable three-inch wheels that ensure that the cart won't roll much unless you want it to.
If you don't want wheels, you have the option of using the included regular feet.
It's 36 inches tall. This makes it compatible with most residential kitchen counter heights–ours has a raised rim, but other than that, the cart and our countertop are the same height.
The front and rear of the cart are rounded off, so there are no sharp corners. The thickness of the steel top is about 1.75 inches.
At 24 inches wide, with 20 inches of depth (if you include the rounded parts; the depth counting just the flat area is about 18 inches), you can fit most residential kitchen cutting boards on top with ease.
The top is made out of durable stainless steel. There is no wood to warp or deteriorate when exposed to liquids. However, the cart is made out of a lesser grade of stainless steel, since magnets stick to every part of it. That means that it's probably 18/0 or lower stainless steel (18% chrome, 0% nickel, most of the rest being iron). This means that the cart is more susceptible to rust than, say, your forks and spoons, which are likely to be 18/8 or 18/10 stainless. For an in-depth exploration of stainless steel grades, click here. I haven't seen much rust build on the carts, but I would recommend wiping excess liquid off the surface after every use.
The rest of the cart is made of chrome-plated steel. If you try hard enough, you can bang off the chrome, exposing steel that may rust. If that happens to you, remove the rust and cover the exposed area with waterproof paint. I have yet to bang the chrome off, though. Chrome is pretty hard stuff.
The basket is a decent size for holding odds and ends. For instance, we use one of our baskets to hold wine bottles. The height is adjustable, too. I like the basket to be high enough so that you can put stuff on the lower shelf. You can also assemble the cart without any middle shelf at all, or switch places with the regular shelf on the bottom. The height of just the basket itself is about four inches.
It's really easy to assemble.
It's affordable, unlike some rolling kitchen islands. In fact, it was the most affordable stainless steel counter-extending cart I could find.
From personal experience, I can assure you that you can use portable induction cookers on top of these carts. I'd would be careful with putting countertop microwaves on top, though; consult your microwave manual for how much metal is permissible and in which direction.
The Bad:
No extra shelving is available for sale.
There are no raised lips or other obstructions on the lower shelf, so things can slide off if you push them off.
Also, I wouldn't rely on the middle slide-out shelf/basket for continual in-and-out motion. It's not a heavy-duty drawer by any means; it's just a no-frills wire basket that rests on two rails (one on each side). The company rates it up to 50 pounds carrying capacity if the weight is equally distributed across the entire basket (not piled up on one side).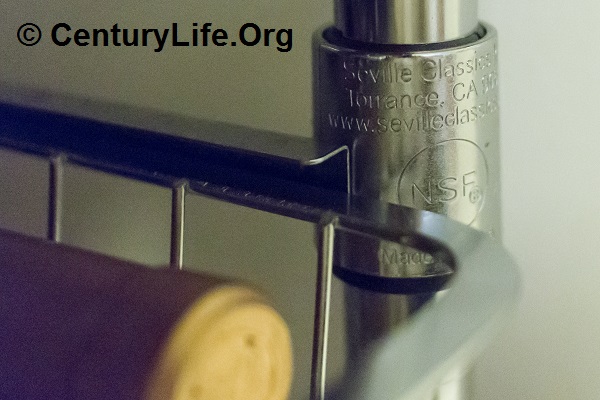 The Ugly:
There's no ugly here. My wife hates all the "ugly" furniture that I brought with me when I first moved in with her, EXCEPT for my "cute" Seville Classics stainless carts. The rounded front and back edges of the top surface give it less of an industrial look, I suppose. Plus they are really useful.
Conclusion:
I liked my first Seville Classics Stainless Steel Professional Kitchen Cart Cutting Table
so much that I purchased another one. The two carts increased our counter space as well as storage capacity. If you have spare kitchen floor capacity, consider converting it into additional counter and storage space with this handy, durable cart.