Cooking surface: 4/5 Very Good (comparable to stainless steel in stickiness)
Conductive layer: 5/5 Excellent (highest thermal conductivity among all metals)
External surface: 3/5 Good (silver is only about a hard as aluminum, so it scratches easily on stovetop grates)
Examples: Soy Turkiye (Soy Türkiye)
Health safety: 5/5 Excellent (ingesting trace amounts of silver is completely safe, and silver is naturally antimicrobial)
—–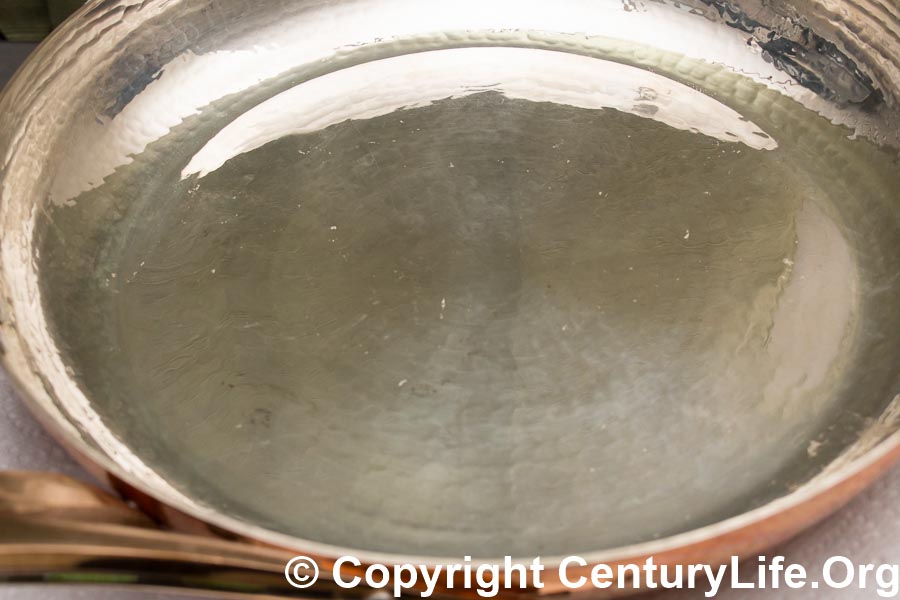 DESCRIPTION AND COMPOSITION
Silver is the most thermally conductive metal in the universe that we know of. It even beats copper by about 10%, depending on metal purity. (In order of highest to lowest thermal conductivity: silver (406 W/m*K), copper (385), gold (314), aluminum (205), typical cookware-grade aluminum alloy (~160), platinum (72), tin (67), cast iron/carbon steel (~50), stainless steel (16), enamel/ceramic/glass (~1), water (0.6), and PTFE such as Teflon (0.25).
Chemically, silver (element 47) is in the same extended "noble metal" family as copper and gold (elements 29 and 79, which sit directly underneath copper on the periodic table). Gold is incredibly corrosion-resistant, silver less so, and copper still less. That's why gold can survive centuries buried along with shipwrecks in the ocean, whereas silver slowly turns black from tarnish thanks to reacting with trace amounts of atmospheric sulfur, and copper turns green, such as the Statute of Liberty which used to be copper-colored and is now green due to chemical reactions with the air.
Solid-silver cookware heats up extremely quickly and evenly–slightly better than copper, which is the gold standard for kitchen cookware. (Sorry, I couldn't figure out a way to work platinum into that sentence.)
But since copper costs far less than silver and is almost as good at transmitting heat, it is very unusual to see solid silver cookware.
Where you are more likely to see silver used in cookware is as a cooking surface: an electroplated lining on copper pans. That's because silver is relatively nonreactive and also won't kill you unless you ingest epic amounts of it. In contrast, copper is toxic when ingested in large quantities, large meaning, don't cook on bare copper or on copper that has lost more than a square inch or so of its lining.
Copper cookware may also be lined with tin instead of silver, but in melts at about 450F whereas silver melts at 1750F, so silver can survive accidental overheating better than tin can.
Physically, silver is about as hard as aluminum, meaning it's not that hard at all. Do not drag bones across silver. Do not use metal utensils on silver. Use silicone or plastic utensils instead.
COOKING
In my experience, cooking on silver is like cooking on stainless steel. Sticky foods like eggs will stick, so use sufficient cooking oil/butter/etc. to lubricate the pan.
CARE
You can't resort to using BKF or some other abrasive on silver, because that will scratch it. And if you have a silver-lined copper pan (typically 15 microns, or 0.015 mm thick silver lining), those scratches may eventually cut down to the bare copper underneath.
Instead, you will need to use nonabrasive cleaning techniques:
Deglaze pans. Deglazing means pouring an ounce or more (depending on the pan size) of water, wine, or some other thin fluid into the pan while it's hot, but not so much that it warps the pan. Pour just enough to get the pan to bubble off most of the stuck-on bits (called the fond in French); use silicone/plastic spatulas/tongs/etc. to help scrape off the fond. If you do this with the remnants of proteins like steaks, you can make a delicious pan sauce to pour over the steak.
If that doesn't work, pour a larger amount of water into the pan and boil it off. You can also soak the pan overnight before doing so.
It's safe to swish vinegar around the interior of the pan and to let it sit for a while. You can even deglaze the pan with vinegar. The acidic vinegar can pry some stubborn stains off.
Scrubbing with a soft sponge (rated nonstick-safe) and soap and water is safe.
It's okay to leave tiny traces of food in the pan that simply won't come off. Those don't really pose a threat because a) microbes can't grow on silver 1, and b) even if microbes could grow on silver, they will die the next time you preheat the pan, anyway.
Avoid using baking soda, BKF, metal polish, steel wool, or even the rough side of a scrubbie to clean this pan. Treat it like a Teflon pan. Abrasives, even mild ones like baking soda, can wear away silver linings, which can be very thin at 0.015 mm thick (which is actually pretty thick as far as silver plating goes, but a far cry from the typical 0.5 mm of rugged stainless steel found on a lot of cookware).
Back to A No-Nonsense Guide to Cookware Materials.
Silver is toxic to microbes but safe for humans to ingest in small amounts. If you eat a lot of silver, it will turn your skin blue. But the amount necessary to do that is way, way above the occasional atom of silver you ingest by cooking on this pan, since you are cooking on the pan, not eating the pan) ↩