Cooking surface: 1/5 Very Poor (large amounts of copper is toxic to ingest)
Conductive layer: 5/5 Excellent (the best affordable thermal conductor)
External surface: 3/5 Good (softer than stainless but still harder than aluminum; oxidizes rapidly)
Examples: Mauviel
, Matfer Bourgeat

Health safety: 1/5 Very Poor (toxic in high doses, which is why it's usually lined with another material on the cooking surface)
—–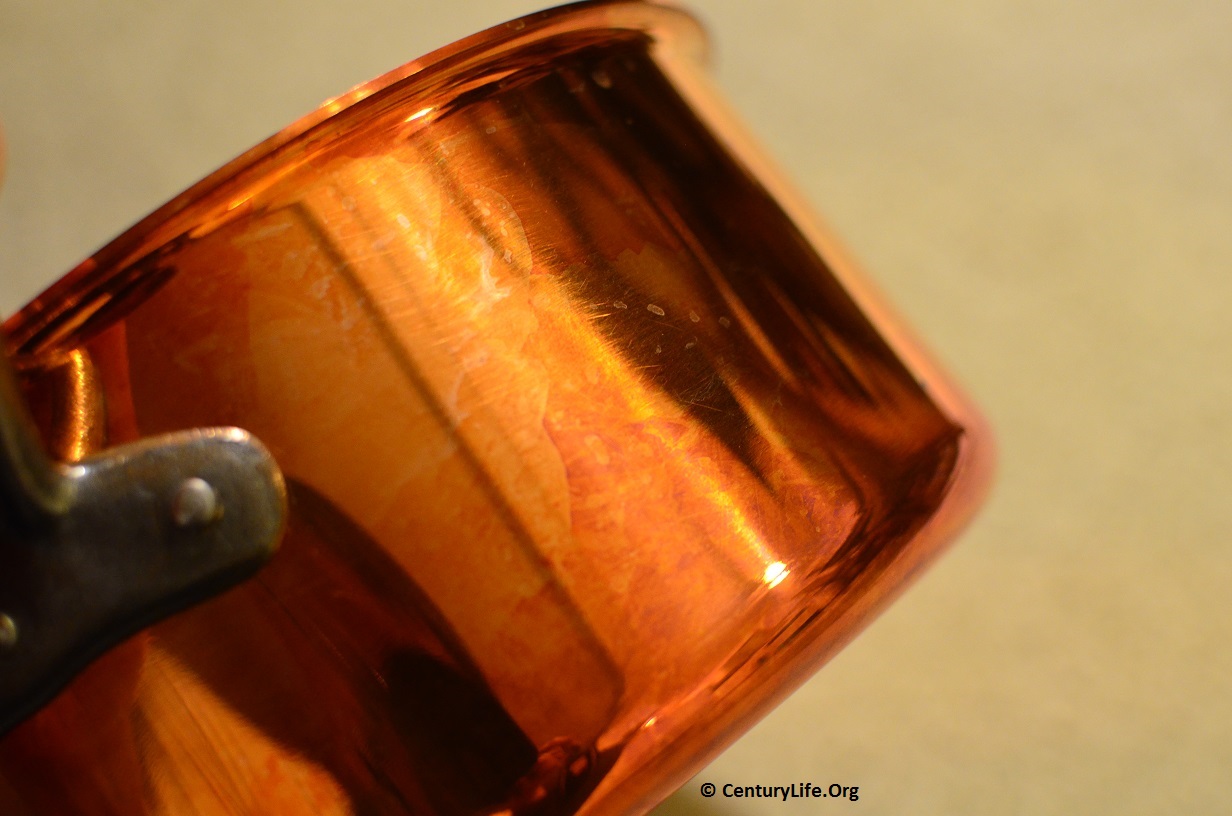 DESCRIPTION AND COMPOSITION
Many people enjoy copper cookware's shiny, lustrous, pink-orange looks. Copper cookware has historically been the pinnacle of affordable (read: non-silver) cookware, used by such famous cooks as Julia Child. But copper, also known as "cuivre" in French, is more than just a pretty face; it's practical for cooking as well. Among all metals at room and cooking temperatures, copper is the second-best heat conductor, barely edged out by silver which is less than 10% more conductive (the exact percentage depends on metal purity). Copper is more thermally conductive than gold as well, not that many people would be foolish enough to make cookware out of gold.1 Indeed, 1 mm of copper thickness is worth ~2.3 mm of aluminum alloy thickness in terms of heat-spreading power, at least in theory. (In practice the ratio is more like 2:1.)
Humans first used copper over 10,000 years ago. The earliest known use was a copper pendant discovered in northern Iraq which has been dated to 8,700 B.C. Copper is soft enough to bend, and it was the only metal that humans used until about 4,000 B.C. when humans started using gold as well.
Chemically, copper (element 29) is in the same extended "noble metal" family as silver and gold (elements 47 and 79, which sit directly underneath copper on the periodic table). Gold is incredibly corrosion-resistant, silver less so, and copper still less. That's why the copper Statue of Liberty looks green today. The Statue has a copper skin that slowly chemically reacted with air until a green patina (verdigris) formed. Verdigris is analogous to iron rust, but unlike iron rust, verdigris protects the underlying copper from further corrosion. (Iron rust will fall off eventually, so rust does not protect iron from further corrosion.)
Copper is among the most electrically and thermally conductive metal elements. Only silver beats copper, but the price of silver is so high that it is rarely used in cookware.
What this means is that copper cookware heats up extremely quickly and evenly. You can replicate the evenness of copper by using more of a lesser material (e.g., substituting a 2+ millimeter thick sheet of aluminum for a 1 millimeter sheet of copper), but you lose responsiveness. With copper, when you turn up a burner, the copper pan on top of the burner heats up almost instantly. When you turn down the burner, the copper cools off almost instantly.
Physically, copper is in-between aluminum and stainless steel for durability. The highly-pure grades of copper used in cookware (C11000, C10200) are softer than stainless steel but harder than aluminum. Copper oxidizes quickly when heated (tarnishes/patinas/turns funky colors and eventually turns dull brown if you do not clean it), and has a melting point of ~2000F, in-between 3004 aluminum (~1200F) and 304 stainless steel (~2550F).2 Copper costs about 3-4 times the cost of aluminum as of 2013, and since copper is harder than aluminum, it may cost more to form/shape the metal as well, as copper-shaping machinery would tend to wear out faster. On the other hand, silver is more than six times as expensive as copper, which helps explain why you see even less silver cookware around than copper. (Silver also tarnishes and is not as tough and durable as copper; in addition, silver has a lower melting point than copper, at ~1750F.3)
Tin-lined copper cookware is moderately expensive, but it can be hard to find them with stainless steel handles. Even if you are okay with the maintenance of tin, you might want to consider the maintenance of cast iron. Cast iron handles get hot, can rust when wet, and thus require more care. Put a very thin layer of oil on cast iron handles to season them, if you wish. This will help prevent rust. You can also heat up copper cookware after washing and towel-drying, to get those last molecules of water off the handles. Note that very thick (over 2.5 mm) copper antique cookware pieces are not as affordable, because they are rare. But they are extremely even-heating.
Stainless-lined copper cookware is generally very expensive. Prices have not come down to earth over time, perhaps because stainless-copper cookware is a niche market without the economies of scale that stainless-aluminum cookware enjoys.
Silver- and nickel-lined copper cookware is very rare. Silver has a much higher melting point than tin (~1750F vs. ~450F), but it tarnishes and isn't particularly hard and costs a lot. Some people have allergies that make it impractical for them to cook in nickel-lined copper, and nickel-lined copper is very rare anyway, perhaps because its vastly higher melting point (~2650F) does not lend itself well to brushing the metal onto copper like is done with tin, and because ingesting nickel is bad for your health.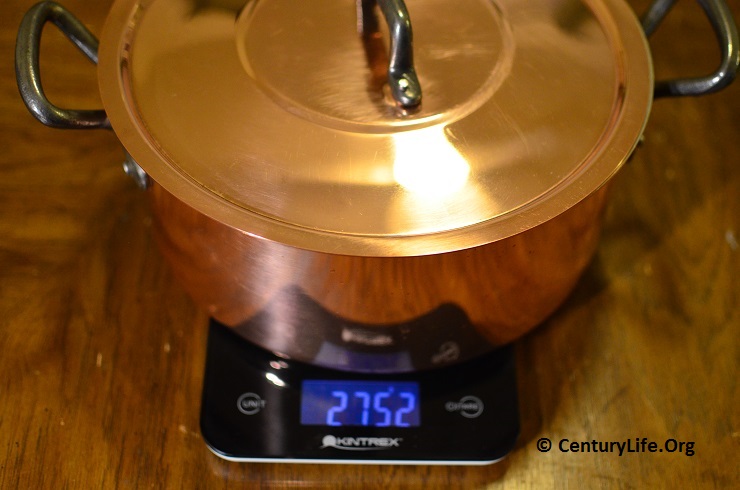 In all cases, you want at least 1.5 mm of copper thickness. That's because thicker copper heats more evenly and resists warping better. Even 1.5 mm is only as good as a good nonstick aluminum pan, so you might want to aim for 1.7 mm or more to get performance beyond ordinary aluminum. However, you might be able to get away with 1-1.5 mm thickness for small pans, since heat doesn't have to travel far in such cases. Note that anything with a stainless steel lining means 0.2 mm stainless steel thickness, so a "2 mm copper" piece with stainless interior really means 1.8 mm copper + 0.2 mm stainless steel for a TOTAL thickness of 2 mm.
Induction doesn't naturally work with copper. Some copper cookware (De Buyer Prima Matera
) have induction-compatible (i.e., ferromagnetic) plates brazed/welded onto their bottoms. This is the only good way to use copper on induction, but such induction-compatible copper cookware is usually very expensive (think $500 for one pan). If you attempt to use an induction converter disc such as VonShef Induction Hob Heat Diffuser Stainless Steel with Heat Proof Handle (9.25″)
or a lower-quality version
, you will essentially turn your induction cooker into a solid metal electric disk burner, similar to an electric coil burner. There will be air pockets between the disc and your cookware, and air is an insulator so you will not get perfect thermal transfer. (You can expect to get about 75% efficient thermal transfer, per DOE studies using electric coil cooktops, and that's if your pan and converter disc look perfectly flat.) Furthermore, you have to heat the converter disc to a much higher temperature than what you want on your copper cookware, e.g., the converter disc must be hotter than 212F (100C) if you are boiling water in your pot above the disc. Similarly, to fry at 450F your disc must be hotter than 450F, at temperatures that may be so hot as to prematurely age your induction cooker, since the induction cooker's underlying electronics do not like to get too hot. You get a ton of thermal inertia as well (slow responsiveness). You also create the hazard of having a hot piece of metal–which is also harder to clean off than a glass/ceramic smoothtop. I would avoid using converter discs for these reasons.
If you are looking for heat-conductive sidewalls and do not mind using thinner copper with aluminum filler, there are brands such as All-Clad Copper Core
which use inner cores of thin copper (less than 1 mm) with small amounts of aluminum around the copper core, finished off with stainless cladding. The bottom stainless cladding layer is made with magnetic stainless steel, making the steel less corrosion-resistant but induction-compatible. If you don't care about induction-compatibility, you can get the cheaper and slightly more even-heating Calphalon Tri-Ply Copper
instead.
If you are okay with not having thick copper sidewalls and just want exceptionally even-heating bottoms, you might as well purchase thick aluminum instead. For an explanation of how thick aluminum (5mm+ thickness) rivals the performance of copper, see here. There are also a few companies that use solid copper disc bottoms (Sitram Catering
, Demeyere Atlantis
). Many more companies use faux copper disc bottoms which are really just thin foils of copper wrapped around a thick aluminum disc base. That doesn't necessarily mean they perform worse than genuine copper, so long as that aluminum disc base is thick enough. Just know that the aluminum is doing most of the work; the thin layer of copper foil is just there for decoration.
COOKING
Since copper is a terrific heat conductor, each millimeter of copper is worth ~2.3 times its thickness in aluminum 3003/3004 when it comes to heat transportation. For instance, a 1.7 mm copper pan should perform similarly to a 3.9 mm aluminum pan, all else equal.
Although a microscopic amount of copper is necessary for survival (and which you get from eating food normally), copper is toxic when ingested in larger quantities. This is why copper cookware is almost always sold with a tin, stainless steel, or silver lining to keep your food away from copper. If your tin starts wearing away to the point where you can see significant (dime sized or larger) holes, it's time to get it re-tinned by a reputable retinner such as Rocky Mountain Retinning. If you don't heat tin over ~350F and use only metal utensils, a good tin job should last several years or more. (Note: bare copper for beating eggs or making jam is standard and won't kill you unless you do a lot of egg-beating or jam-making. The dose makes the poison, after all, so a little copper in your diet may actually improve it, if you were previously not eating enough copper.)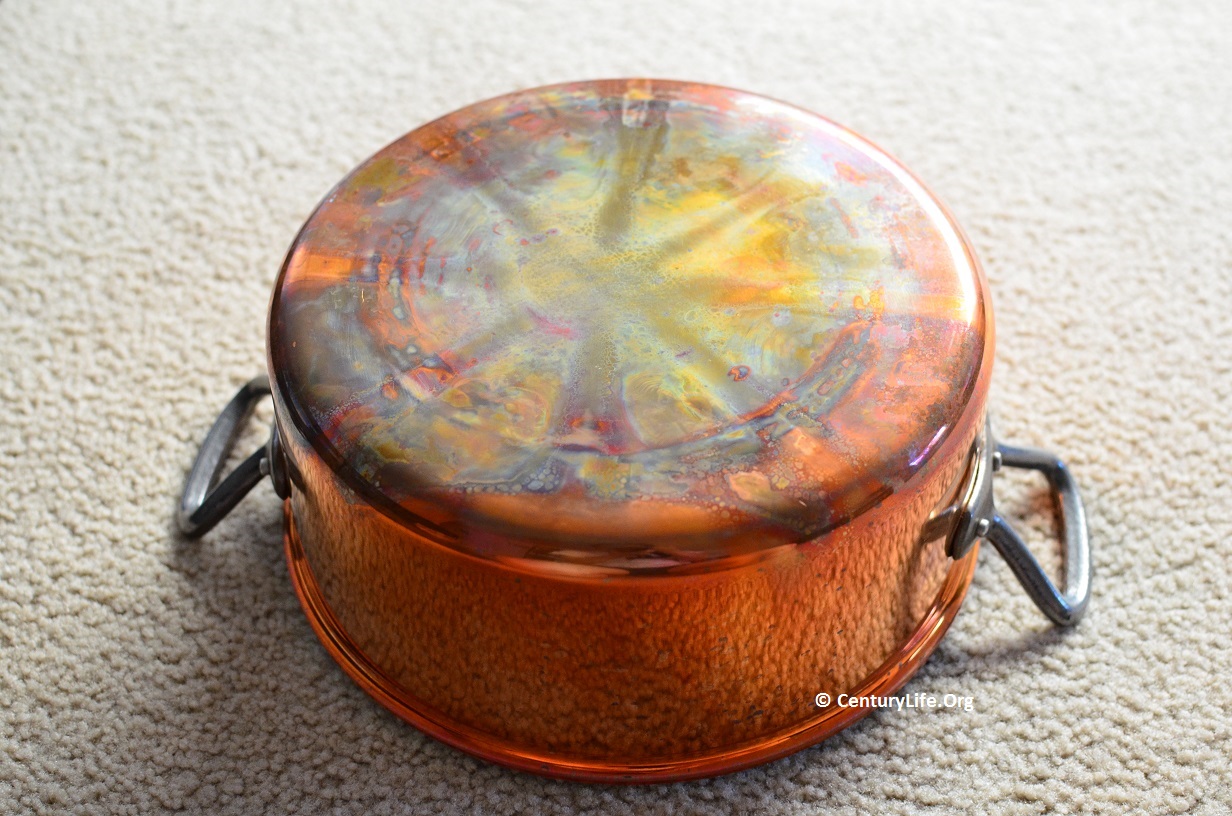 You may hear some misguided people claim that copper is toxic even when lined with other materials, but that is false, because so long as you can't see the copper through the tin/stainless/silver layer, it's fine. Stainless is particularly rugged and takes forever to break through, so even 0.2 mm of stainless steel (standard on stainless-lined copper cookware) should last decades with proper care, meaning, no prolonged exposure to acidic and salty foods. Do not store such foods in stainless-lined containers for many hours at a time.
Since nobody cooks on bare copper, I have no data on how sticky it is to cook with. Refer to tin and stainless steel articles for how to cook on those surfaces.
CARE
Interior: Refer to tin and stainless steel articles for how to care for those surfaces.
Exterior: Copper tarnishes very easily, so copper with bare copper exteriors turn all sorts of funky colors (blue, green, violet, you name it) as they heat up. Eventually they will oxidize into a dull brown if you do not clean them. A slice of lemon or a dash of vinegar, plus a little salt, can wipe away oxidization. Barkeepers Friend also works. In any case, copper cookware has a well-deserved reputation for high maintenance relative to stainless steel which retains its shine for much longer with just a quick scrub with regular dish soap. Stainless steel may also be used in dishwashers with impunity, in contrast to cast iron, carbon steel, bare aluminum, and copper. (Enameled cookware is also dishwasher safe in theory, but in practice there may be exposed parts of cast iron or underlying material that is not dishwasher safe. For instance, the rims of enameled cast iron may be bare.)
RETINNING
This is a non-exhaustive list of re-tinning companies with good reputations.
http://www.rockymountainretinning.com/
http://www.metalcoatingcompany.com/
ADDENDUM
Q: Is copper cookware worth the price? Aluminum-based cookware is so much cheaper….

A: There are three popular reasons to buy copper cookware: thermal responsiveness, thermal conductivity, and the pleasing appearance of copper.
Copper's thermal conductivity advantage means that every millimeter thickness of copper is worth perhaps 2.5 times the thickness in copper. The difficult part here is that massively thick aluminum is hard to come by, so thick copper is still unrivaled. But thin copper may be substituted by aluminum just fine.
Fast thermal response is useful so that you don't overcompensate going higher or lower than your target temperature–a nice ability when, say, melting chocolate without burning it. But there are two types of thermal response: upwards and downwards.

Downward response is more important: it can save a meal by preventing it from being overcooked. However, if you need to cool something down quickly, you wouldn't merely turn down the burner. You'd pick up the entire cooking vessel and place it onto a cold, unused hob instead. You can try this yourself if you want, by placing hot aluminum-based cookware on a cold hob. You will see temperatures drop fairly quickly; for many people this rate of decrease is already more than they need, so copper offers no additional advantage here.
Upward temperature response is not as important as downward response. With slower upward thermal response, your pan may take a little longer to preheat, and it might take a little longer to bring food up to temperature. That's not likely to matter to many people, though if you are a professional chef trying to crank out lots of meals in a short amount of time, you'll appreciate the faster preheating. Also, don't think copper is going to be that much more efficient at boiling water. It actually loses to stainless steel pots with disc-base bottoms.

As for appearance, of course aluminum isn't going to look like copper anytime soon, though some cookware comes with decorate, thin copper foil on the outside to mimic the appearance of real, solid-copper cookware.
The drawbacks of copper: higher maintenance due to copper oxidization, unless you like cooking with matte brown cookware. For tin-lined copper, there is also the need for re-tinning every decade or so (when the copper starts to peek through the tin by more than a square centimeter or so), depending on how much and how hard you use tin-lined copper cookware. Copper also scratches more easily than stainless steel, and it isn't dishwashable. Compounding all of this is how most thick copper cookware comes with cast iron handles, which get hot during cooking and can rust (season it with vegetable oil to guard against this).
It's a personal decision in terms of whether copper's benefits outweigh its drawbacks, but my advice is to go thick or go aluminum: either go with thick copper (at LEAST 2 mm thick copper), or just stick with aluminum, because thick aluminum can effectively substitute for thin copper, and also costs much less.
Q: Why did the world take so long to move from copper to aluminum?
A: The answer might lie in cost. Copper price per pound was at about 20 cents in 1860, rose dramatically during the Civil War years to a spike of 60 cents, before falling back to 20 cents. As copper is an important industrial metal, prices then rose during boom times and fell during recessions, slowly dwindling to a little over 10 cents per pound by 1886. Prices rose in fits and starts starting in the 1890s, but were still below 20 cents per pound in 1912. (Take a look at the Federal Reserve's price for copper for the New York area from 1860 to 1912.)
The Fed's data is corroborated by a December 22, 1901 New York Times article that noted that copper prices ranged from 9.5 cents (1894) to 17.75 cents (1899) per pound for the years 1882 to 1899.
By contrast, aluminum was expensive. The Washington Monument's cap of aluminum cost a small fortune back in 1884, as aluminum cost as much as silver or more. Aluminum is highly reactive and thus it's almost impossible to find pure aluminum in nature. Aluminum was not successfully extracted from ore until 1825. (Coincidentally, French copperware manufacturers Mauviel and De Buyer trace their lineage to 1830.) Henri-Etienne Deville in 1854 figured out how to more efficiently extract aluminum, dropping the price per pound from $544 in 1852 to $18 in 1859. $18 was still extremely expensive compared to other metals, however.
In 1889 Charles Martin Hall and Paul-Louis-Toussaint Heroult patented a still-more-efficient aluminum purification process, dropping the price per pound of aluminum to 18 cents by 1914, about the same price as copper. At point after 1914, aluminum became cheaper than copper, but it's not clear when. What is clear is that aluminum is far cheaper than copper today. The five-year average price per pound for aluminum through October 2013 was about $0.85. Copper averaged about $3 for the same period–about 3.5 times more expensive.
The raw material costs do not tell the entire story, though. Depending on the alloys in question, copper can be harder to work/machine than aluminum, raising costs. Also, economies of scale can work against copper since so much cookware uses aluminum that you can theoretically spread the cost of machinery over many more units of aluminum cookware than you can with copper.
Cookware is not space-constrained: going from a few millimeters of copper to several more millimeters of aluminum is inconsequential. However, cookware is constrained by weight (especially for users with wrist strength problems) and cost considerations. Put simply, if all you care about is efficient thermal transfer, then pound-for-pound, aluminum cookware beats copper. But millimeter-for-millimeter, copper beats aluminum. As a cookware manufacturer, you can get the best of both worlds by using a layer of aluminum much thicker than an equivalent copper layer. For instance, to rival 2.3mm + 0.2mm copper-stainless, you could use 5.5mm + 0.2mm aluminum-stainless instead.
However, in space-constrained situations like induction cooktops, copper is the better choice for wiring as it takes less than two-thirds the space that aluminum wiring would take, and copper also has superior resistance to breakdown over time from thermally expansion stresses.
Unsurprisingly, cookware makers know this already, which is why most cookware uses aluminum as the heat-spreading material and why all induction cookers use copper wires, as far as I know. Copper cookware has value in terms of being very traditional, lovely in appearance, and so on, but its role as heat conductor has largely been replaced by aluminum.
Back to A No-Nonsense Guide to Cookware Materials.
REFERENCES
http://education.jlab.org/itselemental/ele013.html
http://research.stlouisfed.org/fred2/series/M0415AUS35620M267NNBR?rid=257
http://query.nytimes.com/gst/abstract.html?res=F20C15FC3E5B11738DDDAB0A94DA415B818CF1D3
http://www.aluminiumleader.com/en/facts/history/ (self-serving Russian aluminum industry site, but useful)
http://www.kitcometals.com/charts/aluminum_historical.html
http://www.kitcometals.com/charts/copper_historical.html
http://www.tms.org/pubs/journals/jom/9511/binczewski-9511.html
http://www.geindustrial.com/Newsletter/Aluminum_vs_Copper.pdf
http://www.copper.org/applications/electrical/building/wire_systems.html (self-serving copper industry site, nevertheless useful)
Someone made a gold frying pan once, and at least one person claimed that it made the best fried egg ever. See Peter T. White, "Gold, the Eternal Treasure," National Geographic Magazine 145, no. 1 (January 1974) ↩
Temperatures are approximate because trace impurities may change the actual melting temperature. ↩
Id. ↩