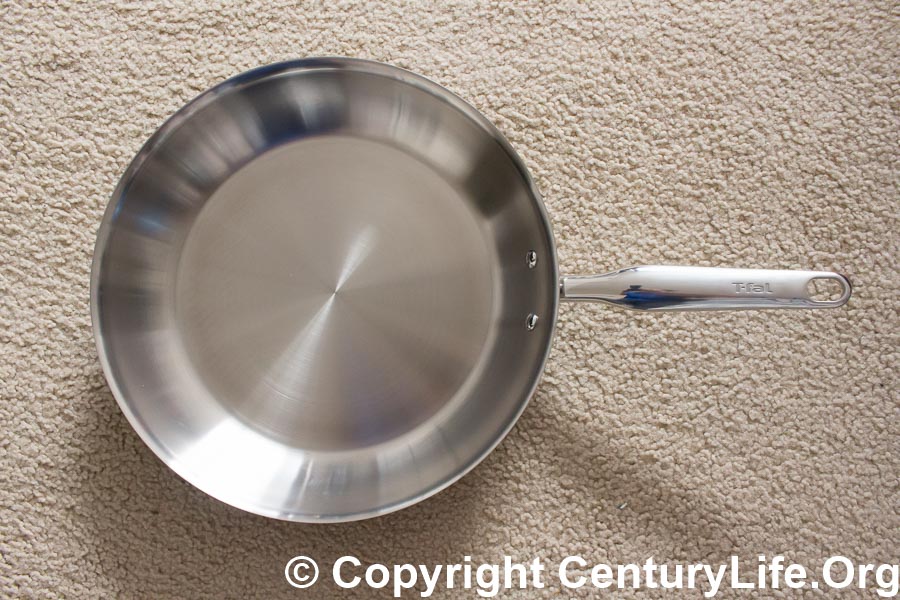 THE EMPIRE STRIKES BACK (AGAINST ALL-CLAD KNOCKOFFS)
Groupe SEB of France is one of the two largest cookware manufacturers in the world. Groupe SEB's strategy is apparently to buy the biggest brands in each country and then aggressively market them. As a result of this strategy, Groupe SEB owns a lot of brands, ranging from All-Clad and T-Fal and to names you've probably never heard of before because you don't live in the target market for them (e.g., Panex, Supor, Maharaja, etc.).
Groupe SEB bought All-Clad in 2004. Unfortunately All-Clad's original patents expired around that time, and so many companies introduced Chinese-made knockoffs of All-Clad Stainless cookware (which was made in the USA with a three-layer material consisting of stainless interior, aluminum core, and stainless exterior). Many All-Clad knockoffs were worse in quality and performance (e.g., some used thinner material), but Cuisinart's Multiclad Pro (MCP) product line was actually better in some ways: MCP had flared rims for drip-free pouring and had more comfortable handles. The main downside to Cuisinart MCP was that it was made in China (or France, at a somewhat higher price).
Groupe SEB tried to fight fire with fire by creating its own Chinese-made All-Clad knockoff, Emeril Pro-Clad, but that product line was poorly-sized/priced, didn't perform as well as USA-made All-Clad, and was quickly discontinued.
In late 2014, Groupe SEB created another Chinese-made tri-ply clad product line, but this time under the lower-end "T-Fal" name rather than the premium "All-Clad" name. After years of fumbling for an answer to All-Clad Stainless knockoffs, Groupe SEB finally got it mostly right but also somewhat wrong.
THE PRODUCTS BEING REVIEWED
This review is for the 12-piece T-fal E469SC Tri-ply Stainless Steel Multi-clad Dishwasher Safe Oven Safe Cookware Set, and T-Fal does not sell any individual pieces. The T-Fal is made in China.
RATINGS
T-Fal Multi-Clad Stainless Overall Rating: 4.00/5 Very Good. For an explanation of ratings methodology, click here.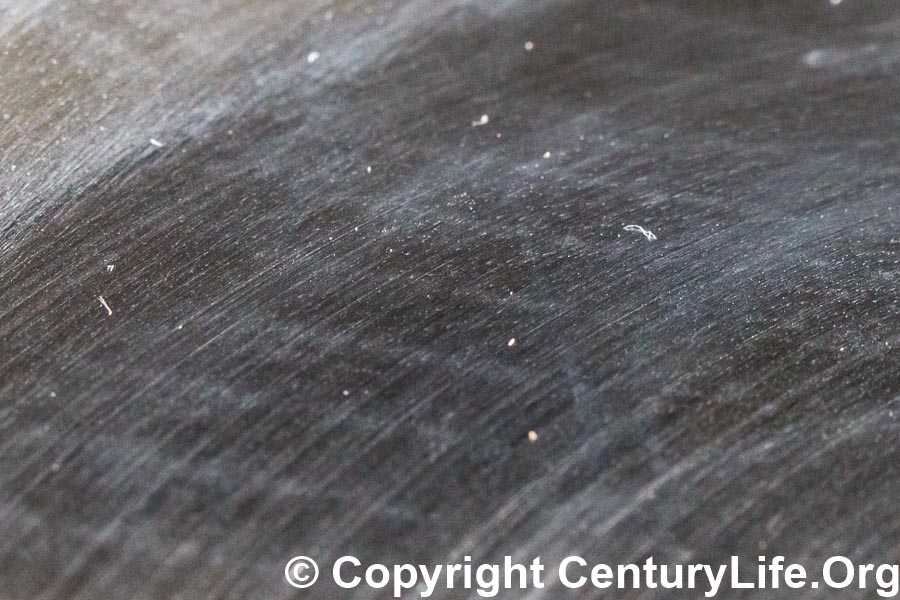 Cleanup: 3/5 Good. I never give 5/5 to stainless steel because it can stick, but if you preheat the pan, then turn down the heat to low (or medium low depending on your burner's strength) and add oil, and then add food, you can minimize sticking. Deglazing a pan (adding a little liquid such as wine to stuck-on bits of protein while the pan is still hot) can also help with cleanup as well as make a great pan gravy.
As far as stainless pans go, I would rate the T-Fal Multi-Clad Tri-Ply steel to be below average compared to other stainless steel pans for interior-surface cleanup. Maybe that's due to polishing issues. Holding the pan up to the light, there were a series of straight lines/scuff marks that ran across the typical circular polishing lines. Obviously you are not getting a premium pan at these kinds of prices, but I would have liked better quality control.
It can be a pain to clean stuck-on grime around rivets, but I won't take a point off just for that. And the rivets as well had some sort of black residue, probably chromium oxide or something from the polishing process. Once again, I know this is not a premium product and it did not take long to scour off the residue, but that's just sloppy.
If you ever find yourself with dull protein stains or rainbows of heated oil left on the pan, try boiling a little vinegar and water in the pan. If that's not enough, use Bar Keepers Friend.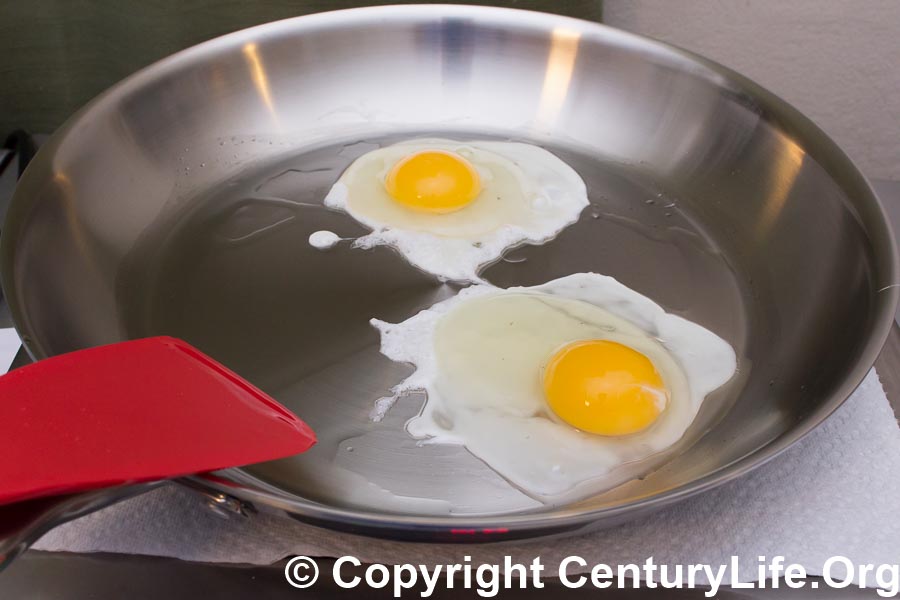 Durability: 5/5 Excellent. Glass lids can break and make this set less durable overall, as well as less useful for oven/broiler since the tempered glass can't go beyond ~350F. The rivets are sturdy. The stainless handle is hollow and feels fine, though I wouldn't slam it against a sink or something in case the handle dents.
Virtually all induction-compatible stainless steel cookware uses 400-series (18/0) stainless steel, which is not as corrosion resistant but is magnetic so it works with induction stoves. I'm not going to take any points off for T-Fal's use of that material on the exterior.
As for the cooking surface, the stainless steel used is of undetermined quality. I contacted T-Fal and they refused to tell me what stainless steel grade they used. (Yes, I'm aware that the top-rated review on Amazon right now claims it's 18/10. It's not, and you should always be skeptical of Amazon reviews because so many people are wrong about the facts.)
My best guess as to what T-Fal uses is 200-series stainless (18/4 stainless). Why? Because of two reasons:
18/10 stainless is one of those "marketing checkboxes" that manufacturers like to brag about whenever possible because 18/10 is highly corrosion-resistant and durable. If they aren't bragging about 18/10 with T-Fal's Multi-Clad, then that's a strong sign that it's not 18/10.
Cuisinart and T-Fal's parent company (Groupe SEB) are huge rivals in the marketplace that are not above copying each other. Cuisinart has admitted to using 202 stainless (18/4 stainless) for its All-Clad Stainless knockoff (Cuisinart MultiClad Pro), and if I were T-Fal and saw how much market share MCP was eating, I'd follow suit and use the same or similar grade of stainless as Cuisinart.
In any case, 18/4 stainless is still very corrosion-resistant even if it's not as stellar as 18/10. Neither the MCP or T-Fal will rust when run through the dishwasher and based on my experiences with Cuisinart MCP, I expect that the T-Fal Multi-Clad will last for decades.
Even heating: 4/5 Very Good. This pan is a good performer in terms of spreading heat around. It's not as quite good as All-Clad or Cuisinart MCP but is very close. My micrometer readings of the sidewalls was ~2.54mm, just a touch thinner than All-Clad Stainless (2.6mm), but not enough to really be noticeable. This is very important and something T-Fal did right; too many All-Clad knockoffs are significantly thinner than the real thing. Thinner clad means more risk of warping over time, less even heat distribution, and less heat capacity so temperatures crash harder when adding food, temporarily turning tasty frying into bland steaming until the pan can get back up in temperature.

Handling and ease of use: 4/5 Very Good. The empty 12-inch pan weighs 1200 grams (2.65 pounds). Compare that to 1265g (2.79 pounds) for an All-Clad pan. The weight alone tells you that T-Fal did not skimp much on the materials used in the pan, even if we allow for slight differences in handle weights.
Speaking of the handle, it's great for anyone who dislikes regular All-Clad handles that dig into your palm (which is apparently most people). T-Fal's hollow steel handles are not circular, but have a more elliptical shape that helps prevent inadvertent rotation. I would rate the comfort as very good; it's well-shaped and does not get hot during stovetop cooking.
However, the handle is also rather short and stubby (around 7 inches), not long enough to comfortably brace underneath your arm if you have a lot of food in the pan. And since there's no helper handle to compensate for that, I can't really rate this a perfect 5/5.
Value: 4/5 Very Good. As long as you are okay with the various drawbacks of this set, it's a very good value. See Conclusion for a fuller discussion.
Versatility: 4/5 Very Good. T-Fal Multi-Clad is dishwasher- and induction stove-compatible. The non-glass part of the product is oven/broiler safe to 550F (287.7C), but the glass lids max out around 350F which makes them less useful in the oven or under a broiler. Furthermore, the glass lids have vent holes, making it much harder to use the Dutch oven as a Dutch oven, since you will lose a lot of steam during long cooking sessions such as long braises.
The flat bottom diameter is about 9 inches in diameter–the same as All-Clad's pans. That's about average for a 12-inch frying pan and gives you decent floorspace while also making it easy to slide a spatula or turner underneath food that you want to turn.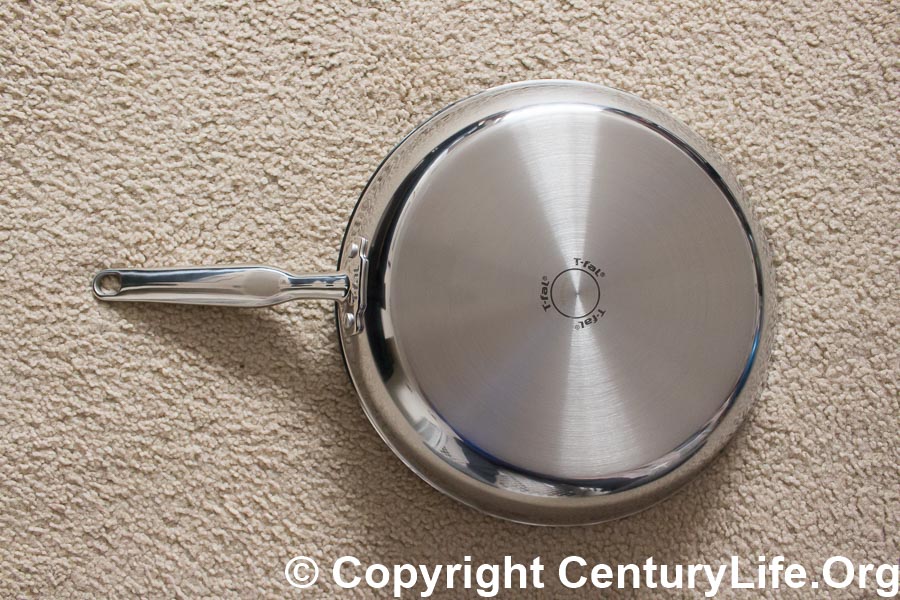 CONCLUSION
T-Fal Multi-Clad is only sold as 12-piece set, so it's important that you actually want the set, else you're better off with another product line.
Overall, the sizing and selection of pieces in this set are a mixed bag:
8, 10, and 12 inch skillets
1.5, 2.5, and 3 quart saucepans (all with glass lids)
6 quart Dutch oven (read: short stockpot) with glass lid
3 quart steamer insert
This sizing is quirky for several reasons:
Right away we can see that the "filler" pieces are the 8-inch skillet and 2.5-quart saucepan, both of which aren't really necessary since the 10-inch skillet and 3-quart saucepan can do just as well for almost any situation where you'd use the smaller pans.
The Dutch oven is not a great deal:

It's smaller than the typical 8-quart stock pots you get with many other cookware sets. The useful capacity of stockpots is less than the stated capacity because you need some safety margin to avoid spilling anything down the sides. An 8-quart stock pot might give you about 7 quarts of useful capacity, and a 6-quart stock pot might give you about 4.5 to 5 quarts of useful capacity.
The glass lid with steam vent hole makes the Dutch oven harder to use as a real Dutch oven:

The hole in the lid will lose a lot of liquid and aromatics/flavor compared to actual Dutch ovens with tight-fitting lids; and
Tempered glass is not oven safe beyond about 350F. Therefore you will not be able to use the Dutch oven for recipes requiring higher heat.

Most cookware sets are sold with 10 inch skillets + a 3 to 4 quart saute pan, but this set splits the difference with a 12 inch skillet. A 12-inch skillet that is about 2 inches tall like this one can hold about 2 quarts, which is a lot less than a typical 3.5-quart saute pan. But if you're trying to free a lot of fish fillets or steaks or something then a 12-inch skillet is somewhat better for that than a typical 3.5-quart saute pan because it allows steam to escape better and lets you slide a turner underneath the food more easily than a saute pan's vertical sidewalls do. Personally I'd rather have a 10 inch skillet with a 3.5 quart saute pan than a 10 and 12 inch skillet, because without a saute pan you are going to have a much harder time cooking down leafy greens and other vegetables, perhaps resorting to multiple batches.
T-Fal has shown no signs of selling individual pieces in this product line, so what you see is what you get. If you want to expand beyond the sizes and shapes in this cookware series, you'll have to do it with other brands. Some people care because it means having a mish-mash of looks instead of one consistent look (to the handles and styling of the cookware).
I wanted to like this T-Fal Multi-Clad cookware set, but I would not recommend it over the Cuisinart MultiClad Pro 12 piece set for most people. Compared to the MCP set, the T-Fal set basically adds a 12 inch skillet, loses the 3.5 quart saute pan, loses at least 2 quarts of useful capacity on the stock pot, gives you glass-lid issues (see above), and gives you a redundant 2.5-quart saucepan which seems to be there to increase the "piece count" of this set so that it can be marketed as a 12-piece set even though it's effectively a 10-piece set. That said, if you prefer the odd sizing of the T-Fal set, then it's the better deal.