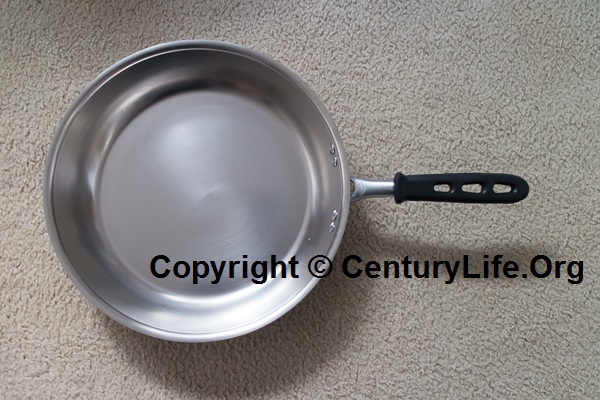 THE COMPANY
The Vollrath company is a privately-held American foodservice (kitchenware and appliance) manufacturer headquartered in Sheboygan, Wisconsin. The company traces its roots back to 1874, when Jacob Vollrath started a factory that made and sold various kitchenware products such as pots and pans. The company also made products as varied as furniture castings and railroad and agricultural parts. Some of Vollrath's earliest popular products included ceramic/enamel-coated cast iron and sheet steel, but by the 1930s the company had begun to shift to stainless steel, and the company also mass-produced millions of military products like mess trays and drinking canteens during World War II. Today, Vollrath manufactures a broad array of commercial kitchenware and kitchen electrics.
THE PRODUCT BEING REVIEWED
Vollrath's tri-ply stainless, "Vollrath Tribute," is built like a slightly thicker version of All-Clad Stainless (aluminum sandwiched between two layers of stainless steel). The inner layer is 18/8 stainless, which is highly corrosion-resistant. The outer layer is magnetic stainless steel, presumably 18/0 (SAE 400 series) stainless.
The specific pan I'm reviewing is the Vollrath Tribute 12 inch skillet
, but this review is applicable to other pieces in the Vollrath tribute product line
. Note that the 12 inch skillet (as well as other skillets and saute pans in the product line) comes in a version that does not have any silicone applied to the handle, called "natural finish
," which is less popular (perhaps because it is more slippery and because it can get uncomfortably hot to hold). The silicone handle makes for a grippier, more comfortable hold, and it's oven safe up to 450F (232C) whereas the non-silicone version has no published oven safe limit but is presumably safe up to at least the same 450F/232C temperature.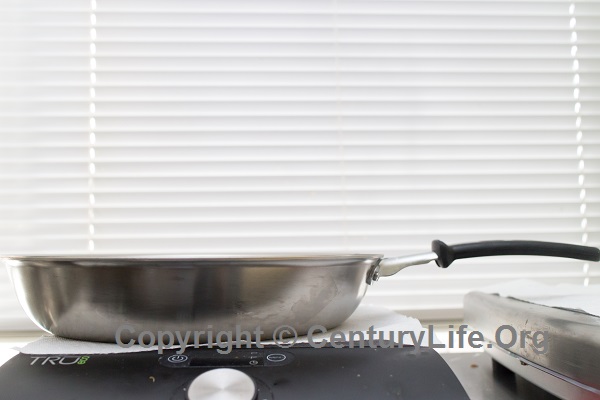 RATINGS
Overall Rating: 3.90/5 Very Good. For an explanation of ratings methodology, click here.
Cleanup: 3/5 Good. I never give 5/5 ratings to stainless steel; that's reserved for Teflon. Stainless steel is stickier and requires more cleanup time.
The 12 inch Vollrath Tribute skillet is below-average among stainless steel clad pans in terms of stickiness. It's obviously stickier than true nonstick pans like Anolon Nouvelle Copper (which allows me to cook eggs without using any oil at all), but even for a stainless steel pan, it's on the stickier side and didn't that well on my scrambled eggs tests despite plenty of oil and low heat. (You can reduce the stickiness by preheating the pan, then adding oil, then turning down the heat and adding food.) My usual trick of boiling water in the pan after cooking scrambled eggs allowed me to scrape off most of the egg residue with a silicone spatula, but the problem is not just that I lose more time cleaning this pan than others. I lose more egg as well. And I hate wasting food.
I don't know why this pan is a little worse at eggs than other pans. It could be due to different polishing techniques, a rougher polish, or something else at the microscopic level.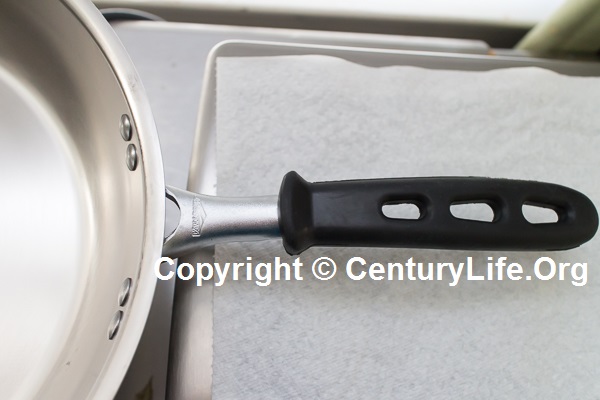 The four rivets are overkill for home use. I can see how stronger riveting would be a blessing in commercial kitchens (I have seen Vollrath Tributes used by chefs at the One Market restaurant in San Francisco), but for home use where the pan is not being abused, more rivets just means more places that trap food particles and bacteria.
Furthermore, the silicone always feels slightly sticky to me. I never feel like it's completely clean, the way that I do with all-metal handles.
Durability: 5/5 Excellent. Vollrath brags about its Evertite rivets being extra rugged, and they do appear to be very sturdy, with a whopping four rivets attaching the handle to the body of the pan. The silicone might wear off sooner if repeatedly abused (e.g., put into very hot ovens or run through the dishwasher every day), but I'm not going to hold that against them.
Even heating: 4/5 Very Good. The results speak for themselves. Vollrath Tribute's thick aluminum core makes it heat more evenly than All-Clad Copper Core, let alone All-Clad Stainless.
Handling and ease of use: 3/5 Good. The Vollrath Tribute 12 inch skillet
weighs 1785 grams (3.94 pounds) empty, which is fairly hefty. For instance, All-Clad Stainless 12 inch skillets only weigh 1265 grams (2.79 pounds empty). The Vollrath Tribute 12 inch skillet's large diameter and weight, plus the weight of food or liquid in the pan, add up to discomfort due to all that torque.
This pan ought to have a helper handle. But there is none. The Vollrath Tribute product line is built for burly restaurant workers, so you won't find niceties like helper handles on the even-heavier 14-inch skillet, let alone the 12-inch skillet. And there are no helper handles on any Vollrath Tribute saute pans smaller than 6 quarts.
You can't comfortably reduce the pan torque by choking up on the pan handle (moving your fingers closer to the pan), because you run out of silicone padding, and the upside-down "U"-shaped metal between the pan vessel and the pan handle digs into your fingers. Furthermore, you can't easily tuck the handle underneath your forearm to reduce discomfort, either: the overall handle might be 8 inches long, but the silicone-covered part is only about 6 inches long, and the rest is that uncomfortable "U"-shaped metal. Lastly, something I noticed during cleanup is that the "U"-shaped metal piece is hard to avoid. I like to choke up on the handle when there is a lot of water (weight) in the pan while handwashing, but that's not very comfortable.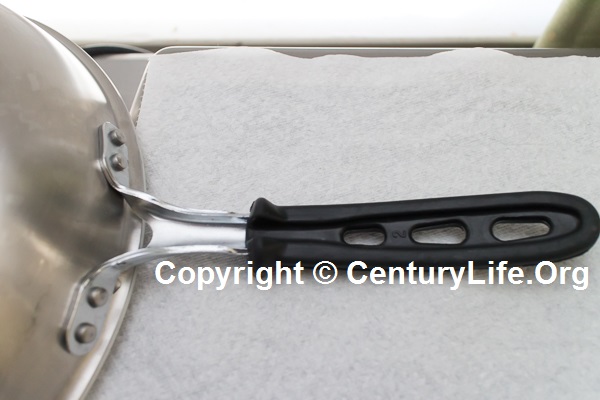 Vollrath claims that its Tri-Vent handles stay cool because it punches three holes in them, but that makes no sense to me. Hot gases flow up from a gas burner will flow through the little hole next to the body of the pan, though some will get trapped in the U-shaped part a little farther away from the body of the pan. Very little of it will go through the three holes. And if Vollrath were serious about keeping their handles cooler for longer, the company would not rely on a silicone grip but rather a larger hole next to the body of the pan.
Value: 5/5 Excellent. It's not very comfortable and looks ugly, but it gets the job done and heats evenly.
Versatility: 4/5 Very Good. Oven safe to 450F, but I'm not sure I'd consider it safe for repeated broiler use, because the silicone might degrade with enough exposure. The pan is dishwasher safe, but in order to prolong the life of the silicone, you should hand wash only. If this pan were the "natural finish
" version (all-metal), I'd give it a 5/5 for versatility as I wouldn't worry about degrading silicone. But the natural-finish version also has a more slippery handle that gets uncomfortably hot faster, so it's a trade-off.
The bottom flat cooking surface of about 9.25 inches is about average among 12-inch pans. The pan is relatively deep compared to other 12 inch pans, so you can treat it as a semi-saute pan in a pinch.
CONCLUSION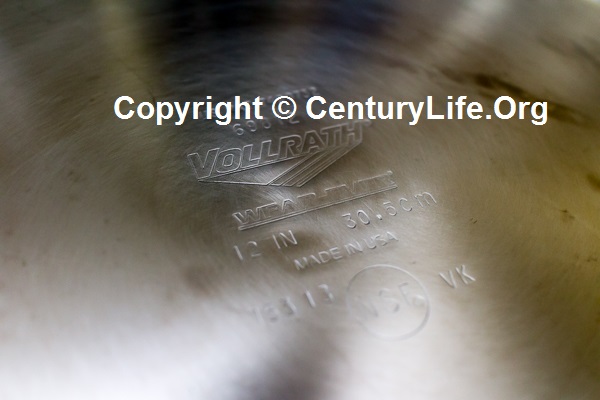 Ann's opinion of the Vollrath Tribute 12 inch skillet is that it looks "cheap and ugly." She also says that she doesn't like the pan because it's uncomfortable to hold and to maneuver, especially when laden with food. That's a consequence of its size, weight, lack of helper handle, and inability to easily brace the handle against your forearm. The Vollrath Tribute product line is geared towards burly cooks in commercial kitchens, so it's not surprising that looks and handling are not priorities.
The bottom line: The Vollrath Tribute 12 inch skillet heats evenly and won't rust easily, but it's ugly, uncomfortable to handle, traps twice as much grime in its four rivets as other brands trap in their two rivets, and is somewhat stickier than other stainless steel pans. But it's good value for the money if you can overlook the drawbacks.
No Vollrath Tribute comes with lids included, so if you don't already have other lids that will fit, I would recommend buying a universal lid such as this one.