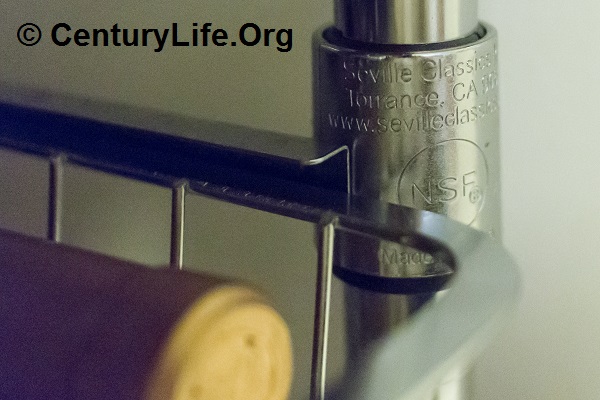 Chrome Plating is very shiny and hard and is often applied along with a base layer of nickel to bare steel. If you bang into chrome plating with something hard enough times, the chrome plating can wear through and expose the underlying steel, which can rust. As long as you're not too careless, though, this finish can last for a very long time and is a favorite material for commercial establishments ranging from kitchens to warehouses to retail stores.
Unfortunately chromium has gotten a bad rap from association with its pollutant.  In the film Erin Brockovich, actress Julia Roberts starred as a do-gooder who helped sue a gas and electric utility company for polluting groundwater near a small California town with hexavalent chromium.
So is chromium toxic?  Is chromium plating toxic?  Is stainless steel toxic, since it is comprised of 18% chromium?
The short answer: No!  Chromium is not toxic to end-users.  Furthermore, many chrome-plated wire shelving manufacturers have their products tested for safety and certified by the National Sanitation Foundation (NSF) so that they may be used in commercial kitchens.
The long answer: Chromium is not toxic to end-users. But chrome plating used to generate hexavalent chromium pollution.
Before 1975, chrome plating used acid baths with industrially-produced hexavalent chromium, which is toxic and causes cancer.1  But after 1975, the relatively nontoxic trivalent chrome plating process took off as an alternative.
In hexavalent chromium plating, you take whatever it is that you are plating and clean it off, e.g., with chromic acid to remove oxides on the product. The product is then placed in a chromium bath containing chromic acid (CrO3) and sulfate (SO4), which is extremely acid wit a pH of 0. Within that chromic acid bath, chromium is in a +6 oxidization state, which is subsequently reduced to +3, then an unstable +2, and then to Cr0 (stable chromium). Hexavalent chromium has low cathode efficiency, so corners may be less-plated. To get around this, the product is either a) over-plated and the portions with excess chromium deposits is ground down; or b) auxiliary anodes are used to encourage more uniform plating of hard-to-reach areas of the product. In any case, you wind up with chromium mist which is a health hazard for employees, as well as a bunch of sludge from wastewater treatment to reduce the pH using, e.g., sodium bisulfate.
In trivalent chromium plating, you have higher cathode efficiencies which means less energy usage and less chromium mist in the air, meaning less need for scrubbers to air pollution. You also do not have anode decomposition or nearly as much wastewater sludge, because you can skip the reduction from hexavalent to trivalent chromium, since you already have trivalent chromium. Finally, trivalent chromium is by its very nature less toxic, plus you need a lower concentration of it in the chromic acid bath.2