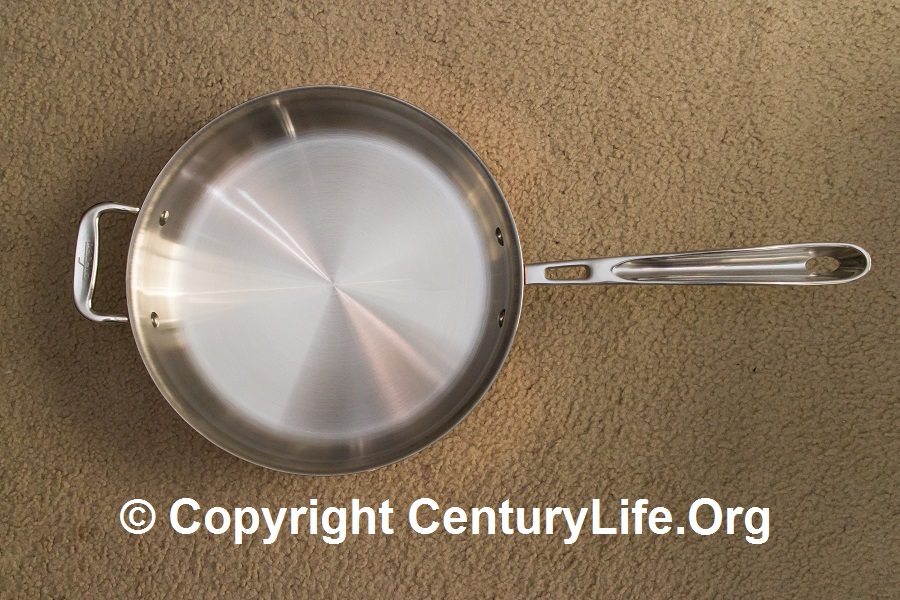 THE COMPANY
I've written extensively about All-Clad here.
THE PRODUCT
The subject of this review is All-Clad Copper Clad (also known as C2 or C²)
. We'll be taking a close look at the 3-quart Copper Clad saute pan
, though it's applicable to the rest of the product line as well. C2 is not induction-compatible. C2 is made in the USA. NOTE: All-Clad discontinued C2 shortly sometime around 2018.
Regular All-Clad Stainless
is made with a stainless exterior, aluminum core, and stainless interior. It basically gives you the heat-spreading power of a thin layer of aluminum, but with stainless protective layers to make it induction- and dishwasher-compatible, more durable, and less chemically reactive than bare aluminum.
In comparison, All-Clad used to make something called Cop-R-Chef, which was made out of a thin inner stainless layer (the cooking surface), a middle layer of aluminum, and a thin layer of copper (the exterior). All-Clad discontinued Cop-R-Chef a number of years ago, though occasionally some other company will try to revive that style.
The problem with Cop-R-Chef style cookware was the questionable tradeoff. First, the pros:
Copper spreads heat better than aluminum and heats up faster, too, but in the case of thin-skinned copper, there isn't enough copper to make a big difference.
If you enjoy the look of copper, you also gain some aesthetic appeal when it's clean.
The pros come at the price of some cons:
You lose compatibility with dishwashers–and induction stoves, since copper is not magnetic.
Copper will change colors and eventually darken into an ugly matte brown if you don't clean it.
Copper is softer than stainless steel, so it scratches more easily.
As a general principle, if you're going to buy copper-exterior cookware, then you might as well go all the way and get the genuinely thick copper such as Mauviel or Soy–not the stuff that uses aluminum filler. That way you get the full benefit and penalty of copper, instead of getting only partial benefits and the full penalty (which is what you get with Cop-R-Chef or any other product line where the exterior stainless cladding is replaced by a thin layer of copper).
In 2014, All-Clad introduced Copper Clad, which is made out of a much thicker exterior copper layer, no aluminum middle, and a stainless interior layer. You now get the full benefits and drawbacks of copper, with no aluminum filler.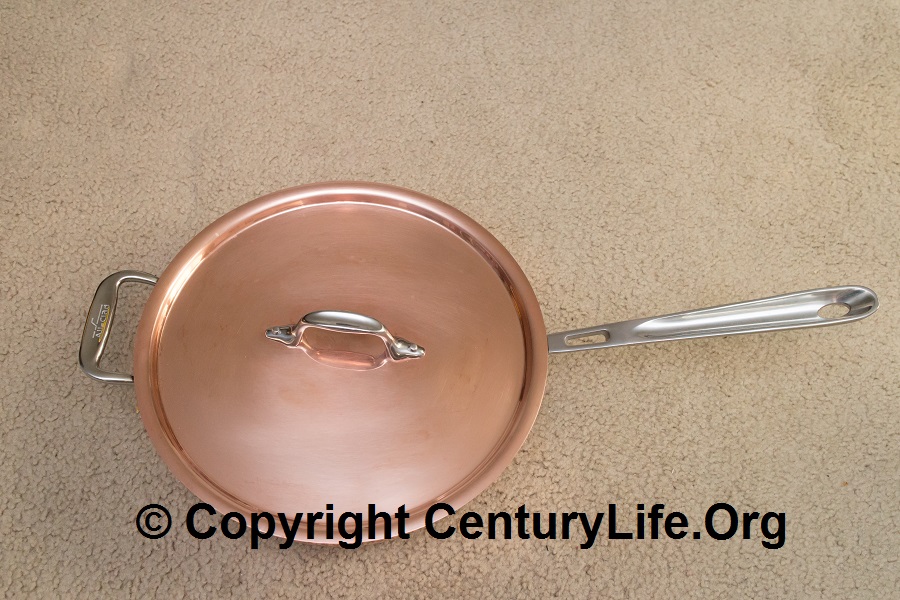 RATINGS
Overall Rating: 3.9/5 Very Good. For an explanation of ratings methodology, click here.
Cleanup: 3/5 Good. I don't give 5/5 scores to stainless steel pans, ever, because that's reserved for Teflon-style pans. For a stainless steel pan, I'd rate this pan about average for stickiness among all stainless steel pans. If you pre-heat the pan first, then add oil (or butter, etc.), and then turn down the burner and add food, then that should help reduce stickiness issues. Do not heat the oil along with the pan; it works better to add the oil only after the pan is hot.
Exposed rivets can be harder to clean than flush-rivet or rivetless designs. Copper requires extra care. So between those two drawbacks, I'm taking a point off. (I've previously reviewed stuff like De Buyer Prima Matera that was mostly stainless steel on the exterior, so I didn't take a point off in those cases.)
Use Copperbrill Cleaner
or some other copper cleaner to restore the shine of copper without scratching. BKF also works, but it will scratch up the exterior more.
Durability: 5/5 Excellent. C2 is made of reasonably thick copper-stainless, about 1.7 mm thick of which about 1.2 to 1.25 mm is copper; that's comparable to the copper thickness of other companies' 1.5 mm thick copper
(which are about 1.3 mm of copper with 0.2 mm of stainless lining). Copper scratches more easily than stainless, and it's softer, but not so soft that I'd take a point off just for that. Even stainless pans will exhibit scratches eventually; copper just gets scratched up faster.
Even heating: 5/5 Excellent. The pan heats very evenly. Heat retention is good, as you might expect from a pan that weighs 1.97 kg (4.34 pounds) without lid. (For sake of comparison, an All-Clad Stainless 12-inch skillet weighs 1.265 kg, or 2.79 pounds). Thus adding cold food won't crash the temperature of this pan as badly as it would with lesser pans. That means better browning, as you spend more time creating Maillard reactions and less time steaming the meat due to a temperature crash.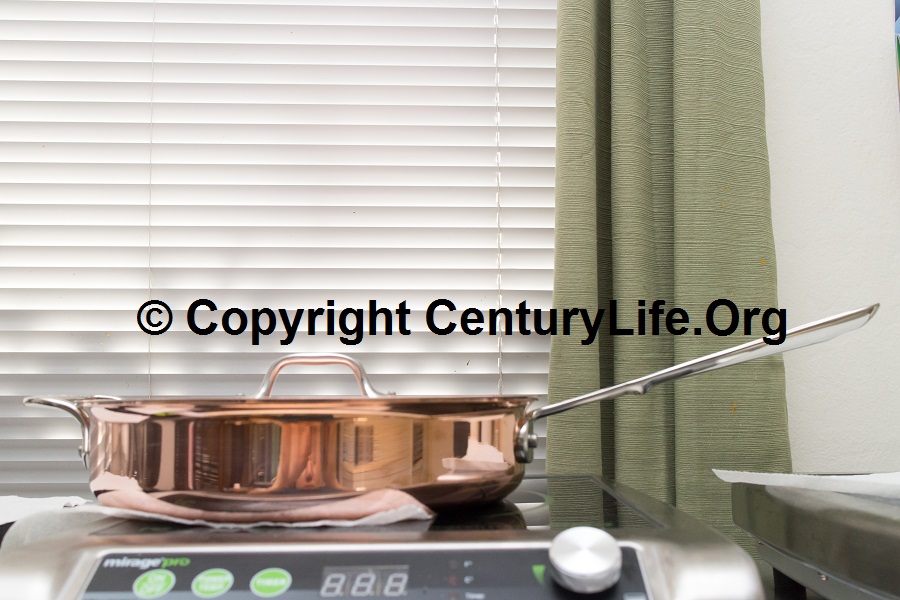 Handling and ease of use: 4/5 Very Good. The flared rims on this product line are good to avoid dribbles down the side of the pan while pouring. All-Clad's handles do stay cool on the stovetop, but they are also notoriously uncomfortable unless you wrap them in towels or tuck them underneath your forearm. This is particularly true for heavier pans like this one if you try to use only one hand. However, the helper handle makes handling easy.
Value: 2/5 Poor. See Conclusion.
Versatility: 4/5 Very Good. Oven and broiler safe (to 500F). NOT dishwasher- or induction-compatible. If you have some firmly stuck-on bits, try boiling a little water in the pan to loosen stuck bits. If that doesn't work, try using some Bar Keepers Friend.
The pan has a flat bottom circle about 10 inches in diameter, so you can fit a decent amount of food into the pan in one go.
CONCLUSION
All-Clad C2 is a good product. It's a great performer, made in USA (except maybe the lid), and comes with a lifetime warranty. (The lid uses a cheaper grade of stainless steel instead of 18/8 or 18/10, resulting in less corrosion resistance.) Yet I can't wholeheartedly recommend it. The problem is that so many alternatives exist for C2 for less.
Mauviel's 1.5 mm thick copper
performs comparably to All-Clad C2. For instance, the Mauviel M'Heritage Copper M150S 6111.25 3-1/5-Quart Covered Saute Pan
is slightly larger and costs about the same.
Then there is Mauviel's 2.5 mm thick M250C line (I review it here) which give you 2.3 mm of copper bound to 0.2 mm of stainless on the interior, which spreads heat far more evenly than All-Clad C2. It's somewhat more expensive than the All-Clad C2, but if you're going to go to the trouble of cleaning copper in the first place, then you might as go thick.
If you're okay with tin or silver lining (which are soft and require caring for the same way you need to be very gentle with Teflon pans), Soy Turkiye produces a 2.5 mm thick copper line (I review it here) that outperforms even the Mauviel (on gas, anyway). The performance isn't much better than the stainless-copper Mauviel M250C mentioned above, and the price is comparable. But the Soy is hand-hammered and looks gorgeous, which is more than what the All-Clad C2 can say.
And if you don't want to deal with the maintenance of bare copper, or if you want induction-compatibility, then you could get Demeyere Atlantis (I review it here), which utilizes 2 mm thick copper discs on the bottom. It won't be as responsive as bare copper thanks to all that stainless steel encasing the copper, but it will spread heat more evenly than the All-Clad C2.
Some of the skillets might not come with lids, so if you don't already have other lids that will fit, I would recommend buying a universal lid such as this one.