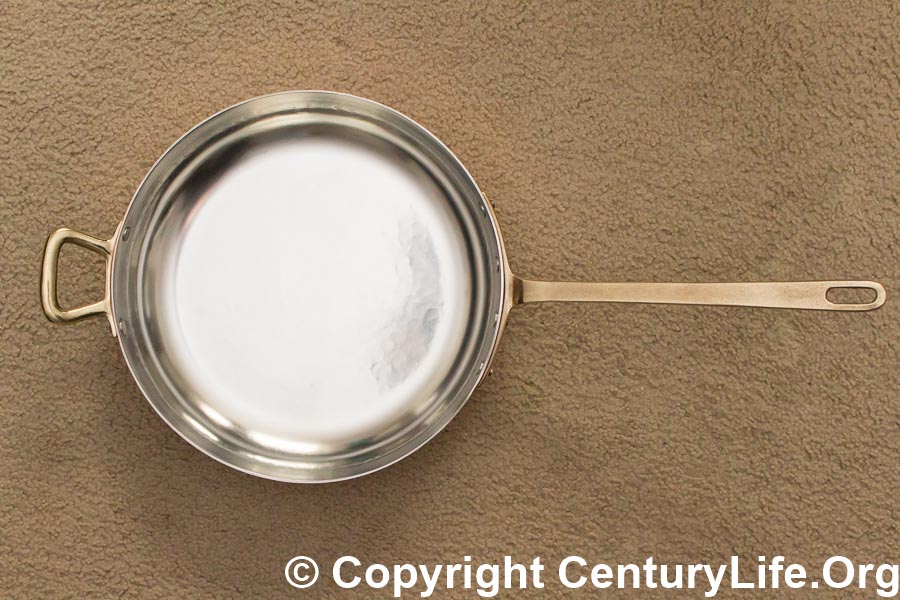 Note: If you have an induction stove, see De Buyer Prima Matera as well.
THE COMPANY
Bottega del Rame (Italian for "Copper Shop") is the workshop of Mr. Cesare Mazzetti, located in the town of Montepulciano in central Italy (between Florence and Rome in the Tuscany region).1
Cesare's grandfather, Bernardo Mazzetti (1863-1909, born in Montepulciano), was a farmer who was injured from falling out of an oak tree. He returned to his birthplace of Montepulciano to pursue his interest in metalworking, buying rough copper from a foundry in Gran Sasso and forming them into copperware for his wife to sell at marketplaces in the nearby towns of Chianciano, Pienza, Petroio, and Torrita.
Bernardo was a competent coppersmith in his own right, but he decided to send his son Giuseppe (1903-1982, born in Montepulciano) to apprentice with the master coppersmith Ghiotto of Porta Farina. When Master Ghiotto died, Giuseppe bought all of Ghiotto's tools, stamps, anvils, forges, and lathes which dated back to 1850-1857, some of which are still in use today.
Guiseppe had two sons, both plumbers, but eventually Cesare (1936- ) returned to help his father's increasingly famous Montepulciano copper workshop. Since 1982, Cesare has made copper cookware, plates, and other housewares at the workshop. Like his grandfather and father, Cesare makes copperware by hand (using tools like hammers) rather than by hydraulic presses. Says Mazzetti: "To be a coppersmith has been and is for me a dream come true…. I derive great satisfaction doing what I love. I work with passion and integrity and my life is peaceful and full of love."
Cesare's son is an engineer, so it appears that Mazzetti's copper shop will close when Cesare retires (he is 80 as of 2016). In the meantime, Cesare continues to make heirloom-quality copperware for sale. Mazzetti even made a plate for Pope Benedict XVI. And you can get a Mazzetti copperware piece of your own, too.
THE PRODUCT

I purchased my pan at Mazzetti's Amazon Handmade shop (click here for silver-lined products; click here for induction products; click here for non-induction tin-lined Mazzetti cookware products). As if there were any doubt about how the pan is a family-run operation, the pan arrived in a nondescript cardboard box packed with Italian-language newspapers rather than packing peanuts or air bags.
The pan's specifications: 30 cm top diameter, induction-compatible bottom. The pan is made from 3mm-thick copper and lined with tin. The handle is made of brass, and it's quite long (about 10.5 inches long). That length allows you to easily brace the handle underneath your forearm for greater control.
All Bottega del Rame copper cookware is 100% handmade in Italy and lined with your choice of tin or silver (tin is cheaper, silver is more expensive). If you do get a silver lining, it's 0.015 mm thick silver plating. That's actually fairly thick for silver plating. Both the tin and silver linings and can last for decades if you are careful to treat them as if they were Teflon. Never use metal utensils. Stick with plastic or silicone spatulas only. And if you cook things with bones in them, try to avoid pressing down while dragging the bone across the surface.
If you can splurge on only one piece of cookware, make it a large-diameter piece, such as a large frying pan. Frying pans are used for searing and also have to spread heat horizontally a long distance, so you want something with high thermal conductivity, like copper. Furthermore, frying pans should have heat-conductive sidewalls because you want the entire cooking surface to be the same temperature, or close to it. (Yes you can stir to make up for thermal differences, but some foods can't be stirred easily, like long bacon strips, or fish fillets. And you want to be able to cook on the sidewalls to avoid problems like eggs and pancakes being overcooked in the middle and undercooked along the edges.)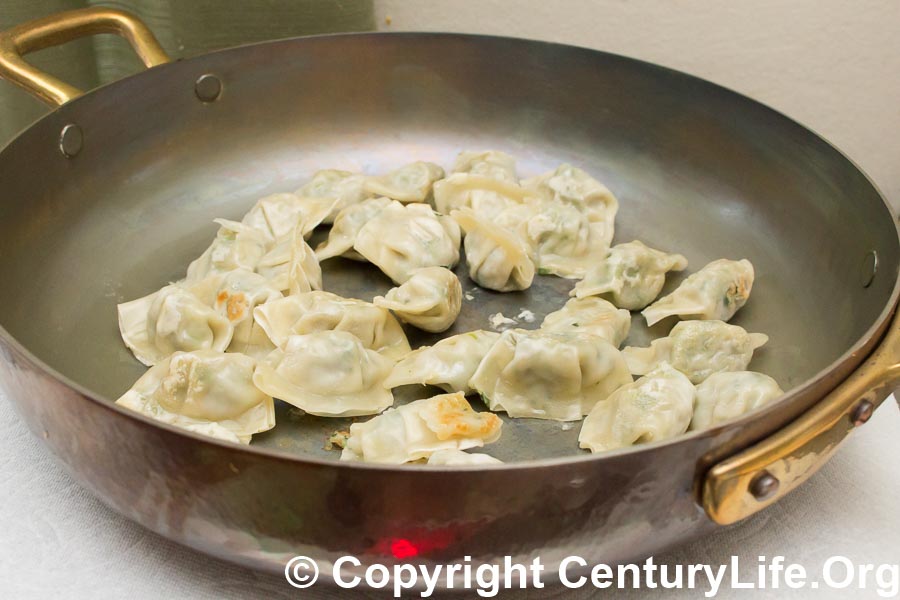 RATINGS
For an explanation of ratings methodology, click here.
Overall Rating: 3.65/5 Very Good.
Cleanup: 3/5 Good. I typically only give perfect (5 out of 5) scores to nonstick pans. A well-polished stainless steel pan rates a 4.
I do not have a silver-lined version of this pan, but you can read about my experiences cooking on silver elsewhere. (Short story: silver is about as sticky as stainless steel, and you can't resort to using abrasive cleaners like Bar Keepers Friend because the silver plating is usually only around 0.015 mm thick. Treat silver like Teflon nonstick and you will be fine.)

The Mazzetti pan I review here tin-lined. Tin is definitely less-sticky than stainless steel or silver, but definitely stickier than Teflon nonstick pans. I would rate it as comparable to seasoned cast iron, i.e., semi-nonstick. Please note that tin starts off shiny but turns into a very dark grayish color after it is heated. This is completely normal.
Silver plating is thin, and tin is very soft (softer than aluminum), so you can't use abrasive cleaners. Instead, you will need to use nonabrasive cleaning techniques:
Deglaze pans. Deglazing means pouring an ounce or more (depending on the pan size) of water, wine, or some other thin fluid into the pan while it's hot, but not so much that it warps the pan. Pour just enough to get the pan to bubble off most of the stuck-on bits (called the fond in French); use silicone/plastic spatulas/tongs/etc. to help scrape off the fond. If you do this with the remnants of proteins like steaks, you can make a delicious pan sauce to pour over the steak.
If that doesn't work, pour a larger amount of water into the pan and boil it off. You can also soak the pan overnight before doing so.
It's safe to swish vinegar around the interior of the pan and to let it sit for a while. You can even deglaze the pan with vinegar. The acidic vinegar can pry some stubborn stains off.
Scrubbing with a soft sponge (rated nonstick-safe, such as Scotch-Brite 3M Non-Scratch Scrub Sponges) and soap and water is safe.
It's okay to leave tiny traces of food in the pan that simply won't come off. Those don't really pose a threat because microbes will die the next time you preheat the pan, anyway.
Avoid using baking soda, BKF, metal polish, steel wool, or even the rough side of a scrubbie to clean this pan. Treat it like a Teflon pan. Abrasives, even relatively mild ones like baking soda and BKF, can wear away the soft tin, or the very thin silver lining.
As examples of cleaning, I deliberately cooked salmon and potstickers and in both cases there was mild sticking that came off after a quick boil of water.
As an aside, a nice side effect of copper is that it's toxic to microbes. For instance, more than 99.9% of E. coli and MRSA bacteria die within 2 hours of contact with 99.9% pure copper. Even alloys with lower percentages of copper, such as brass and bronze, will kill microbes (albeit less efficiently).2 Copper even kills fungus and the flu. In comparison, such microbes can persist for weeks on stainless steel.
What this means is that the brass handle will self-clean even if not thoroughly washed. (As for the body of the pan, cooking heat will destroy microbes much faster than the natural antimicrobial properties of copper/bronze/silver.)
Please note that all copper cookware discolors with use; that's because the copper oxidizes into various colors as it is heated. It typically turns a dark orange, and then into various shades of the rainbow (my particular pan is currently a shade of gold-green; see below). This oxidization is referred to as patina. Eventually the pan turns into a dull brown. Some people prefer to leave the patina on, whereas others like to polish off the patina every so often.
Durability: 4/5 Very Good. The pan sits flat. I have no doubt that the pan will be fine for decades or centuries, so long as it is not abused. The handle is made out of brass and secured with four large, copper rivets hammered into place. The entire copper pan is hammered, except for the handle which is smooth. Hammering mildly stresses copper and makes the copper harder and more brittle. Unstressed copper has a regular, crystal structure at the molecular level and is thus softer and more pliable. That's good for making copper wire, but not for cookware. For cookware, we want to shape the copper into its final form while it is soft, and then hammer/work-harden it into its final shape in order to withstand wear and tear better.
As for the durability of the pan lining, don't overheat the pan.
For silver: Silver naturally tarnishes by reacting to trace amounts of sulfur (e.g., hydrogen sulfide) in the atmosphere, and that process accelerates dramatically as you go above 800F. (Is this tarnishing a problem in real life? Not really. About the only time you'd ever go above 500F is to sear a steak or something like that, and even then you're not likely to go much hotter. So you should have no problem keeping this pan untarnished in normal use.)
For tin: Tin melts at about 450F. This is not a problem so long as you avoid high-temperature tasks like searing steaks on this pan.
For both: avoid using metal utensils. I would even avoid using bamboo utensils because bamboo is so hard. Stick with silicone or plastic utensils if you can help it.
Once the silver lining wears through and exposes copper, the pan will begin emitting copper into your food as you cook. A little copper is okay–in fact you need a very small amount of copper to live. But a lot of copper is toxic. So if you have, say, a square inch of copper peeking through, get your pan re-silvered or re-tinned. For retinning, I recommend Rocky Mountain Retinning because their rates are reasonable (around $80-100 for a large pan) and they have a good reputation for doing thick and good re-tinning jobs. For re-silvering, ask your local silversmith.
I wound up giving this pan a high durability rating despite the relatively soft tin lining because the softness of the lining is more of a cleanup issue, and otherwise the pan is well-built. But I can't give it a perfect score because soft linings are not purely a cleanup issue.
Even heating: 5/5 Excellent. The Mazzetti pan is hand-hammered, but is less bumpy than other hand-hammered pans I've used. Therefore the pan has decent contact with flat surfaces like electric coil stoves.
The mildly bumpy surface and super-low thermal emissivity of tin made it too hard to do an accurate thermal image of the pan. The softness and thinness of the tin meant that I didn't want to use a thermocouple, either, as that would scratch the lining. That said, with 3 mm of copper on the bottom (equivalent to about 6 mm of aluminum in terms of heat-spreading ability), you can bet that this pan would have been right at the top of the thermal rankings.
(Note: if you're choosing between 3 mm and 2.5 mm thick copper, I'd recommend the 2.5 mm unless you know you will be cooking at higher temperatures such as searing meat–in which case you should get silver lining as well, to avoid tin melting at 450F. Yes the 3 mm pan will spread heat better, but it's overkill for typical sauteed vegetables, pan-friend fish, fried eggs, etc.)
Heat retention is very good with this pan, which has roughly 40% more heat capacity than an All-Clad Stainless pan of equivalent size. A thinner pan will crash in temperature more if you throw in a cold slab of meat/fish, resulting in more time spent steaming and less time creating tasty browning.
What is remarkable about copper is how quickly it heats up and cools down when you turn the burner on or off, all while storing a good amount of heat. It only takes a little over a minute to get the pan up to a high enough temperature to fry eggs, on a 12,000 Btu flame (a midrange gas stove's largest burner is about that strength). Such quick heating saves time and money in the form of lower utility bills. For comparison, a similarly-sized All-Clad Stainless pan takes closer to two minutes, and it also heats much less evenly.
Handling and ease of use: 3/5 Good. The long, thin brass handle handles okay if you brace it underneath your arm, and for most people it is a necessity to do this to avoid wrist discomfort. 3 mm-thick copper is heavy. The total pan weight is 3.165 kg empty (6.98 pounds), though there is slight piece-to-piece variation whenever you order something that is 100% handmade. 7 pounds is a lot heavier than, say, All-Clad Stainless of comparable diameter (1.265 kg, or 2.79 pounds)–though to be fair the All-Clad is a shallower pan and would probably weigh more like 3.5 pounds if it were as deep as the Mazzetti pan.
On the plus side, the Mazzetti handle isn't that heavy, so the pan remains well balanced in contrast to other companies which use much bigger, heavier handles that make the pan less comfortable to use. The pan doesn't have flared rims for less-drippy pouring, unfortunately.
Value: 3/5 Good. Considering the performance, artisanship, heirloom quality, and what copper cookware goes for in general, the price is fair. Copper does heat up very quickly, but you are saving a buck or two on electricity or gas each year at most.
Versatility: 4/5 Very Good. The pan is about 30 cm in diameter (top), with a 9.5-inch diameter flat cooking surface and a height of about 2.5 inches. The handle is about 10.5 inches long. Thus the pan has plenty of flat floor space, which is important to avoid crowding. And the pan is tall enough to substitute for a saute pan in a pinch.
Both copper and silver are oven-safe to 500F+ (they have melting points well above 1500F). If you get the tin-lined version, you should know that tin melts at 450F. Ovens can be miscalibrated or overshoot the target temperature, so I would hesitate to use this tin-lined pan in the oven at anything higher than ~325F target temperature or so.
These pans are not dishwasher-compatible. Dishwasher detergents will quickly make copper turn ugly colors, even if the copper retains its structural integrity.
Copper is not induction-compatible by its very nature–you need ferromagnetic material for that. Mazzetti charges about $75 more for its induction-compatible pieces than its non-induction compatible pieces.
Is the induction treatment worth it? The short answer is no. Mazzetti pans are made and then sprayed on the bottom with hot iron. The iron fuses to the copper and makes the pan induction-compatible. But iron rusts, so in order to protect the iron, you need to season it by covering the iron with very thin layers of oil (e.g., flaxseed oil, lard, vegetable shortening, etc.) and then baking/heating the oil. Typically you'd want to season inside of an oven, but the frying pan I got would not fit into my oven! (The total horizontal length was about 24 inches including handle + body.) Therefore I resorted to blasting the bottom with an Iwatani ZA-3HP butane stove (I review it here). I tried to avoid melting the tin, but not all of the oil would fully polymerize at lower temperatures, so I had to crank up the heat to finish the job. This melted some of the tin. So while I did successfully season the bottom of the pan, it was less than ideal.
Therefore if you want induction-compatible copper, stick with De Buyer Prima Matera. They are the only copper cookware company which uses magnetic stainless steel on the bottom of their copper pans. Magnetic stainless steel is rust-proof–no seasoning required.
(NOTE: if you do get iron-bottom versions of Mazzetti, take a bunch of paper towels and rub off any iron which isn't firmly stuck to the pan. It will make a mess, but that's better than needing to re-season a pan bottom because loose bits of iron fell off.)
CONCLUSION
Note: If you have an induction stove, see De Buyer Prima Matera instead.
The knock against copper pans is that they are relatively heavy, do not work on induction stoves (Mazzetti pans can be ordered induction-compatible, but I would not recommend it due to problems seasoning the pan, particularly for pieces that don't fit into ovens), cost a lot, and require more upkeep if you want to keep them shiny (though many people allow the copper to develop a deep brown patina and rarely clean it).
All of that is true, but copper cookware is for folks who are okay with sacrificing a bit of modern convenience in exchange for unrivaled thermal responsiveness and the satisfaction of cooking on a metal (copper) which represents the pinnacle of traditional cookware. Copper cookware can be used as conversation starters and warm-colored kitchen decor in a way that other cookware can't; stainless steel looks clinical in comparison.
But before diving into tin-and silver-lined cookware, make sure that it's really what you want. Many people want something comfortable to cook with (good handles and balance), that is also easy to clean. Pans with stainless cooking surfaces let you use abrasives and scouring pads, won't melt or get scratched up too badly, and can be put into the dishwasher if necessary. So consider getting stainless-steel lined copper cookware instead, such as Mauviel's M250c (reviewed here). If you need induction-compatible copper, try De Buyer Prima Matera instead.
If you are still interested in tin- and silver-lined cookware, then Mazzetti is excellent. If you have to choose between Bottega del Rame (Mazzetti) and Soy Turkiye (I review it here), the better purchase depends on your needs:
Mazzetti pieces are better-crafted than Soy pieces and are heirloom quality. Cesar Mazzetti's family has been working with copper for many decades, whereas Soy is an upstart that has made great strides but which still has dinkier-looking rivets. Mazzetti rivets are larger, there is less bumpiness on the bottom of the pan (giving you better contact with electric stoves), and the handle is more elegant (the Soy handles are bigger and heavier, making them less well-balanced). Mazzetti pieces also have the option of being made induction-compatible.
Soy pieces are good, but not quite as well-made as Mazzetti. Soy makes up for this in two ways: lower prices (Soy does not charge more for silver-plated than for tin-lined, unlike Mazzetti), and Soy also offers lifetime re-tinning/re-silvering as part of its warranty. On the other hand, Soy may change its policies at any time, so while they seem willing to pay for shipping both ways as part of a warranty claim, it's not something you can really bank on.
In my opinion, if you are going to spend hundreds of dollars per piece on high-quality tinned copper, you might as well get Mazzetti. It's more of a toss-up if you want to save some money or if you want silver-plated.
Although Mazzetti has a small Italian website, I recommend buying Mazzetti products via Bottega del Rame's Amazon storefront (click here for silver-lined products; click here for induction products; click here for non-induction tin-lined Mazzetti cookware products) because the prices are the same either way, but a) Amazon is in English, b) Amazon heavily protects your credit card information, c) you can use Amazon gift cards, d) you get strong buyer protection in case anything goes wrong like a pan being lost or damaged arriving damaged or of incorrect specification, and e) Amazon automatically gives you the option to cancel your order if Mazzetti takes longer to make and ship your order than the advertised time period on Amazon.com.
Other Notes:
If you need a utensil that won't damage the pan, I'd suggest adding a steel-reinforced silicone turner because:
Metal utensils are too hard for tin- and silver-lined pans; they will scratch the pan's lining.
Plastic spatulas like nylon can soften/melt at frying temperatures.
Wood utensils will eventually stain and break down and isn't dishwasher safe, and the cheap ones disintegrate quickly. But it's a good option as long as you keep replacing them when they wear out.
Silicone is very durable.
After extensive testing, our recommendation is the OXO Good Grips silicone turner. This is also sold as the StarPack Ultra Flexible Silicone Turner set. Alternatively, get a pair of silicone-tipped tongs.
Some of the skillets might not come with lids, so if you don't already have other lids that will fit, I would recommend buying a universal lid such as this one.
FOOTNOTES