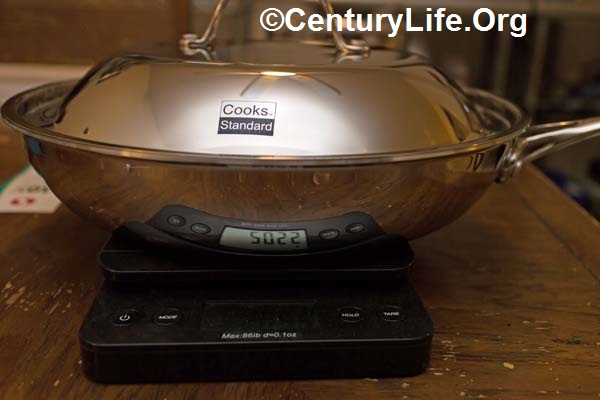 THE COMPANY
Cooks Standard has been a registered trademark of Neway International, Inc., since 2012. Neway International, Inc. imports what it brands Cooks Standard multi-ply clad cookware from a Chinese company that started in 2003.
THE PRODUCT
This review is for the Cooks Standard 12 inch Multi-Ply Clad stainless steel skillet
, though this review is applicable to other pieces in the product line. Cooks Standard Multi-Ply is an All-Clad Stainless knockoff made in China. It's not as thick as the real thing, and it spreads heat worse as a result. It might also be somewhat more prone to warping over time due to the thinner metal. The Cooks Standard logo is apparently laser-etched onto the lid and bottom of every pot and pan in the lineup, which looks tacky to many people and makes it awkward to give as a gift. It can't be scrubbed off, though you could probably sandpaper it off with some effort (and make the pan look even worse as a result).
On the other hand, the pan comes with a 30 cm semi-dome lid, whereas many skillets do not come with any lid and instead ask you to use a lid from some other piece of cookware you already have. Depending on whether or not you already have a 30 cm lid, that difference can be significant. And the lid is made out of stainless steel, not breakable glass. The skillet is also polished to a mirror finish on the outside, which makes it look pretty good so long as you ignore the logo.
RATINGS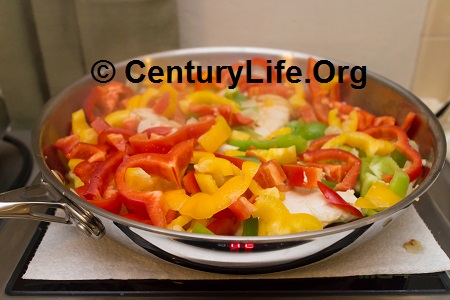 Overall Rating: 4.05/5 Very Good. For an explanation of ratings methodology, click here.
Cleanup: 4/5 Very Good. I don't give 5/5 scores to stainless steel pans, ever, because that's reserved for Teflon-style pans. For a stainless steel pan, I'd rate this as a lower 4, if that makes any sense. It was definitely a 4 and not a 3, but it could have been more convincing. The pan heated evenly enough that it didn't flunk my scrambled eggs test, but it wasn't as slick as other pans I've used, and I got a bit of egg sticking in an "O" shaped ring directly above the induction coil hotspot. This was despite liberal use of olive oil. It wasn't a bad result, per se; It's just that I've tested other pans that did noticeably better. I tried again with low heat. The eggs took much longer to cook and did not taste as good, and I was still left with some egg residue, albeit not as much.
Durability: 5/5 Excellent. Riveted and oven safe to 500F. The stainless steel handles feel like they are riveted to the pan well. At around 2.44 mm thickness it's a little on the thin side, thinner than ~2.6 mm All-Clad Stainless and thus presumably a little more prone to warping over time.
The semi-dome lid is made out of stainless steel and doesn't feel too flimsy, though, surprisingly given its price point. It's even got a decently sized handle. It's also made out of genuine SAE 304 stainless steel (18/8 or 18/10 stainless).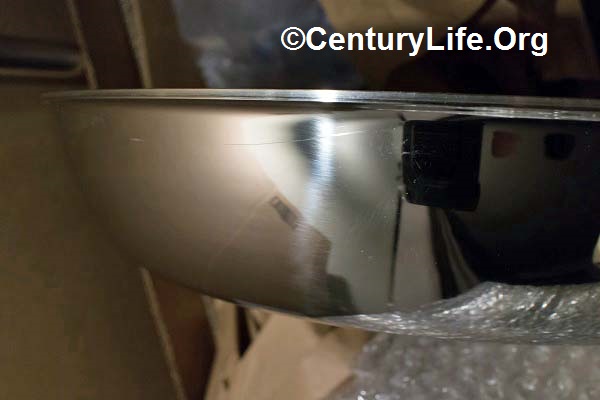 Even heating: 3/5 Good. The pan is near the bottom of the electric/induction rankings. If it did a little worse, it would be disqualified because the center would not reach 350F before some other part of the pan did, in which case I'd refer you to the gas rankings instead.
That said, the bottom of the induction rankings isn't as bad as it sounds. It's still a lot better than cast iron, for instance. You just need to stir food more often to deal with the hot spot, if it's possible to stir. Of course some foods don't lend themselves to that, and sometimes you can't babysit one pan while other things are going on in the kitchen.
What may be an issue is if you need to cook a large amount of cold food at once, such as a large, cold steak which drops the temperature of the pan. The typical response to this is to crank up the burner to get temperatures back up, but since the pan does not excel at heating evenly, this could lead to hot spots where the burner is the hottest, and thus unevenly-cooked food. I've cooked things like salmon steaks and chicken breasts on this pan, and the temperatures crashed a little harder than All-Clad Stainless and a lot harder than my Demeyere Prolines.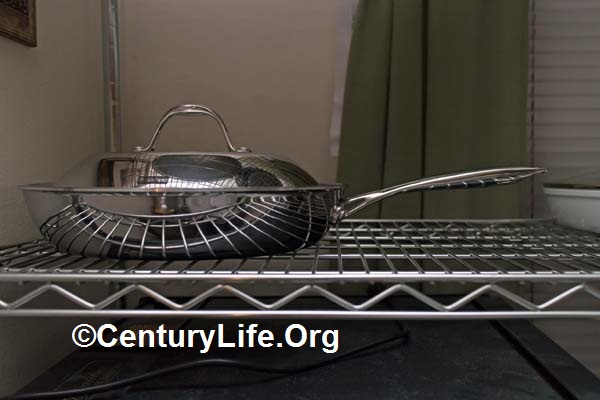 Handling and ease of use: 4/5 Very Good. The pan weighs 1440 grams empty without lid, and 2055 grams empty with lid. That translates to 3.17 pounds and 4.52 pounds, respectively. The pan can exert some significant torque when laden with food and lid, to the point where I think a helper handle would have helped significantly. I have to take a point off for that.
The stainless steel handle has a "V" shape when viewed from above, and also has some cutouts to promote circulation of air so that it doesn't heat up that fast. The handle isn't that long, but it's adequate and decently comfortable with no obvious palm-digging discomfort.
The flared rims on this product line are good to avoid dribbles down the side of the pan while pouring.
Value: 4/5 Very Good. No, it's not as good as All-Clad Stainless or Cuisinart MCP, but it's also priced lower. I hesitate giving this product a higher score because it's got quality control issues, no National Sanitation Foundation (NSF) certification, and has the tacky logo up front and personal.
Quality control: Out of two pieces ordered (the big saute pan and the 12-inch skillet), one came with a ghastly long scratch on the side. A fainter scratch and spot of chromium oxide residue was also present on the bottom, the latter being a byproduct of polishing.
National Sanitation Foundation (NSF): Most decent cookware is NSF certified for use in commercial kitchens. This is not. It's also made in China, which has a reputation for corner-cutting, such as adding toxic melamine in milk to make the milk look more nutritious–even if it kills the babies that drink it.1 It's also unnerving that radioactive tissue boxes, cutlery, belt buckles, hand tools, and pet food bowls have made it through US customs.2 I doubt that Cooks Standard is toxic, but I'd feel better if it were NSF-certified, because the product isn't backed by a big company that has lots of reputation/money to lose if it turns out that the product is out-of-spec.
Logo: Laser-etched and unscrubbable. It looks tacky to some people to have the logo on every lid and on every pan/pot bottom in this product line.
So how do we even know that they really used 18/10 stainless steel and not some cheaper grade or contaminated? We don't know for sure, though to the company's credit, the lid does appear to be made out of SAE 304 (18/8 or 18/10) stainless steel based on my preliminary tests, which implies that the body of the vessel also uses genuine 18/8 or 18/10 stainless. But I can't easily tests for impurites, so ultimately we have to rely on the company's integrity and reputation for that. I'd probably give them a 5/5 on Value if only they had stricter quality control regarding polishing and scratches, despite the logo and lack of NSF certification. And if it makes anyone feel any better, I tested my copy of this pan with a Geiger counter, and the pan was not unusually radioactive.
Versatility: 5/5 Excellent. Oven and broiler safe, dishwasher- and induction-compatible. If you have some firmly stuck-on bits, try boiling a little water in the pan to loosen stuck bits. If that doesn't work, try using some Bar Keepers Friend. The pan comes with a semi-dome lid so you can use it like a sloped saute pan for wet foods.
CONCLUSION
If you're on a strict budget, yet want something built like All-Clad Stainless, then this Cooks Standard 12 inch Multi-Ply Clad stainless steel skillet
and the rest of the product line
may be viable. However, this set doesn't heat as evenly as All-Clad Stainless due to its thinner composition, and the lack of helper handle is a negative. Overall I would skip this product line in favor of the Cuisinart MCP product line that is a little better and not much more expensive and which comes with a helper handle on the 12-inch skillet. Or get some Cuisinart Professional Series Stainless instead, and add a cladded skillet later if necessary.
FOOTNOTES