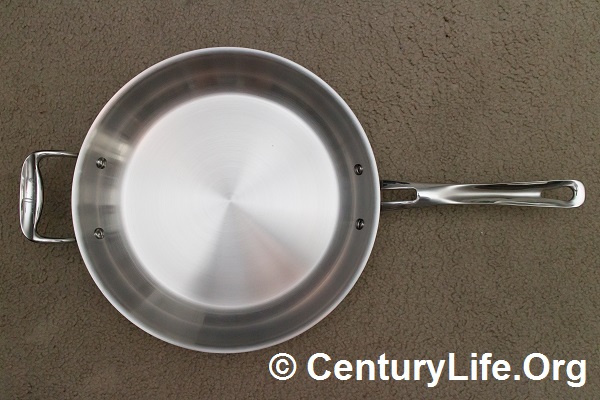 THE COMPANY
Culina is a small business in San Diego that imports Chinese kitchenware for sale in the USA. Culina has been aggressively marketing on Amazon lately. This review of this pan is going to be a cautionary tale about why you shouldn't always take product descriptions at face value.
THE PRODUCT BEING REVIEWED
Today, we're going to look at the Culina 12 Inch Fry Pan Tri-ply Bonded 18/10 Stainless Steel Cookware with Lid, Silver, Dishwasher safe
.
Overall Rating: 3.75/5 Very Good. For an explanation of ratings methodology, click here.
Cleanup: 4/5 Very Good. I never give 5/5 to stainless steel because it can stick, but if you preheat the pan, then turn down the heat to low (or medium low depending on your burner's strength) and add oil, and THEN add food, you can minimize sticking. Deglazing a pan (adding a little liquid such as wine to stuck-on bits of protein while the pan is still hot) can also help with cleanup as well as make a great pan gravy.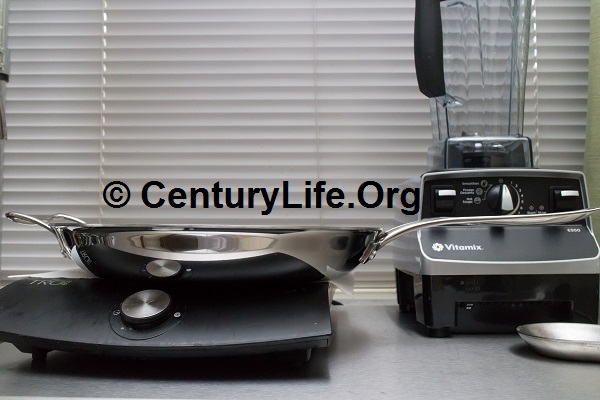 As far as stainless pans go, this pan is in the middle of the pack and earns a "very good" rating. The pan has two sets of rivets, one for the main handle and one for the helper handle, so it is a little harder to clean than rivetless designs like Demeyere Proline.
If you ever find yourself with dull protein stains or rainbows of heated oil left on the pan, try boiling a little vinegar and water in the pan. If that's not enough, use Bar Keepers Friend.
The Culina 12 inch skillet is dishwasher-safe, like every other stainless steel clad pan I've ever seen. That's not a knock on it, but it's also not really a selling point compared to other stainless steel pans.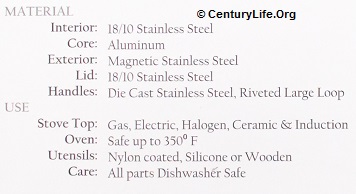 Durability: 3/5 Good. According to the box, this pan is only oven safe to 350 degrees F (177 Celsius). What kind of terrible stainless steel and aluminum clad pan is oven safe to only 350?! I have to take off 2 points just for that, because it implies that the pan is not well-made. Are the rivets going to fall off after prolonged exposure at 350F? Will the layers separate? I don't know but it's not reassuring.
Furthermore, the pan is only 2.44 mm thick on the sidewalls, a far cry from the misleading product description that says it's 2 mm thick on the sidewalls and 5 mm thick on the bottom (see screenshots below). Given the weight of the pan, as well as its thermal performance, there is no way that the bottom is 5 mm thick. A 2.44 mm thick clad pan (side and bottom) isn't terrible, but it's not great, either, and the thinner the pan, the more likely it will bend over time, rendering it hard to use on a flat glasstop stove. (For reference, All-Clad Stainless is around 2.6 mm thick.)


On the positive side, the lid and handles are made out of what appears to be genuine SAE 304 (18/8 or 18/10) stainless, same as the interior lining. The exterior lining is 18/0 to make it induction-compatible. This is industry standard. 18/0 doesn't resist corrosion quite as well as 18/10. Try not to let the pan sit wet for long periods of time.
Update March 2016: Culina no longer advertises its products incorrectly as 5mm thick at the bottom. But it went too far the other direction, claiming a paltry 2mm thickness. In reality it's probably more like 2.5mm. Here's the screenshot:
Even heating: 3/5 Good. The Culina doesn't do quite as well as All-Clad Stainless or Cuisinart MCP. It does perform similarly to a Cooks Standard pan though. A cold steak will crash its temperature a little harder than you'd get with thicker pans but it's still good.
Handling and ease of use: 5/5 Excellent. The Culina 12 Inch Fry Pan Tri-ply Bonded 18/10 Stainless Steel Cookware with Lid, Silver, Dishwasher safe
is about 1550 grams (my postal scale rounds to the nearest 5 grams; 1550g equals 3.42 pounds) empty without lid. For comparison, the 12 inch All-Clad Stainless frying pan weighs 1265 grams (2.79 pounds, the result of All-Clad's making the base thicker and sidewalls thinner for their skillet pieces), and the 12 inch Cooks Standard frying pan weighs 1440 grams (3.17 pounds).
When the pan is full, the pan is heavy enough and wide enough in diameter that the helper handle becomes very useful. The helper handle is large enough so that you can grasp it even with an oven mitt on–a nice feature.
The main handle is decently comfortable to use, and the pan has flared rims for easy, drip-free pouring. It's about 8.5 inches long, almost an inch longer than the relatively stubby Cooks Standard 12 inch frying pan.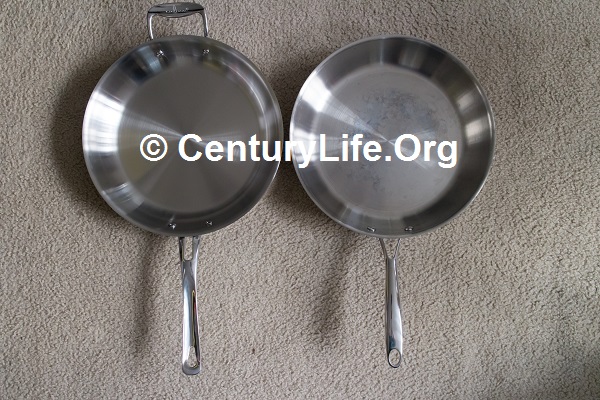 Value: 3/5 Good. The expiration of All-Clad Stainless patents in the 2000s triggered a gold rush. Seemingly every cookware manufacturer built a factory in China or contracted with a factory in China to make knockoffs. However, not all tri-ply is equally good, and there is a lot of competition.
At the time of this review, this Culina pan is significantly more expensive than the Cooks Standard 12 inch frying pan, which is arguably better except for the lack of helper handle (see Conclusion). The Cuisinart MCP22-30HN MultiClad Pro Stainless 12-Inch Skillet with Helper
costs about the same as the Culina and is also a better choice in my opinion (see Conclusion).
Culina is made in China, which has a reputation for corner-cutting, and I'm skeptical that a small brand like Culina oversees actual production in the factory. That said, the fit and finish of this pan were good, and I doubt this pan is chemically toxic. I tested the pan with a Geiger counter for radioactive contamination, and it came back negative.
Versatility: 4/5 Very Good. The Culina's low 350F maximum oven temperature means it's not really as versatile as it should be, and probably means it is not broiler-safe, either.

The Culina pan is about two inches tall without the lid. That's half an inch shorter than the Cooks Standard. The Culina therefore has a flatter profile and can't hold quite as much food. The pan's flat cooking area is about 9 inches in diameter, which is average to slightly below average for a 30 cm skillet. This means less flat area to cook on, but it also means it's slightly easier to slide a turner or spatula into the pan. I'd rather have the larger cooking surface, though, because it's easy to find turners that have bends in the handle for easier turning.
CONCLUSION
The Culina 12 Inch Fry Pan Tri-ply Bonded 18/10 Stainless Steel pan
is basically the Cooks Standard 12 inch frying pan but with a helper handle (good), with a flatter profile and a flatter lid (more bad than good, as it means less space for cooking), that costs more (bad), and which has an alarming low oven safe temperature (bad; the Culina maxes out at 350F; the Cooks Standard at 500F).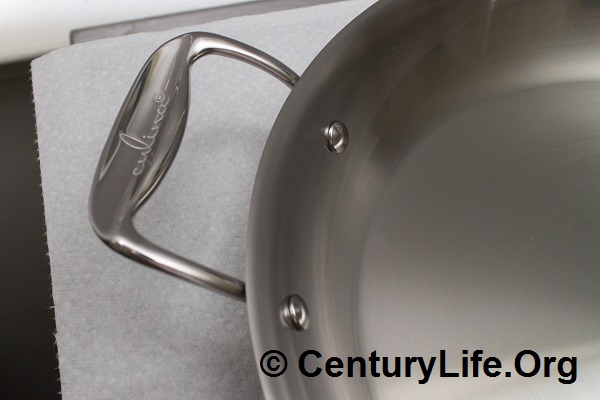 The Cuisinart MCP22-30HN MultiClad Pro Stainless 12-Inch Skillet with Helper
costs about the same as the Culina and yet is thicker, performs better thermally, and is backed by a big company's warranty. On the other hand, the Cuisinart doesn't come with a 30 cm lid like the Culina does, so you would have to use a 30 cm lid of your own from another piece you own or get a third-party lid. The Cuisinart MCP series is oven-safe to 550F rather than the 350F of the Culina.
In summary, the Culina 12 Inch Fry Pan Tri-ply Bonded 18/10 Stainless Steel Cookware with Lid, Silver, Dishwasher safe
is a good product, in that it's one of the cheapest 12 inch stainless clad pans you can buy that comes with both a helper handle and a lid. It's biggest drawbacks are the low 350F oven safe temperature and its higher price relative to the competition.