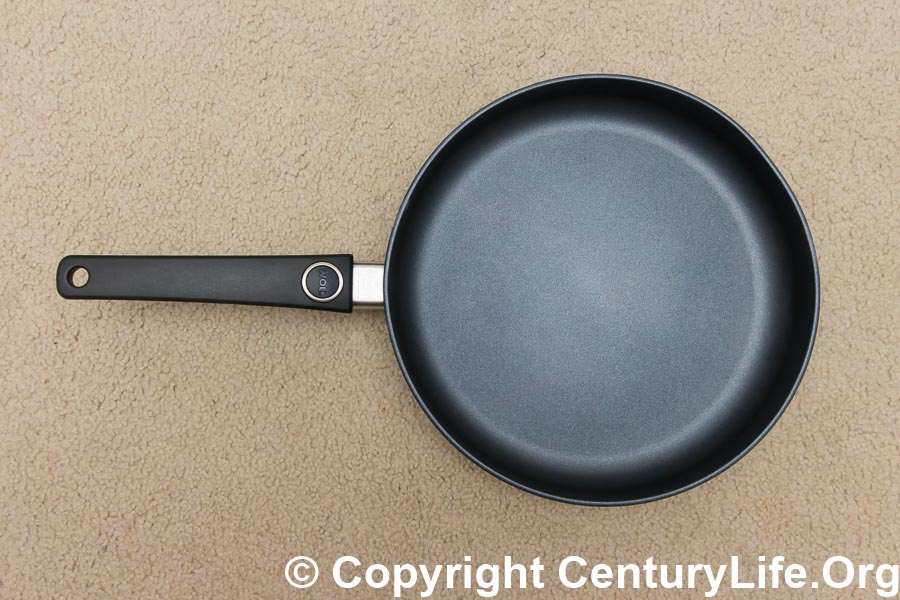 THE COMPANY
Woll is a German cookware manufacturer that is known for thick, nonstick, aluminum cookware.
THE PRODUCTS BEING REVIEWED
This review is for the Woll Diamond Plus Induction 11 Inch Fry Pan but also applies to other products in the the product line (note that there is a slightly cheaper non-induction compatible product line mixed in with those search results).
The interior is rivetless which makes much more sense than other brands that do not coat the rivets with nonstick, leaving bumpy stainless rivets there to accumulate burned-on food. My particular model of pan did not have detachable handles, but to compensate, the handle is supposedly made of some plastic/rubber material that can withstand 500F (260C) in the oven. (The model with detachable handles, the Woll Induction Fry Pan with Detachable Handle 11 Inch, costs a fortune and I would not recommend it.) This product line uses glass lids which the company's marketing material claims is oven safe up to 500F as well.
Woll and Scanpan (a Danish company that produces cookware similar to Woll's) both try to hide the fact that their nonstick pans use PTFE (Teflon being the most famous PTFE). Both companies talk up how they use various hard materials like titanium, ceramic, diamond, etc. to distract consumers from this fact.
PTFE is super-slick and by itself it is nontoxic. However PTFE starts breaking starting as low as 400 degrees Fahrenheit (about 200 degrees Celsius), and the offgas can be lethal to birds and bother mammals such as pets and humans. Furthermore, PTFE is so slick that it usually requires another chemical, PFOA, to bond to the underlying aluminum pan. PFOA is a toxic pollutant that can remain in groundwater for decades.
Woll claims that their bonding process uses super-high temperatures (20,000 degrees Celsius plasma jets) and no PFOA. Although that may be the case, it's less impressive than it sounds, because U.S. nonstick manufacturers already agreed to phase out of PFOAs by 2015, anyway. Furthermore, Woll does not say what it uses instead of PFOA. Is it true that high temperatures and a mixture of ceramic, titanium, or diamond to roughen up the aluminum can bond PTFE to the pan without the use of ANY chemicals? I don't know and they don't say. But I wouldn't be surprised if Woll uses a chemical very similar to PFOA that has not been demonstrated to cause cancer and other problems–yet. (As an aside, "BPA free" plastics are not necessarily any better than the BPA plastics they replaced, because instead of BPA, many companies turned to similar chemicals like BPS, some of which may be worse than the BPA they replaced.)
While one must give credit to Woll for not polluting the environment with PFOA, if they simply replaced it with some similar chemical that is just as bad or worse, that's not a real improvement.
RATINGS
For an explanation of ratings methodology, click here.
Overall Rating: 4.45/5 Very Good.
Cleanup: 5/5 Excellent. PTFE (such as Teflon) is famous for being easy to clean, since food will not tightly stick to it, but some PTFE is slicker than others. As usual with nonstick pans, I scrambled eggs without oil as a torture test. This Woll's nonstick is pretty good–not quite as good as the DuPont Autograph 2 found in Anolon Nouvelle Copper, but ultimately the egg did release from the pan without too much effort. The pan also has no rivets, because the pan body has a small attachment point that sticks out. The handle is permanently affixed (though some models are detachable.) The combination of slick PTFE and no rivets means extremely easy cleaning, as there is no place for food to burn on and stay attached to the pan's interior.
For PTFE pans like this one, don't use nonstick sprays as they often contain chemicals in addition to oil; these chemicals damage PTFE. 100% oil misters like Mistos
are fine.
Use a nonstick-safe sponge such as Scotch-Brite 3M Non-Scratch Sponge
(on the softer, light blue side) to clean.
Durability: 4/5 Very Good. Woll claims to use chill cast aluminum (no air pockets in the aluminum) of high thickness (8mm base, possibly including the induction plate itself). But I measured the sidewalls at only 3 mm thick. More problematically, my pan arrived in the mail with a dent and some dusty residue in two spots. The dust might be explained away, but the dent is harder to explain away. It's supposed to be thick and sturdy and yet couldn't survive UPS? That said, the pan is still much thicker than cheap nonstick pans and has a bottom plate of what looks like magnetic stainless steel, which should further enhance its structural integrity and warp resistance.
Woll advertises the product as oven-safe to 500 degrees Fahrenheit, and metal utensil safe. I suspect that such claims are laden with hyperbole and that the Teflon will wear off eventually anyway, just more slowly. No amount of diamond dust is going to prevent the eventual wearing away of the soft PTFE. I would not use metal utensils, just to be safe, and I would not use the pans over 450F, given that PTFE starts to break down (albeit extremely slowly) at temperatures of around 400F. The higher the temperature, the faster the breakdown.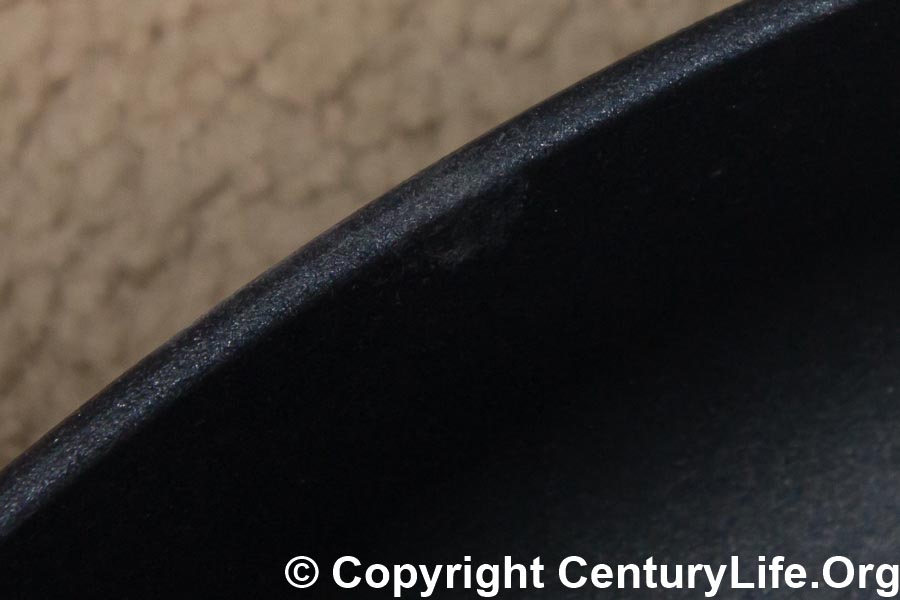 Even heating: 5/5 Excellent. Excellent. It spreads heat extremely well and holds onto it well, too, so you get more tasty browning and less bland steaming when you do things like cook meat and fish. The downside is that this pan takes twice as long to heat up than typical (thinner) nonstick aluminum pans.
Handling and ease of use: 5/5 Excellent. The empty pan weighs 1,695 grams (3.74 pounds), heftier than the usual cheap, thin nonstick pans but still light and balanced enough that it doesn't feel like it must have a helper handle. (For reference, an All-Clad Stainless 12-inch skillet weighs 1,265 grams, or 2.79 pounds, empty.) Woll claims that the bottom thickness of its induction-compatible nonstick pans is 8+ mm thick, but does not say whether or not that counts the stainless steel cap. I measured the sidewalls at 3 mm thick. I also measured the flat diameter of the cooking surface to be very roughly 9 inches in diameter, which is average to slightly above average for a pan of this diameter. The height of the pan is about two inches. It would be nice if the rims were flared for easier pouring, but overall I would say the handling is excellent. The handle is comfortable and stays cool even after long, hot cooking sessions.
Value: 3/5 Good. This pan heats incredibly evenly, but that by itself does not make make it an automatic good value. All PTFE-coated pans eventually wear down and lose their non-stickiness. This pan has diamonds spread among the PTFE to help keep the PTFE in place longer, at least in theory. That's also why the company advertises the pan as metal utensil safe. Yet the pan arrived with a dent in it, and I've handled similar pans before and can tell you that although diamond dust does prolong the useful life of nonstick pans, the diamond dust does not make them immortal–it just makes them longer-lived because it resists abrasion better and also because these diamond-dust nonstick pans tend to be incredibly even-heating and thus reduce the likelihood that a hotspot on the pan goes above the maximum safe temperature of the nonstick coating. Yet when the nonstick PTFE does fade, you'll probably have to buy a new set. Woll's warranty is only three years long, only for the pan body, coatings, grips, and handles–there is no warranty against warping.1 Given how much Woll charges for the pan, and how other nonstick pans that perform similarly carry lifetime warranties, Woll's warranty is rather lacking.2 The bottom line is that I can't give this pan a perfect score, but its exceptionally good performance makes it hard for me to give it a bad score, either.
Versatility: 4/5 Very Good. You can't really stick PTFE into an oven above 450F, due to the nonstick coating breaking down from prolonged exposure at those temperatures, and you should avoid metal utensils to maximize the life of the nonstick coating. Nonstick is also not optimal for developing fond. Nevertheless, this pan excels at cooking fragile foods such as eggs and fish. The nonstick coating resists acids and salt, so corrosion is not a real problem.

CONCLUSION
I can not highly recommend this Woll Diamond Plus Induction 11 Inch Fry Pan or any other piece in the product line because:
The pan arrived with a dent in it and some dusty residue, which doesn't say much for the company's quality control or in the structural strength of the pan, but maybe I just got a lemon.
All nonstick loses its nonstickiness eventually, and this pan is no exception. So the pan costs a lot for something that has a three-year warranty.
You could get Anolon Nouvelle Copper for less money. It doesn't heat as spectacularly evenly as the Woll, but it's still a very good performer, and it comes with a lifetime warranty, in contrast to Woll's 3-year warranty.
If you want to guarantee that no PFOA or PTFE is in the pan at all, then get a ceramic nonstick pan like the Zwilling Spirit or Greenpan series. (Ceramic loses its nonstickiness over time like PTFE, though.)
Other Notes:
If you need a utensil that won't damage the pan, I'd suggest adding a steel-reinforced silicone turner because:
Metal utensils are too hard for nonstick, tin- and silver-lined pans; they will scratch the pan's lining. Metal utensils can chip ceramic-lined pans.
Plastic spatulas like nylon can soften/melt at frying temperatures.
Wood utensils will eventually stain and break down and isn't dishwasher safe, and the cheap ones disintegrate quickly. But it's a good option as long as you keep replacing them when they wear out.
Silicone is very durable.
After extensive testing, our recommendation is the OXO Good Grips silicone turner.
Finally, in order to prolong the life of a nonstick pan, I would clean nonstick pans with gentle sponges like the Scotch-Brite 3M Non-Scratch Sponge
. If something is particularly sticky, try boiling a half-inch of water in the pan and scraping the sticky stuff off with a spatula during the boil.
The skillets do not come with lids, so if you don't already have other lids that will fit, I would recommend buying a universal lid such as this one.
ScanPan makes pans similarly to Woll and has a lifetime warranty–in theory. In practice, ScanPan has a bad reputation in terms of honoring its warranties on nonstick. I'm not sure which is worse: a warranty that will be honored for only 3 years, or a "lifetime" warranty that might not be honored at all. ↩