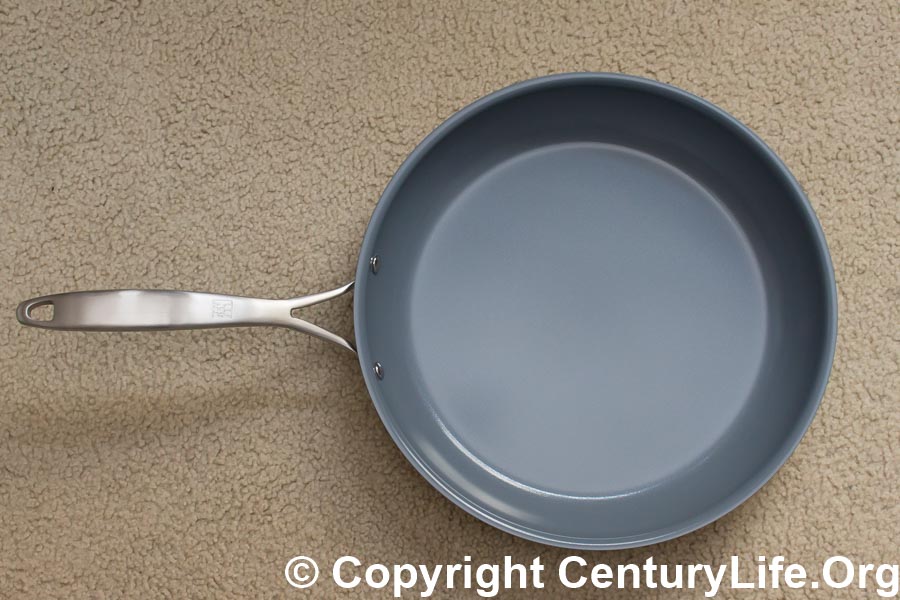 THE COMPANY
You might have heard of the Henckels, the German knife manufacturer, and you might be familiar with the Zwilling (German for "twin") logo used on their higher-end knives.
J.A. Henckels has a long history dating back to 1731, when Peter Henckels adopted the Zwilling logo with the Cutlers' Guild of Solingen, Germany. His son Johann renamed the company J.A. Henckels and expanded the customer base over time. In 1970 the company was acquired by the Werhahn Group of Germany. Werhahn KG is a family firm that owns interests in building materials, finance and real estate, beauty products, and, of course, kitchenware. Werhahn's Henckels kitchenware unit is formally known as Zwilling J.A. Henckels.
THE PRODUCTS BEING REVIEWED
Most people are familiar with cheap, thin aluminum pans coated with layers of PTFE such as Teflon.
The main upsides to those kinds of pans are low cost and ease of cleaning anything that gets burned onto them.
There are many downsides, too, such as lack of dishwasher- and induction-compatibility and low physical durability (either the pan warps/bends so it isn't flat anymore, or the PTFE gradually flakes off, even if you don't use metal spatulas, especially if you are cooking things with bones in them which can scrape off PTFE faster than normal wear and tear).
PTFE also breaks down at high temperatures, as low as 400F, though some manufacturers claim 500F. The breakdown of PTFE results in offgas (fumes that can make humans sick and kill birds) and permanent damage to the remaining PTFE. And if a pan is thin and doesn't spread heat that well, then you can get a situation where some parts of the pan are so hot that they start degrading, even though the rest of the pan is the proper temperature for frying.
In the 2000s, many people started to avoid PTFE nonstick pans because of the above problems, and because manufacturing PFOA (used to adhere PTFE to pans) causes pollution problems. Cast iron and carbon steel aren't true substitutes–they are heavy and prone to rust, take a long time to heat up, can leach metallic flavors into food, and are stickier than PTFE. And some people don't like the idea of eating off what amounts to baked-on oil, which hasn't received any rigorous scientific scrutiny regarding toxicity.
The real substitute for PTFE nonstick pans is ceramic. In 2007, a Korean company's industrial ceramic was repurposed for use in cookware because the ceramic was resistant to both sticking and high heat. The Korean ceramic was patented as "Thermolon," and Zwilling and other cookware companies started making Thermolon-coated nonstick pans. Then GreenPan bought the Korean company that made Thermolon, so Zwilling's Thermolon ceramic was renamed CeraForce and made in China and Vietnam. To add to the confusion, Zwilling Spirit got a name change to "Zwilling Sol," was made in Vietnam, and was sold by CHEFS Catalog until that company went out of business.
If the above paragraph confused you, just remember this: Thermolon = Ceraforce, and Zwilling Spirit = Zwilling Sol. Thus this review is for both the Zwilling Spirit product line and the Zwilling Sol product line since they are the same construction: a bottom layer of magnetic stainless steel, a middle layer of aluminum alloy, and a top layer (cooking layer) of Thermolon/CeraForce ceramic. The total thickness of all three layers is 3mm as verified by micrometer. That compares favorably to All-Clad's 2.6mm total thickness.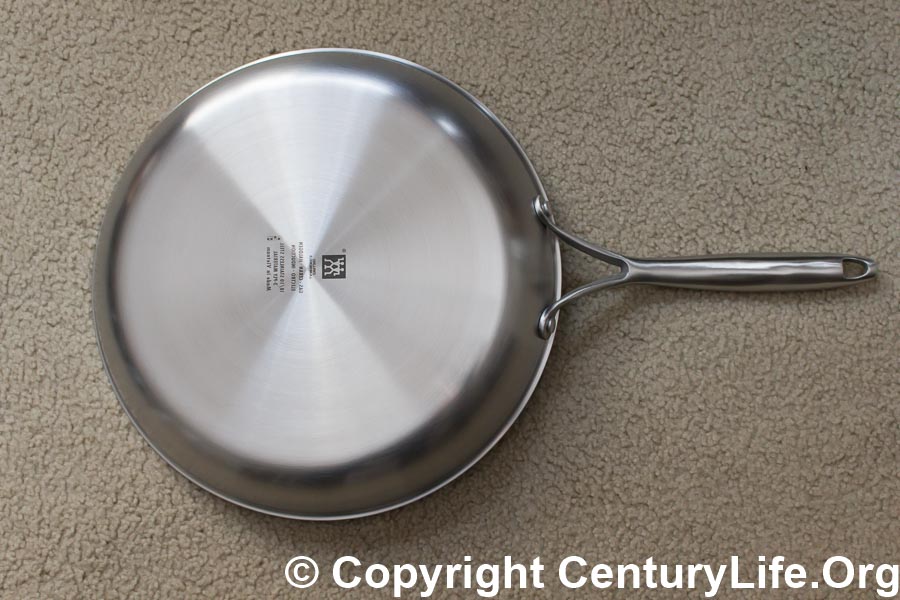 RATINGS
For an explanation of ratings methodology, click here.
Overall Rating: 4/5 Very Good.
Cleanup: 5/5 Excellent. PTFE (such as Teflon) is famous for being easy to clean, since food will not tightly stick to it, but these ceramic pans are almost as slick. Unfortunately, Zwilling did not coat the rivets with ceramic, so over time those exposed rivets can accumulate grime from baked-on oils. At least you can scrub those rivets, though, because you won't hurt the ceramic (which is harder than steel). If you tried scrubbing exposed rivets in a PTFE pan, you would scrape off some PTFE around the edges of the rivets in the process.
As for safety, the ceramic is probably safe, else DuPont (the company that makes Teflon and has the most to lose from people switching away from Teflon and to ceramic) would have sued the Korean company behind Thermlon into nonexistence by now, judging by how DuPont protested GreenPan's marketing claims.
Durability: 4/5 Very Good. The rivet were all tight. Each pan has a stainless steel bottom layer which helps preserve the shape of the pan, making the pan warp- and dent-resistant. (The 8, 10, and 12 inch pans I tested laid flat during pre-heating and cooking.) That said, this pan can't get a perfect score on Durability because:
ceramic nonstick is known to lose its nonstickiness over time, with enough heating/cooking cycles, and especially if used at high heat; and
ceramic is brittle, so instead of bending, it breaks/shatters/chips off. So don't use metal utensils on the ceramic, as that can lead to chipping.
PTFE also wears off over time, so if you're deciding between ceramic and PTFE nonstick pans based on durability in normal use, it's arguably a tie. Aside from the above factors, PTFE isn't brittle like ceramic, but ceramic does have the benefit of not breaking down or offgasing until 850F. Compare that to how PTFE starts to offgas at 400F (or 500F if you believe some manufacturers' claims).
Note that if you can restore some of the nonstickiness of old ceramic by occasionally cleaning the ceramic pan with a little BKF or baking soda. This is because BKF and baking soda are very mildly abrasive. But don't even think about using abrasives on PTFE/Teflon pans, as that will scratch up the PTFE/Teflon.
After I using my GreenPans as much as possible for 18 months to simulate years of wear, I switched to using these Zwilling pans. So far, they've held up just as well, which isn't surprising since both GreenPan and these Zwilling Spirit/Sol pans use the same ceramic nonstick material. However, I'm careful to keep below ~500F (and usually under 400F), since higher thermal stress seems to accelerate aging of ceramic and make it less nonstick over time.
Even heating: 4/5 Very Good. The Zwilling Spirit/Sol pans spread heat about as well as All-Clad in even heating rankings for gas and electric stoves. Heat retention very good, though. A thinner pan will crash in temperature more if you throw in a cold slab of meat/fish, resulting in more time spent steaming and less time creating tasty browning. Overall thermal performance is excellent and it did fine with chicken thighs, fish, vegetable curries, eggs, and more.

Handling and ease of use: 4/5 Very Good. The handles are comfortable, made out of stainless steel, and attach with a "V" shape near the body of the pan. The "V" shape allows hot gases to more easily pass up and through the handle, which means that it takes longer for the handle to get hot during cooking on gas burners.
The pans are hefty, but not heavy per se. For instance, the empty 12 inch (30cm)
Zwilling Spirit/Sol pan weighs 1475 grams (3.25 pounds). For reference, an All-Clad 12″ skillet weighs 1265 grams (2.79 pounds). The 10 inch (26cm)
(not 24cm; they rounded down on this one) Zwilling Spirit/Sol pan weighs 1190 grams (2.62 pounds).
Most people probably don't need helper handles on the 12″ pan, but those with particularly weak wrists should stay away from the 12″/30cm pan, since it has no helper handle and isn't lightweight. The 10″ and 8″ pans are light enough that even people with wrist problems should be able to use them without helper handles.
The rims are flared for easier, less-drippy pouring. This is much better than some pans where the sidewall ends at a 90-degree angle, which can lead to drips when pouring.
Value: 3/5 Good. See Conclusion.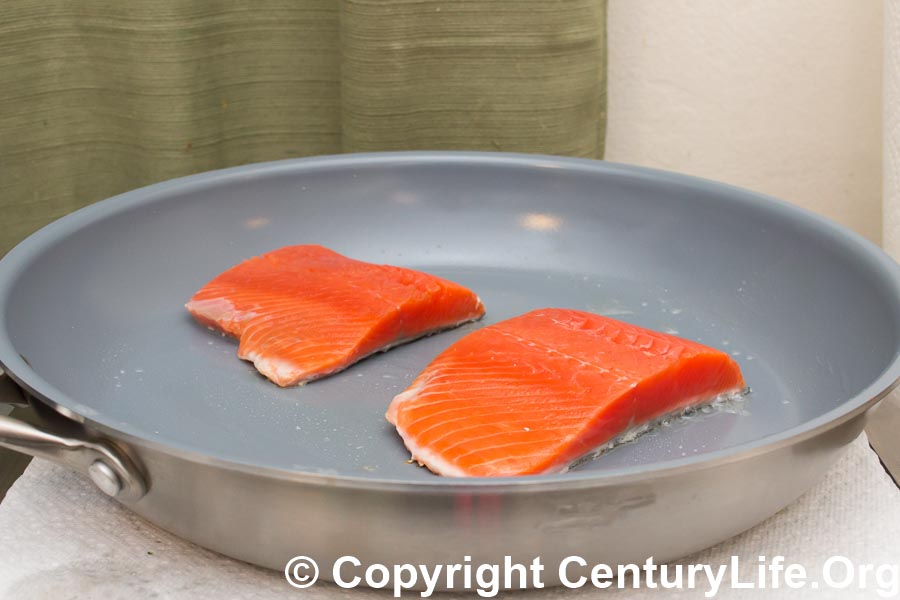 Versatility: 4/5 Very Good.
I measured the flat (bottom) cooking surface on the 12-inch pan to be roughly 9.5 inches in diameter, which is above-average for a pan of this size. The 26cm pan measures out to 8 inches of flat cooking surface diameter, which is average. Both pans are 2 inches tall. (In other words, these pans have generous amounts of flat floor space, which is important to avoid crowding. And these are tall enough to cook a decent amount of food, though they won't be mistaken for saute pans anytime soon.)
Ceramic is basically immune to corrosion from acids and salts, so I like to use ceramic pans to soak clams in salty water.
Zwilling only rates Spirit/Sol to be oven safe up to 400F, which isn't an improvement over PTFE nonstick pans, but I suspect that the company set its limit artificially low to discourage oven usage, because GreenPan uses the same ceramic and rates its pans up to 480F.
However, these pans' ceramic surfaces are brittle and can chip after contact with metal, so try to avoid using metal utensils on them.
Regardless of any claims about dishwasher-compatibility, I wouldn't run Zwilling Spirit/Sol through a dishwasher because a) it's so easy to clean with a soapy sponge in the sink, and b) at least one other ceramic nonstick pan manufacturer has explicitly said that dishwashers can shorten the "nonsticky" life of ceramic.
CONCLUSION
Ceramic nonstick does not last forever, whether due to chipping or gradual loss of nonstickiness after many heating and cooling cycles. But these pans have steel handles and bottom layers and should resist warping quite well. So long as you don't use the pans at overly high temperatures (try to stay well below 500F), they should give you a long service life, and thus they're reasonably priced, especially if you need induction-compatibility. But the vast majority of Americans cook on electric coil, smoothtop electric radiant, or gas.
If you take induction out of the equation, I'd say the better buy is the GreenPan, but both have their pros and cons. The GreenPan lacks a steel bottom to resist warping/denting, has a worse handle that gets hot faster, does not retain heat as well, gives you slightly less flat cooking floorspace, and is not as tall, so you can't fit as much food into it as you can with an equivalently-sized Zwilling Spirit/Sol pan. But the GreenPan also heats more evenly and costs significantly less.
In any case, the identical-in-all-but-name Zwilling Spirit product line and the Zwilling Sol product line are both worthy alternatives to PTFE/Teflon pans, so definitely consider them. And if you need slightly deeper pans, with slightly more floorspace and heat retention and cooler handles, consider them over the GreenPans.
Other Notes:
If you need a utensil that won't damage the pan, I'd suggest adding a steel-reinforced silicone turner because:
Metal utensils are too hard for nonstick, tin- and silver-lined pans; they will scratch the pan's lining. Metal utensils can chip ceramic-lined pans.
Plastic spatulas like nylon can soften/melt at frying temperatures.
Wood utensils will eventually stain and break down and isn't dishwasher safe, and the cheap ones disintegrate quickly. But it's a good option as long as you keep replacing them when they wear out.
Silicone is very durable.
After extensive testing, our recommendation is the OXO Good Grips silicone turner. This is also sold as the StarPack Ultra Flexible Silicone Turner set. Alternatively, get a pair of silicone-tipped tongs.
The skillets do not come with lids, so if you don't already have other lids that will fit, I would recommend buying a universal lid such as this one.
Zwilling Spirit/Sol may be found at Amazon and Sur La Table.