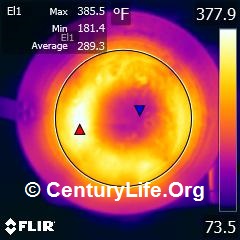 For electric coil/induction/radiant/halogen rankings, please see Even Heating Rankings (Induction and Electric). For more details on testing methodology, see here.
EVERY COMPANY CLAIMS THAT THEIR COOKWARE IS EVEN-HEATING, BUT IS THAT TRUE?
The job of stovetop cookware is a) to smooth out the uneven heat coming from the burner underneath so that the entire cooking surface of the cookware is the same temperature; and b) to keep your food in the Maillard reaction temperature zone–not too hot and not too cold. If you have too much of an imbalance in temperatures, you wind up with hot or cold spots that can undermine your dish by leaving some food overcooked and some food undercooked. You may even scorch carcinogens into your food or produce carcinogenic smoke, if some hotspots grow hotter than the oil's smoke point while you are waiting for non-hotspots to catch up in temperature. (Hotspotting is particularly troublesome on nonstick pans because you can overheat the hotspots when trying to bring up the temperature of the colder spots, and overheating PTFE/Teflon will permanently damage it and cause offgas.) If you've ever cooked fish where part of a fillet got overcooked while the rest was undercooked or made rice and had some undercooked while the rest burned, then you've already experienced the joy of uneven heating.
The larger the diameter of your cookware bottom relative to the diameter of the flame or heating element or induction coil, the bigger the uneven heating problem can be, since heat has to travel a longer distance to reach the sides.1
Gas is somewhat less demanding on cookware than induction. With induction, heat goes into the circle above the induction element and then spread out from there. With gas, the flame heats a hotspot "O" shaped circle, but hot combustion gases help spread the heat some more by pooling up under the pan and then eventually spreading out and up and over the bottom of the pan, heating the sidewalls as well. If the sidewalls are made out of thermally conductive material (i.e., has some aluminum, copper, or cast iron/carbon steel), the sidewalls will absorb some heat and reduce the temperature difference between the edges of the pan and the center of the bottom of the pan. Note that these hot gases are much cooler than the flame, so you still get hotspots on gas, just less so than on electric/induction.

Also, if the bottom of a pan is larger than the hotspot diameter (which for electric is the diameter of the coil), then you will NEVER get edge-to-edge even heating no matter how long or how low you preheat a pan on the stove, especially for poor thermal conductors like cast iron. That's because the pan is bleeding heat energy into the air at the same time that the burner is injecting heat. (And contrary to popular belief, cast iron does not bleed heat more slowly than stainless.) There will always be a thermal gradient. You can try this yourself at home with a metal pan and thermocouples: preheat it on a very low setting for as long as you want and you will still see a temperature difference between the center and edge of the pan. Be careful not to overheat your pan, especially nonstick pans which can emit fumes. ↩