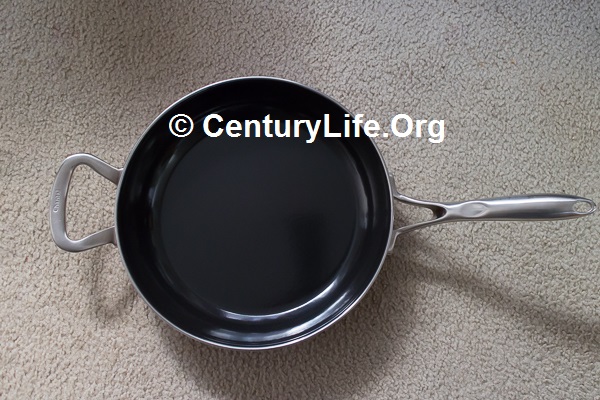 THE COMPANY
German-American immigrant, mechanical engineer, and entrepreneur Heida Thurlow founded what would become Chantal (shan-TALL) Cookware Corporation in 1971 in Houston, Texas.
Thurlow grew up a reluctant student who nevertheless wanted to be an engineer, apprenticed as a welder, and worked for her parents' materials company. She met her ex-husband and followed him to Houston, Texas in 1970. Shortly thereafter she had a child and then started a company to import housewares from around the world to the USA, especially enameled steel German cookware with stainless steel handles from Scandanavia and tempered glass lids from Japan.1
Thurlow would later survive breast cancer, and she would donate a percentage of her company's profits to breast cancer charities as a result.
By the 2000s, as more people became afraid of Teflon, Chantal marketed its enameled steel products as a healthier alternative.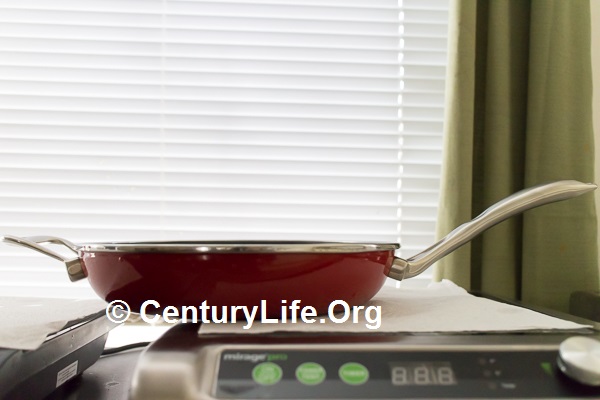 THE PRODUCT BEING REVIEWED
Chantal's most famous product might be colorful tea kettles
, but in 2007 Chantal also started producing Chantal Copper Fusion
, a product line of carbon steel pans with copper foil attached to the base, and then enamel covering the entire pan (except for stainless steel handles and rims). This enamel-carbon steel-copper-carbon steel-enamel sandwich material is induction-compatible, dishwasher-compatible, and nickel-free for those who have nickel allergies. Chantal also advertises the enamel as stick-resistant, but we'll see if that's true or not.
Today we are reviewing the Chantal Copper Fusion 11-Inch Fry Pan
, though this review is applicable to other pieces in the product line.
RATINGS
Overall Rating: 2.9/5 Good. For an explanation of ratings methodology, click here.
Cleanup: 3/5 Good. Chantal advertises the enamel on Chantal Copper Fusion as stick-resistant, but the Chantal Copper Fusion 11-Inch Fry Pan
was nowhere near nonstick on my scrambled eggs test, even with copious amounts of olive oil and relatively low temperatures. Regarding stickiness, I would compare the enamel to ordinary stainless steel or worse. Probably worse. Even after coddling the pan and heating it up extremely slowly and using an absurd amount of olive oil and cooking eggs extremely slowly, I get stickiness every time. If I try to go higher in temperature, the stickiness gets worse. Even my usual trick of boiling water in the pan after cooking eggs and scraping the residue with a spatula was not as effective as I've seen with other, stainless pans. I hate wasting food and this pan wastes lots of egg.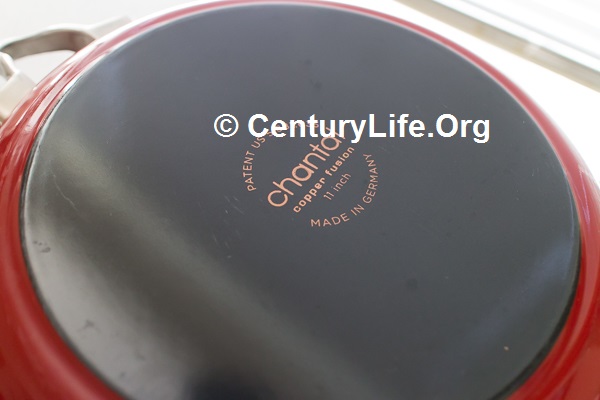 On the positive side, you can clean this pan similar to how you'd clean an enameled dutch oven. A little boiling of water is often enough. Vinegar if it's tough. Baking soda or Bar Keepers Friend for the toughest cases. The pan also has no internal rivets to trap food particles and bacteria.
Durability: 4/5 Very Good. Enamel is in the same family as glass and ceramic, and it's brittle but also heat-resistant and hard. You can't use metal utensils on it because of the risk of chipping, but silicone, plastic, and wood spatulas are fine. Chantal recommends against placing cold food in a hot pan2 due to the thermal shock and cracked enamel that can result.
Even heating: 2/5 Poor. This pan is no better at distributing heat than a simple cast iron skillet. You might wonder how that's possible, but the results are clear. Although the pan is induction-compatible, the cookware is incapable of closing the "O" ring on medium heat in any reasonable amount of time, hence its disqualification from my electric even heating results. On gas, well, the results speak for themselves.
How can this be, you say? Doesn't it have copper, you say? Isn't copper very heat-conductive?
Sure it has copper, but apparently not very much of it. I have no easy way to measure the thickness of the pan bottom, but the sidewalls are about 2.03 mm thick. Some of that is enamel, and the rest is carbon steel. The bottom of the pan has a thin disc of copper about 8 inches in diameter embedded in carbon steel. Chantal does not publish how thick the copper is, but it's got to be pretty thin judging by the results: the pan is about as thermally conductive as the ~5 mm (including bumpiness and pre-seasoning) Lodge cast iron 12-inch skillet. So you can think of Chantal Copper Fusion as cast iron, but lighter, with handles that do not heat up as much, and with enamel instead of seasoning. Chantal Copper Fusion is also more brittle than cast iron, but on the other hand, it has no possibility of rusting or giving off-tastes with acidic foods, unlike cast iron.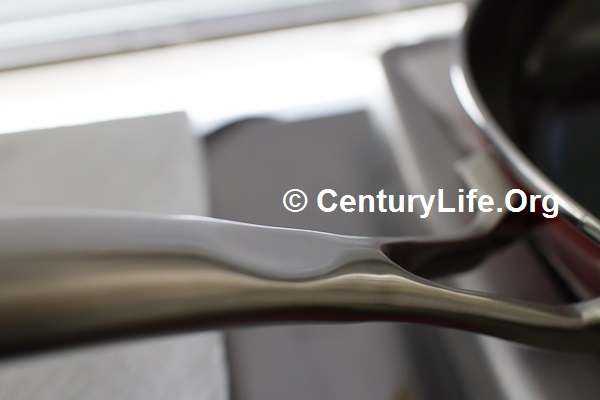 Handling and ease of use: 3/5 Good. The Chantal Copper Fusion 11-Inch Fry Pan
is 2240 grams or 4.94 pounds empty, which is on the heavy side for an 11-inch pan. The stainless steel handle is angled high like some traditional French cookware, but the handle is decently comfortable and has a finger rest. The helper handle alleviates wrist stress when transporting to/from the oven or sink. Nevertheless, one-handed operation is difficult due to the weight of the pan and the difficulty of bracing the handle under one's forearm at any reasonable angle. The pan tends to feel like it wants to turn due to the too-circular cross-section; a flatter, more rectangular handle cross-section would be superior.
As I mentioned in Durability, above, you have to take care not to crack enamel by subjecting it to thermal shock or metal utensils.
Value: 2/5 Poor. The lack of even heating performance, less than stellar stickiness, and extra care necessary to keep enamel in good condition might make this a poor product for many people, but if you compare it to other enamel/ceramic products, it has the advantage of having no exposed rivets and high-quality German enamel. Still, I'd rather have a more even-heating ceramic-lined aluminum pan, if I had to have an enamel/ceramic pan at all. Some such pans come with induction-compatible bottom plates of magnetic stainless steel, for instance, the Berndes Vario Click Induction.
Versatility: 4/5 Very Good. Chantal does not publish an oven safe number for the pan alone, but tempered glass lids are safe to 375F so presumably the pan is oven safe to at least that high. The pan is dishwasher safe, but in order to prolong the life of the enamel, you should hand wash only. The bottom flat cooking surface of about 8.5 inches is about average among 11-inch pans. Avoid using metal utensils on the enamel as the enamel is hard but brittle and does not take hard impacts well. Use silicone, plastic, or wood utensils instead.
CONCLUSION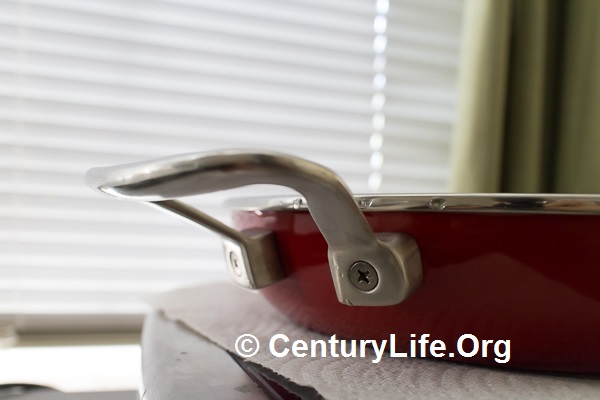 The Chantal Copper Fusion 11-Inch Fry Pan
is a niche product for those who don't mind the uneven heating of cast iron but do mind nickel in stainless steel. It's not really nonstick enough to replace Teflon or even cast iron or carbon steel pans that have developed thick seasoning layers. If you want a higher-performing ceramic-covered pan that works on induction, I would recommend Berndes Vario Click Ceramic Induction instead. It doesn't even cost more than Chantal Copper Fusion and is much, MUCH more even heating.
Other Notes:
If you need a utensil that won't damage the pan, I'd suggest adding a steel-reinforced silicone turner because:
Metal utensils are too hard for nonstick, tin- and silver-lined pans; they will scratch the pan's lining. Metal utensils can chip ceramic-lined pans.
Plastic spatulas like nylon can soften/melt at frying temperatures.
Wood utensils will eventually stain and break down and isn't dishwasher safe, and the cheap ones disintegrate quickly. But it's a good option as long as you keep replacing them when they wear out.
Silicone is very durable.
After extensive testing, our recommendation is the OXO Good Grips silicone turner. This is also sold as the StarPack Ultra Flexible Silicone Turner set.
The skillets do not come with lids, so if you don't already have other lids that will fit, I would recommend buying a universal lid such as this one.
Visual link to replace the entire silicone utensil, scotchbrite, and universal lids ad copy:
http://www.chantal.com/copper-fusion-cookware-use-amp-care.html

"COOKING WITH HIGH HEAT CAUSES FOOD TO STICK which will produce a food film residue on the enamel surface Use the Enamel/Ceramic Cleaner to restore the slick surface.

Do not place frozen items in a dry, pre-heated pot. Always put liquid in the pot first before pre-heating. Note: Frozen blocks of food may cause irreparable thermal-shock damage to the enamel in a dry pre-heated pan." ↩