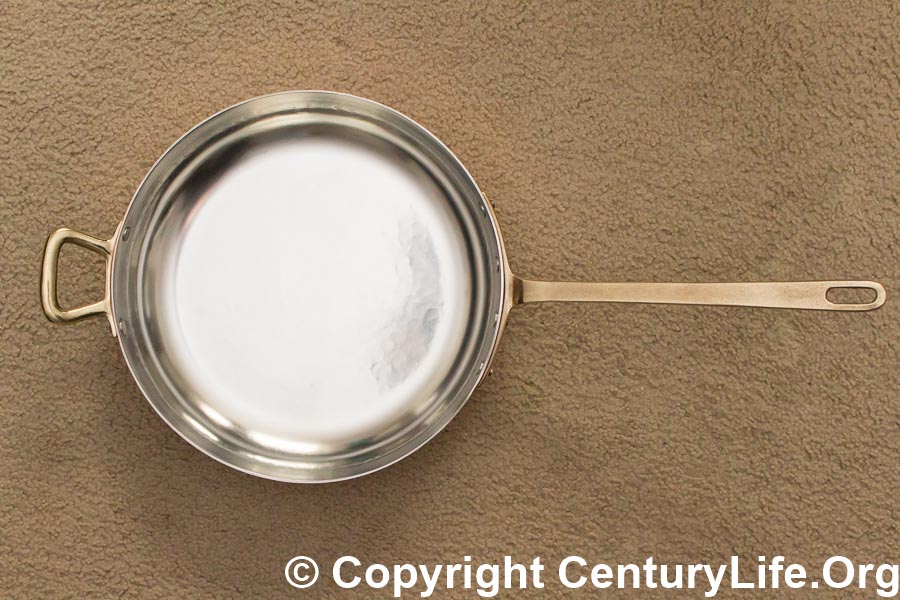 Note: If you have an induction stove, see De Buyer Prima Matera as well.
THE COMPANY
Bottega del Rame (Italian for "Copper Shop") is the workshop of Mr. Cesare Mazzetti, located in the town of Montepulciano in central Italy (between Florence and Rome in the Tuscany region).1
Cesare's grandfather, Bernardo Mazzetti (1863-1909, born in Montepulciano), was a farmer who was injured from falling out of an oak tree. He returned to his birthplace of Montepulciano to pursue his interest in metalworking, buying rough copper from a foundry in Gran Sasso and forming them into copperware for his wife to sell at marketplaces in the nearby towns of Chianciano, Pienza, Petroio, and Torrita.
Bernardo was a competent coppersmith in his own right, but he decided to send his son Giuseppe (1903-1982, born in Montepulciano) to apprentice with the master coppersmith Ghiotto of Porta Farina. When Master Ghiotto died, Giuseppe bought all of Ghiotto's tools, stamps, anvils, forges, and lathes which dated back to 1850-1857, some of which are still in use today.
Guiseppe had two sons, both plumbers, but eventually Cesare (1936- ) returned to help his father's increasingly famous Montepulciano copper workshop. Since 1982, Cesare has made copper cookware, plates, and other housewares at the workshop. Like his grandfather and father, Cesare makes copperware by hand (using tools like hammers) rather than by hydraulic presses. Says Mazzetti: "To be a coppersmith has been and is for me a dream come true…. I derive great satisfaction doing what I love. I work with passion and integrity and my life is peaceful and full of love."
Cesare's son is an engineer, so it appears that Mazzetti's copper shop will close when Cesare retires (he is 80 as of 2016). In the meantime, Cesare continues to make heirloom-quality copperware for sale. Mazzetti even made a plate for Pope Benedict XVI. And you can get a Mazzetti copperware piece of your own, too.