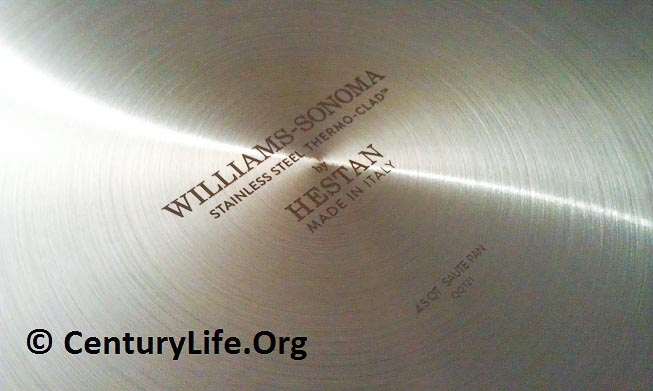 The short story: This cookware is an All-Clad Stainless type of design, but with more comfortable handles, nicer, double-walled lids. Performance is within the ballpark of All-Clad Stainless in terms of even heating.
The long story: Thermo-Clad (ThermoClad or Thermo Clad) is a decent All-Clad Stainless knockoff, but the bang for the buck is poor for this cookware when you consider the alternatives, and Thermo-Clad marketing is potentially misleading (below).
Williams-Sonoma (W-S) is a company headquartered in San Francisco, California. Company lore has it that company founder Chuck Williams, a foodie, settled in Sonoma, California (north of San Francisco) as a housing contractor before traveling to France and seeing an opportunity to bring high-end French culinary equipment to the ignorant masses in America.
Williams opened his cookware store in Sonoma in 1954 before quickly moving to San Francisco to chase the larger customer base there. Williams-Sonoma expanded physically and into catalog sales. W-S eventually incorporated and expanded into other cities before Williams sold the company to Howard Lester, an Oklahoma businessman who soon took the company public. W-S branched out to other sectors (e.g., Pottery Barn), but as for the flagship name brand, it's still a cookware store, only much larger.
Today, Williams-Sonoma is a big retail chain that sells kitchen-related hardware, ranging from pots and pans to blenders and oven mitts. W-S is famous for contracting with cookware companies to produce limited-edition or W-S-exclusive products. Some of those products go on to lose exclusivity and be marketed to the broader market, but some don't.
Thermo-Clad is basically All-Clad Stainless with more comfortable handles and a double-walled lid that does a better job of insulating pan contents. Is that worth a hefty premium over All-Clad Stainless?
RATINGS
This product review is for the Williams-Sonoma Thermo-Clad 4.5 Quart Saute Pan.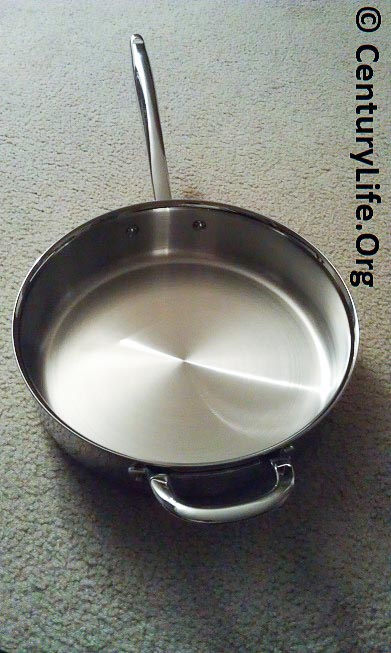 Overall Rating: 3.95/5 Good. For an explanation of ratings methodology, click here.

Cleanup: 4/5 Very Good. (I reserve 5/5 ratings for things like Teflon.) I've found the interior to be average when it comes to cleanup, compared to other 18/8 and 18/10 stainless pans. Note that the bottom (exterior) surface of the pan is actually 18/0 magnetic steel, to make it compatible with induction burners. The fit and finish and polishing are good. If you overheat the pan to a rainbow color, just use a little acid like vinegar, lemon juice, or Bar Keepers Friend to clean it. Rinse well. The pan is riveted, and rivets can catch food particles that take extra effort to remove than if the pan were rivetless. But I won't take off a point for that.
Durability: 5/5 Excellent. 304 Stainless steel is highly corrosion-resistant, hard, and not prone to chipping or flaking like enamel. It's not indestructible, but as long as you don't do things like leave acidic/salty foods in it overnight, this pan should last a lifetime. Like All-Clad Stainless, the pan is about 2.6 mm thick (by micrometer measurement on the 4.5 quart saute pan's sidewalls), so it's reasonably resistant to warping. Even if the pan warps, you can probably exchange it at Williams-Sonoma for the life of the company.
Even heating: 4/5 Very Good. I need to get a 12 inch skillet to test alongside the other skillets in my even heating rankings for gas and electric/induction stoves. But based on my experiences with the saute pan, Thermo-Clad performs well and on par with All-Clad.
Handling and ease of use: 4/5 Very Good. The helper handle is a necessity, given the size and weight (the empty weight is 1.88 kg without lid, 2.72 kg with lid; or 4.14 pounds and 5.98 pounds, respectively) . The handles are huge, roomy, and curved. Very comfortable. As Williams-Sonoma says, you can actually fit your hand WITH an oven mitt into the handles. The pan has rolled lips for easy pouring and the double-walled lid with large handle makes it easy to use without burning your hand. Theoretically this product is dishwashable, but I would not risk it because there are numerous complaints on the Williams-Sonoma website that the aluminum is sensitive to dishwasher detergent and if the aluminum starts to get eaten away, that leaves the thin stainless steel sidewalls. Various people have complained about slicing their hands as a result. I have to dock a point for that. Harsh, I know, but cookware shouldn't cut you. I always handwash cookware so hopefully I won't get cut.
The handle length of this pan is about 9 inches, a good length. You may be able to tuck the handle under your forearm, bu the handle does get hot after a while on a gas stove, so you may want to be careful about putting your fingers too closet to the pan's body.
Value: 2/5 Poor. The retail cost for the 4.5 quart saute pan is $300.
If you want to view this negatively for Williams-Sonoma, you could say that for that kind of money, you could buy three of the Cuisinart MultiClad Pro 5-1/2-Quart Saute
which is more even-heating and has a larger capacity. In fact, you could get an entire set of Cuisinart Multiclad Pro
for less than what this one Thermo-Clad pan and lid cost.
If you want to view this positively for W-S, you could compare Thermo-Clad to similarly-priced All-Clad Stainless
. If you do, then W-S Thermo-Clad looks competitively priced, because it has a nicer double-walled lid and better handles.
The problem is that for the same money, you could get better products like Demeyere Proline and Demeyere Atlantis, which are far better than either Thermo-Clad or All-Clad Stainless, because they spread heat more evenly and are easier to clean (because of rivetless handles and a less-sticky finish).
Versatility: 5/5 Excellent. You can cook pretty much anything in this. You can even do some frying, though if you overcrowd the pan, you will end up semi-steaming food instead of frying it. The side walls of this pan are somewhat higher than what you will find on All-Clad saute pans, which amplifies the semi-steaming problem but is otherwise great. The pan is a dream for reducing a large bunch of spinach down to size, for instance.
Conclusion:
The product itself is good, especially the roomy handles and double-walled lids. It is in the same league as All-Clad. But you don't get much of a price break, and if you are willing to explore other options like Demeyere, you could get better bang for the buck.
WILLIAMS-SONOMA'S DUBIOUS ADVERTISING CLAIMS
I want to take time to explore Williams-Sonoma's marketing claims for this cookware, because the company's advertisements are misleading in my opinion. Let's examine W-S's ad copy shall we?
We're thrilled to announce the launch of Williams-Sonoma Stainless-Steel Thermo-Clad cookware. Over 50 years in the making, Williams-Sonoma cookware is the result of our mission to bring you the best cookware available. Read on for the behind-the-scenes story of how we made our cookware, and watch a video to discover why it's the only cookware we'd put our name on.

FROM CURATORS TO CREATORS

The journey from being the foremost purveyor of world-class cookware to becoming the inventors of the next generation of cookware began two years ago, when our product development teams embarked on a mission to create products with technological and design details that weren't available anywhere else. To do this, they went through hundreds of iterations of designs and spent countless hours tweaking and refining until the perfect ergonomic design was found.
This ad copy is typical exaggeration about how they "cared so much" that they tweaked and tweaked and tweaked the design to "perfect[ion]." They claim that their design details are not available anywhere else. As we'll see, that's not true.
We spoke to Ian Allan and Mayur Shah of our product development team, and Jonathan Silverman, head of European sourcing, to get the story behind the product.

"Innovation, quality and craftsmanship are part of the Williams-Sonoma legacy," says Mayur. "Since 1956 we've been traveling the globe to bring our customers the latest culinary advances, and now we're proud to offer a premium cookware collection that we've designed ourselves."

"Chuck Williams starting coming to Europe to find best-in-class product 60 years ago," adds Jonathan. "This is the first time we've actually put our name on cookware so we knew it had to be the best. That's why we spent so much time on the design, the aesthetic–all the way down to the packaging."

"We started with 2-D concepts—they were drawn up, they were rendered, short-listed, and then progressed into 3-D CAD modeling," says Ian. "From the CAD modeling, we looked at proportion, length and balance a bit more, and then from the 3-D, we printed physical prototypes—hard forms that we could pick up, touch and feel, and apply to pans. Again, we tweaked those designs and the lengths and proportions to get them just right before moving to a more realistic metal prototype."

The results of all this work are design elements you'll only find on Williams-Sonoma cookware. All of the pots and pans in the collection feature dual-walled lids, which create a cool-to-the-touch handle, rolled edges that make it easier to pour out sauce, and an ergonomically designed handles, to keep you comfortable while you're cooking in the kitchen.
Huh? Dual-walled lids have been around for years. Heck, I even have one, the lid of my Demeyere John Pawson saute pan
(I review it here) which came out in 2008 and thus predates Thermo-Clad. Large loop handles and rolled lips are nothing new; in fact, there are too many examples to list. All-Clad
, Cuisinart MultiClad Pro
(I review it here), and other older product lines have had rolled lips. "Ergonomic" handle length and curvature is a matter of preference. The Thermo-Clad pan is pretty comfortable to hold, but the most comfortable handles I've ever used have been on Anolon Nouvelle Copper Nonstick and Demeyere Proline frying pans
.
MADE IN ITALY

After the products were designed, the team began searching around the globe for the right manufacturer. They looked on multiple continents and multiple countries, until they found a factory in Italy that met their standards of craftsmanship.

"Verdallino, Italy is halfway between Milano and Bergamo—it's very close to one of the historic centers of cookware production. It's a small factory, so we're able to have a very close relationship with the management all the way down to the people on the production line—so we knew that we had the right partners to make our product, which we think takes a great deal of attention to detail."
"Made in Italy by Hestan for Williams-Sonoma" is imprinted on every piece of Thermo-Clad as part of Williams-Sonoma's playing up the mystique of European artisan cookware by claiming that W-S searched "around the globe" before settling on partnering up with a "small" Italian factory. In reality, if a large company like Williams-Sonoma owns a brand name but doesn't own a factory, then W-S must contract with a large supplier to manufacturer the goods under license. That's what happened here: W-S contracted with one of the largest cookware manufacturers in the world, Meyer Corporation.
Meyer has made some good stuff like Anolon Nouvelle Copper Nonstick (I review it here). But Meyer also makes lots of low-end cookware (flimsy nonstick) that Williams-Sonoma probably does not want to be associated with, so Williams-Sonoma would rather pretend like it contracted with some tiny Italian workshop instead of the second-largest cookware manufacturer in the world. The reality is that Meyer's Italian factory isn't a tiny artisan's workshop; the factory has produced millions of pieces of cookware… some of which got recalled for safety reasons after 1,136 reports of cookware "collapsing, crimping or deforming, including one report of consumers getting spattered with hot oil when the pan collapsed inward while cooking."
As for Williams-Sonoma's claim that it searched "around the globe" for the right manufacturer, consider this: Meyer's U.S. headquarters (near Napa Valley) is only one hour's drive away from Williams-Sonoma's headquarters in San Francisco.
"The pans themselves are made from Thermo-Clad, which is a layer of aluminum in between two layers of stainless steel. This means that they heat up significantly quicker," says Mayur. "Generally what happens is when your cookware heats up quicker, it happens at the expense of your heat distribution, but not in this case. We've sourced–with our partners–an aluminum that is more pure than any other aluminum used in cookware today. And as a result, not only do you have this up to 35% more heat conductivity, you also have ultimate heat distribution to eliminate scorching and hot spots."
In order to play up the exclusivity angle, W-S plays up how they have some sort of exotic material. While you COULD use an aluminum alloy that is more thermally conductive than the usual 3003/3004 aluminum alloy found in most All-Clad/All-Clad-knock-off cookware, but 3003/3004 is already highly conductive, so to get 35% higher performance, you'd have to use a rather pure aluminum alloy that would probably be softer and less corrosion resistant. Also, if material X is less thermally conductive than material Y, you can simply use MORE of X, such as in Demeyere Proline skillets (4.8 mm thick stainless-aluminum-stainless, 3.7 mm of which is aluminum alloy). So other than possibly shaving off a little weight, why would you want to use a "purer" grade of aluminum if you don't have to? That doesn't make sense to me. Pure aluminum can get "eaten" by some dishwasher detergents, for instance. So I suspect it's just marketing. 3003/3004 aluminum is industry standard for a reason: it's stronger and more corrosion resistant than pure aluminum, and it won't give you orange-peel effects like using pure aluminum would.
Update April 2014: W-S clarified that Thermo-Clad uses "exclusive aluminum alloy that provides up to 35% better thermal conductivity than >other aluminum-clad metal cookware on the market." This makes more sense, since "up to 35%" can mean 0.0001% higher conductivity than All-Clad or most All-Clad knockoffs.
Whatever W-S makes their "Thermo-Clad" out of, it fares no better than the legions of All-Clad knockoffs in my thermal tests. (I have yet to source a 12 inch skillet so I'm basing this off the 4.5 quart Thermo-Clad saute pan which performed comparably to All-Clad Stainless.)
Conclusion:
I actually like Thermo-Clad, but it needs a price cut to make it more competitive with other, similar designs such as All-Clad Stainless. If you're looking for something better than All-Clad Stainless, I strongly recommend Demeyere Proline, which outperforms Thermo-Clad and doesn't cost that much more for something that lasts decades. If you're okay with disc-base pieces, then Demeyere Atlantis (disc-base pieces) are wonderful as well.