Cooking surface: 2/5 to 4/5 (Poor to Good depending on the exact formulation; numerous reports of stickiness even for allegedly nonstick ceramics; on the other hand, enamel/glass/ceramics are mostly non-reactive with food)
Conductive layer: 1/5 Very Poor (enamel/glass/ceramic is a terrible heat conductor by itself)
External surface: 3/5 Fair (chipping is common, but careful usage and buying only thick, high-quality EGC can go a long way)
Examples: Fontignac, Le Creuset, Lodge, Staub, Pyrex, Corning Visions
Health safety: 5/5 Excellent (non-reactive)
—–
DESCRIPTION AND COMPOSITION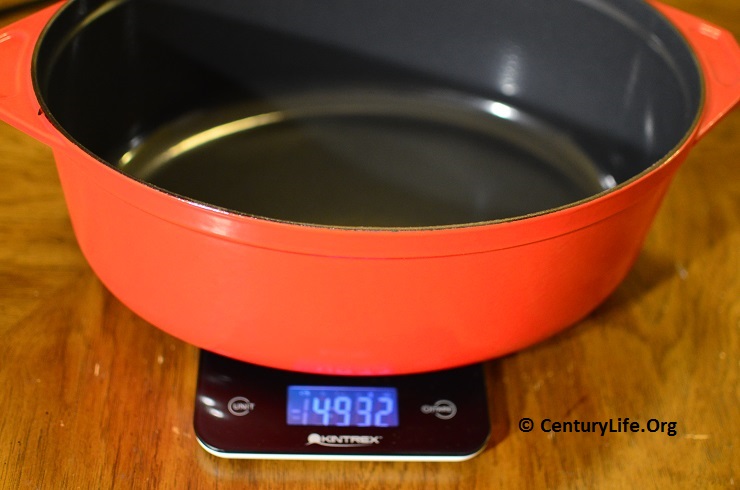 Glass is non-crystalline material like Pyrex, made from sand/stone/soil. Glass is hard, brittle, and impermeable.
Enamel is powdered, melted glass used to coat something else, such as enamel coating over cast iron.
Ceramic is a general term which encompasses stoneware, porcelain, and earthenware. Ceramics are hard, brittle, and impermeable like glass. Stoneware and porcelain are examples of clays fired to high temperatures.
Stoneware is fired clay and is opaque and more or less nonporous and nonabsorbent (2-5 percent absorption). Like glass, it is hard, brittle, and impermeable, so water and air can't fully penetrate.
Porcelain is a special type of high-grade stoneware that uses kaolin clay. Porcelain is more durable than other stoneware and is nonporous, translucent, and especially nonabsorbent (0-1 percent).
Earthenware is not fired as high as stoneware. Earthenware is not impermeable, so liquids can get through eventually. It should not be used as general-purpose cookware. We won't be considering it further. [Read more…]