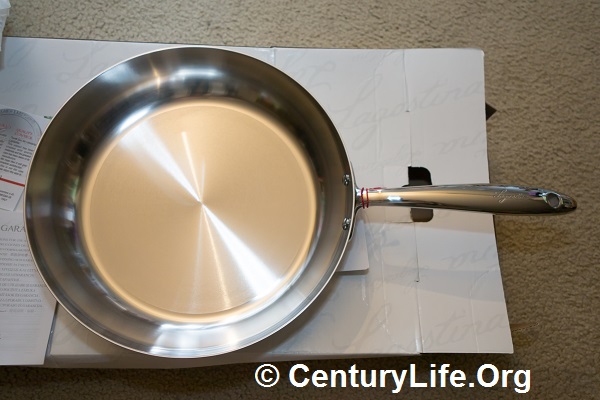 THE COMPANY
Please note that this product has been discontinued as of 2020.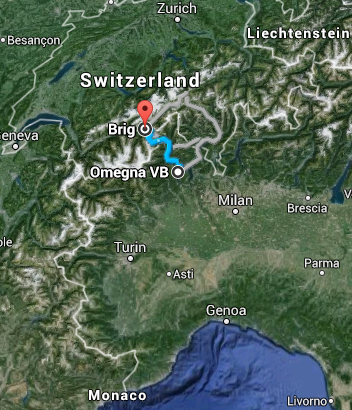 Carlo Lagostina (lah-gost-EEN-a) and his son Emilio founded the company in 1901 in Omegna, Italy, a northern Italian town about 60 miles northwest of Milan.1 If you drove another 60 miles northwest from Omegna, you'd reach the German-speaking town of Brig-Glis in Switzerland.
The Lagostina company transitioned from tinplated iron to stainless steel in the 1930s, under the guidance of Massimo Lagostina, the grandnephew of Carlo. Lagostina also supplied aviation companies with parts and the military with flatware. By the 1950s, Lagostina had fully transitioned away from tinned iron.
Groupe SEB, a French conglomerate, acquired Lagostina in 2004. Groupe SEB is either the largest or second-largest kitchenware company in the world, owning many major brands like All-Clad and TeFal (known as "T-Fal" in some countries due to legal issues). To this day, Lagostina produces upscale cookware and flatware made in Italy.
THE PRODUCT BEING REVIEWED
Today, we're reviewing the Lagostina Accademia Stainless Steel
product line, though it is applicable to other pieces in the product line. Accademia is a rare product line that uses thin tri-ply cladded stainless-aluminum-stainless along with an aluminum disc base, which the company calls "Lagoplan." This is a hybrid design that is supposed to combine the great heat distribution of a thick aluminum disc and yet bring enough heat up the sides that it captures the benefits of clad as well. There are other Accademia product lines that utilize ceramic
and nonstick
interior coatings, but both of those lose their nonstick properties over time and are not as resistant to wear and impacts as 18/10 stainless. As far as I'm aware, Lagostina Accademia is the only in-production product line of fully stainless-clad cookware that utilizes a hybrid design. There are other product lines that are basically hybrid designs, such as Berndes Signocast/Vario Click and Anolon Nouvelle Copper Nonstick, but those product lines utilize ceramic or Teflon/PTFE coatings, not stainless steel.
Specifically, we're looking at the Lagostina – 146040128 – Academia – Pan – Diameter: 28 cm – Stainless Steel
. (28 cm = 11.02 inches.)
For some reason (perhaps because Lagostina's parent company, Groupe SEB, doesn't want Lagostina to cannibalize sales from its other subsidiary, All-Clad), Lagostina Accademia is not available in the USA. I had to import my 28cm Lagostina Accademia skillet (frying pan) from Amazon UK, which carries the rest of the Lagostina Accademia
lineup as well. (The only exception to this rule is the 4-quart, 24cm Lagostina Risotto Pan
, which is available in the USA. It is unusual in that it comes with a cherrywood lid (top side) bonded to stainless steel (bottom side), and also utilizes welded handles, unlike the riveted handles on the rest of the Accademia product line. However the lid is decorative only, and the manual says not to use it to cover while cooking, presumably so that steam does not damage the wood.)
Overall Rating: 4.45/5 Very Good. For an explanation of ratings methodology, click here.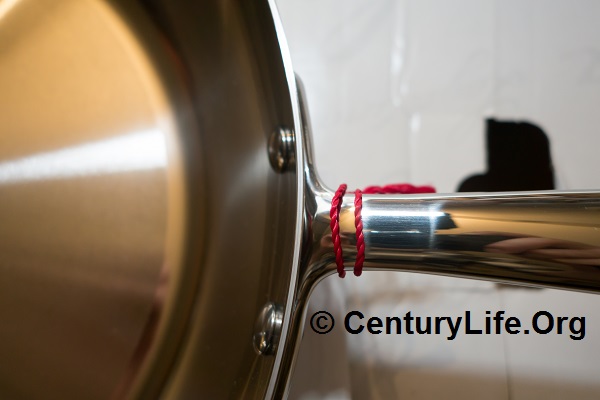 Cleanup: 4/5 Very Good. I never give 5/5 to stainless steel because it can stick, but if you preheat the pan, then turn down the heat to low (or medium low depending on your burner's strength) and add oil, and then add food, you can minimize sticking. Deglazing a pan (adding a little liquid such as wine to stuck-on bits of protein while the pan is still hot) can also help with cleanup as well as make a great pan gravy.
As far as stainless pans go, I would rate Lagostina Accademia as above-average. (Side note: the bottom of the pan as well as the flat portion of the cooking surface both have a less-than-mirrorlike polish; the rest of the pan is polished to a mirrorlike shine. Just because a pan isn't polished to a mirrorlike shine on the cooking surface does not mean it underperforms in terms of stickiness.) The pan utilizes rivets, so it is a little harder to clean than rivetless designs like Demeyere Proline, but I won't knock off a point for that.
If you ever find yourself with dull protein stains or rainbows of heated oil left on the pan, try boiling a little vinegar and water in the pan. If that's not enough, use Bar Keepers Friend.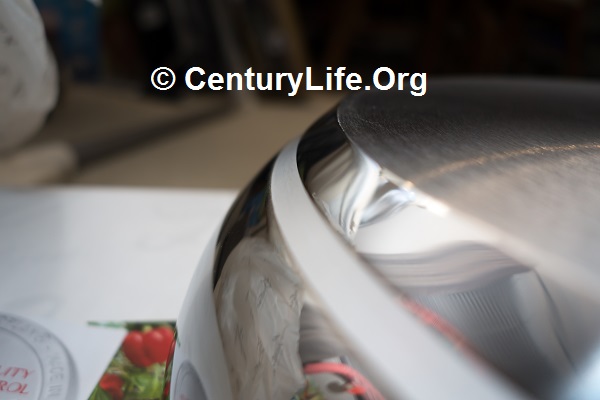 Durability: 5/5 Excellent. All Lagostina Accademia stainless steel pans and pots in the product line are built like a very thin version of All-Clad (stainless inner and outer layers protecting an inner aluminum layer), just 1.85 mm thick, with about a third of that being aluminum (based on my examination of the edge of the pan).
What gives the Accademia products so much strength and resistance to warping/bending is the thick aluminum disc that is bonded to the bottom of that thin cladded vessel. The aluminum is partially exposed on the bottom, visible as a band going around the circumference of the bottom. A magnetic 18/0 stainless steel bottom cap finishes off each pan or pot and makes it induction-compatible. 18/0 doesn't resist corrosion quite as well as 18/10. Try not to let the pan sit in water for long periods of time.
The interior stainless steel is a legitimate SAE 304 (18/8 or 18/10 stainless steel) and should resist corrosion quite well.
Even heating: 5/5 Excellent. A reasonably thick aluminum disc base by itself would heat a pan well, and the addition of something like 0.6 mm of aluminum in the cladded part of the pan helps spread the heat even more. The result is a very evenly-heating pan. I've classified it as a disc-base pan because the disc base is the dominant heat-spreading mechanism.
In addition to even heating, the sheer mass of the aluminum disc base combines with the cladded vessel to make for a good thermal retention. If you throw in a cold steak, temperatures won't crater like they would with a thin aluminum nonstick pan or with thinner All-Clad knockoffs.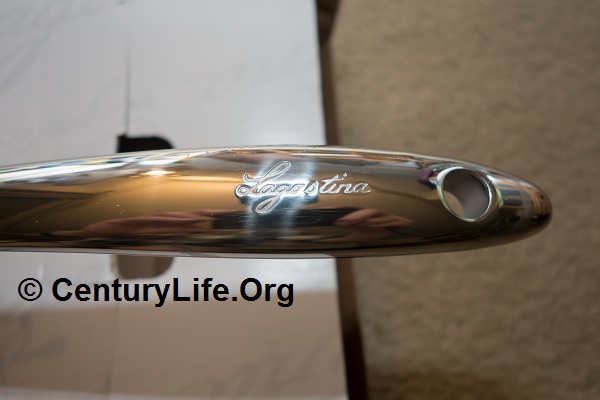 Handling and ease of use: 4/5 Very Good. The Lagostina – 146040128 – Academia – Pan – Diameter: 28 cm – Stainless Steel
has no helper handle, which is a problem when the pan is 11 inches wide and weighs 1825 grams (4.02 pounds) empty. Add some food and it gets rather uncomfortable. For comparison, the All-Clad Stainless 12-inch skillet
weighs 1265 grams (2.79 pounds) empty.
The stainless steel handle the pan does have is well-crafted and comfortable, at least. It does not get hot quickly on the stovetop and comes with a hole for hanging.
Lagostina Accademia pans and pots do not come with flared rims, so you may wind up with messier pours as a result.
Value: 4/5 Very Good. I'm unwilling to give this pan an Excellent rating due to the handling issues above (no helper handle, lack of flared rims) and because the asking price is still rather stiff. But I think it deserves a Very Good rating because it's almost unique in its hybrid construction in a fully stainless steel cladded pan, and because the design works so well.
Versatility: 5/5 Excellent. This pan can cook on any heating surface including induction and can be put into the dishwasher. Lagostina Accademia is oven-safe and broiler-safe.
The pan's flat cooking area is about 8.5 inches in diameter, which is average for a 28cm/11-inch diameter skillet.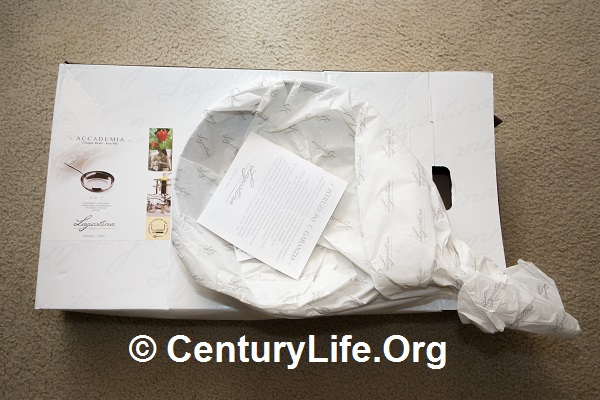 CONCLUSION
The Lagostina – 146040128 – Academia – Pan – Diameter: 28 cm – Stainless Steel
is extremely evenly-heating for a cladded pan. It would be a good choice for those who can't decide between clad and disc-base products and want the best of both worlds and the extremely even heating that results. The main drawbacks: a) the Lagostina Accademia products line is not available in many parts of the world, necessitating heavy shipping fees to import; b) the pan has no helper handle (uncomfortable); and c) none of the Lagostina Accademia pots and pans have flared rims (leading to messier pours).
If you don't want to deal with import shipping/handling/customs fees, lack of helper handle, and lack of flared rims, I would recommend Demeyere Proline which addresses those problems at the expense of a higher price tag and somewhat worse thermal performance–albeit still excellent. Cristel Casteline is another possibility, as it doesn't spread heat as evenly as Lagostina Accademia, but fixes various drawbacks like USA availability and flared rims. Lastly, KitchenAid's Tri-Ply Copper is an excellent, cheaper alternative to all of the above but requires more maintenance due to copper oxidizing into ugly matte brown over time.
The skillets do not come with lids, so if you don't already have other lids that will fit, I would recommend buying third-party lids such as these universal lids that go up to 12.6 inches.